Having a stash of freezer crockpot dump meals in my freezer is totally rocking my world. Here's a plan to get seven dump dinners (like beef ragu and slow cooker carnitas) in the freezer in just one hour!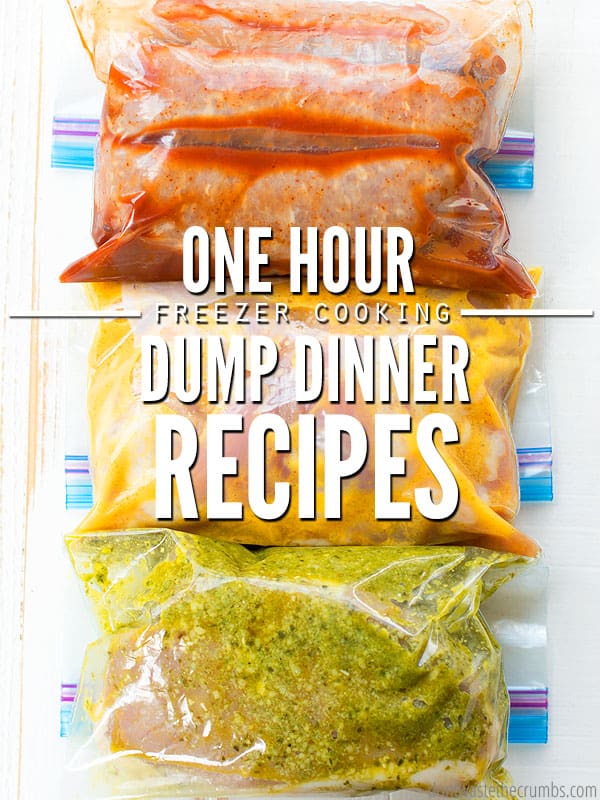 Ever since I committed myself to 'freezer cooking,' over two years ago, I have realized THIS. IS. AWESOME!
I absolutely LOVE opening the freezer to find beans and rice, already prepared for dinner.
I LOVE sitting down to make a meal plan and write down a meal that I put in the freezer a few weeks ago.
And I really, REALLY love when it's time to make dinner and all I have to do is dump something into the Crockpot or Instant Pot and hit go!
Having a stash of freezer crockpot dump meals in my freezer is totally rocking my world, but it wouldn't happen if I didn't have a plan to get those meals in the freezer in the first place!
The last time I did a freezer cooking session I focused on breakfast. I dedicated just one hour to making NINE breakfasts and cooked everything LIVE on Facebook… it was terrifying, and so much fun! (You can watch the entire video HERE, and you can download the exact cooking plan I followed and recipes HERE.)
I want to do another one-hour cooking session, but I want to focus on dump dinner recipes!
What are Freezer Dump Meals?
A freezer crockpot dump recipe is a meal that when you open the freezer container, you "dump" it into a skillet (like this one) or slow cooker (I use this here) or Instant Pot (my favorite here) and you're pretty much done.
Some say that dump dinner recipes shouldn't include anything else other than what's in the freezer container, but I feel like that pigeon-holes you into certain types of recipes that you or your family may or may not like.
That's why I like to broaden "dump dinner recipes" to include meals that may need a simple side dish, like rice or baked potatoes, or tortillas.
Even if my dump dinners aren't 100% ready to go on their own, I can usually prepare side dishes ahead of time by cooking in bulk. My husband knows that anytime I make rice or beans or lentils or quinoa in the Instant Pot, I make A LOT. It's very normal for me to double or triple a recipe so that I can freeze several portions for future dinners.

That's how I can still press the 'easy button' when I make a dump dinner recipe that needs a side dish – when I pull out my main meal to thaw, I pull out those ready-to-go side dishes too!

As I mentioned, the idea of having a dump dinner meal in the freezer isn't good enough. You need a PLAN in order to prepare that recipe now, so it's ready when you need it later.
And that's exactly what I'm sharing with you today: my one-hour freezer cooking plan for dump dinner recipes!
How This Freezer Dump Meal Plan is Going to Work
I'm pretty strict when it comes to which recipes I put in the freezer and which ones I don't.
Every recipe:
Has to be easy. No ninja cooking skills required!
It will be something my family already loves (and that means the husband and both kids)!
Needs to be affordable. They don't have to be rice and beans cheap, but we can't go all out lobster and prime rib here.
Use normal ingredients. If I can't find something at my local grocery store, it's not happening!
Before You Make These Freezer Meals for the Crockpot
I'm not a professional freezer cooker, but I've been doing a lot of practicing and I like to think I'm getting pretty good! I highly recommend reading this article on 13 Tips for Planning a Freezer Cooking Session, but here are a few important things to remember:
Make sure you have EVERYTHING you need BEFORE you start. Obviously, this includes ingredients, but this also includes any appliances or tools, or storage supplies you might need.
I recommend grocery shopping the day before you cook. That means if you cook on a Saturday, shop on Friday. Your actual cooking time won't take any longer than an hour, but tack that onto a morning of hectic grocery shopping and crowded stores and it quickly becomes a long day. Plus when you shop the day before, you can simply leave out anything you need for the cooking session instead of putting it all away!
Clean the kitchen before you start. Clear off the counters and put away unnecessary appliances so you can start with a clean slate.
Empty the dishwasher and wash the dishes. I went through WAAAY more spatulas during my breakfast meal prep session than I thought I would, so it's important to be over-prepared. Besides, you're going to make a lot of dirty dishes. Those dishes need somewhere to go!
One Hour Freezer Cooking: Dump Meals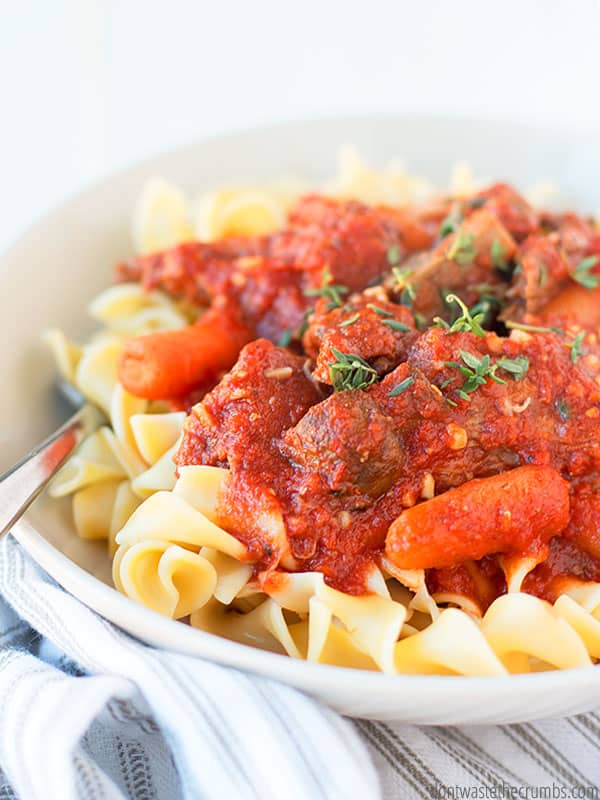 Here are the five prepared slow cooker meals that we'll be making:
We're going to be making each recipe twice for a total of TEN dinners. Be sure to print the recipes before you begin!
Here are the Supplies You Need for Freezer to Slow Cooker Meals
(10) one-gallon freezer bags
(2) sandwich size freezer bags
permanent marker
Notes on Supplies
Each freezer cooking session is slightly different from the next. When we made nine breakfasts in one hour, having multiple mixer attachments, mixer bowls, and blender jars was super handy.
This time around, I'm using these baggie holders to make my life easier. They hold sandwich, quart, and gallon size bags open for you so you can fill the bags without worrying about making a mess everywhere.

Anyone who has ever tried to ladle leftover spaghetti sauce into a freezer bag knows exactly what I'm talking about here!

I also recommend having two cutting boards ready before you begin. We'll be cutting both meat and vegetables, so having two available will prevent contamination and help us to keep a good cutting pace too.
Here are the Ingredients You Need
Produce
bell peppers
carrots
cilantro
mushrooms
onions
Pantry
Meat
chuck roasts
chicken pieces
ground beef*
Italian sausages
pork shoulder/butt
*Note: If you don't have access to these stores OR your local stores don't carry grass-fed ground beef, I recommend Butcher Box. You can read my honest review of their products here!
The search for high-quality meat ends here. Amazing taste. Humanely raised and delivered to your door. Sign up today! Click this link to claim the offer!
Dairy/Frozen
cheddar cheese
frozen corn
Spices
bay leaves
chili powder
cinnamon
coriander
cumin
garlic powder
Italian seasoning
onion powder
oregano
pepper
red pepper flakes
taco seasoning (make your own!)
thyme
Psst! If you're going to add salt, I highly recommend Ava Jane's Kitchen. You may think all salt is created equal, but unfortunately, 90% of the salt produced around the world contains microplastics (gross, right?). Ava Jane's Kitchen is an exception. Their salt is 100% microplastic-free, and it's SO GOOD! Plus, you can get a bag for just 1¢!! (Get your penny bag of salt on this page.)
Before You Begin Cooking Crockpot Freezer Meals
Read through every recipe, all the way through
Reading through the recipes will help you to know exactly what type of storage containers you need, and how many, in order to make the recipes work. It also lets you know what measuring cups you might need, how many, and any other tools you might need.

Note: A few of these recipes are for the crockpot or slow cooker, but if you'd like to convert them into an easy Instant Pot recipe, you can read about that here.
Label your storage bags
This doesn't sound important, but TRUST ME! This will be a very fast hour and once everything is in a bag and frozen, IT ALL LOOKS THE SAME!!
Use a permanent marker to label what will go in the bag or container, the cooking instructions, and today's date.
Let's Get These Freezer Dump Meals Started!
Double-check that your bags are labeled and give yourself a pat on the back – you're done!
I highly recommend laying the bags flat to freeze at first. Once they're frozen through, you can stack them like books in the freezer. I've found that this is the best way to utilize freezer space!
Crockpot Frozen Meals: FAQs
How long can you freeze crockpot meals for?
These freezer crockpot dump meals can be in the freezer for up to 3 months.
Is it OK to freeze meal prep?
Absolutely! Not all foods should be frozen if you want to maintain the food's best texture. Some vegetables and fruits that contain high water content will lose their crispness while being in the freezer.
Other Freezer-Friendly Meals
Freezer Cooking: Breakfasts
Sign up to get instant access to my
Freezer Cooking: Breakfasts Plan
, complete with recipes, supply list, and shopping list!