This slow cooker Thai pineapple vegetarian curry is loved by the whole family! An easy, delicious vegetarian recipe with FRESH pineapple. 
Do you ever feel like you're making the same thing for dinner, over and over again? I know I do, which is weird considering I'm CONSTANTLY trying new recipes for this blog, like weeknight creamy mushroom pasta and cloud dinner rolls and Instant Pot Spanish rice.
Sometimes I want to make something that just tastes DIFFERENT from everything else I've made lately. Something that's bold with pizzazz and a kick or two of spice wouldn't hurt.
When a friend shared her recipe for Thai pineapple vegetarian curry earlier this year, I fell in love. THIS is exactly what I've been looking for!
This Thai pineapple vegetarian curry is everything I've been craving but couldn't quite put my finger on. Its:
Spicy yet sweet
Complex yet easy
Weeknight-friendly yet company-ready
Bold yet familiar
And of course it's family-friendly. The whole family agreed that this slow cooker Thai pineapple vegetarian curry should be on our monthly meal plan!
What is vegetarian curry?
Before we talk about the major players of this vegetarian curry, let me make a disclaimer.
I am not from Thailand, nor have I ever visited. And I am not a curry expert, nor do I play one on TV.
However, I AM a huge fan of all the flavors that come to mind when I think of Thai food, like curry + rice + peanuts + cilantro + coconuts + noodles.
So when I say this is a "vegetarian curry," I really mean that it "has curry plus some other ingredients and there's no meat."
I doubt this is authentic, but I'm not sure if that really matters because it IS:
delicious
made in the slow cooker
freezer-friendly
made with ordinary ingredients
budget-friendly
With all of this going for it, let's not get nitpicky. Let's just make this for dinner ASAP!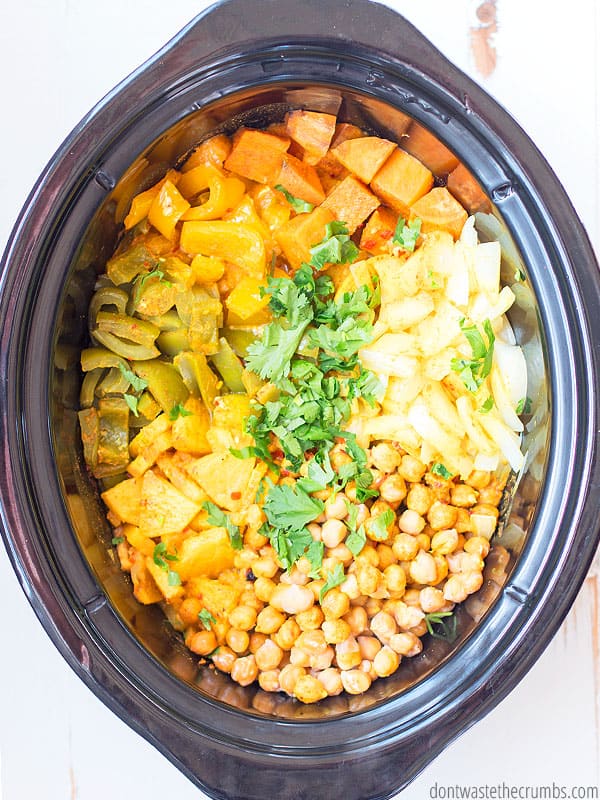 Slow Cooker Thai Pineapple Vegetarian Curry
If you're wondering if this vegetarian curry is healthy, let's explain the situation:
Sweet Potato
You might think it sounds weird to have sweet potato in a curry, but let me tell you. This is legit.
The sweet potato is soft, creamy and helps this meatless slow cooker dinner to stick to your bones.
Pineapple
Hold on to your hat folks because you are using ONE WHOLE FRESH PINEAPPLE!!
No cutting corners here and using canned or frozen or rehydrated dehydrated pineapple. I shared with you a tutorial on how to cut a pineapple so you have NO excuse as to why you can't make this.
Besides, canned pineapple will have added sugar (gross!), you'll need A LOT of frozen pineapple (pricey!) and rehydrated dehydrated slow cooked pineapple just doesn't quite sound appetizing.
Peppers + Onions
Bell peppers and onions are adding a little bit of bulk here, but they're also found in every other curry recipe I've ever looked at, so maybe they're a Thai staple too? I don't know, but I can say they make this vegetarian curry AMAZING.
Garbanzo Beans (a.k.a. chickpeas)
Can I get some high fives for garbanzo beans? I love that they…
Can be made in the instant pot
Are cheaper made from scratch than bought in a can
Can be frozen ahead of time and then whipped out for this vegetarian curry recipe
Whip up super creamy in desserts like cake batter hummus or chocolate hummus, yet they're sturdy enough to not break down into mush as this slow cooker vegetarian curry comes together
I don't think I can recommend another bean here, for the fact that any other bean will significantly change the flavor of this dish (meaning garbanzo beans are very mild and there's very minimal bean-flavor).
Coconut Milk
We're talking canned coconut milk here, not the kind you store in the fridge and add to your coffee.
I've made this vegetarian curry with both full fat coconut milk and lite coconut milk and I couldn't tell the difference. In my non-expert Thai curry opinion, use whichever you have!
Curry Powder
Curry powder is one of those spices you don't use often, but when you're tired of the same ol' same ol', you're very glad you have it on hand. Kind of like this Chinese 5 spice powder for these Chinese 5 spice drumsticks!
We're using red curry powder in this vegetarian curry recipe, which is awesome because it tends to be easier to find than green curry powder. You can get some amazing red curry powder here. I've heard through the grapevine that the only difference between green curry powder and red curry powder is that green curry powder is spicier… which may or may not be true… but in either case, we can kick up the spice a notch in another way.
If you have curry paste in the fridge, you can probably use that. I'd start with two tablespoons and taste from there. You want the curry flavor to be prominent, but not overpowering. Unless you like a crazy strong curry, and then by all means, add more!
Tons of vegetables? Check.
Dinner in the slow cooker? Check.
Made from stuff we normally have on hand OR can get at our regular grocery store? Check.
Can this vegetable curry be frozen? YES!
And let's chat about that for a moment. As I mentioned earlier, a friend of mine shared this recipe with me. Her name is Kelly and she's practically the expert on freezer cooking. In fact, she created this recipe FOR THE FREEZER– I'm the weird one who was just in the mood for Thai vegetable curry and skipped the freezing instructions!
If you want to make this Thai pineapple vegetarian curry for the freezer, simply add all the ingredients to the freezer bag, remove as much as possible and freeze. You've got an easy peasy dinner sacked way for up to three months, and don't forget to label the freezer bag so you know what it is later (because you WON'T remember what it is and all frozen foods look the same. I promise).
If you want more freezer recipes from Kelly, you can see her collection here.
Can vegetable curry be reheated?
Oh yes! My family personally preferred this the night I made it, but Mr. Crumbs took this to work as leftovers and gobbled those up, too. He likes it served over Instant Pot brown rice, but if you have noodles on hand, those would be really good too!
Want to add meat to this vegetarian curry?
I totally get that some people are "meat eaters," so feel free to add either shredded chicken at the end (preferably cooked in the slow cooker or the Instant Pot!) or add one pound of chicken, cut into 1" pieces, at the beginning of the recipe!
Slow Cooker Thai Pineapple Vegetarian Curry
An easy, delicious, vegetarian recipe with fresh pineapple. This slow cooker Thai pineapple vegetarian curry is spicy, yet sweet, frugal, and freezer-friendly.
Author: Tiffany
Prep Time:

10 minutes

Cook Time:

3-6 Hours

Total Time:

54 minute

Yield: Serves

4

1

x
Category:

Main Meals

Method:

Slow Cooker

Cuisine:

Thai

Diet:

Vegetarian
1

can coconut milk

3 Tbsp

curry powder (I used red curry powder)

1 ½ tsp

salt

1 tsp

crushed red pepper

1 ½ tsp

granulated garlic

1

fresh pineapple, cut into 1" pieces (how to cut a pineapple)

1

pound of sweet potatoes, peeled and cut into

1

" pieces

2

green bell peppers, cut into

1

" pieces

2

onions, cut into

1

" pieces

2

cans of garbanzo beans, drained and rinsed three times (or

3

–

4

cups of homemade beans)
Cooked white or brown rice, for serving (optional)
Cashews, for topping (optional)
Cilantro or green onions, chopped, for topping (optional)
Instructions
Whisk together the coconut milk, curry powder, salt, crushed red pepper and garlic in a slow cooker (like this one).
Add the remaining ingredients and cook on high for 3-4 hours, or on low for 6-8 hours. If you want your sweet potato to be more firm, aim for a shorter cooking time.
Notes
**Turn this into a freezer meal by adding all the ingredients to the freezer bag, removing as much as possible, labeling and freezing. To cook, thaw the freezer meal in the refrigerator overnight and then cook as directed!
Keywords: slow cook vegetarian curry
Do you like pineapple with your meat? Or what is your favorite curry dish?? Let us know in the comments!