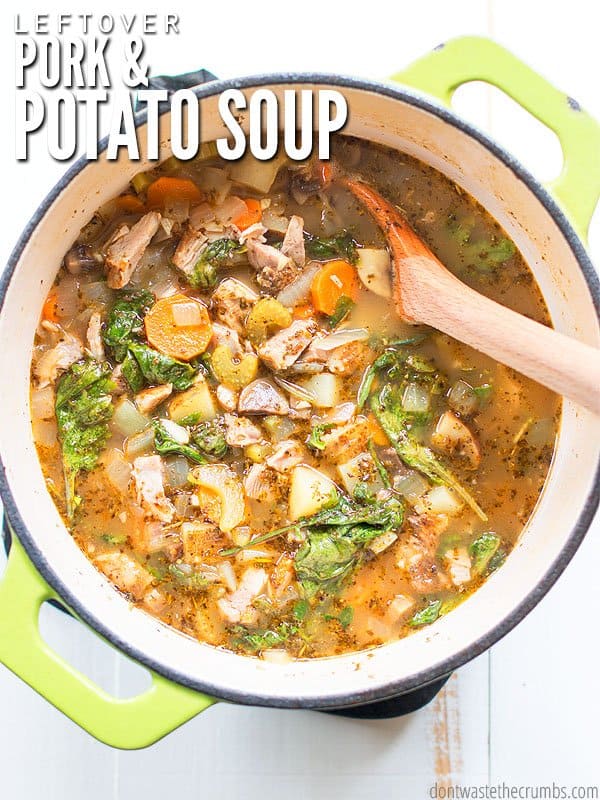 It feels weird to say this, but the one thing I've missed on the Whole30 was soup.
Many of our favorites – tomato basil soup and tortilla soup and chicken noodle soup and minestrone soup – are off limits. Sure, I could make substitutions and whatnot, but to be honest, tortilla soup just isn't the same unless you're topping it with sour cream, chips and cheese in my book.
But, when you DO have a craving for soup, are on the Whole30 and you need to use up leftover pork, you do what comes naturally – you make this pork and potato soup recipe!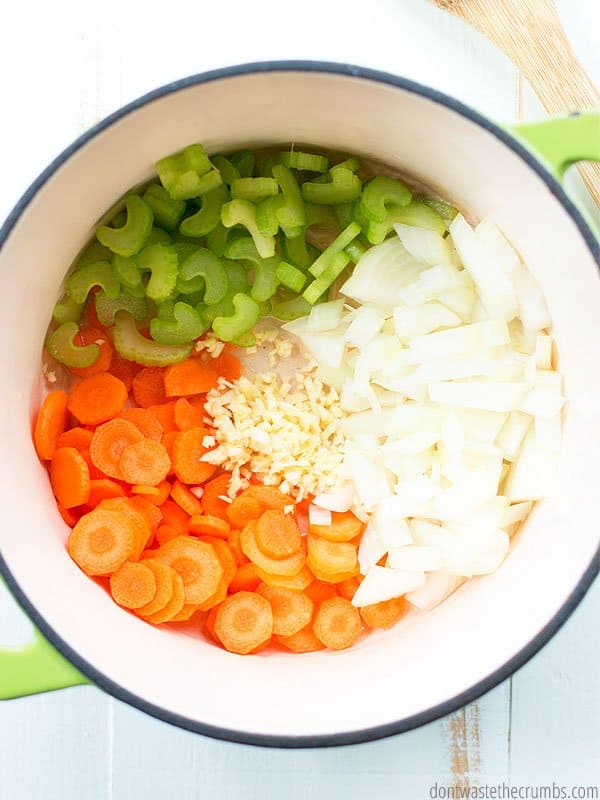 Leftover Pork and Potato Soup Recipe
This recipe was actually inspired by what I consider a perfect storm:
First, I had tons of organic chicken bones in the freezer and I needed to make room for other stuff.
The only way we get rid of chicken bones in our house is by making stock, so three hours later, 2 gallons of chicken bones and vegetable scraps became 11 quarts of chicken stock. (I used this Instant Pot chicken stock tutorial to do this, but you can use the slow cooker chicken stock method too.)
Second, I had leftover pork. A LOT of leftover pork.
I overestimated how much pork we would need for one dinner and subsequently, had enough pork leftover for a week.
Having an abundance of leftovers isn't that common on the Whole30. In fact, I find myself struggling to cook enough at dinner to make sure there's enough leftover to make one whole lunch and protein for the kids to take to school.
But, being that we're doing the Whole30 on a budget, I certainly didn't want to waste the meat.
At the same time, I was already tired of eating the same thing over and over again. (One can only take re-heated pork so many times.)
Third, potatoes are cheap.
Because you tend to eat more on the Whole30 in general, we keep the grocery budget in check by having potatoes in one meal each day.
Hash browns are common for breakfast (although I'm partial to sweet potatoes and fried eggs), and potato wedges are common at dinner. Although chicken cacciatore is on the dinner menu this week, and we're serving it over baked potatoes. (Crash hot sweet potatoes are also REALLY good!).
Combine these three things along with the fact that I really wanted soup, and that's how this pork and potato soup recipe was born!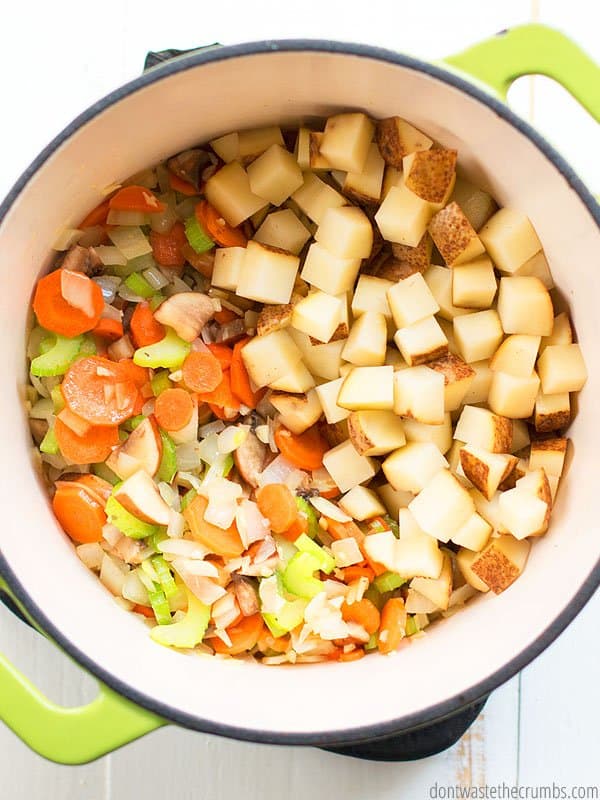 The more I think about it though, it should be on our menu more often. The kids LOVED it. I mean, with capital L.O.V.E. and all.
The first time we had it, I gave them each two ladles of soup. BOOM – soup was gone in minutes.
The second time it was on the menu, the kids asked me what was for dinner. I told them pork and potato soup and I literally – LITERALLY – got cheers and fist pumps of excitement.
Speaking of… should I be concerned that my kids are THAT excited over soup?
Most recently, I took the leftovers, drained some of the liquid and packed it in their school lunches. Both containers came home licked clean!
On top of that, a fellow classmate said to my son, "Oh man, I wish my mom cooked for me like that." Well if that's not a compliment, I don't know what is!
While I've technically labeled this recipe a "soup," it's almost more of a stew. The potatoes are added to the pot with the standard soup mirepoix – diced onions, celery and carrots – and simmered in homemade chicken stock just until they're soft when poked with a fork.
Somewhere in this simmer though, the potatoes absorb some of the liquid making the soup less soup-y. At the same time, the starches from the potatoes release back into the stock and make it thick.
Friends, whether you want soup or stew, the combination of pork and potatoes is out of this world!
I used leftover rib meat for this recipe (every time… told you I made too much), but you can use any pork really. In fact, it doesn't even HAVE to be leftover.
If you're craving soup and all you have are a couple pork chops in the freezer, don't let that stop you from getting your soup groove on!
My rib meat was intensely flavored (not being able to douse the ribs in homemade barbeque sauce will do that), but I made sure that there were plenty of seasonings in the recipe to make any pork addition taste good. Just know that if your pork is already cooked, that flavor will come through a bit!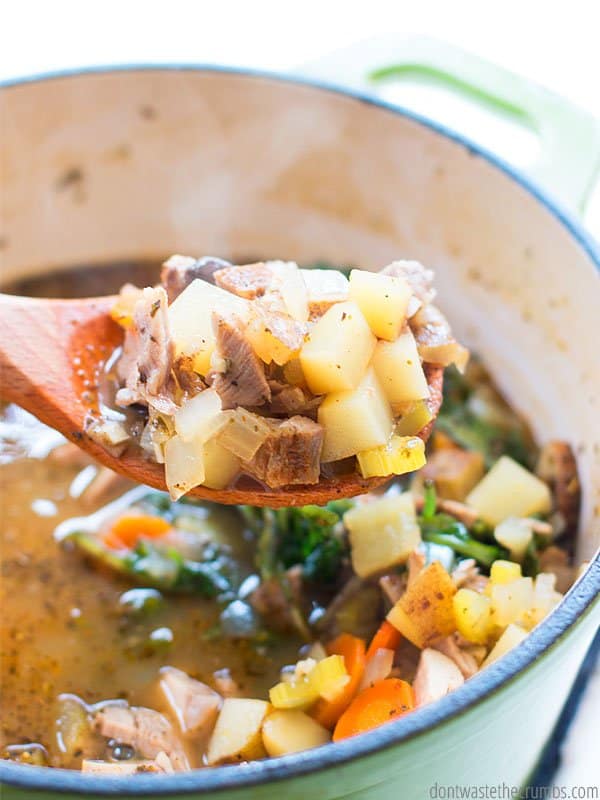 Finally, I made this on the stove every time, but I'm sure it would work in a slow cooker or Instant Pot (especially since the Instant Pot can save you money!). Before you jump in though, read these Instant Pot tips and also how to make a slow cooker recipe in the Instant Pot.
I'd hate for you to make one of these Instant Pot mistakes and ruin dinner!
Leftovers aren't common on a Whole30, but when they do occur you want to make sure and use them up!
Any leftover meat will work well in this soup recipe. Leftover carnitas, classic pot roast, or  Instant Pot whole chicken will work. The flavors may vary a little, but that's the beauty of leftovers!
Use up any stray veggies from your fridge for this meal. If you have the staples mentioned in the recipe, use them, but if you want to add in some bell pepper, leeks, or even some cabbage try it out!
Leftover Pork and Potato Soup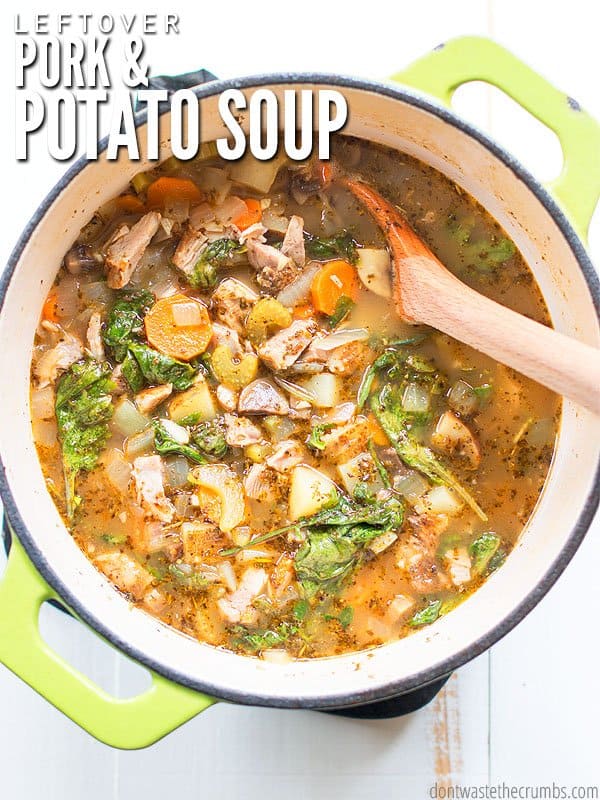 Super easy homemade pork and potato soup recipe is the best way to use leftover pork. It's thick and creamy – almost like a stew – but dairy-free (no cream cheese). Whole30 compliant and if you skip the pork, it's a delicious vegetarian meal!
Author: Tiffany
Prep Time:

7 mins

Cook Time:

30 mins

Total Time:

37 mins

Yield:

6

-

8

serving

1

x
Category:

Soup & Salad

Method:

Stovetop

Cuisine:

American
2 Tbsp

olive oil

2

onions, diced

4

celery ribs, diced

4

large carrots, diced

2

large cloves garlic

2 cups

sliced mushrooms

4

medium potatoes, scrubbed and diced

2 quarts

chicken stock

2 cups

leftover pork, cubed into

1/2

" pieces or smaller

2 Tbsp

onion flakes

2 Tbsp

dried Italian seasoning

2 tsp

granulated garlic

2 tsp

salt

2 tsp

ground or rubbed sage

1 tsp

ground thyme

1 tsp

pepper

2

large fistfuls of kale
Instructions
Heat olive oil in a large pot over medium heat. Add onions, celery and carrots and cook on medium until the onions just start to turn translucent.
Add the mushrooms and garlic and cook until the vegetables start to become soft.
Add the potatoes and chicken stock and simmer, cooking until the potatoes are fork-tender, about 15-20 minutes.
Add the leftover pork, seasonings and kale and cook until the kale is wilted and the pork is heated through, about 5-10 minutes.
Taste and adjust seasonings, if needed.
Do you have any yummy recipe ideas that use up leftover pork? I'd LOVE to hear them for the next time I cook too much!