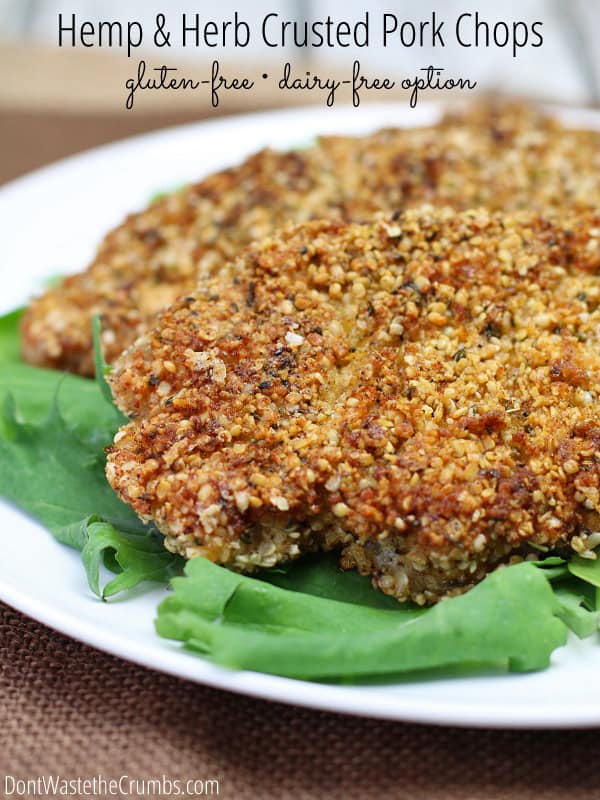 Everything You Need to Know About Hemp and Herb Crusted Pork Chops
Mmm…. pork chops… Crispy crust on the outside, juicy and tender inside and the perfect accompaniment to some southern-style greens and stove-top mac and cheese. Serve it alongside some homemade applesauce and this just might be my new favorite dish this winter. The frugal foodie in me loves the fact that pork chops can be an inexpensive main dish, but the REAL reason why this recipe is earning 8 thumbs up (two from each of the four Crumbs family members) is a little secret ingredient in the savory herb crust: hemp hearts. With almost as much protein as the pork chops themselves, hemp hearts add a deliciously nutty flavor to the crust that quite honestly, tempts you to scrape it off with your fork and it eat by itself. Which if you did, I wouldn't tell anyone. I did it too!
My love of hemp hearts isn't new. I stumbled across them last year as a significant source of protein while writing my second eBook, and then did more experimenting earlier this year with a nut-free nut butter recipe (which is WAY good, by the way). But to use hemp hearts as a crunchy coating for pan-fried pork chops? Bless my southern-loving heart. Despite living in California, I grew up in Texas where you can find southern-fried [insert favorite food here] just about anywhere. Now these pork chops aren't battered and tossed into a deep fryer, but they do remind me a bit of my youth when southern fried steaks smothered in white gravy were a regular occurrence. I know ya'll know what I'm talking about.
Now, before you start thinking that pan-frying pork chops is no better for you than deep-frying pork chops, here me out. First, they're pan-fried in practically the healthiest oil on the planet: coconut oil. With all the health benefits of coconut oil, we should be chomping at the bit to eat more of it. Go ahead, let that be an excuse to make pork chops for dinner. I won't stop you. Second, that super healthy oil actually makes the pork chops taste even better! There's something about the slightly sweet goodness of the coconut oil mixed with the nutty goodness of hemp hearts that is so darn tasty, you'll be doing yourself a disservice trying to cook them without it. Oh yes, and did I mention that these lovely chops are gluten-free? I bypassed the traditional wheat flour this time and chose a very special flour to mix with the hemp hearts – one that complimented and enhanced the natural nutty flavor: almond flour. So to recap, we've got coconut oil and almond flour and hemp hearts all working together to create this crispy crust of yum covering our pork chop. Gah! Please just trust me when I say these hemp and herb-crusted pork chops are AMAZING and THIS is the recipe you will want to make them the next time you find pork chops marked down at the store.
In fact, buy two packages. You'll want to make a double batch.
Hemp and Herb Crusted Pork Chops
A delicious alternative to traditional breadcrumbs, these hemp and herb-crusted pork chops are pan-fried in coconut oil and are so delicious!
Author: Tiffany
Prep Time:

15 mins

Cook Time:

10 mins

Total Time:

25 minutes

Yield:

4

servings

1

x
Category:

Main Meal

Method:

Stovetop

Cuisine:

American
4

boneless pork chops, pounded to approximately 1/2″ thick (approx

1

lb)

1/4

–

1/2

cup milk (or non-dairy substitute)

1/2 cup

hemp hearts

3/4 cup

almond meal OR almond flour, divided

1 tsp

garlic powder

1/2 tsp

large granule salt

1 tsp

Italian seasoning

1/4 tsp

ground pepper

1/2 tsp

paprika

1/4

–

1/2

cup coconut oil, for frying
Pat dry the pork chops with a towel and set aside.
Measure 2 Tbsp of almond flour onto a plate.
Measure 1/4 cup of milk into a shallow dish.
Combine 1/2 cup hemp hearts, 1/2 cup almond flour and seasonings in a separate shallow dish.
Melt coconut oil over cast iron skillet on medium low. The oil is ready for frying when you drop a drop of water and it sizzles. You want a medium, steady sizzle. A weak sizzle means the oil isn't hot enough, and a fast, hard sizzle means the oil is too hot.
Working with one pork chop at a time, lightly coat both sides of the pork chop in the almond flour and brush off the excess.
Quickly dunk both sides of the pork chop into the milk.
Place the pork chop in the seasoned hemp heart dish and thoroughly coat both sides of the pork chop.
Add the pork chop to the frying pan and cook on medium heat until the sides turn a dark golden brown, about 3-5 minutes. Flip and cook on the other side for the same dark golden color.
Remove pork chop to a cooling rack for a few minutes before serving (this helps to make the crust crispier).
Repeat with the remaining pork chops, taking care not to overcrowd the frying pan.
Additional Recipe Ideas
This hemp and herb crust is so versatile, that it would work for pork, chicken, and even fish. Be on the lookout for marked down meats and keep this recipe in mind. You might not think that one pork chop is very filling, but I found that each 1/4 lb pork chop – when coated with protein-rich hemp hearts and almond flour AND healthy fats – was very satisfying. If meat doesn't make appearances in your meal plan often, let this one be the star of the show one night and serve with a steamed vegetable and a salad (and possible a whole grain). To those from the Midwest – there's a pork tenderloin sandwich calling your name!
Cost Breakdown
This recipe was difficult to do a cost breakdown for mainly since the cost of the three biggest ingredients – pork chops, hemp hearts, and almond flour – vary so greatly from region to region. I found a $4 price difference in almond flour in my area alone! Instead, I would suggest aiming to pay $2-3/lb for pork, $8.50-$12/lb for hemp hearts, and $5-10/lb for almond flour. I know that these ingredients might sound a bit expensive, but that's why we reserve them for special occasions… like pork chop night! Since this was originally posted, I've started buying pork from Butcher Box. They have great quality meat at a good price!
Butcher Box delivers grass-fed beef, pasture-raised and organic chicken, and heritage pork directly to your front door each month. You can read my honest review on Butcher Box here, and also my updated Butcher Box review here.
The search for high-quality meat ends here. Amazing taste. Humanely raised and delivered to your door. Sign up today! Click this link to claim the current offer!
Disclosure: This post is sponsored by Manitoba Harvest and all opinions are 100% my own. As always, I only endorse products I wholeheartedly believe in, and I would never recommend anything on Crumbs that I wouldn't recommend to a close friend or neighbor.