This simple recipe for Sourdough Crackers is the easiest you will ever make – using either starter or discard. It's versatile, healthy and delicious! Serve with my Favorite Homemade Hummus Recipe!
Everything You Need to Know About Sourdough Crackers
I have some tricks up my sleeve when it comes to using my sourdough discard. I use it to make these Sourdough Pancakes, and these Toasted Coconut and Banana Sourdough Pancakes, and my Buttery Sourdough Biscuits, which are all amazing for two reasons…
First, they use up my discard, since I am definitely not about wasting food, and second, they're always family favorites!
I also make Whole Wheat Einkorn Sourdough Bread, No-Knead Einkorn Sourdough Bread, and Simple Sourdough Bread. So, it's only natural that I've added a Sourdough Cracker recipe to round out my list of amazing sourdough recipes.
The great thing about this cracker recipe is that you use sourdough starter (and it doesn't matter if it's recently fed or not!). It's a great way to use up your starter without adding any extra flour.
Plus you can use fresh or dried herbs for customizable flavors. I like using the Italian blend, from my homemade Italian dressing, but Italian Seasoning works too). Others may like to use something simple like rosemary and garlic powder. Either way, this recipe for sourdough crackers is unbelievably easy, tasty and perfect for the whole family!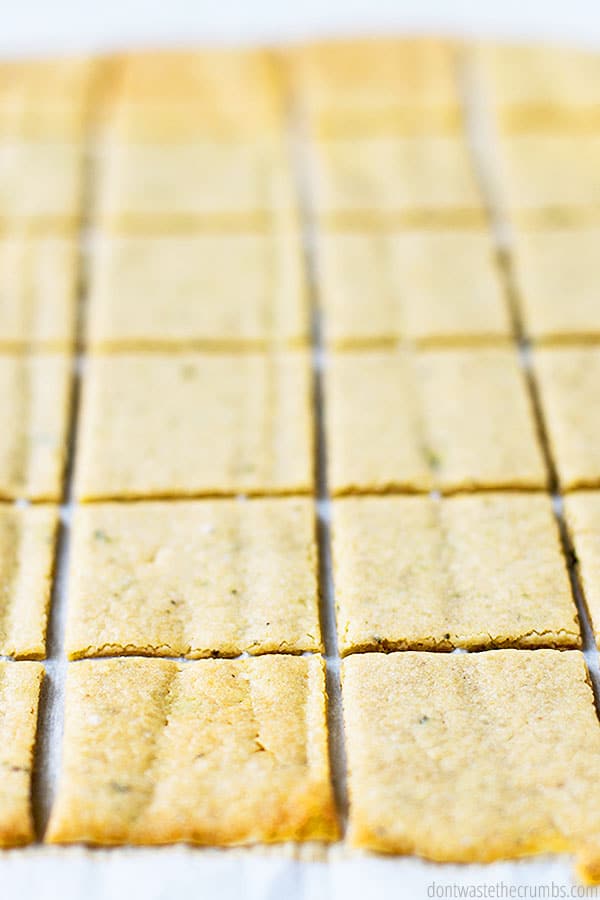 Sourdough Crackers
Not only is this recipe the EASIEST cracker recipe you'll ever make, it is also:
SO delicious! You'll want to eat the whole batch (I did – twice!)
Versatile. Sourdough starters can be new, old, cold, or warm. It REALLY doesn't matter. They came out delish, every time.
Healthy. With the health benefits of sourdough, these are healthier than store-bought crackers. Great for snacks or even for the holidays!
No kneading required. Need I say more?
Ingredients for Sourdough Crackers
Butter
Sourdough starter (It doesn't matter if it's recently fed or not).
Seasoning (I like to use the Italian blend from my Homemade Italian Dressing.)
Sea Salt (ONLY if your seasoning blend doesn't include salt.)
Psst! If you're going to add salt, I highly recommend Ava Jane's Kitchen. You may think all salt is created equal, but unfortunately, 90% of salt produced around the world contains microplastics (gross, right?). Ava Jane's Kitchen is an exception. Their salt is 100% microplastic free, and it's SO GOOD! Plus, you can get a bag for just 1¢!! (Get your penny bag of salt on this page.)
How do you make sourdough crackers from scratch?
Preheat oven 300F, melt butter in a medium bowl, add starter, seasoning and salt (if using). Stir well.
Line a baking sheet w/parchment paper (MUST be parchment – do not use a Silpat mat).
Pour starter onto parchment paper and use a spatula to spread into a thin layer.
Bake 10 min; score with sharp knife using an up-down motion – not a pulling motion (that tears the cracker).
Bake 15-25 more minutes, checking crackers at 15 min and then every 5 min thereafter. Cool on the pan for 5 minutes.
Store crackers in a glass container w/lid – if they last that long!
Can I use sourdough starter discard to make sourdough crackers?
Yes! This recipe is so versatile that you can use either sourdough starter or sourdough discard to make this recipe! New, old, cold, or warm. It REALLY doesn't matter.
Can I make these sourdough crackers vegan?
Yes. Actually, this cracker recipe naturally tastes cheesy, without adding cheese. You can substitute the butter with olive oil. I haven't substituted the butter myself, but using olive oil would be a delicious way to make this recipe vegan. Note: The olive oil will make the crackers a bit more crispy.
What can I serve with sourdough crackers?
The first thing that comes to mind is my favorite hummus recipe, served as a healthy snack for the whole family. Also, serve them as a part of your healthy homemade lunchables. They would even be great on your holiday menu plan!
Other Sourdough Recipes
Two Week Sample
Do you need step-by-step help with meal planning? Frugal Real Food Meal Plans is an all-in-one meal plan with recipes, shopping lists, shopping guides, money saving tips and more! Sign up below for a free sample!