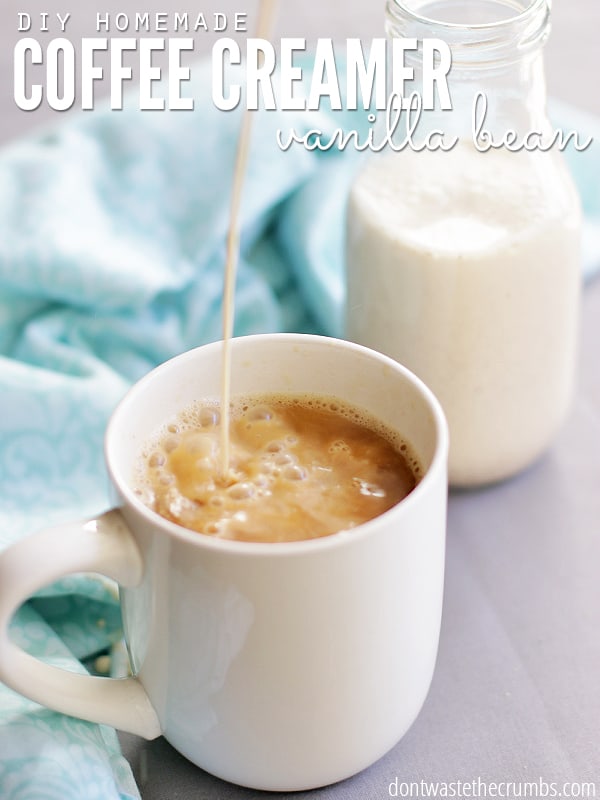 Giving up coffee creamer wasn't that hard for me.
We just started transitioning to real food and I kinda freaked out thinking about the plastic I was pouring in my cup each morning.
The immediate fix was substituting with half & half and Splenda. It took a few days of adjusting, but my morning coffee experience wasn't ruined or anything.
(If you're about to call me names because I was eating Splenda – one of the ingredients I just told you to avoid at all costs – keep reading.)
About a year later, I stopped using Splenda altogether and switched to liquid vanilla stevia to go alongside my half & half.
Then one day, we ran out of half & half and I used milk instead. Which oddly enough, I liked better.
When 2014 rolled around, I made a tiny goal to stop adding sweetener altogether in my coffee. I've been drinking it with just whole milk ever since!
And then we visited my in-laws for Christmas…
I've known for awhile that there are "better" coffee creamers on the market. The ingredients on those containers read milk, heavy cream, sugar and natural flavors.
I'm not too concerned about the first three. Ideally, there wouldn't be any sugar at all since it took me several years to wean myself off, but you can't win every battle.
Seeing "natural flavors" listed does concern me since that phrase really covers a wide array of possible flavors derived in a variety of ways (read the definition of "natural flavors" here).
And just because it's natural doesn't mean you're actually getting the food as found unprocessed in nature.
That list of ingredients I just shared was for the vanilla flavor, yet you'll see that vanilla isn't listed anywhere on the ingredients.
So basically I turned a blind eye and ignored those creamers. Until this past Christmas when my mother-in-law brought out the all-natural vanilla-flavored coffee creamer.
And I caved.
I'm a sucker for vanilla flavored anything, and the mere fact that it was Christmas AND we were visiting family out of town AND we had just moved across the country AND I was pretty much as stressed as I had ever been in my whole life means that I used the coffee creamer.
Joyfully. Blissfully. Deliciously. Every. Single. Day.
And I don't regret it one bit.
I don't have the desire to start putting coffee creamer in my coffee every morning, but it is nice to have now and then (like holidays and gatherings and when I go on a cranberry orange scone binge), and it sure would be nice to have a real food coffee creamer that doesn't contain sugar or natural flavors yet DID actually contain some flavor derived from real food.
That's where Homemade Vanilla Bean Coffee Creamer comes into play my friends. You'll thank me forever and ever, I promise.
Homemade Vanilla Bean Coffee Creamer
Just like the processed stuff (and even the "all natural" stuff), my homemade recipe starts with whole milk and heavy cream. The ratio I have below is just how I like it – thick, rich and decadent. A liquid celebration of the morning, poured into my coffee mug. If you want a thinner creamer, use less heavy cream and more whole milk. Feel free to adjust the ratio until it's just right for you.
My recipe also calls for vanilla extract, which is something else you can adjust to your liking. Do be careful when adding more. There's a fine line between more vanilla and that liquor aftertaste. Trust me on that one.
I chose to sweeten the creamer with maple syrup instead of honey because I think the flavor of maple syrup simply tastes better in this recipe. I like honey, but it doesn't taste good with milk in my opinion. I kept it at just 1 tablespoon because I've been drinking my coffee sweetener-free for so long, but you can add more if you'd like, 1/2 tablespoon at a time.
Finally, the secret to this amazing recipe is vanilla bean powder. Before you toss your hands up in the air and wave your finger at me to say you have no idea what vanilla bean powder is, that you can't afford vanilla beans in the first place and why in the world would I suggest such a thing on a frugal food blog – let me remind you that while I personally ADORE vanilla bean powder, it's entirely optional.
I inherited vanilla bean powder from my mother-in-law, who was given some by a neighbor. I think she got it at Williams Sonoma. You can buy it off Amazon here and while the price is a bit hefty, that bag will go A LONG way. My jar is 1.5 oz and it's lasted me nearly a year. It would likely last me longer if I hadn't made so many scones over the holidays.
Even still, if vanilla bean powder is too much of a splurge for you, skip it for now. I'll have a tutorial for you showing you how to make it yourself this Spring – just as soon as our moving truck is delivered and I can get to my vanilla beans!

Homemade Vanilla Bean Coffee Creamer
Ingredients
¼ cup whole milk
½ cup heavy cream
1 Tbsp maple syrup
1 Tbsp vanilla extract
¼ tsp vanilla bean powder
Instructions
Combine milk, syrup, vanilla extract and vanilla bean powder in a jar and shake like crazy.
Add heavy cream and stir gently.*
Store in the fridge for up to 1 week. Swirl jar gently before pouring into your favorite beverage - enjoy!
Notes
Do NOT add heavy cream at the beginning and shake like crazy, otherwise you'll end up with a lot of foam and something that resembles whipped cream. Add it at the end, and always stir gently or swirl carefully before serving.
Cost Breakdown
whole milk: $0.05
heavy cream: $0.90
maple syrup: $0.23
vanilla extract: $0.18
vanilla bean powder (optional): $0.28
Total cost for Homemade Vanilla Bean Coffee Creamer is $1.64 for about 1 cup. Compare to the store-bought all-natural variety for $1.14 per cup.
Comparing prices, making it yourself is just a bit more expensive. BUT, here's where I firmly believe that if you are an avid coffee creamer drinker, making it yourself is the way to go. Especially if you're drinking the stuff with carageenan and hydrogenated oils. Yuck!
To help offset the price of homemade, buy all your ingredients in bulk. I've seen heavy cream at Costco for as little as $5 for a half gallon and up to $9 for the same size. The price I used above is somewhere between the two.
Of course, you can skip the vanilla bean powder too and if you combine that with a sale on heavy cream, you'll get the cost down to $1.08 per cup.
Here are some other coffee-related posts you might be interested in:
Do you drink coffee creamer? What's your favorite flavor?