This recipe for Homemade Vanilla Bean Coffee Creamer is made with 4 simple ingredients and tastes much better than store-bought vanilla bean creamer. Naturally rich and decadent, use it in your favorite morning brew! Pairs perfectly with my Overnight Kefir Coffee Cake.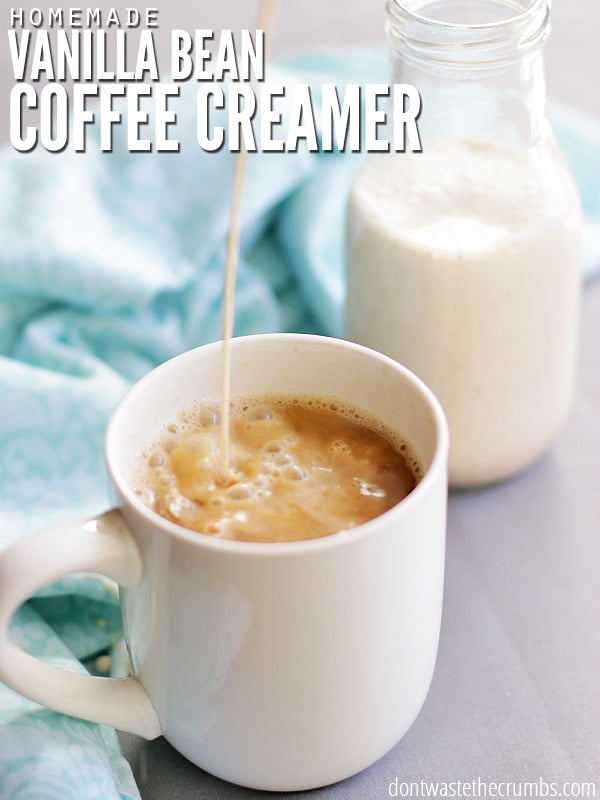 Everything You Need to Know About Homemade Vanilla Bean Coffee Creamer
We just started transitioning to real food and I kinda freaked out thinking about the plastic (aka trans fats) I was pouring in my cup each morning.
The immediate fix was substituting with half & half and Splenda. It took a few days of adjusting, but my morning coffee experience wasn't ruined or anything.
(If you're about to call me names because I was eating Splenda – one of the ingredients I just told you to avoid at all costs – keep reading.)
About a year later, I stopped using Splenda altogether and switched to liquid vanilla stevia to go alongside my half & half.
Then one day, we ran out of half & half and I used milk instead. Which oddly enough, I liked better.
A year later, I made a tiny goal to stop adding sweetener altogether in my coffee. I've been drinking it with just whole milk ever since!
And then we visited my in-laws for Christmas…
I've known for a while that there are "better" coffee creamers on the market. The ingredients on those containers read milk, heavy cream, sugar, and natural flavors.
I'm not too concerned about the first three. Ideally, there wouldn't be any sugar at all since it took me several years to wean myself off, but you can't win every battle.
What are the 'Natural Flavors' in Store-Bought Coffee Creamers?
Seeing "natural flavors" listed does concern me since that phrase really covers a wide array of possible flavors derived in a variety of ways (read the definition of 'natural flavors' here, according to the FDA).
And just because it's natural doesn't mean you're actually getting the food as found unprocessed in nature.
That list of ingredients I just shared was for the vanilla flavor, yet you'll see that vanilla isn't listed anywhere on the ingredients.
So basically I turned a blind eye and ignored those creamers. Until this past Christmas when my mother-in-law brought out the all-natural vanilla-flavored coffee creamer.
And I caved.
I'm a sucker for vanilla-flavored anything, and the mere fact that it was Christmas AND we were visiting family out of town AND we had just moved across the country AND I was pretty much as stressed as I had ever been in my whole life means that I used the coffee creamer.
Joyfully. Blissfully. Deliciously. Every. Single. Day.
And I don't regret it one bit.
I don't have the desire to start putting coffee creamer in my coffee every morning, but it is nice to have now and then (like holidays and gatherings and when I go on a cranberry orange scone binge), and it sure would be nice to have a real food coffee creamer that doesn't contain sugar or natural flavors yet DID actually contain some flavor derived from real food.
That's where Homemade Vanilla Bean Coffee Creamer comes into play, my friends. You'll thank me forever and ever, I promise.
Homemade Vanilla Bean Coffee Creamer
This homemade vanilla creamer is my favorite part of the morning! Here's why:
It's made from 4 simple real food ingredients!
It's rich and decadent…
And so easy to make dairy-free with canned coconut milk

. Just swap out the half & half for full-fat canned coconut milk or canned lite coconut milk for milk.
My homemade recipe starts with whole milk and heavy cream. The ratio I have below is just how I like it – thick and delicious. A liquid celebration of the morning, poured into my coffee mug! If you want a thinner creamer, use less heavy cream, and more whole milk. Feel free to adjust the ratio until it's just right for you.
This recipe also calls for vanilla extract, which is something else that you can adjust to your liking. Do be careful when adding more. There's a fine line between more vanilla and that liquor aftertaste. Trust me on that one.
Ingredients for Homemade Vanilla Bean Coffee Creamer
The ingredients are simple and easy to find..nothing too fancy, and MUCH better than store-bought creamer.
Whole milk
Heavy cream
Maple syrup
Vanilla extract
Vanilla bean powder (optional)
What is the difference between Vanilla Extract and Vanilla Bean Powder?
Vanilla extract is just that – extract of vanilla in a liquor base. A little goes a long way!
BUT… the secret to this amazing recipe is vanilla bean powder. Before you toss your hands up in the air and wave your finger at me to say you have no idea what vanilla bean powder is, and that you can't afford vanilla beans in the first place.
…So why in the world would I suggest such a thing on a frugal food blog?! Let me remind you that while I personally LOVE vanilla bean powder, it's entirely optional.
Where Do You Find Vanilla Bean Powder?
I inherited vanilla bean powder from my mother-in-law, who was given some by a neighbor. I think she got it at Williams Sonoma. You can buy it off Amazon here and while the price is a bit hefty, that bag will go A LONG way.
My jar is 1.5 oz and it's lasted me nearly a year. It would likely last me longer if I hadn't made so many scones over the holidays!!
Even still, if vanilla bean powder is too much of a splurge for you, skip it for now.
How to Sweeten Homemade Vanilla Bean Creamer
I chose to sweeten this creamer with maple syrup instead of honey because I think the flavor of maple syrup simply tastes better in this recipe. I like honey, but it doesn't taste good with milk in my opinion.
The recipe calls for 1 tablespoon because I've been drinking my coffee sweetener-free for so long, but you can add more if you'd like, 1/2 tablespoon at a time.
Some other recipes call for sweetened condensed milk, but I prefer to keep it simple with this recipe.
How to Make Vanilla Bean Coffee Creamer
Combine all ingredients (except heavy cream) in a glass jar or bottle
Shake like crazy!
Add heavy cream
Store in the fridge for up to 1 week
THAT'S IT!
Here's where I firmly believe that if you are an avid coffee creamer drinker, making it yourself is a great idea. Especially if you're drinking the stuff with carrageenan and hydrogenated oils. Yuck!
Note: Some recipes call for a vanilla bean (split lengthwise and scraped out with the end of a knife), with a can of sweetened condensed milk (or you can make your own) and half and half. You can certainly make it with these ingredients as well if you happen to have them on hand.
Just combine all ingredients and simmer on medium heat, then turn to low for 5-7 minutes. Keep covered and let stand for 15 minutes for flavors to blend.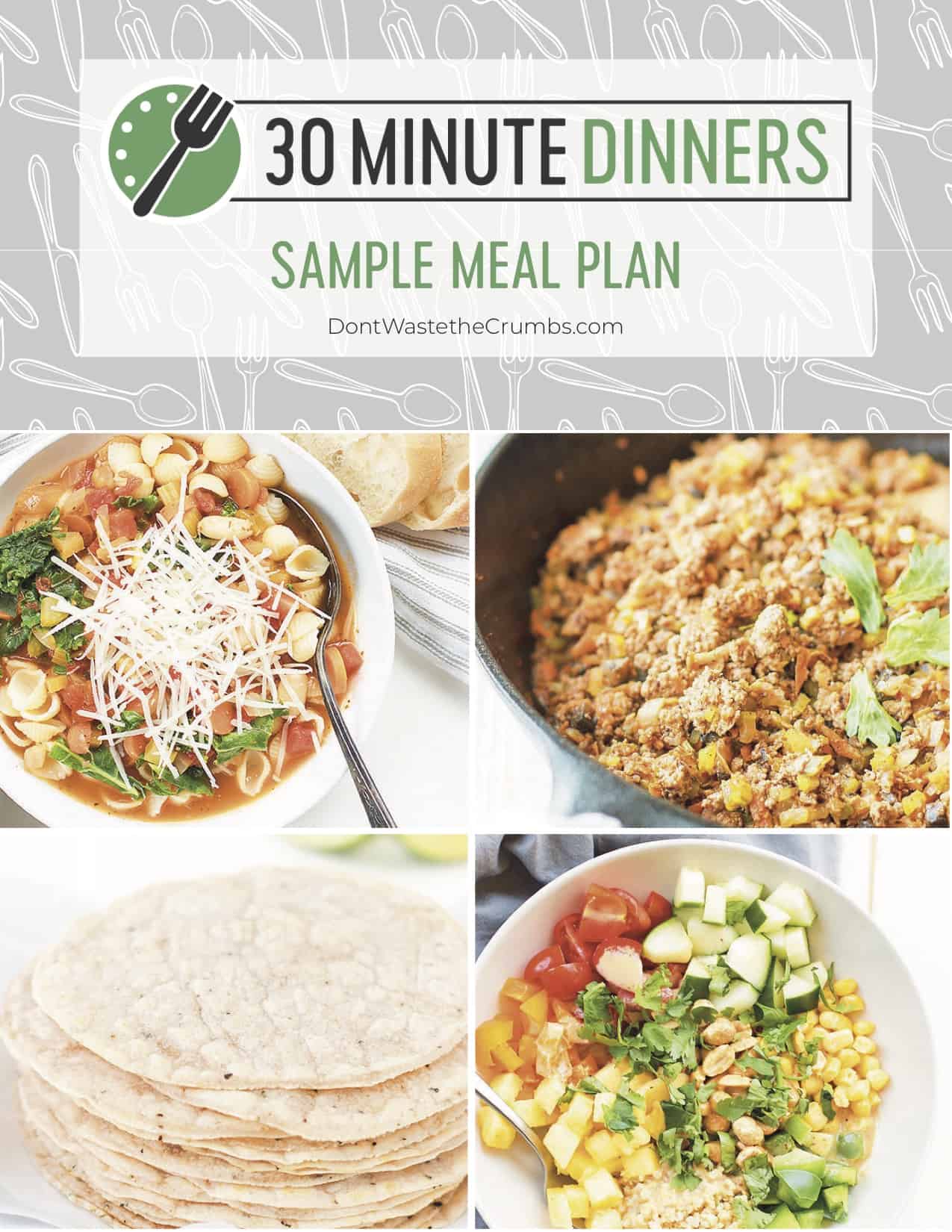 30 Minute Dinners Sample Meal Plan
Sign up to get instant access to my
30 Minute Dinners Sample Meal Plan
, complete with recipes and step-by-step instructions!
Watch How to Make Homemade Vanilla Bean Coffee Creamer
Homemade Vanilla Bean Coffee Creamer
This recipe for Homemade Vanilla Bean Coffee Creamer is made with 4 simple ingredients and tastes much better than store-bought creamer.
Author: Tiffany
Prep Time:

10 mins

Total Time:

10 mins

Yield:

3/4 cup

1

x
Category:

Beverages

Cuisine:

American
1/4 cup

whole milk

1/2 cup

heavy cream

1 Tbsp

maple syrup

1 Tbsp

vanilla extract

1/4 tsp

vanilla bean powder
Combine milk, syrup, vanilla extract and vanilla bean powder in a jar and shake like crazy.
Add heavy cream and stir gently.*
Store in the fridge for up to 1 week. Swirl jar gently before pouring into your favorite beverage – enjoy!
Do you drink coffee creamer? What's your favorite flavor?