Learn how to cook yellow rice in an Instant pot or pressure cooker with this quick & easy recipe. Use simple, real food ingredients for the absolute best yellow rice! Pairs well with delicious & tender slow cooker chicken and Instant Pot steamed vegetables.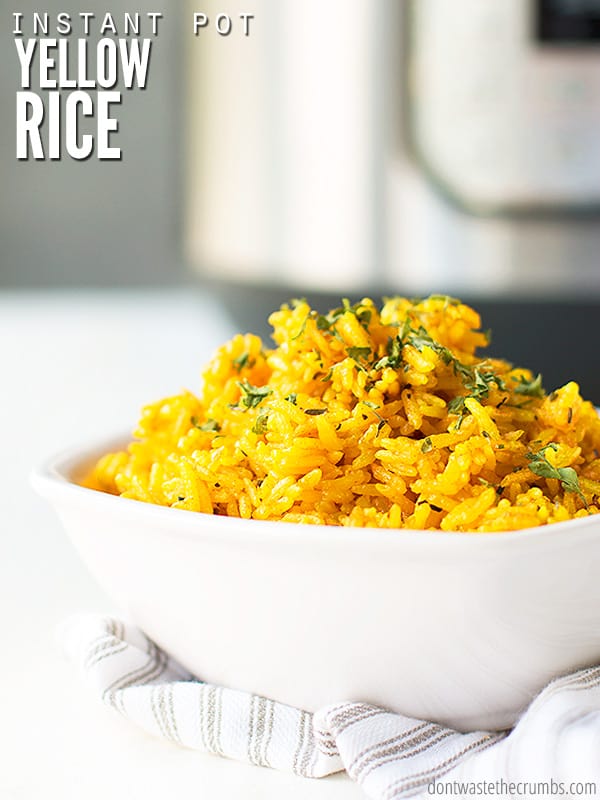 My family loves rice, but I confess that sometimes rice feels boring…
I used to buy packages of yellow rice from the store and I remember thinking they tasted SO GOOD.
But they're also full of preservatives and food coloring and since we've switched to eating real food, we generally avoid that stuff.
I've learned how to make Instant Pot yellow rice at home with simple ingredients! I get the deliciousness of that yellow rice without the bad-for-you ingredients of the store-bought kind, and rice is never again boring!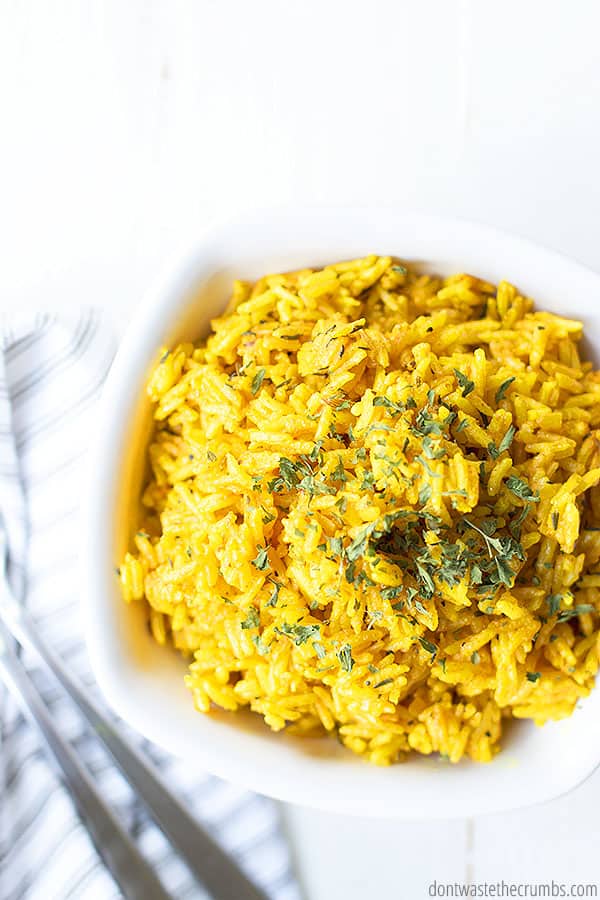 Instant Pot Yellow Rice
If you guys have never made yellow rice before, you're in for a treat! It's so easy and SO good! Plus…
My kids always get excited when I make yellow rice, and since I can make a big batch and freeze it for later, I get excited to spend less time in the kitchen!
Simple Ingredients for Yellow Rice
You only need a few simple ingredients to make homemade yellow rice from scratch:
Butter + olive oil
Garlic powder + onion powder
Thyme + bay leaf
Turmeric
Salt + pepper
Chicken or vegetable stock
White rice
Ever wonder what makes yellow rice yellow?
It's the turmeric!
Turmeric is an amazing spice that actually has many health benefits, like anti-inflammatory and antioxidant properties. It also has great flavor. It's a wonderful spice to cook with and to have on hand in your pantry.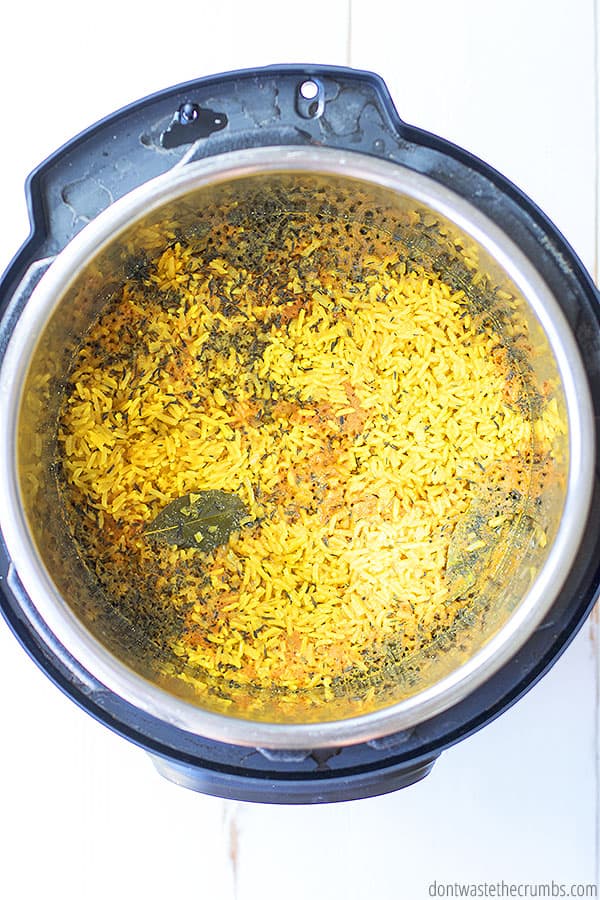 What about Instant Pot yellow rice and beans?
Personally, I recommend cooking the beans separately since they have a longer cook time than rice, but you can always stir them into the rice before serving!
Here's my tutorial for Instant Pot beans. (Note: If you have this 8 quart Instant Pot (like I do), you can make 1 ½ pounds of garbanzo beans and 2 pounds of black beans! Get it going before you go to bed and use the natural pressure release. You'll wake up to beans all ready to go!)
What about Instant Pot yellow rice with peas and corn?
If you want to add a bag of frozen peas and corn to the rice, go for it! Just dump it in with the rice and follow the same cooking instructions.
How to Make Yellow Rice in the Instant Pot
You can make yellow rice in the Instant Pot in 3 super simple steps:
Rinse the rice and place all the ingredients in the Instant Pot.
Set the timer and go do something else fun.
Use the quick pressure release when the timer beeps. Enjoy!
How long do you cook yellow rice in a pressure cooker?
We like the texture of the rice cooked at 2 minutes with the quick pressure release.
Can you cook boxed rice in a rice cooker?
Certainly, but why spend money on the artificial flavors and food coloring when making it yourself is so easy! Once you have turmeric in your spice cabinet, you can make it with any rice you have in the pantry, anytime you want!
Other Fast and Easy Instant Pot Recipes
Instant Pot Yellow Rice