Try this easy recipe for spatchcock chicken, the fastest way to cook a whole chicken. This method puts dinner on the table in under an hour & it's now our favorite! Pairs wonderfully with mashed potatoes and steamed veggies!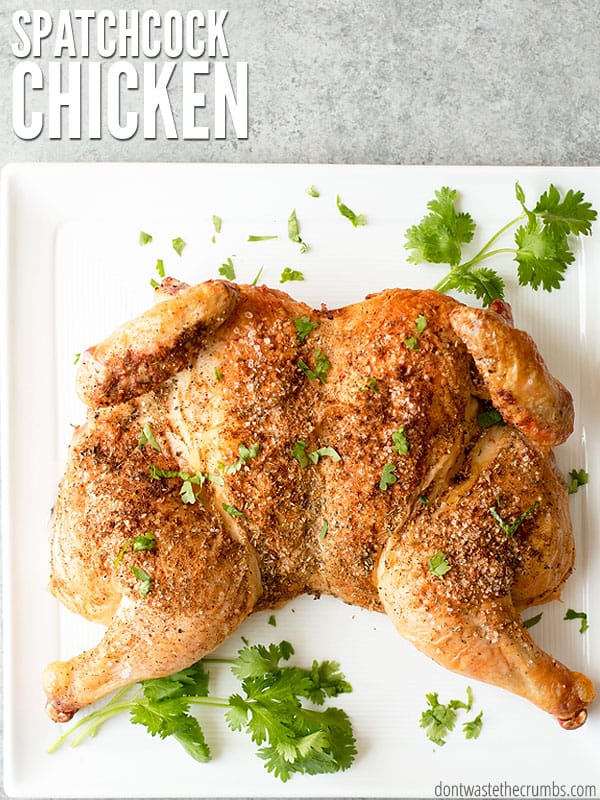 I am notorious for waiting until the very last second to start dinner. That's one reason why I started making slow cooker chicken in the first place – I knew the chicken would be ready in time for dinner!
When we want to eat a whole chicken – and not just eat shredded chicken – I usually have to plan to start cooking it about 3 hours before we would sit down for dinner. But when I make spatchcock chicken, I can get dinner done in under an hour!
Surprise surprise, I fell in love with spatchcock chicken because I was running late starting dinner. I had really good intentions that day and even made sure to pull the chicken out to thaw. But I got sidetracked as the day went on and didn't see the time until there were only 90 minutes until dinner.
Disappointment. Frustration. And panic. I was so tired of feeling this way. Tired of thinking everything would turn out okay if I was late to start dinner. That somehow, the result would be different this time – that we wouldn't be eating dinner late AGAIN.
It's kind of like putting a jar in the dishwasher and hoping the label will come off… despite the fact that you've already washed it in the dishwasher 3 times and the label is still there… I did find a solution to that, by the way. You can remove the label from a jar with just one ingredient. One chicken and 90 minutes on the clock. I was determined to make it work.
I knew that a whole chicken in the oven takes at least 90 minutes, but usually closer to 2 hours by the time it's all said and done. (My own favorite method for cooking a whole chicken makes an incredibly delicious bird, but it takes almost 2 ½ hours.)
Chicken legs, on the other hand, can be done in about 45. What's the difference? Cooking surface. There is more cooking surface on the chicken legs than the whole chicken.
Check it out – when I cook chicken legs, I line a cookie sheet with aluminum foil and a cooling rack and I put the chicken legs on top. The top of the chicken legs are exposed to heat, and there's a small bit of airflow underneath the chicken.
When I cook a whole chicken, only three-quarters of the bird is exposed to heat at any given time. The other quarter of the chicken – the part that is touching the cookie sheet or pan – is exposed to airflow, but it doesn't cook nearly as fast. Plus, the inside of the bird is essentially hidden and insulated from the heat. Altogether it makes for a significantly longer cook time. The solution? Create more cooking surfaces.
Ingredients for Spatchcock Chicken
Whole chicken
Large granules of salt and pepper: These really make the flavor of chicken pop. Be generous with both.
Coriander: AKA cilantro seed, but I don't think they taste anything alike. Coriander makes the chicken taste like you stuffed it with orange and lemon slices – it's so good!
Cumin: This is one of the main ingredients in homemade taco seasoning, but trust me, your chicken won't taste anything like a taco. When it's combined with coriander, cumin takes on a smoky and spicy combo. So. Very. Good.
How to Spatchcock Chicken
Step 1. Start off by rinsing the bird and patting it dry.
Step 2. Place the bird spine up (breast down) on a cutting board and using a very sharp and strong pair of kitchen shears (I have these) cut the spine out.
Step 3. Set the spine and any innards aside for homemade chicken stock. Using the kitchen shears, make a small cut at the tip of the breast bone where the two breasts meet. Anywhere from ¼" to ½" should work.
Step 4. Flip the bird over so the breasts are facing up. Press down on the bird so that it lays flat. This shouldn't be too hard, but you can make a longer cut into the breastbone if the bird isn't cooperating.
Note: One whole chicken lasts for 3 meals in my home, so I like to use basic spices that can be used in a variety of dishes. This gives me a bit more flexibility with how I can use the chicken. If I seasoned the whole chicken using strong Mexican spices, my Greek meal later on in the week will have some of those flavors too. I tried one time, and I wasn't a fan. My go-to seasonings are large grain kosher salt, freshly cracked pepper, coriander, and cumin.
Step 5. Add it all up and in less than an hour, you get a perfectly cooked, juicy bird with crispy skin. Thanks to spatchcock chicken, dinner will never be late again! Ok, so maybe never. But it will happen a lot less often!
More Tasty Chicken Recipes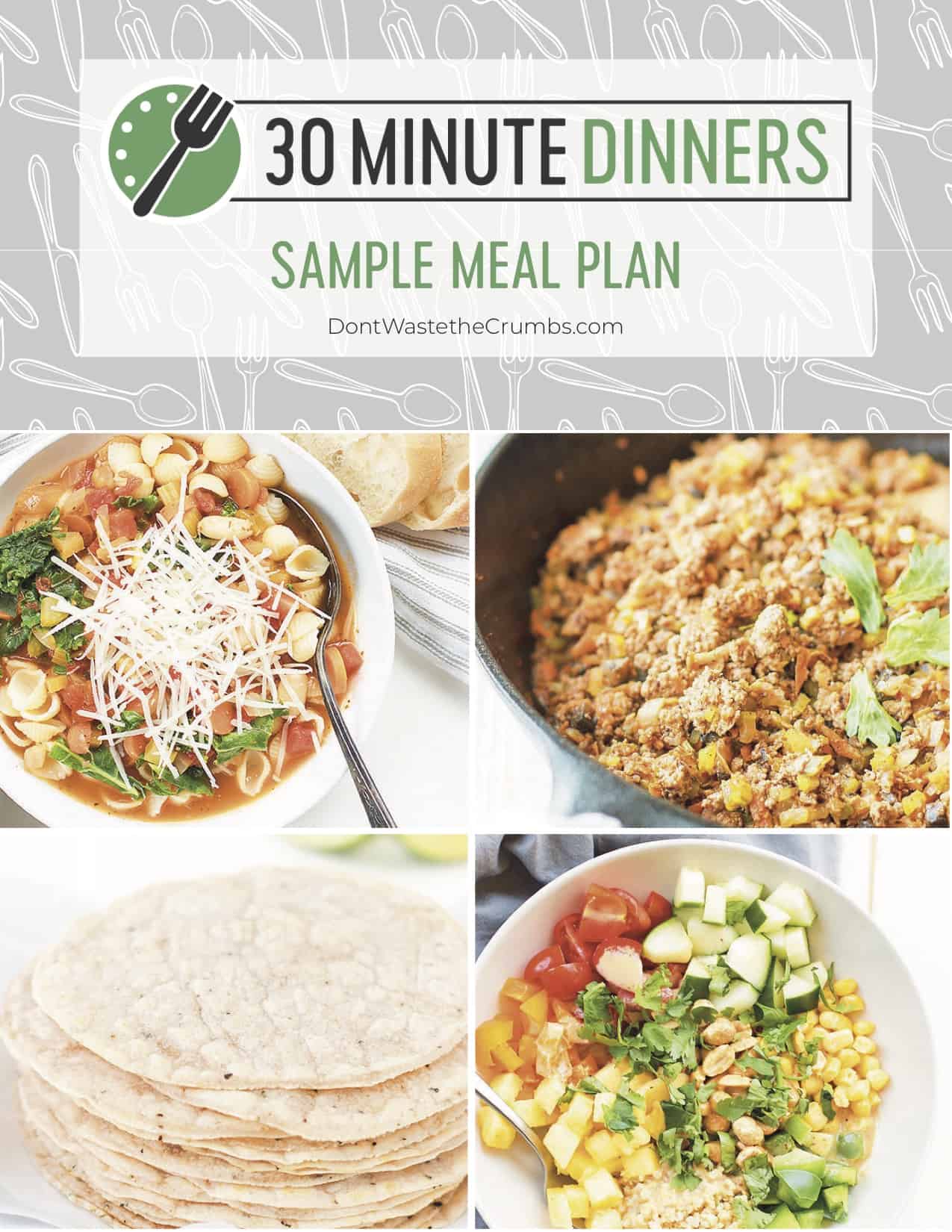 30 Minute Dinners Sample Meal Plan
Sign up to get instant access to my 30 Minute Dinners Sample Meal Plan, complete with recipes and step-by-step instructions!
Spatchcock Chicken
Easy recipe for spatchcock chicken, the fastest way to cook a whole chicken. This method puts dinner on the table in under an hour & it's now our favorite!
Author: Tiffany
Prep Time:

10 mins

Cook Time:

45 mins

Total Time:

55 minutes

Yield:

1

whole chicken

1

x
Category:

Main Meals

Method:

Oven

Cuisine:

American
1

whole chicken, rinsed, patted dry and innards removed

1 tsp

salt

½ tsp

pepper

1 tsp

coriander

½ tsp

cumin
Instructions
Place the chicken breast-side down on a cutting board. Using a pair of sharp kitchen scissors, cut out the spine. Make a 1/2" cut on the edge of the breastbone.
Flip the chicken over so it is breast-side up and press down to flatten the chicken.
Line a cookie sheet with aluminum foil and a cooling rack. Place the chicken on top of the cooling rack and season with salt, pepper, coriander and cumin.
Bake chicken at 425F for 45-55 minutes, or when the inner thigh close to the bone reads 165F on a meat thermometer. Let the chicken rest for 10 minutes before carving.
Where do you get your whole chicken?
Butcher Box delivers grass-fed beef, pasture-raised and organic chicken, and heritage pork directly to your front door each month. You can read my honest review on Butcher Box here, and also my updated Butcher Box review here.
The search for high-quality meat ends here. Amazing taste. Humanely raised and delivered to your door. Sign up today! Click this link to claim the current offer!