How to make chocolate covered pretzels using any kind of real chocolate, instead of candy melts. The white chocolate with sprinkles is a hit! These simple, sweet and salty treats make a perfect homemade gift.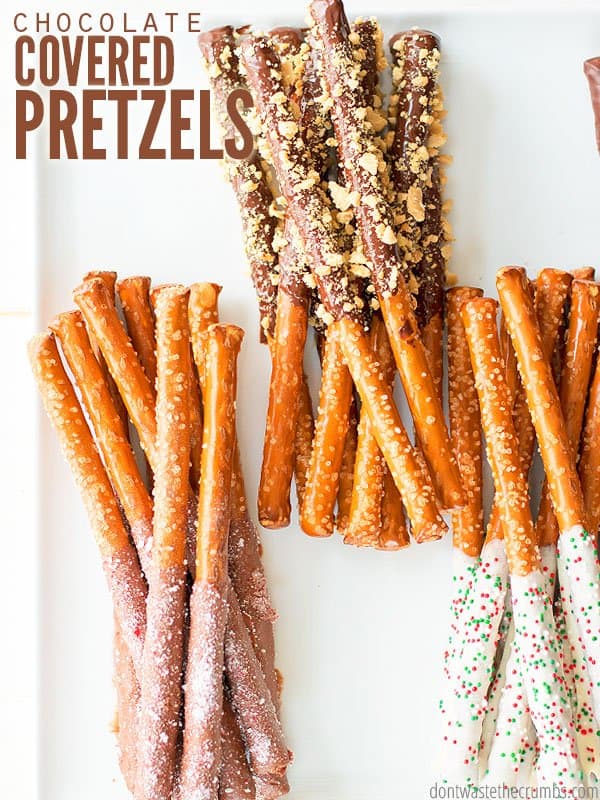 The holidays inspire me to bake a TON. Some of my favorite sweets to make are healthier sugar cookies and candy cane cookies. And here's why: BAKING CHIPS.
I can't resist them. That innocent baking aisle that normally has plain Jane chocolate chips seems to EXPLODE with awesome variations during the holidays… heath bar chips, snicker bar chips, and peppermint patty chips… I'm such a sucker. And what's one of the best things to make with baking chips?
Chocolate covered pretzels, of course.
Easy Homemade Chocolate Covered Pretzels
When I make party food for holiday gatherings they must fit these requirements: 
Frugal or inexpensive
Healthy
Easy to make ahead
Super delicious
Chocolate covered pretzels fit these categories and I was able to come up with some fun varieties!
What is a chocolate covered pretzel? 
Essentially, you are dipping pretzels into melted chocolate and then sprinkling on a fun topping. You can even use gluten-free pretzels!
There are so many ways you can flavor your chocolate covered pretzels. Here are some of my favorites: 
Dark chocolate with sea salt. These turned out really good, and they're so fancy looking… but they're definitely salty. 
White chocolate covered pretzels with sprinkles. These were my favorite because any type of sprinkles look festive against the white background.
Milk chocolate with chopped peanuts. I used an almost-empty bag of peanuts from my pantry, but any type of nut will work. 
Semi-sweet chocolate with crushed peppermint candies. You can choose to pulse the mints as fine as you'd like, or leave them a bit chunky!
How to make chocolate dipped pretzels
Plan your chocolate/topping combo first

. Line up your chips (or chopped chocolate) and toppings together. I promise that once you get going, you'll forget what flavors you actually decided to pair up.

You need two mugs for each combo. Mugs work better than microwave-safe bowls or a double boiler. If you're doing 3 variations, you'll need 6 mugs. 
Prep your toppings before you melt the chocolate. You want to dip your pretzels while the chocolate is still wet and hot. Once that chocolate melts, you need to move quickly because it will thicken as it cools. 
Sprinkle the toppings, don't dip the pretzels. Once you've dipped your pretzel rods with chocolate, you'll sprinkle the toppings on top. Rolling in the toppings just causes a mess. 
Prepare your baking sheet. Your dipped pretzels will be much easier to remove from your cookie sheet if it is lined with parchment or waxed paper.
How to dip chocolate covered pretzel rods 
After four batches, I found the best way to dip the pretzels in chocolate is to follow this method:
Tilt the mug so the chocolate comes as close to the edge of the mug as you can.

Then place one end of the pretzel into the chocolate and turn the pretzel so that it's completely coated.

Lastly, keep turning the pretzel as you pull it out of the mug WHILE leaving the very tip of the pretzel touching the side of the mug.
Coating the pretzels this way gives you an even coat of chocolate from the bottom to the very tip. Plus, it prevents excess chocolate in any one spot.
A great snack for ANY occasion
Chocolate covered pretzels aren't just a treat for the holidays. You can make these for:
Valentines Day (think heart and pink sprinkles)
Birthdays
Mother's or Father's day
Parties
Just for fun!
How to store chocolate covered pretzels
These should be stored in an airtight container. They last about 2-3 weeks.
Although I haven't tried this, you could freeze them. I would layer them on a sheet pan to freeze and then move to a freezer-safe container. 
More Ways to Use Chocolate Chips: 
Watch How to Make Chocolate Covered Pretzels
Chocolate Covered Pretzels
How to make chocolate covered pretzels using any kind of real chocolate, instead of candy melts. The white chocolate with sprinkles is a hit! These simple treats make a perfect, sweet and salty gift.
Author: Tiffany
Prep Time:

5 mins

Cook Time:

5 mins

Total Time:

10 mins

Yield:

48

rods

1

x
Category:

Dessert

Method:

dip

Cuisine:

American

Diet:

Vegetarian
48

pretzel rods (about

2

–

16

ounce packages)

2 cups

(

12 oz

) chocolate (I used

1/2 cup

each: white chocolate, milk chocolate, semi-sweet chocolate, dark chocolate)
Toppings: sprinkles, sea salt, chopped nuts, flaked coconut, chopped candies, etc.

4

cookie sheets
parchment paper
Instructions
Line each of your cookie sheets with parchment paper and set aside.
Prepare your toppings and set aside.
In a mug, measure chocolate and microwave on high for 30 seconds. Stir very well with a spoon until the chocolate is smooth. If the chocolate isn't smooth, continue to microwave for 5-second intervals, stirring very well after each time. Note that sometimes small pieces of chocolate will melt as you stir it into the melted chocolate surrounding it.
Tilt the mug to create a deeper pool of chocolate and dip one end of the pretzel rod into the mug. Turn the rod continuously as you pull the rod out of the mug. Set on the prepared cookie sheet.
Repeat this dipping process for 5 more pretzel rods.
Top the pretzel rods with desired toppings. (I recommend topping the pretzels after they've cooled just slightly, but if you want too long, the toppings won't stick. I found that making 6 pretzels at a time and then topping was the perfect amount of cooling time.)
Repeat this process with your remaining pretzels.
Cool at room temperature overnight OR in the fridge. Cooling in the fridge is recommended if you need the pretzels to be ready quickly.
Keywords: Chocolate Covered Pretzels