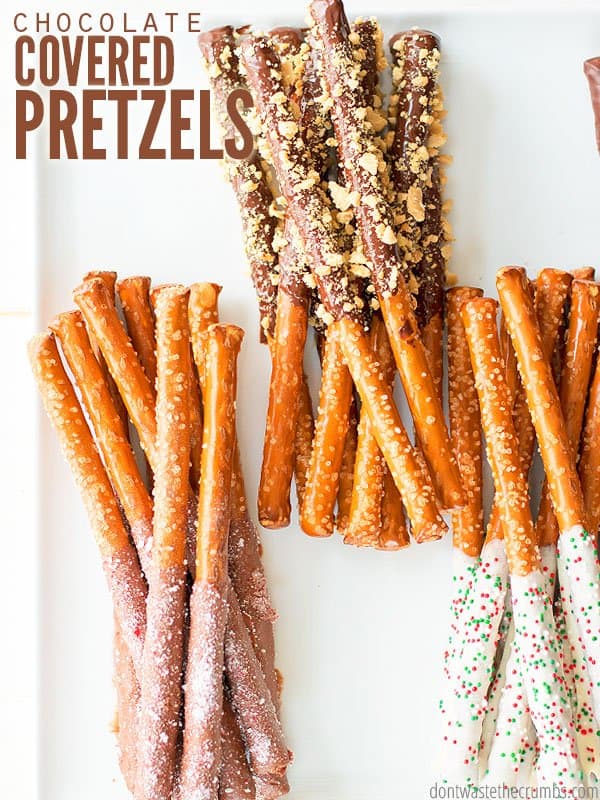 Am I the only one who has been a baking fool this year?
I've made at least a dozen different sweets in the past two weeks alone… the cut-out sugar cookies and  candy cane cookies I shared recently are only a drop in the bucket.
And here's why: BAKING CHIPS.
I can't resist them. That innocent baking aisle that normally has plain Jane chocolate chips seems to EXPLODE with awesome variations this time of year… heath bar chips, snicker bar chips, peppermint patty chips… I'm such a sucker.
My pantry has a schmorgusboard of chips, and as my waistline is craving a bit of a fresh start, so is my baking shelf. What to do with all the chips?
Chocolate covered pretzels, of course.
I first made these a couple weeks ago as we were getting ready for a party. I wanted to have some fun yet healthy snacks available for our guests, and I was looking to do it on the frugal side. (I splurged on a couple pounds of pecans for candied pecans. Totally worth it though!)
Pretzels in general are fairly inexpensive, and considering I already had a plethora of baking chips and toppings and such in the pantry, the decision to make chocolate covered pretzels was a no brainer.
You'll notice that these aren't your average chocolate covered pretzels.
OH NO.
I could have certainly melted milk chocolate, dunked the pretzels and called it done. Those would have been absolutely amazing and our guests would have eaten every single one.
But because I simply cannot help myself from tinkering with recipes and variations (hello food blogger!), I came up with some mind-blowing options.
Wanna see?
Well, you're here reading my blog, so of course you do. 😉
First up – dark chocolate covered pretzels with sea salt.
I found a bag of organic dark chocolate chips on clearance at Walmart and it called my name. Literally, I heard an audible voice coming from the bag of chips that said "buy me, because I'm a great deal and you know it."
Friends, anytime a bag of chocolate chips is on clearance, you buy it.
These turned out really good, and they're so fancy looking… but they're definitely salty. Only make these if you love salt, or can find unsalted pretzels.
Next up – white chocolate with sprinkles.
I knew there would be kids at our party, and what kid doesn't like sprinkles?
My hunch that the kids would like these was right, because these were the first to go!
Out of all the chocolates, this melted the best… BUT I think it's because white chocolate has a different ingredient list than regular chocolate.
I also think these were my favorite for aesthetics, because any type of sprinkles would look festive against the white background.
Third round – milk chocolate with chopped peanuts.
I know I said I COULD have done this version only and been fine, but I didn't mean to leave milk chocolate out completely… that is just blasphemy.
I chose chopped peanuts because it's the time of year when bags of nuts look kind of empty and I'm only left with crumbs. Don't waste the crumbs, right?
These were actually a favorite of the adults. Next time I'd try to crush the pretzels a bit more, but really, that's just getting nit picky.
Fourth and final batch – semi-sweet chocolate with crushed peppermint candies.
Personally, these were my favorite. The chocolate wasn't too sweet and I liked the hint of mint at the end.
I think I'll make the peppermint pieces BIGGER next time, only so that when you looked at them you could obviously tell that they were covered in mint. If you don't care so much about how it looks, pulse those mints up as fine as you want!
Chocolate Covered Pretzels
The recipe for how to make these is below, but I learned a few tricks in making several dozen of these that's worthy to pass on.
Plan our your chocolate/topping combo first.
Pull all the chips and toppings out from your pantry and line them up.
Figure out which chocolate will go with which topping, and write it down! I promise that once you get going, you'll forget what flavors you actually decided to pair up.
You need two mugs for each combo.
One mug is for the chocolate, another mug is to hold the toppings. You can use cute little ramekins like these if you want, but since we all have mugs, that just makes it easier.
Remember that this is for EACH combo… so if you're doing 3 variations, you'll need 6 mugs.
Prep your toppings before you melt the chocolate.
The chocolate will melt pretty quick and it will also slowly cool and become thicker… it's definitely something you don't want to dilly dally around with, otherwise the consistency of the chocolate will change in the middle of the project.
It just makes it easier to have everything you need to top before you start melting anything.
Prep your cookie sheet before you melt the chocolate, too.
For the same reason as the toppings. Once that chocolate melts, it's going to go quick.
Sprinkle the toppings, don't dip the pretzels.
Once you've covered the pretzels with chocolate, you'll sprinkle the toppings on top. If you roll the pretzel in chocolate and then try to roll in toppings, you'll get chocolate in the toppings and make a mess (in addition to ruining the smooth chocolate coating you just did).
Use technique as you dip the pretzels.
After four batches, I found the best way to dip the pretzels in chocolate is to tilt the mug so the chocolate comes as close to the edge of the mug as you can. Then place one end of the pretzel into the chocolate and turn the pretzel so that it's completely coated. Lastly, keep turning the pretzel as you pull it out of the mug WHILE leaving the very tip of the pretzel touching the side of the mug.
It sounds complicated, but it's not. Think about it as you do the first pretzel and the rest will fall in suit.
Coating the pretzels this way gives you an even coat of chocolate from the bottom of the pretzel to the very tip, prevents big globs of chocolate in any one spot, and you're also eliminating excess chocolate as you're coating… this means that all the extra chocolate won't drop off as it dries, and you can coat more pretzels by wasting less chocolate.

Chocolate Covered Pretzels
Ingredients
48 pretzel rods (about 2-16 ounce packages)
2 cups (12 oz) chocolate (I used ½ cup each: white chocolate, milk chocolate, semi-sweet chocolate, dark chocolate)
toppings: sprinkles, sea salt, chopped nuts, flaked coconut, chopped candies, etc.
4 cookie sheets
parchment paper
Instructions
Line each of your cookie sheets with parchment paper and set aside.
Prepare your toppings and set aside.
In a mug, measure chocolate and microwave on high for 30 seconds. Stir very well with a spoon until the chocolate is smooth. If the chocolate isn't smooth, continue to microwave for 5 second intervals, stirring very well after each time. Note that sometimes small pieces of chocolate will melt as you stir it into the melted chocolate surrounding it.
Tilt the mug to create a deeper pool of chocolate and dip one end of the pretzel rod into the mug. Turn the rod continuously as you pull the rod out of the mug. Set on the prepared cookie sheet.
Repeat this dipping process for 5 more pretzel rods.
Top the pretzel rods with desired toppings. (I recommend topping the pretzels after they've cooled just slightly, but if you want too long, the toppings won't stick. I found that making 6 pretzels at a time and then topping was the perfect amount of cooling time.)
Repeat this process with your remaining pretzels.
Cool at room temperature overnight OR in the fridge. Cooling in the fridge is recommended if you need the pretzels to be ready quickly.
I used chips I already had on hand for these – what else would you make to use up random types of chocolate chips? Please leave your ideas in the comments below!