If there was ever a recipe to make you famous among your neighbors, at your husband's work or at your church potluck, this paleo brownie recipe will do it.
I personally ADORE my black bean brownies and send them to school with my kids for classroom parties. And my pumpkin black bean brownies are what I look forward to most when the leaves start to fall.
But the fact that my husband ate nearly half the pan the first time I made these triple fudgy Paleo brownies, I can't deny that they'll give your go-to brownie recipe a run for its money!
These brownies are perfect for anyone who:
Loves chocolate
Loves brownies
Doesn't like to do dishes (hello ONE bowl goodness!)
Likes a sweet treat without being in a sugar coma
Is Paleo / dairy-free / coming off Whole30 and wants to indulge (a little bit) on a Friday (or Tuesday) night
Is NOT following any particular diet and just wants to eat an amazingly fudgy brownie (holla!)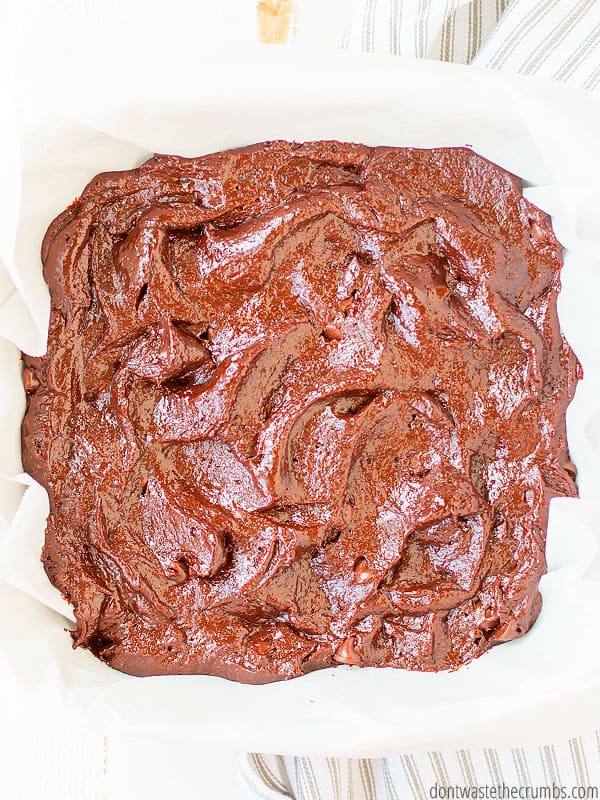 It's hard to describe the awesomeness of these brownies without saying "amazing" or "awesome" or "chocolate" or "indulgent" or "fudgy" over and over again, so bear with me as I share this recipe with you.
And despite the recipe being all those things (amazing, awesome, indulgent, etc.), they're actually kind of HEALTHY too.
What the what?!
I know, it's hard to believe. Heck, it's nearly IMPOSSIBLE to believe. But friends, we have arrived.
We have an indulgent, triple fudgy Paleo brownie recipe that's not only slap yo' mama delicious, but it doesn't have any dairy or gluten AND it has just the teeniest tiniest amount of sugar.
I think the fact that it's made with antioxidant-filled dark chocolate and cacao powder AND super good for you coconut oil far outweigh the measly 1/3 cup of sugar, don't you?
Triple Fudgy Paleo Brownie Recipe (One-bowl & Gluten-free)
Since I don't want to be blamed for the drool covering your keyboard, let's break this recipe down a bit.
Bittersweet Chocolate + Cacao / Cocoa Powder + Chocolate Chips
I say these are triple chocolately, and I'm not kidding. This triple whammy of chocolate completely satisfies the worst chocolate craving you've ever had, in the best way possible.
I don't bake with bittersweet baking chocolate much, but I found it on clearance at Kroger. I added it to my test batch on a whim and I'm so glad I did! It lends such richness that you normally don't get from chocolate.
I'm fairly new to cacao powder, but it's the upgraded, healthier version of cocoa powder. Feel free to use whichever you have in the pantry.
Since neither bittersweet chocolate nor cacao / cocoa powder have any sugar, you can control the sugar in the recipe by choosing the type of chocolate that your family would like best.
Milk chocolate = most sugar
Semi-sweet chocolate = less sugar
Dark chocolate = even less sugar
Bittersweet baking chocolate = no sugar
If you're used to eating super sweet desserts, I'd recommend going with milk chocolate.
If you've been working on quitting sugar alongside me, either semi-sweet or dark chocolate would be best. (Semi-sweet compliments the bittersweet chocolate in the brownie well, but dark chocolate would leave you with less guilt. Pick your poison depending on how sassy you feel!)
Almond Butter + Coconut Oil + Maple Syrup
These three players are the reason why these brownies are so fudgy.
Almond butter has a very muted flavor, especially when you're used to peanut butter, but that's why it's so good in this recipe. It gives the brownie a softer, gooey texture without taking away from the chocolate factor.
You can substitute peanut butter for almond butter if you'd like, but the peanut flavor will be noticeable (which might not be a bad thing?). Make sure you use natural peanut butter, where the ingredients are "peanuts, palm oil (optional) and salt." Not only is this healthier than the peanut butter with hydrogenated oils (YUCK!), but it has a closer consistency to almond butter (which is on the oily side).
I use unrefined organic virgin coconut oil in all my baking recipes, which is NOT the same as refined coconut oil. Refined coconut oil is a liquid at all temperatures and it's great as a carrier oil in essential oil recipes, but it won't work for this recipe. Unrefined coconut oil solidifies at cooler temperatures, and that's partly what makes these Paleo brownies fudgy.
If you can't do coconut oil, I'd recommend palm oil or butter. Note that I haven't tested either one of these options, but they both bake well and are solid at cooler temperatures.
I've been baking with maple syrup for quite a while, and prefer it to honey in most recipes where I don't want to taste honey (like avocado chocolate mousse and peanut butter chocolate chip muffins and pumpkin black bean brownies and strawberry lemonade donuts, to name a few).
You can substitute honey for maple syrup in these fudgy brownies, but you may taste it – heads up!
The rest of the players are what you usually find in brownie recipes – eggs, vanilla, salt, baking soda, a teeny bit of sugar and almond flour.
Psst! Want to kick these brownies up a notch? Try finishing this recipe with a pinch of finishing salt! I love Ava Jane's Kitchen because it doesn't have microplastics (gross, right?) and it's SO GOOD! Plus, you can get a bag for just 1¢!! Just add a pinch when you pull the brownies from the oven and try not to drool as you wait for them to cool! (Get your penny bag of salt on this page.)
A Quick Note on the Sugar
I switched to Turbinado sugar a couple years ago, which is one step less refined than your typical white granulated sugar. The granule of the sugar is also larger, so cup for cup there is physically less sugar in your recipe versus using white granulated sugar. This is great for our goal of eliminating white sugar, but it makes baked goods less sweet.
If you normally use Turbinado sugar or any other granulated sugar BESIDES white granulated sugar, you'll be fine. If you use granulated sugar, consider using just 1/4 cup. Otherwise these brownies could easily become too sweet.
Need to Substitute Almond Flour?
Almond flour isn't something I kept in the pantry until we did the Whole30, so I understand if you don't have any.
There's no need to rush out and buy some for this recipe. You can use oat flour (here's how to make it) or you can use all-purpose flour. Both oat flour and all-purpose flour absorb liquid, but we're using such a small amount AND we have plenty of extra wet going on, it shouldn't be a problem.
Need to Substitute Eggs?
I have zero experience using egg substitutes, but I did test out a batch with flax eggs instead of regular eggs and it worked great!
One word of caution when you make these brownies – all the soft players (almond butter, coconut oil and maple syrup) make the fresh-out-of-the-oven brownies a bit on the crumbly side. They taste fine, but it's best to make these brownies and let them chill in the fridge for at least two hours BEFORE serving. I like to make these at night after dinner so they can chill while I'm sleeping. Plus this way I don't have to see them every time I open the fridge, knowing I can't eat them yet.
I also recommend storing them in the fridge as well. You can freeze these brownies if you wrap them well (avoid freezer burn!), but definitely bring to room temperature or fridge temp before serving.
Triple Fudgy Paleo Brownies
These simple triple fudgy paleo brownies uses almond butter & almond flour & are AMAZING. They're gluten-free, one-bowl and one easy swap makes them vegan.
Author: Tiffany
Prep Time:

10 mins

Cook Time:

20 mins

Total Time:

30 mins

Yield:

1

6

1

x
Category:

Dessert

Method:

Oven

Cuisine:

American
3 oz

bittersweet baking chocolate

1/4 cup

coconut oil

1/4 cup

maple syrup

1/3 cup

granulated sugar (I use Turbinado)

1 tsp

vanilla extract

1/3 cup

almond butter

2

eggs

1/2 cup

almond flour

1/3 cup

cocoa or cacao powder

1/2 tsp

baking soda

1/4 tsp

salt

1/3 cup

chocolate chips

1/3 cup

chocolate chips (optional, for drizzling)
Instructions
Preheat the oven to 350F and line an 8×8 or 9×9 glass baking dish with parchment paper.
In a large mixing bowl, measure coconut oil and baking chocolate. Place in the microwave and cook on high in 10 second intervals, stirring well in between each one, until the chocolate is completely melted. Alternatively, you can melt the coconut oil and chocolate in a double boiler.
Add the maple syrup, granulated sugar, vanilla and almond butter. Mix well until everything is incorporated.
Add the eggs, again mixing until everything is well incorporated.
Add the dry ingredients: almond flour, cocoa powder, baking soda and salt. Mix well until everything is incorporated.
Finally, add 1/3 cup chocolate chips. The batter will be very, very thick.
Pour batter into the prepared baking dish and bake for 20-25 minutes, or until the center of the pan is cooked through.
Allow to cool to room temperature.
If you want a chocolate drizzle, melt the remaining chocolate chips in the microwave in 10 second intervals, stirring in between each interval. When the chocolate is melted, drizzle over the baked brownies.
Allow the brownies to chill in the fridge for at least 2 hours before serving.
What's your status on sugar… are you eating less? Switching to something healthier? And how do you like your brownies… cakey? Fudgey? Gooey and chocolatey? Leave your ideas in the comments section below!