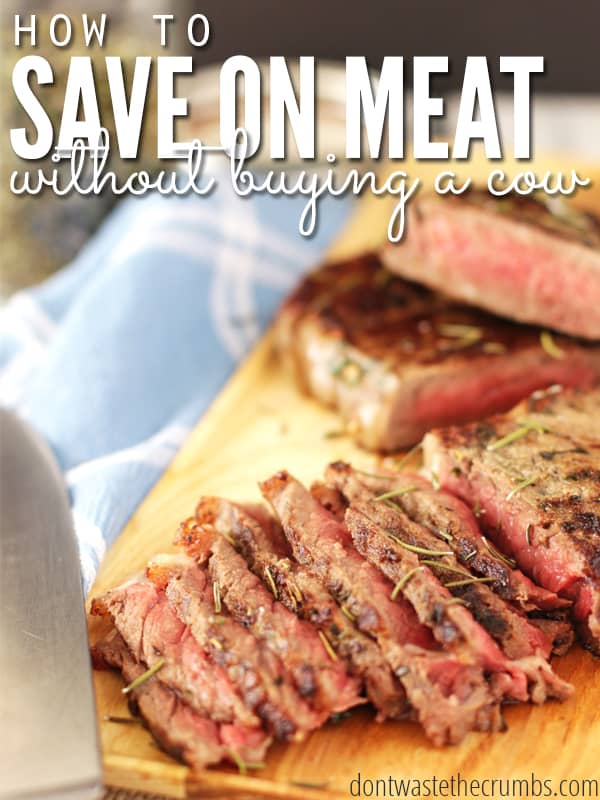 Everything You Need to Know About How to Save on Meat without Buying a Whole Cow
My freezer is itty bitty teeny tiny. So small, that we stopped making ice cubes (in trays) so that we could use that space for something more valuable… like meat! I would like nothing more than to buy a cow, save a bajillion dollars and see all the pretty cuts of beef lined up for my picking and choosing come dinner time. But with my teeny tiny freezer, that's just not gonna happen. "Oh just get a deep freeze Tiff – then you'll have a place to store all the meat!" Trust me, that conversation has happened with Mr. Crumbs PLENTY of times, and it's a dead end. I'm sure fellow wives (and husbands!) can relate to that one. Without a spacious fridge and no extra freezer anytime soon, I have to be creative when it comes to saving on meat – because there's no way we're buying a whole cow! Even if I did have space for a whole cow, there's other factors to consider too, like finding a trustworthy farmer and then paying for the whole thing up front. Neither one of these tasks is easy, so I've come up with a few work-arounds. These ideas balance the need for quality meat and the lack of storage space to hold it. And the huge cost up-front!
7 Ways to Save on Meat Without Buying a Whole Cow
(1) Shop around.
Whether you already have a trusted farmer in mind, or are shopping for one, the massive list of resources on this page can help you find a reputable farmer you can afford. Even when you find one though, don't stop looking and shopping around. Make a phone call to a new farmer every month or two and see what they charge, how they raise their beef and generally how they run their system. It's no different than keeping an eye out for better deals on groceries, so don't assume your farmer has the best bang for your buck. Instead, call around and make sure he does (and do something about it if he doesn't).
(2) Buy a half a cow instead. Or even just a quarter.
The point is that you don't necessarily have to buy the WHOLE thing. Yes, that's the most cost efficient option, but it's not an option at all if you can't store it! It's also not an option if you can't afford the cost of buying the whole thing up front. Buying meat from a farmer means paying for processing/butchering/packaging fees that we often don't take into consideration when buying meat from the grocery store. Talk to your farmer about buying options, and be sure to ask about the additional fees so you're fully aware of the end price.
(3) Join a CSA.
Did you know that some farmers offer CSA options for meat?! I've seen two variations of this: where the traditional produce CSA offers meat, and where the farmer who raises cattle will store your portion of meat for you and deliver over the course of a few months. You decide which is the best option, but be sure to include the cost of storage, delivery and even gas (if you're driving far, and often to pick up) into your calculations.
(4) Go in with friends.
A fantastic idea for either a bulk trip at a warehouse store OR if you do the half/quarter cow option OR any bulk purchase for that matter, especially if you're feeding real food to just one person. Control your cost by adding more families into the mix, but be cautious about adding too many – you don't want to fight over who gets what. You want to find that happy medium where families get their fill of ground beef and steak, and no heart or liver is left behind. Ideally, splitting the half between 2-3 families is best.
(5) Buy cheaper cuts of meat.
Good-bye filet mignon and hello chuck roast! Or better yet, eat more chicken. Pound for pound, poultry is the best bet for inexpensive meat and this applies to both organic and conventional. If you need pork or chicken, consider roasts that can be stretched into several meals and avoid the single-steaks whenever possible. Also consider using more ground turkey and less ground beef. This is especially helpful when you're already over budget on meat, and you need to stretch your dollars. If you're not sure which cuts are expensive and which are affordable, ask! Farmers and butchers don't want the animal to go to waste and won't be offended if you don't want the primo cuts. Which brings me to my next point…
(6) Know your cuts of meat.
Get familiar with the different cuts of meat and you night notice something interesting: one cut of meat could be found with two different price tags according the name on the package! Pork shoulder and pork butt are the same, as are blade-end pork chops and country-style ribs, and chuck arm roast and chuck eye roast. One cut of meat is also known by different names depending on the region you live in AND depending on your farmer. Knowing the names can save you money for sure, but will also make it easier on you when you're searching for a quality source of meat in the first place.
(7) Buy unpopular cuts of meat.
High demand means a higher price, so be unpopular and don't buy what everyone else is. Unfortunately, there's no guide explaining what's popular and what's not, so you'll have to do the leg work and pull out your handy dandy price book to keep track of prices.
Options for Buying Meat Online
If you're looking to improve the quality of your meat and are stuck without options in your area, consider US Wellness Meats, Grass-fed Traditions, and Butcher Box. US Wellness Meats US Wellness Meats offers a huge range of grass-fed meat: beef, bison, lamb, poultry, duck, pork, rabbit, and even seafood and dairy items. There's a small selection of sale items and you can save more when you buy in bulk. Grass-fed Traditions Grass-fed Traditions (part of Tropical Traditions) also offer grass-fed beef, bison, lamb, and chickens, but they also have turkey, grass-fed cheese, and eggs. They run weekly sales on various items – just click on "weekly sales" on the right side of the page to see what's on sale that week. Butcher Box Butcher Box offers high-quality grass-fed beef and pastured pork and chicken. You can read my full review and experience from them HERE.
The search for high-quality meat ends here. Amazing taste. Humanely raised and delivered to your door. Sign up today! Click this link to claim the current offer!
Butcher Box delivers grass-fed beef, pasture-raised and organic chicken, and heritage pork directly to your front door each month. You can read my honest review on Butcher Box here, and also my updated Butcher Box review here.
source 1
How do you save on meat? Leave your creative tips and tricks in the comments!