This ultimate guide to shopping at Trader Joe's is essential! Insider tips, hacks, and strategies to save time and money every visit! Be sure to read my other reviews on if the Costco membership is worth it and 15 ways to save at Sprouts.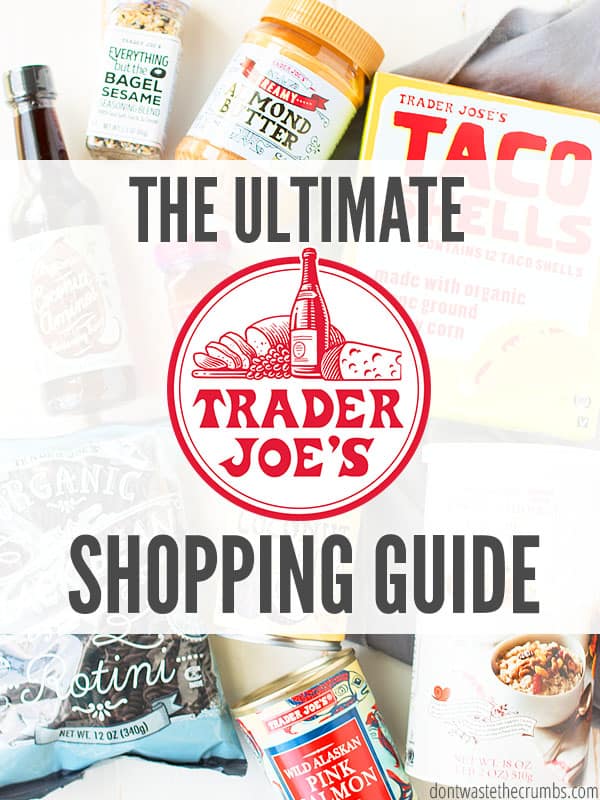 Shopping Trader Joe's was in my regular routine for a long time, but when I learned how to be strategic with my grocery shopping, I stopped going as often because I was able to find similar deals without having to drive as far.
Since our dietary requirements have changed a little bit, I'm willing to give the store a second chance. Plus, I hear they're really are some great deals to be had!
I spent several hours in my local store and created this ultimate guide to shopping at Trader Joe's. It's my battle plan of sorts, because every time I go grocery shopping, want to go in knowing what to look for, what to avoid and how to walk out getting the best bang for my buck! (Just like I teach in Grocery Budget Bootcamp!)
Reasons Why You Should Shop At Trader Joe's
The very first thing you should know is that they are unlike any other traditional grocery store in several ways. It's important that we realize a few things, otherwise, we'll go into the store with a certain expectation and we could leave disappointed.
1. The driving force behind its uniqueness
Yes, you'll find some things that you can find at other grocery stores, like cashews, milk, and whole wheat bread. But they're known for unusual flavor combinations that you typically won't find anywhere else, like pumpkin cornbread croutons, peppermint flavored ice cream cones, and sriracha lime popcorn.
If you enjoy fun foods and different flavor combinations, then you'll really enjoy shopping at Trader Joe's.
2. Most grocery stores carry on average 30,000 items in the store. It carries just 3,000
This is a significantly lesser amount of food items, and it explains why the stores are smaller, why the selection is limited and why you can't necessarily get EVERYTHING on your list from Trader Joe's.
If you want to shop at this store, keep in mind that you might have to make a second stop at a traditional grocery store or Walmart to get everything on your list.
3. 80% of those 30,000 items on Trader Joe's shelves are in-house brands
You'll see these brands far more often than you see brand names:
Trader Joe's
Trader Jose's (for Mexican cuisine)
Joe's Kids (for children's food)
Trader Jacque's (for French cuisine
Baker Josef's (for flour and bagels)
Trader Ming (for Chinese cuisine)
JosephsBrau (for beer)
Trader Giotto's (for Italian)
Trader Joe-San (for Japanese)
That doesn't mean Trader Joe's doesn't carry brand names, because they do. Here are just a few of the national brands I've seen:
Annie's
Applegate
Barbara's Products
Blue Diamond
Bob's Red Mill
Cabot
Columbus
Fage
Hansen's Soda
Kashi
Lactaid Milk
La Croix
Larabar
Laughing Cow
Morningstar
Ricola
So Delicious
Soy Dream
4. Trader Joe's has a very high standard of quality when it comes to its private label
Anything with the Trader Joe's name on it is free from:
artificial flavors
artificial preservatives
synthetic colors
genetically modified (GMO) ingredients
partially hydrogenated oils and artificial trans fat
dairy ingredients from cows injected with rBST hormones
monosodium glutamate (MSG)
And these line up with the ingredients that are a no-go in my household.
Many of the private label items are actually name brands.
I thought this was only the case at Costco, where many Kirkland brand items were actually made by the large national chains (i.e. Kirkland tortilla chips are actually made by Mission!).
Turns out Trader Joe's does it too. It's apparently a "thing" to try to figure out which brand is hiding behind the Trader Joe's packaging. Employees are sworn to secrecy, but former employees and Trader Joe's enthusiasts have come up with this list of products they believe were or are made by a name brand:
pistachios by Wonderful
hummus by Tribe Mediterranean Foods
smoothies and very green juice by Naked
pita chips by Stacy's
pretzel slims and dark chocolate pretzels by Snack Factory
organic animal crackers by Stauffer's
gluten-free chocolate chip cookies by Tate's Bake Shop
instant oatmeal by McCann's
organic lentil vegetable soup and organic vegetarian chili by Amy's
21 seasoning salute by Mrs. Dash
organic creamy tomato soup by Pacific
organic shells and white cheddar by Annie's Homegrown
The Ultimate Guide To Shopping At Trader Joe's
Can you save money at Trader Joe's?
Everyone wants to know if you can save money at Trader Joe's, so let's put all the cards on the table and see if you really can.
Because so many products are private label, Trader Joe's is able to keep costs down
As I mentioned earlier, 80% of the products on Trader Joe's shelves are private labels. That means they can reduce mark-ups and eliminate the middle man in the food chain, and pass the savings on to the customer.
Also, large brands charge grocery stores fees for putting one of their items on the shelf. This cost gets passed on to us as the customer. Because Trader Joe's doesn't offer many national brands, they can skip this fee and offer lower prices.
Trader Joe's prices are the same nationwide
Whether you're shopping in New York City or San Diego or anywhere in between, the prices at Trader Joe's are consistent across the United States.
Of course, you MIGHT find a 10-20¢ difference, but that's marginal compared to the $1-2 price difference in produce I found when moving from California to Georgia.
There are NO SALES, period
Most grocery stores have weekly sales and Walmart has monthly sales. Trader Joe's has no sales whatsoever. As a company, Trader Joe's claims it already offers the lowest prices it can on a daily basis, so there's no room for sales, specials, or coupons.
Trader Joe's accepts manufacturer coupons
I quit couponing years ago, but if you're still playing the game, bring your coupons with you when you shop at Trader Joe's. They might not carry many national brand items, but they accept coupons for the brands they do carry.
Trader Joe's is on Ibotta
I've shared before my love for the rebate app Ibotta – check out these posts:
I love that the app itself is free and that I'm earning cash back on the things I buy anyway! The fact that Ibotta has rebates for Trader Joe's is one more reason I'm considering adding the store back into my shopping routine.
You won't find clearance markdown at Trader Joe's
Every store has someone in charge of working with local food banks to hand over anything that is still edible but not good enough to sell.
I view this as both good and bad. I'm really glad that the food isn't simply being thrown away, but shopping clearance markdowns are one of the ways I find really great deals on organic and grass-fed meat.
Trader Joe's Shopping List
There's a lot going on inside the doors of Trader Joe's, and if you're not careful, you'll find your cart and budget overflowing with pumpkin spice everything and convenience foods that don't meet your real food priorities.
Anytime I am shopping at Trader Joe's, here's what I'm looking for:
1. Non-perishable pantry items
Think pasta, nut butters, and sauces – especially those you can't find anywhere else like truly grain-free pasta (it's made with 100% beans), the "Everything But the Bagel" seasoning, and any unique seasonal flavor.
You'll also want to stock up on items that are hard to find elsewhere, like organic coconut aminos, unsweetened coconut chips, and organic corn taco shells.
2. Specialty cheese
We're dairy-free at the moment, but I'm hoping that changes in the future, and when it does, I'm getting all the brie, gruyere, and Parmesan I can get my hands on!
3. The 99¢ greeting cards
I hardly ever recommend buying anything at a grocery store that isn't food, but I have to make an exception here. Trader Joe's offers greeting cards made by local artists for just 99¢ each. That's the same price as what I'd pay if I were to go to Walmart or CVS!
In this case, it makes sense to pick up a card there rather than making a second stop.
4. Prepared foods, a la picnics
I make 99% of our food from scratch, but if I know we're going to be on the road or if I'm shopping for a special day trip, Trader Joe's is the place to stop for conveniently prepared foods that are still on the healthy side.
You'll want to avoid the obvious junk that won't ever go bad no matter how long it sits on your pantry shelf, but salsa, guacamole, salad kits, bowls (i.e. banh mi noodle bowl or salmon poke bowl), non-lettuce salads (i.e. corn & quinoa salad) and fresh breads are all a safe bet.
In fact, if we were traveling and needed a place to eat that fit our current Whole30/Paleo preferences, you can bet I'd search for the nearest Trader Joe's.
5. Everything seasonal
Trader Joe's knows exactly how to please this pumpkin-loving gal, so if it's the season, you can bet I'm filling my cart with anything and everything pumpkin-flavored.
You'll want to keep an eye out for seasonal items, including Thanksgiving meal stuff and anything flavored with cranberry, pumpkin, mint, or gingerbread. These are only available as long as there is stock, and once they're gone, they really are gone.
Use the Fearless Flyer to help you out with this. It's not a sales flyer, since they don't have sales, but it does highlight seasonal items you might want to try. Plus you might find something that sounds delicious that you hadn't thought of trying on your own!
6. Produce that's packaged how I want it to be
One of the downfalls is that much of their produce is pre-packaged. For example, you might find a 4-pack of tomatoes, a 6-pack of zucchini, or a 3-pack of avocados. What if I only want one tomato, 2 zucchini, and 5 avocados?
When you shop for produce, make sure you break down the price per unit (i.e. per tomato or per zucchini) so you can accurately compare the price to your local grocery store. A price book will help you keep your numbers straight.
I also recommend having a backup plan for whatever produce you buy, since you could easily buy more than you really need. Better yet – save your produce list for a traditional grocery store where you have more control over the freshness, quantity, quality (i.e. checking for bruising and blemishes), and buying local.
7. Allergy-friendly foods and vegan alternatives
I mentioned the grain-free pasta, but I was surprised to find plenty of allergy-friendly substitutes throughout the store, including gluten-free bread, gluten-free pretzel twists, and plenty of hot and cold cereal options.
There are also plenty of items to choose from if you're vegan. I found no beef ground beef, ToFurkey, soy chorizo, and cream cheese alternative to name a few.
Tip: You can visit the Trader Joe's website to get a full list of their vegan, kosher and gluten-free foods, making it super easy to create a shopping list before you leave the house!
8. Flowers
I didn't realize how expensive fresh flowers were until I actually looked at the prices! Flowers and plants start at just $2.49, which makes it light on the pocketbook to adorn your kitchen table with fresh flowers now and then.
Here are some of the best healthy foods you can find at Trader Joe's and how they compare at price to Whole Foods.
FAQs
Do you need a membership for Trader Joe's?
There is no membership required for shopping at Trader Joe's.
What's the best time to shop at Trader Joe's?
After work during the week and weekends are the busiest times to shop. Most people tend to shop when they're not working, i.e. after 5 pm and on the weekends.

If at all possible, try to shop first thing in the morning during the week. You'll avoid the crowds for sure, but you'll also get the best selection. Shelves are re-stocked each morning and once an item is gone, the shelf stays empty until tomorrow.
What is Trader Joe's known for?
When you are shopping Trader Joe's, you will be paying low prices on unique food.
What's It Like Shopping at Trader Joe's?
The shopping experience is one reason why I didn't shop at Whole Foods for a long time. I felt like everyone kept giving me and my two small kids dirty looks, as if it were a requirement that you be single, wearing yoga pants with a dolled-up face, and fancy hair in order to grace your presence at the store.
Trader Joe's falls at the other end of the spectrum, striving to make your shopping experience a true pleasure, and here's how they do it.
Unless it needs to be microwaved* or thawed*, you can pretty much sample anything you want before buying it
Want to see if that sugar-free cereal is any good? Curious if peanut butter and yogurt really do taste good together? Want to know if the cookie butter hype is all it's cracked up to be?
Just ask an employee if you can try a sample and they're happy to oblige. You do want to limit your sampling though because the goal isn't to get a free lunch!
Don't feel bad asking for samples either. Whatever items are opened for sampling are divvied up between the employees. No opened container will go to waste!
Note: Whether you can try something that needs to be microwaved or thawed seems to vary from location to location, so it's best to ask your local store about their policies.
You can take something back, no questions asked
If by chance you didn't sample something in the store and you brought it home and it was downright awful (or that sugar-free cereal tasted fine to you but the kids won't touch it with a 10-foot pole), just take whatever you haven't eaten back to your store for a full refund.
Keep your kids busy with the scavenger hunt
Each store has a stuffed animal hiding somewhere within. Keep your kids busy by having them look for the animal. When they find it, tell an employee, and the child is rewarded with a fun and healthier snack (usually a bar or a piece of fruit).
Have your kids shop with you
This store has these super cute mini grocery carts that are perfect for the kids who like to be big helpers. If your kids are skilled enough to not run people over or race around the store like an Indi car driver, give them a cart and let them put items within reach in it.
Enter to win a gift card, every time you shop
Bringing your own grocery bag is an easy way to reduce waste, but it's also an entry to win a prize in a weekly raffle drawing!
Anytime you spend $25 or more AND bring your own bag, you're entered to win a variety of prizes, including a $25 gift card. You and I both know that spending wisely, $25 can make a big dent in your grocery bill!
I'm by no means an expert, but this ultimate guide to shopping at Trader Joe's certainly makes it easier to find good deals and walk away feeling good about what I put in my cart and my grocery budget!
Learning the ins and outs of your grocery store will help you save money
5 days to save $75
Need to save money on real food? Download my free guide to saving $75 in 5 days using easy, practical baby steps.
Don't Have A Trader Joe's? Maybe One Of These Guides Will Help You