If you're looking for specialty foodie finds, look no further than Trader Joe's! In this post, I'm divulging all of the best food at Trader Joe's so you can stock your cabinets without breaking the bank!
I don't know about you, but I used to be intimidated by Trader Joe's because I thought it was only for fancy foodies. However, after I went there for the first time one afternoon, I was blown away! The amount of different categories of food they had compared to traditional grocery stores is amazing!
After my first experience, I must say that Trader Joe's fans have been right all along. It's now my new personal favorite grocery store for finding unique hidden gems at an affordable price. So, if you want to discover the best Trader Joe's foods money can buy, keep reading.
Update: It's been a few years since I originally discovered Trader Joe's in California, but since moving, it hasn't been on my usual route. However, I recently applied the methods I teach in Grocery Budget Bootcamp to see if it was worth adding Trader Joe's back into my shopping routine. And it is! See the results HERE. And here's how Trader Joe's actually compares to one of the more expensive health food stores.
THE BEST FOOD AT TRADER JOE'S
The following list isn't in any particular order. And I didn't include prices since it varies greatly from place to place. However, if you're following the methods I teach in Grocery Budget Bootcamp, then you'll know why these are some of the best foods at Trader Joe's!
Chocolate
Let's just start with one of my favorite products, shall we? A good portion of Trader Joe's chocolate is fair trade and organic (I didn't have time to check every label). The fair trade label means that the farmers are getting paid a fair wage for their hard work, and the organic label gives me peace of mind that the sweeteners used in the chocolate aren't HFCS or other artificial sweeteners (here's why I avoid those ingredients)
I buy the darkest chocolate they have at 85% cacao or 72% and use it in my favorite sweet treat – Chocolate Chip Cookies. It is also delicious in Chocolate Pumpkin Brownies, Peanut Butter Chocolate Muffins, and Homemade Reese's Peanut Butter Cups.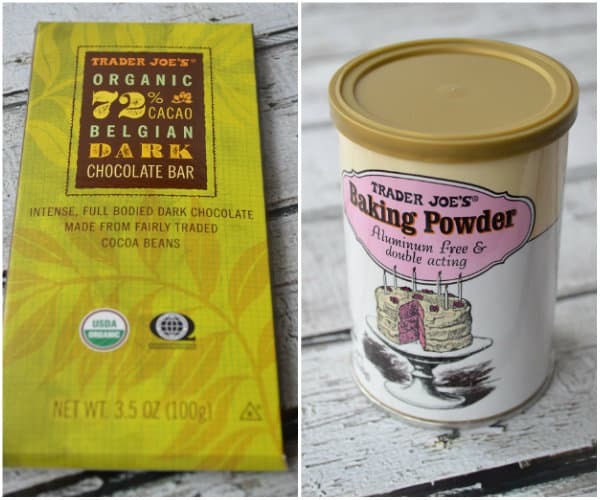 Baking Powder
My regular local grocery stores don't offer aluminum-free baking powder, so this is the best way to purchase it (unless I order a big 2 lb tub from Amazon).
100% Hardwood Briquettes
This is my favorite new product from Trader Joe's for a good reason! These briquettes don't come with the chemicals that treated charcoal does, but stores charge a pretty penny for briquettes. Fortunately, these briquettes are not only affordable, but you get three times as much as the typical bag of charcoal!
Coconut Oil
Although I currently buy coconut oil from Amazon, this has been a monthly staple for a long time. It's not only the best price in the area, but it's the best tasting too!
Sesame Oil
Trader Joe's sells smaller bottles of sesame oil which is nice considering you use just ½-1 tsp in each recipe. I don't use sesame seed oil in every stir fry I make, but it's a must in Instant Pot Beef and Broccoli and Chinese 5-Spice Chicken.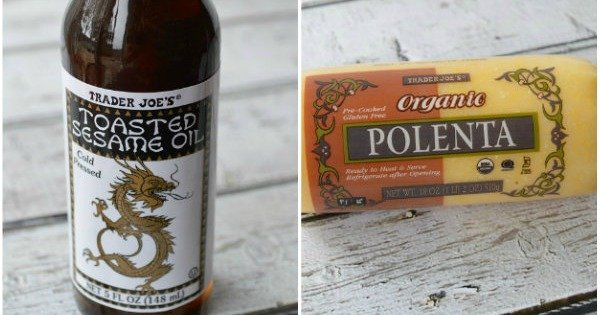 Gluten-free Pasta & Pasta Alternatives
I didn't take specific note of the prices on every gluten-free item here, but I did notice a very good selection of gluten-free foods. Organic corn pasta, quinoa pasta, brown rice pasta, and even polenta were on the shelves, and this is likely the favorite aisle for gluten-free folks. I know that gluten-free foods tend to be more expensive anyway. While the first line of defense would be to eat more naturally gluten-free foods (like fruits & veggies), it's nice to know there's an affordable place when you just want a bowl of pasta.
Dried Garbanzo & Dried Black Beans
Dry beans tend to be cheaper than canned beans. And when I can find them for under a dollar a pound, I'm excited to stock up! These beans are packed with protein, making them the ideal choice for crafting well-rounded complete meals. (Here's how I cook beans in the Instant Pot!)
Coconut Milk
It's incredibly easy to make your own coconut milk at home, but we used to buy this before I knew that was even possible! There's no added anything to this can of coconut milk, which is a win in my book. Plus, its smooth texture is one of my favorite things about it, especially for those who have aversions to textures. Canned coconut milk works better for recipes like No-Bake Blueberry Pie and Mashed Cauliflower.
Parmesan Cheese
Parmesan cheese adds a very "fancy" flavor to ordinary meals like Tomato Basil Soup, and Trader Joe's has the best price in my area. It far surpasses Costco's price, and the smaller wedges are perfect for our monthly budget and recipes.
In fact, many of the cheese options at Trader Joe's are at a great price. Unexpected cheddar cheese is one that I like to buy in a block. It has hints of Parmesan flavors too!
Gorgonzola
We often buy Gorgonzola instead of blue cheese because you can use it interchangeably in recipes. True blue cheese is pretty pricey, but like Parmesan, this cheese is very affordable. The per package price is very affordable, too, making it easy to get just as much needed for the month or recipe, as opposed to a huge brick from Costco that you put in a drawer and end up forgetting about and gets moldy… *ahem*
Organic Whole Wheat Pasta
The pasta here is just a little bit more than the per-package price at Costco, which is great if you only need one package of spaghetti instead of nine. It's also MUCH better than what I'm able to find locally. Bonus points for being whole grain and an added bonus for being organic (which means it's not enriched with synthetic vitamins). Plus, you can get several varieties of pasta too… spaghetti, fettuccine, rigatoni, spirals, macaroni…
Sunflower Seeds
We use sunflower seeds in our salads for a crunch, as protein in our granola bars and protein bars, and use it to make Sun Butter when we're out of peanut butter. These right here are always on my shopping list.
Spices
Trader Joe's has a decent selection of spices, and while some can be found elsewhere for a better price, they're all priced low – even the "fancy" ones. When you're shopping for spices, definitely check out their selection first because most grocery store prices for spices start AT LEAST a few bucks higher.
Raw Honey
I was SHOCKED to see this on their shelves, but they have raw honey for super affordable prices. The only downfall is that it wasn't local. The smaller jar was from India, and the larger jar was from Mexico. However, if you don't have a source for affordable local honey anyway, you might as well consider these!
Unsweetened Cocoa Powder
It is REALLY hard to find affordable unsweetened cocoa, let me tell you! Unsweetened cocoa powder is vital in sweet treats like Triple Fudgy Paleo Brownies and Chocolate Avocado Mousse.
White Balsamic Vinegar
Oddly enough, this was on my "to find" list when, lo and behold, Trader Joe's carries it! I know this specialty vinegar would cost at least $4 at my local grocery store, not to mention what other health food stores might charge. As a lighter sister to the traditional balsamic vinegar, this would make some delicious salad dressings!
Balsamic Vinegar
I'm reluctantly adding this one to the list because I'm a bit bitter that Trader Joe's has such a great deal on balsamic vinegar. Costco charges much more for the same thing! Consider this trip a lesson learned. I'll get my balsamic vinegar (and likely all vinegar) from Trader Joe's from now on.
Uncured Nitrate-free Bacon
This isn't the best price I've seen for nitrate-free bacon, but the cool thing about Trader Joe's is that their prices are consistent. If no one has a sale or Grocery Outlet runs out of our favorite brand, I know I can get some here. They sometimes have the "ends and pieces" variety of nitrate-free bacon, which sells for less. It's definitely fattier than regular slices, but it's an easy way to get some real bacon bits and bacon grease to keep those taste buds satisfied.
Best Food at Trader Joe's Food Runner Ups
These are items that are priced great, but I wouldn't normally buy them. I either make them at home or skip them for something cheaper.
Organic Corn Taco Shells
Sometimes taco night needs a crunchy taco instead of a plain old corn tortilla, and these shells are the best bang for your buck. You're getting organic corn and avoiding GMOs, plus you're getting two more shells than most other boxes. Win!
Sweet Chili Lime Sauce
This sauce has some added sugar, but I couldn't help but write the price down after buying something similar for more.
Orange Marmalade
It's really hard to find marmalade, jams, or jellies without High Fructose Corn Syrup. And they usually cost two arms and a foot! This one isn't cheap but it was worth buying.
Organic Chocolate Syrup
We literally buy maybe two of these a year, so it's just worth the extra few bucks to me. Besides, the organic variety again means there are no HFCS or other artificial sweeteners. It's the perfect balance for curing that sweet tooth while sticking to your health goals.
POPULAR TRADER JOE'S PRODUCTS
These popular Trader Joe's products are items I have not bought and might be on the pricey side. They tend to be processed and not as healthy so you may want to check the ingredient list. Sometimes a grab-and-go snack fits in with 80/20 real food goals!
Everything Bagel Seasoning
Green Goddess Salad Dressing
Mandarin Orange Chicken
Mini Ice Cream Cones
Cauliflower Gnocchi
Dark Chocolate Peanut Butter Cups
Pork & Ginger Soup Dumplings
Butter Chicken
Chicken Tikka Masala
Gone Bananas Frozen Treat
Jicama Wraps
Rolled-Corn Tortilla Chips
Avocado Toast Spread
Butter Cookies
Mediterranean Style Hummus
Mac and Cheese Bites
Cauliflower Pizza Crust
TRADER JOE'S MUST HAVES IN A NUTSHELL…
Trader Joe's is an excellent place to shop when you want better foods but don't need the quantity that buying in bulk comes with.
When you're looking for a very specific "specialty" item, there's a good chance they have it, AND it will cost less than your local grocery store.
Trader Joe's is NOT the place to buy fresh produce. I thought their produce section lacked much diversity and was also on the expensive side. You could easily find better deals at your local farmers market or even your grocery store if need be.
FAQs about the Best Food at Trader Joe's
What is Trader Joe's famous for? 
Trader Joe's is known for their unusual flavor combination. For example, I've seen Crunchy Chili Onion Peanuts and Pumpkin Butter. I highlight more of the fun foods and shopping experiences in this post.
Is Trader Joe's considered expensive?
That depends. Like any grocery store, deals can be found! I did find many really good prices on foods I normally buy. The processed foods and unusual finds will be more expensive. Using your price book is always helpful.
Best Products at ​Trader Joe's
So, the next time you decide to go grocery shopping, hit up your local Trader Joe's! Who knows? You might find some new favorites you never would have thought to purchase before!
Whether trying to save money or pick up a few new items, Trader Joe's is a great option! It's the ideal grocery chain for finding specialty items that a traditional grocery store wouldn't have. Have you tried any of these Trader Joe's products? Let me know in the comments!
More Helpful Posts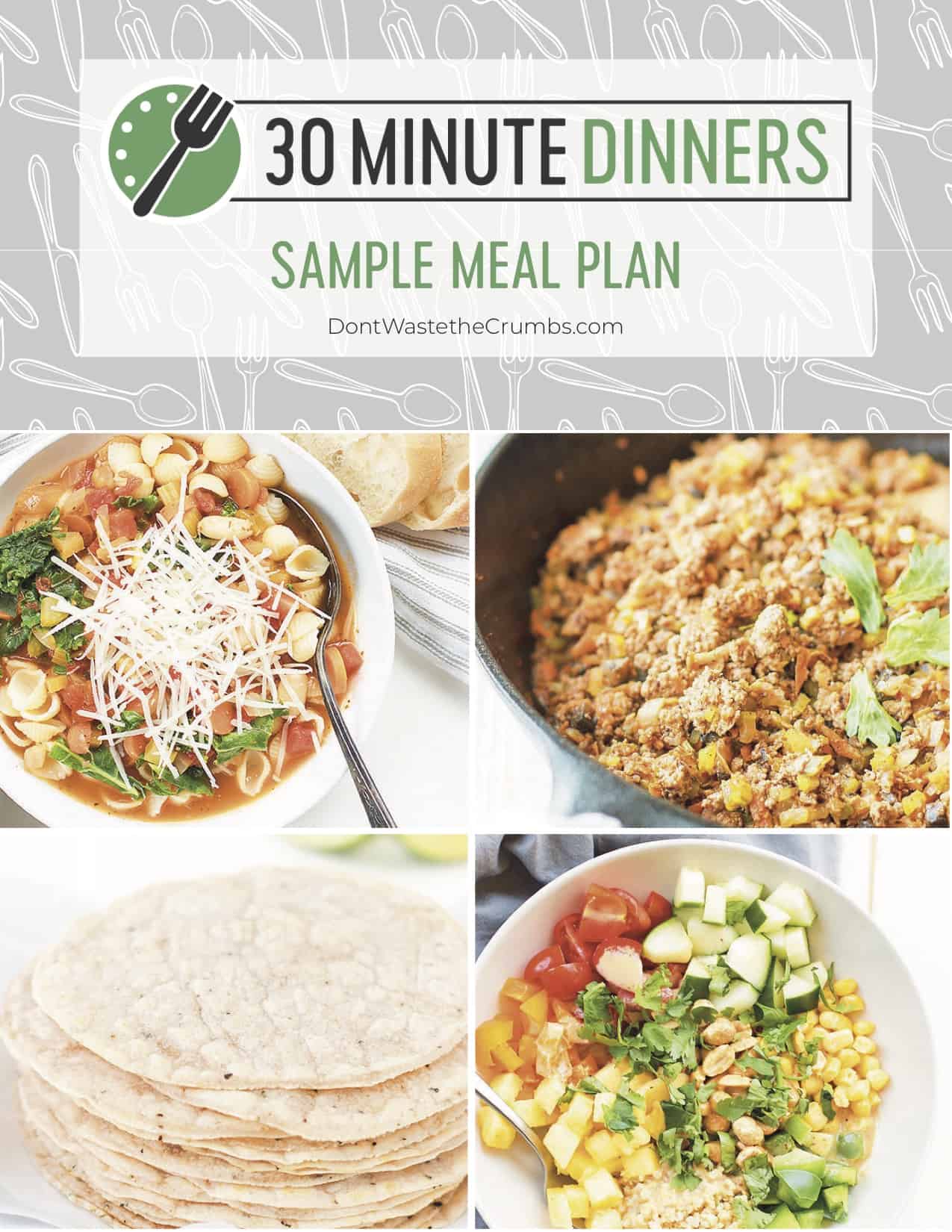 30 Minute Dinners Sample Meal Plan
Sign up to get instant access to my
30 Minute Dinners Sample Meal Plan
, complete with recipes and step-by-step instructions!