Everything You Need to Know About The Top 18 Healthy Foods to Buy at Trader Joe's
A few years ago, I thought Trader Joe's was only for the rich and wanna-be-famous.
According to my pretentious self, the stores were filled with overpriced food and overdressed people. There were too many of those too, and definitely not enough kids for me to feel comfortable bringing my own.
Then one day while the kids were having a play date with Grandma, I went to Trader Joe's.
Cue the parting clouds with harps and singing angels!
If I had only known the fun that awaited me through those glass doors sooner, this momma could have been in foodie fun heaven! And I learned an important lesson too that day:
While I find that the majority of "normal" foods are on the pricier side at Trader Joe's, they have some good deals on what we would consider specialty items, and that's very good news!
Update: It's been a few years since I originally discovered Trader Joe's in California but since moving it hasn't been on my usual route. However, I recently applied the methods I teach in Grocery Budget Bootcamp to see if it was worth adding Trader Joe's back into my shopping routine. And it is! See the results HERE. And here's how Trader Joe's actually compares to one of the more expensive health food stores.
This post is part of a short series covering what frugal foods a real foodie can find at certain stores. Read about the good deals available at Costco HERE, plus find specific gluten-free Costco deals HERE. Don't forget the free download at the end of those posts – it's a list to help you track the best deals you find at Costco!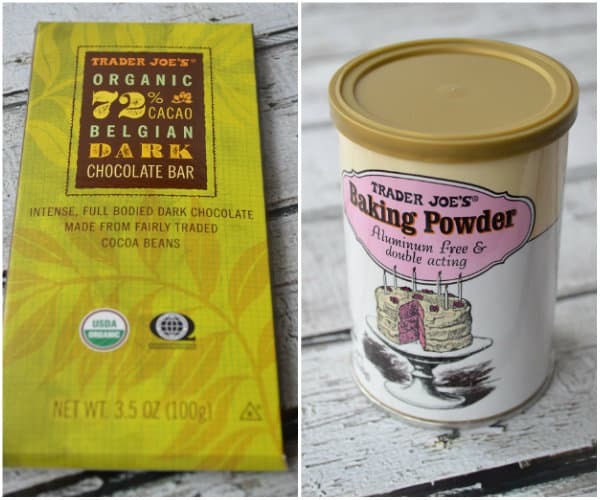 Trader Joe's Best Products
Chocolate, $1.49 – $1.99 per bar
Let's just start with the good stuff, shall we? A good portion of Trader Joe's chocolate is fair trade and organic (I didn't have time to check every label). The fair trade label means that the farmers are getting paid a fair wage for their hard work, and the organic label gives me peace of mind that the sweeteners used in the chocolate aren't HFCS or other acesulfame potassium (the icky stuff in the pink packets.) $2 sounds like a lot for just 3.5 ounces, but that's actually a really good deal for a quality bar of chocolate.
I buy the darkest chocolate they have at 85% cacao and use it in my favorite chocolate chip cookie recipe. It is also delicious in chocolate pumpkin brownies, peanut butter chocolate muffins, and homemade Reese's peanut butter cups.
Unsweetened Cocoa Powder, $2.49
It is REALLY hard to find affordable unsweetened cocoa, let me tell you! Most grocery stores offer an 8 oz container for $4.99, so you're saving 17¢ with every tablespoon you measure with this good deal. Unsweetened cocoa powder is vital in triple fudgey paleo brownies and chocolate avocado mousse.
Baking Powder, $2.29
My regular local grocery stores don't offer baking powder that's aluminum free, so this the only way I can get it (unless I order a big 2 lb tub from Amazon).
100% Hardwood Briquettes, $7.99 for 18 pounds
One of Trader Joe's best deals was awaiting me just outside the front door. These briquettes don't come with the chemicals that treated charcoal does, but stores charge a pretty penny for briquettes. Fortunately, these briquettes are not only affordable, but you get three times as much as the typical bag of charcoal!
Coconut Oil, $5.99 for 16 ounces
Although I currently buy coconut oil from Amazon, this was a monthly staple for a long time. It's not only the best price in the area, but it's the best tasting too!
Sesame Oil, $2.29 for 5 ounces
This delicious oil is just a couple bucks here, but I know it's more elsewhere. Considering you use just 1/2-1 tsp in each recipe, it's well worth the five ounce bottle!
I don't use sesame seed oil in every stir fry I make, but it's a must in Instant Pot beef and broccoli and Chinese 5 spice chicken.
Dried Garbanzo & Dried Black Beans, 89¢ per pound
Who knew a "health" food store had such a great deal on dried beans?! They have other beans too, but almost any bean can be substituted with these and the recipe will turn out fine. Besides, by the time you cook these beans up, it's like paying just 28¢ per can! (Dry beans really are cheaper than canned.)
Light Coconut Milk, 99¢ for 15 ounces
It's incredibly easy to make your own coconut milk at home, but we used to buy this before I knew that was even possible! There's no added anything to this can of coconut milk, and it's smooth too for those who have aversions to textures.
Parmesan Cheese, $6.49 per pound (approximately $4.50 per wedge)
Parmesan cheese adds a very "fancy" flavor to ordinary meals like tomato basil soup, and Trader Joe's has the best price in my area. It far surpasses Costco's price of $9.99/lb, and the smaller wedges are perfect for our monthly budget and recipes.
Gorgonzola, $5.99 per pound (approximately $2.50 per package)
We often buy Gorgonzola instead of blue cheese because you can use it interchangeably in recipes. True blue cheese is pretty pricey, but like the Parmesan, this cheese is very affordable. The per package price is very affordable too, making it easy to get just as much needed for the month or recipe, as opposed to a huge brick from Costco that you put in a drawer and end up forgetting about and it gets moldy… *ahem*
Note: Their prices on cheese in general are really reasonable. $2.69 for 6 ounces of feta, $3.99 for a 16 ounce log of fresh mozzarella, $4.49 for 12 slices of provolone… plus they have a great selection of nicer cheeses too! Definitely worth a look if you're in the store.
Organic Whole Wheat Pasta, $1.29
This is just 10¢ more than the per package price at Costco, which is great if you only need one package of spaghetti instead of nine. It's also MUCH better than I'm able to find locally. Bonus points for being whole grain, double bonus points for being organic (which means it's not enriched with synthetic vitamins). Plus, you can get several varieties of pasta too… spaghetti, fettuccine, rigatoni, spirals, macaroni…
Gluten-free Pasta & Pasta Alternatives, varies
I didn't take specific note of the prices on every gluten-free item here, but I did notice a very good selection of gluten-free foods. Organic corn pasta, quinoa pasta, brown rice pasta and even polenta (which I did see was $1.99 for 16 ounces) were on the shelves, and this is likely the favorite aisle for the gluten-free folks. I know that gluten-free foods tend to be more expensive anyway, and while the first line of defense would be to eat more of the foods that are naturally gluten-free (like fruits & veggies), it's nice to know there's an affordable place when you're just wanting a bowl of pasta.
Sunflower Seeds, $1.99 per pound
Talk about a STEAL! No other store in my area (or even this good deal on Amazon) can beat it. We use sunflower seeds in our salads for a crunch, as protein in our granola bars and protein bars and use it to make sunbutter when we're out of peanut butter. These right here are always on my shopping list.
Spices, $1.99
Trader Joe's has a decent selection of spices, and while some can be found elsewhere for a better price, they're all priced at $1.99 – even the "expensive" ones. When you're shopping for spices, definitely check out their selection first, because most grocery store prices for spices start AT LEAST a few bucks higher.
Raw Honey, $4.49-$5.99
I was SHOCKED to see this on their shelves, but they have raw honey for as low as $4.49 for 12 ounces (or $5.99 for 16 ounces). The only downfall is that it wasn't local. The smaller jar was from India, and the larger jar was from Mexico. However, if you don't have a source for affordable local honey anyway, you might as well consider these!
White Balsamic Vinegar, $2.29 for 16.9 ounces
Oddly enough, this was on my "to find" list when lo and behold, Trader Joe's carries it! I know this specialty vinegar would cost at least $4 at my local grocery store, not to mention what other health food stores might charge. As a lighter sister to the traditional balsamic vinegar, this would make some delicious salad dressings!
Balsamic Vinegar, $3.49 for 33.8 ounces
I'm reluctantly adding this one to the list because I'm a bit bitter that Trader Joe's has such a great deal on balsamic vinegar. Costco charges $11 for the same thing! Consider this trip a lesson learned. I'll get my balsamic vinegar (and likely all vinegars) from Trader Joe's from now on.
Uncured Nitrate-free Bacon, $4.99 for 12 ounces
This isn't the best price I've seen for nitrate-free bacon, but the cool thing about Trader Joe's is that their prices are consistent. If no one has a sale, or Grocery Outlet runs out of our favorite brand, I know I can get some here. They sometimes have the "ends and pieces" variety of nitrate-free bacon, which sells for $3.99 for a full pound. It's definitely fattier than regular slices, but a good alternative if you're needed some real bacon bits and bacon grease.
Exclusive for Crumbs Readers
Get 2 NY strip steaks, 6 burgers, and 5 lbs of drumsticks for FREE in your first box.
Click this LINK to get the offer.
Read my full review HERE.
Honorable Mention
Organic Corn Taco Shells, $1.99 for 12 shells
Sometimes taco night needs a crunchy taco, and these shells are the best bang for your buck. You're getting organic corn and avoiding GMO's, plus you're getting two more shells than most other boxes. Win!
Sweet Chili Sauce, $1.29 for 10 ounces
This sauce has some added sugar in it, but I couldn't help but write the price down after buying something similar for more. It might just be 70¢, but it all adds up!
Orange Marmalade, $3.49 for 17.5 ounces
Finding this deal just made me mad. I had searched the shelves of Savemart high and low to find the ONLY orange marmalade without HFCS, and then they charged me two arms and a foot for it! Although 50¢ isn't too much cheaper, it inspired me to find a homemade orange marmalade recipe (which means YOU can expect to find it too 🙂 ).
Organic Chocolate Syrup, $3.49 for 20 ounces
Yes, I know this is totally NOT real food. And I know you can make your own using real food ingredients. We're supposed to pick and choose what we spend our time on in the kitchen, right? Well, I choose not to make my own chocolate syrup. We literally buy maybe two of these a year, so it's just worth the extra few bucks to me. Besides, the organic variety again means there's no HFCS or other artificial sweeteners.
Trader Joe's Best Products In a Nutshell…
Trader Joe's is an excellent place to shop when you're wanting better foods, but don't need the quantity that buying in bulk comes with.
When you're looking for a very specific "specialty" item, there's a good chance they have it AND it will cost less than your local grocery store.
Trader Joe's is NOT the place to buy fresh produce. I thought their produce section lacked much diversity, and was also on the expensive side. You could easily find better deals at your local farmers market, or even your grocery store if need be.
What about you – what frugal real food do you buy at Trader Joe's?