From steak to bacon, coupons to discounts- love these budget tips for saving money on meat at the local grocery store. It's part of a series on meat, from saving to finding good quality in your area. Several ideas you probably hadn't heard of before! Be sure to check out 10 steps to stretch meat and 12 simple ways to avoid food waste.
Unofficially, I'm tackling meat this summer. And you're coming with me.
When readers subscribe to Crumbs…
I ask them what their biggest challenge is.
How to afford quality meat is one that I read often.
… and it's something I struggle with too. I'm not one to shy away from a challenge, so let's face it head-on this summer and come up with some solid answers!
The quest started with meat labels. We took the top 16 terms often found on a package of meat (like "antibiotic-free" or "no hormones") and figured out what was true and what was just a marketing ploy.
Then we came up with creative ways to find quality meat without buying a whole cow. Because frankly, there's no room for a whole cow in my kitchen!
Today we're talking about how to save money on meat at the grocery store.
Save Money on Meat
In a perfect world, we'd all buy our meat from a local farmer we know on a first-name basis. A farmer who cares for his herd like they were his pets and welcomes the community to come see how he runs his farm.
But our world is not perfect and the vast majority of families buy their meat from the grocery store. I don't blame them because I do the same. It's easy, convenient, and in many ways, more affordable.
But there's always room for improvement in the grocery budget, and meat is no exception. These tips are tried and true ways to keep your meat budget low, freeing up funds for something else… like olallieberries!
11 Ways to Save Money on Meat at the Store
1. Buy in bulk at the warehouse store
Think Costco or Sam's Club. Whole chickens come in 2-packs and steaks are still in whole-roast form. Take them home, divide them up yourself and package them for one-night dinners. You'll save at least $1 per pound using this method, sometimes significantly more depending on the cut.
This is what we do with prime rib at Christmas. We'll splurge for a whole rib roast and cut it into thirds. One-third is cooked for Christmas dinner and another third is wrapped well to avoid freezer-burn and frozen for a special occasion later (usually Easter).
The last third is cut into one-pound steaks and each steak is individually packaged. Instead of serving 2-3 steaks at dinner, we'll stretch one steak by making stir-fry or tacos or strawberry steak salads.
Not only is it more affordable than buying individual steaks, but it's also how we afford higher-end cuts of meat we normally wouldn't buy.
A fellow blogger mentioned that if you buy meat by the case (which is usually 12), you save 50¢ per pound! Woo-hoo!
2. Buy the family packs
Similar to the warehouse store, but this is bulk packaging at the grocery store instead. Stores are ALWAYS running sales on max-sized packages, making them even better of a deal than the single-packaged steak or chicken breast.
Just like the previous example, divide the package into single-night dinners, wrap well and freeze.
3. Keep a record of the prices
We know buying whole roasts in bulk is more affordable than individual steaks at the store because we keep a price book with the prices per pound. It's a proven method for finding the best deal on almost anything you buy, so why not track meat too?
Grocery sales are cyclical, with the best deals coming around every 6 weeks or so. Buy only when the price is low, and if the budget allows, buy enough to get you through until the next sale cycle. Purchasing meat on sale is a great way to recoup the money when you've gone over budget in prior weeks as well and stretch your budget for the next cycle.
4. Know what the labels mean
Knowing what the meat labels mean BEFORE you shop means not being fooled into thinking a certain label guarantees better quality. No certification system is perfect, so it's important to discuss with your family what level of quality meat you can afford and desire to buy.
For example, if you're only concerned about antibiotics, buying meat labeled "antibiotic-free" would be more affordable than buying organic, even though they both would meet your goal.
In either case, educate yourself on food labels so you really know what you're buying.
5. Compare prices in the store
Comparing packages side by side is a given, but don't forget about the store butcher. Often the meat in the case that has been ground or cut that day costs less than the pre-packaged meat from national chains. Plus the meat in the case tends to be from a local farm, so you minimize the junk and processing that's done to the meat that has to travel long distances.
The only exception would be meat that has been labeled "previously frozen," since that could be either local or shipped in. Ask your butcher for more details on those cuts.
6. Slice at the deli
We don't buy lunch meat often, so this tip comes from your fellow readers!
The best way to save is to buy the whole roast (ham, turkey, or beef), take it to the deli section, and have them slice it for you.
It's cheaper per pound for sure, but I offer a leery caution about the preservatives and additives in cooked roasts. Be sure to read the ingredients first, to avoid the junk, and then hit up the man behind the counter.
I was really worried about those junky ingredients, so I decided to make my own DIY Lunch Meat!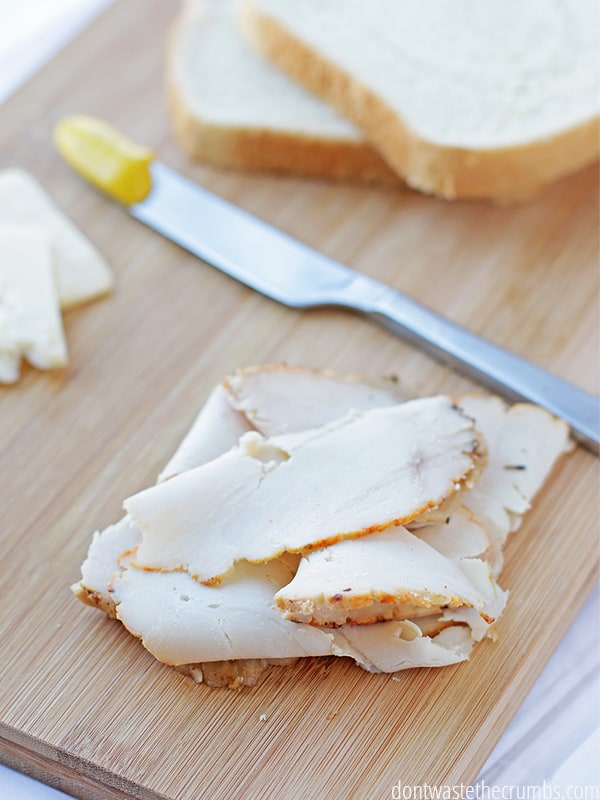 7. Stock up seasonally
Hams and roasts of all kinds are very affordable the few days after Christmas and Easter. Turkey is dirt cheap right after Thanksgiving. Buy an extra (or two), chop it up, and stick it in the freezer.
8. Talk to the local butcher
Knowing meat is their business, they'll also know when the freshest meat is put out, what day of the week meat is marked down, and the best bang for your buck. Ask them a few questions – including the time of day to shop to take advantage of sales (it's likely at night!) – and you'll reap the savings.
9. Shop the clearance section for marked-down items
The markdown is usually per package, and I've seen anywhere from $1 to $3 off. Even though it's marked down, don't assume it's a good deal. Calculate the per-pound price to make sure it's a good deal (compared against your price book) before you buy.
One other catch is to be sure to have plans for the meat, since marked-down meat isn't quite as fresh. You don't have to eat it right away – freezing it counts as having plans too. Just don't let it sit in the fridge for more than a day (if that) since you don't know how long it's been out of long-term storage.
Tip: When you repackage meat for the freezer, toss in a marinade too! It doesn't have to be complicated – a couple of tablespoons of Homemade Montreal Steak Seasoning with some splashes of olive oil will suffice. But doing this now will save tons of time later when you'll pull your meat to thaw!
10. Use Coupons!
While I haven't seen many traditional coupons for meat, grocery stores often have sales and coupons like $5 off $15 or $10 off $25. Pairing these coupons with sales and the clearance section will offer the best savings.
If you can, consider using these sales as opportunities to stock up beyond the 6-week sale cycle, especially if these coupons don't come around too often OR if you're able to use them more than once in that week.
11. Price match
Many stores will price match competitor sales, just be sure to know your own store's rules and policies. Sometimes you need to have the circular with you when you check out, sometimes they'll match the actual price (but not per pound) and there might be restrictions on quantity and whether or not you can use coupons.
Call your store ahead of time so you know all the rules and can plan your trip accordingly. Also, take into consideration time and ease of the transaction, because sometimes the effort that goes into price matching and coupons and such isn't necessarily worth it in the end… but then sometimes it pays off big! It all depends on your grocery budget, and how much you'll save!
BONUS: 12. Choose heavier packages
When meat goes on sale for a rock bottom price, choose packages that are heavier, like a 6 lb chicken over a 5 lb chicken. That one pound might not seem like much, but it adds up over time!
How to Save Money on Meat FAQs
How to save money by grinding your own meat?
That's a great question! I actually covered this topic in my article, 10 Steps to Stretch Meat.
What foods never expire?
According to One Good Thing, honey, white rice, salt, sugar, cornstarch, pure vanilla extract, maple syrup, etc. are some foods that will not expire.

Psst! If you're going to add salt, I highly recommend Ava Jane's Kitchen. You may think all salt is created equal, but unfortunately, 90% of the salt produced around the world contains microplastics (gross, right?). Ava Jane's Kitchen is an exception. Their salt is 100% microplastic-free, and it's SO GOOD! Plus, you can get a bag for just 1¢!! (Get your penny bag of salt on this page.)
Frugal Recipes Using Meat
After saving money on meat, you may be left wondering what meal you can make. Here are some easy and cheap recipes using meat:
Soups:
Note: Don't forget to save the bones from your chicken, and make Instant Pot Chicken Stock or Slow Cooker Chicken Stock.
Tip: Stretch your meals by using more fillers like beans and vegetables.
More Money-Saving Tips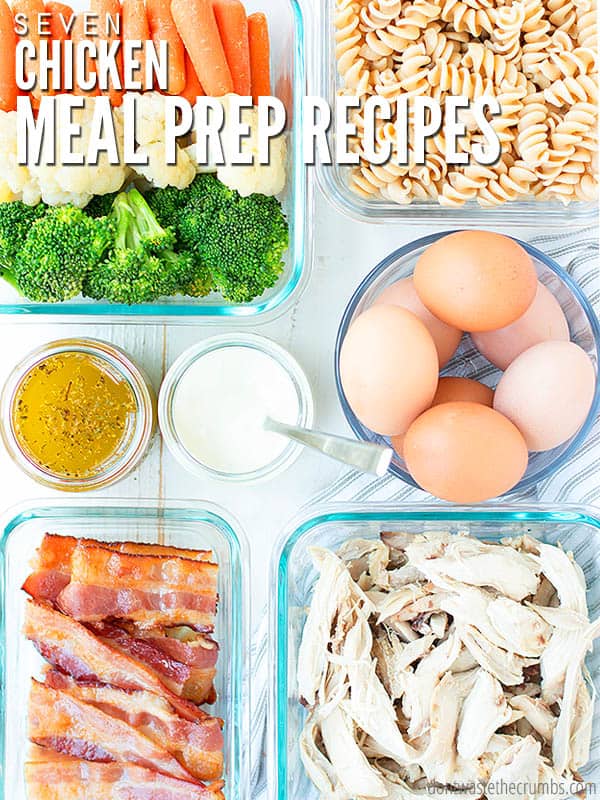 Chicken Meal Prep Plan
Sign up to get instant access to my
Chicken Meal Prep Plan
, complete with recipes and shopping list!