Learn How to Create a Real food Stockpile with $5 a Week. It's budget friendly and super easy to create! Use for meal planning, or in times of food shortages. Try this yummy Instant Pot yellow rice, made with pantry items!
Everything You Need to Know About
Have you ever wondered to yourself, "Should I have an emergency real food stockpile?" yet you never get around to doing it? I know that I'm guilty of this!
Recently, I was faced with empty shelves in the stores, when I was shopping for my weekly supply of food. It was a shocking reality that there can be shortages of food and even toilet paper.
I believe this is the time to start your food storage. There is no better time than now!
So, I created a conscious guide on how to create a real food stockpile with $5 a week. This guide is a great way to save money and how to accumulate an emergency food supply for any survival situation.
Psss…this stockpile can be worked into your frugal grocery budget!
How to Create a Real Food Stockpile with $5 a Week
Not only is it a great idea to stock up on healthy shelf stable foods in case of food shortages, it's also good for:
Weather emergency situations
Power outages
Where to Store Your Food Stockpile
Most people think "pantry" when they hear about storing extra food, but it doesn't have to be limited to JUST your kitchen pantry. You have great sources all around you!
When we lived in California, I kept food all over our tiny apartment in the:
Master bedroom, in the closet on the top shelf.
Guest bedroom, on shoe racks on the floor.
Both bedrooms, under the beds (one crib, one queen bed).
In the kids' room, on a bookshelf in the closet.
In the hallway, inside the hall closet.
If my living room was bigger, I could have had a bookshelf with doors and no one would have even known there was food inside!
Think outside the box when it comes to storing your food stockpile. If space is tight in the kitchen, consider moving sealed items (canned, jarred, boxed) to another room in the house.
The best way to store your food is in a dry, cool, dark place. Make sure that it is away from pests! That's it! You can be creative and think outside the box!
Using your non-perishable food stockpile
Now, you have to make sure that all this hard work doesn't go to waste. Always remember to check your expiration dates and rotate your items in your food stockpile.
There are some foods that will last well beyond that dreaded sell by date or expiration date. For instance:
eggs can last up to three to five weeks past the sell by date.
whole grains can last up to 2 years past it's expiration date.
whole spices can last decades. (They may be less potent)
Is stockpiling illegal?
Food stockpiling is not illegal, when there is no projected emergency or a current shortage. If you hoard food during those times, then it is illegal. Otherwise, you are free to build up your backup food supply.
What foods have the longest shelf life?
The foods that will give you the longest shelf life are:
I store these in glass jars and reuse them. There are various sizes you can buy, you can have all different kinds, there are even mini jars! You will get multiple uses out of these jars and they last forever!
How to Use This Guide for Food Stockpiling:
There are 3 ways to approach this guide for your real food stockpile:
Your budget is $5 per week. No ifs, ands, or buts.
Your budget is $5 per week and extras roll over into the next week (meaning you could be under one week and over the next).
Your budget is $260 for the year (52 x 5 = 260) and as long as you stay within that, it doesn't matter how much you spend each week.
Once you're ready to start:
Read through the list of ingredients in its entirety. Only get foods that you know you and your family will eat.
The first week you go shopping is Week 1, so use the chart to buy the item and quantity listed. Remember, your package sizes, costs and quantity will vary depending on where you live.
Follow the chart week by week, if something is out of stock then you can substitute it with something else from the supply list.
Notes on Stocking up on Real Food:
My team and I researched the prices at three different grocery stores in the Tampa Bay, FL area – Walmart, Publix, and ALDI – and the package sizes and costs were comparable.
I'm using the shelf price (not sale price) that gets me the most bang for my buck each week. Your package sizes, cost, and quantity may vary each week depending on the shopping options in your area.
Don't forget to check out the sales when shopping for your food stockpile! You may be able to get more with your $5! Who wouldn't love that?!
Week-by-week real food supply list
Below, you will find my week by week supply list that tells you what to get + the quantity, as well as how much you will spend in the end.
Weeks 1-10:
(3-5 pack) 0.75 oz yeast x $0.99 = $4.95
(2) 10 lbs all purpose flour x $2.24 = $4.48
(1) 4 lbs chicken thighs x $4.73 = $4.73
(3) 2 lbs brown sugar x $1.62 = $4.86
(2) 5 lbs white rice x $2.48 = $4.96
(3) 2 lbs brown rice x $1.37 = $4.11
(2) 2 lbs dry black beans x $2.22 = $4.44
(5) 15 oz garbanzo beans x $0.92 = $4.60
(2) 4 lbs sugar x $1.98 = $3.96
(3) 2 lbs dry pinto beans x $1.48 = $4.44
Weeks 11-20:
(2) 8.5 fl oz olive oil x $2.28 = $4.56
(6) 32 fl oz white vinegar x $0.80 = $4.80
(2) 16.9 fl oz balsamic vinegar x $2.19 = $4.38
(3) 32 fl oz apple cider vinegar x $1.57 = $4.71
(2) 18 oz oats x $1.76 = $3.52
(7) 15.5 oz kidney beans x $0.68 = $4.76
(1) 14.4 oz quinoa x $4.98 = $4.98
(7) 15.5 oz pinto beans x $0.68 = $4.76
(2) 4.4 lbs corn masa flour x $1.98 = $3.96
(9) 14.5 oz diced tomatoes x $0.55 = $4.96
Weeks 21-30:
(7) 15.25 oz black beans x $0.68 = $4.76
(10) 6 oz tomato paste x $0.42 = $4.20
(6) 14.5 oz whole peeled tomatoes x $0.72 = $4.32
(2) 12 oz chocolate chips x $1.85 = $3.96
(1) 12 oz cashews x $3.95 = $3.95
(2) 16 oz peanuts x $1.65 = $4.95
(1) 8 oz walnuts x $2.72= $2.72
(2) 4 oz almonds x $1.98 = $3.96
(5) 2.5 oz cinnamon x $0.98 = $4.90
(1) 14 fl oz honey x $4.19 = $4.19
Weeks 31-40:
(2) 1.5 oz black pepper x $1.91 = $3.82
(5) 3.4 oz garlic powder x $0.98 = $4.90
(4) 32 oz chicken broth x $1.22 = $4.88
(5) 2.5 oz cumin x $0.98 = $4.90
(1) 5 lbs chicken drumsticks x $4.76 = $4.76
(5) 3.25 oz onion powder x $0.98 = $4.90
(1) 16 oz ground beef x $3.12 = $3.12
(2) 19 oz granola x $2.19 = $4.38
(1) 1 lb ground turkey x $4.12 = $4.12
(6) 16 oz pasta x $0.62 = $4.92
Weeks 41-50:
(5) 0.95 oz Italian seasoning x $0.98 = $0.98
(1) 16 oz ground beef x $3.12 = $3.12
(6) 1 lb baking soda x $0.89 = $4.92
(5) 8.1 oz baking powder x $1.00 = $5.00
(1) 14 fl oz coconut oil x $3.68 = $3.68
(5) 4.4 oz sea salt x $0.98 = $4.90
(1) 2 fl oz vanilla x $3.59 = $3.59
(5) 16 oz corn starch x $0.92 =$4.60
(3) 15 fl oz soy sauce x $1.32 = $3.96
(5) 0.87 oz oregano x $0.98 = $4.90
Weeks 51 & 52:
(5) 16 oz dry lentils x $0.95 = $4.75
(4) 32 oz beef broth x $1.22 = $4.88
Real food alternatives that are not on the list:
These are also great for your emergency stockpile.
Peanut butter
Dried fruit
Powdered milk
Frozen food
Fresh fruit and vegetables (this will last up to a week)
Root vegetables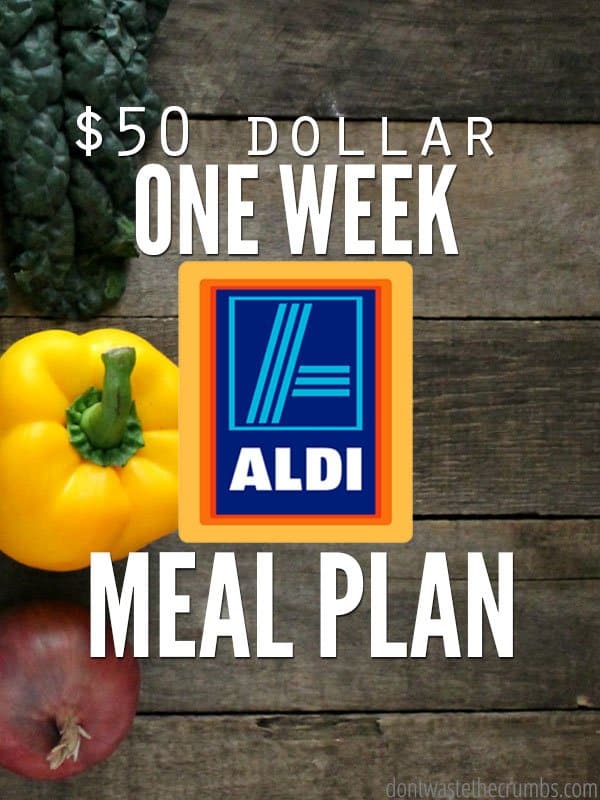 $50 ALDI Meal Plan
Sign up to get instant access to my
$50 ALDI Meal Plan
, complete with recipes and shopping list!
You did it! You made it!
After you have completed this week by week guide, you will have a decent stockpile that you built up for $5 a week!
Check out our LIVE event, Grocery Savings Made Simple that starts March 17th!
What are your favorite foods to stock up on?