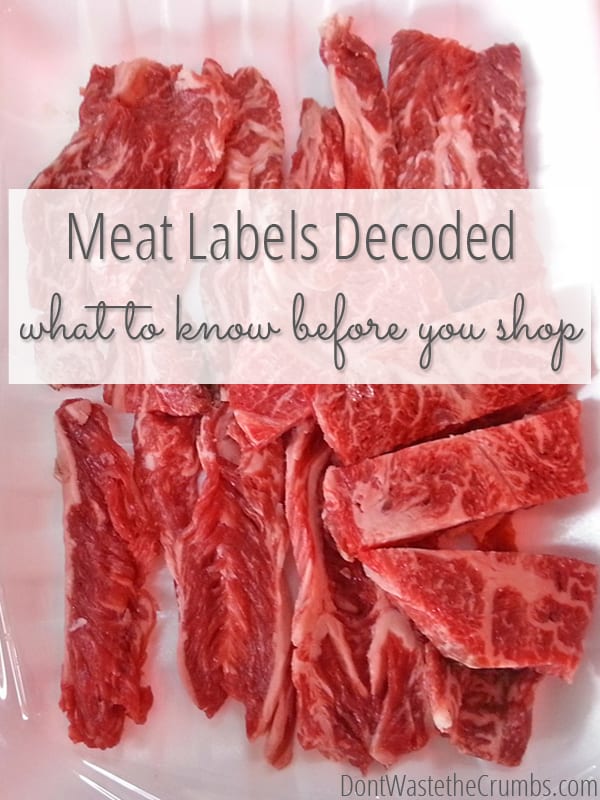 A few weeks ago I was looking at some meat at the store and just stood there, feeling a bit dumbfounded and overwhelmed at the dozens of labels on the packages meant.
When did buying meat become so darn difficult?! Why do I feel like I need a dictionary to know what type of ground beef I'm buying?
Here's the kicker – I'm not going in with a blank slate. I know what organic means. I also know that "natural" isn't always regulated (so I ignore it) and that hormones aren't supposed to be in poultry (so "no hormones" doesn't mean anything there).
Am I am expert? Not by a long shot, but to be frank – neither are most of you. We're just ordinary folk trying to buy dinner!
Fed up, I decided to do the dirty work and finally figure out what all the labels on meat mean, once and for all!
Meat Labels Decoded: 16 Definitions You Should Know
Cage-free
Specific to hens, it means the hens were not raised in cages. Does not mean they have access to outdoors.
Certified
Implies that the USDA evaluated the meat for a certain quality (class, grade, etc.) and the meat met the standards.
Free Range / Free Roaming
Specific to poultry, it means that the animal has been allowed access to the outside. Quality, size and time of access to outside is not regulated.
Fresh (Poultry)
Specific to poultry, means that the poultry is whole and never been below 26F (when poultry freezes). This poultry should not be hard to the touch or frozen.
Grain-fed
The animal was fed grain at some point in time. If an animal was ever fed grain, it cannot be labeled grassfed.
Grassfed
A USDA term requiring the animal "have continuous access to pasture during the growing season." In order to be used in marketing, the animal should have been fed nothing but grass from weaning to harvest. Has no bearing on antibiotics, hormones or confinement (so the animal may be confined to a pen and fed grass rather than graze). May be imported.
Note: Some companies that use this label actually feed the animal grain to supplement or to finish. This would be mislabeling according to the USDA term.
AGA-Certified Grassfed
Conducted by a third-party, certifies that the animal has eaten nothing but grass from weaning to harvest, has not been confined, never given antibiotics or hormones and is produced in the United States.
Grass Finished
Has no legal meaning. By USDA definition of "grassfed" above, the animal must be fed nothing but grass (and off-season grass-like items like hay) its entire life. Therefore, grassfed animals ARE grass finished by definition, making this purely a marketing claim. This is not a frequently used term, so ask questions if you can.
Natural
A USDA term that means the product contains no artificial ingredients, added color and is minimally processed (i.e. was processed in a way that does not fundamentally alter the product). The label must also explain the meaning of the term natural (such as no artificial ingredients, etc.). Has no bearing on access to outdoors, antibiotics, growth hormones or organic.
Note: This USDA term applies to meat and poultry only. It does NOT apply to any other types of foods. For the record, the FDA has not yet defined the term "natural" for food.
Naturally-Raised
A USDA term that means the animal has never been fed animal by-products, growth hormones or antibiotics. The animal could, however, be fed grain or grass and/or confined.
No Antibiotics – Red Meat and Poultry
May also be labeled as "Raised Without Antibiotics, No Antibiotics Ever, No Antibiotics Administered, No Antibiotics Added." Allowed if sufficient documentation shows that no antibiotics were administered – BUT each producer is free to develop their own antibiotics standards and terminology.
Note: The following terms are NOT allowed on meat labels: no antibiotic residues, antibiotic-free, drug-free, chemical-free, no antibiotic growth promotants
No Added Hormones – Beef
May also be labeled as "Raised Without Added Hormones, No Hormones Administered or No Synthetic Hormones." The labels "Hormone Free" and "No Hormones" are incorrect since natural hormones are present. Allowed if sufficient documentation shows that no hormones were administered.
No Added Hormones – Pork and/or Poultry
Hormones are not allowed in raising hogs or poultry, therefore, the claim "no hormones added" cannot be used on the labels of pork or poultry unless it is followed by a statement that says "Federal regulations prohibit the use of hormones."
Organic
A USDA term meaning the animal was raised without synthetic antibiotics or synthetic hormones. Fed vegetarian, pesticide- and herbicide-free feed that did not contain GMO's. Organic has no bearing on whether the animal was grassfed or grain-fed.
Pasture Raised
While used often in articles and by producers, this has no legal meaning. It's a self-made claim without any verification. Ask questions if you can.
rBGH-free
Animal was raised without the use of the GMO hormone recombinant bovine growth hormone.
Third-Party Certifications
These are labels are provided by third-party organizations – a group outside the producing company and the USDA. Each certification has their own standards (and some are lengthy), so I'm leaving links for you to further investigate if you'd like.
What's important to note here is that these labels are not government issued or regulated. They are voluntary, sought out by the producing company and usually used in an effort to market the quality of their meat to you.
Food Alliance Certified
Humanely Raised – a label provided by various animal right programs/organizations
USDA Process Verified (the only exception to the above rule)
Although buying from a farmer you trust is always best, choices from the supermarket or a local butcher can be made better when you know what all the labels mean!
Have you run into any labels that you hadn't heard of before? Are you surprised by any of the labels above?
Source 1