With a never-ending stash of homemade ice pops in our freezer, I'm winning the mom of the year award this summer.
They're absolutely the perfect treat for the kids – easy to make, easy to eat and 100% fruit.
But they're nothing compared to homemade vanilla bean ice cream.
When I close my eyes and picture myself ending a beautiful summer day with dessert, I don't see ice pops.
I see a large, cool, creamy, decadent scoop of homemade vanilla bean ice cream on a sugar cone.
It's the kind of ice cream that is sweet enough to be called dessert, but not so sweet that you need a glass of water to chase it down.
You know the kind of ice cream you're willing to pay good money for when you go out for ice cream? The old fashioned kind made with real cream and real fruit and found in creameries or ice cream shops that locals swear by and out-of-towners make a point to visit while on vacation?
THAT is the ice cream I envision myself eating.
There was a time when I didn't care what brand or flavor the ice cream was. I'd eat it all. Of course, that was when ice cream was made with cream, sugar, truly natural flavors and was actually called "ice cream."
According to the requirements set forth by the Food and Drug Administration, most ice cream on store shelves doesn't even qualify as real ice cream. Instead, they've been demoted to "frozen dairy dessert" and contain unhealthy ingredients like carrageenan and corn syrup.
Perhaps I've just gotten pickier as I've gotten older. Maybe I'm more selective because of the ingredients.
In either case, I don't want cheap ice cream and I don't want that low-fat/non-fat/double churned stuff that tastes like frozen milk.
Hi, my name is Tiffany and I'm pretty sure I'm an ice cream snob.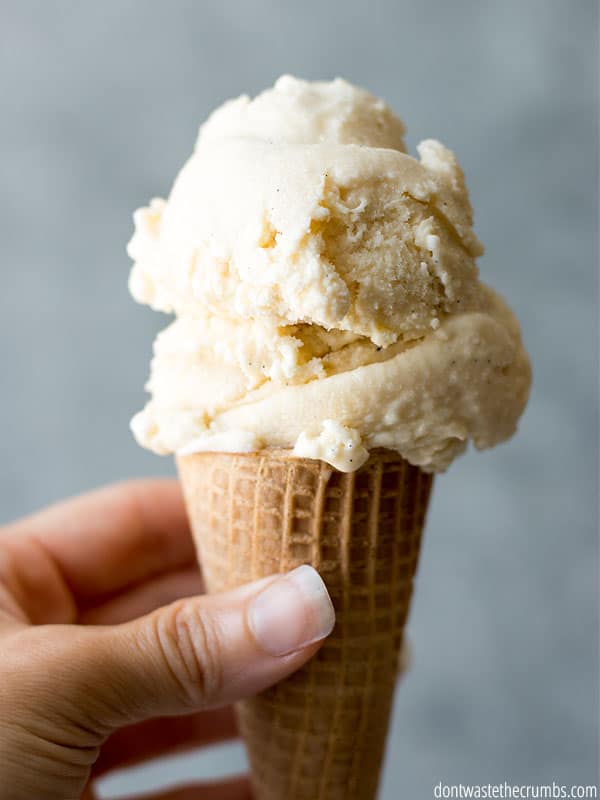 The Best Homemade Vanilla Bean Ice Cream
With that said, I believe this homemade vanilla bean ice cream is the BEST vanilla bean ice cream I've ever had, and that should bear some weight.
I've tried MANY different vanilla ice cream recipes in my lifetime, and I tried even more homemade ice cream recipes in order to find the right consistency I was looking for. I tinkered and tested and read how air and milk and sugar and cream all play a part in making the perfect ice cream just so I could share it with you.
Okay, so maybe I wanted to eat some too, but you get the point.
This ice cream is thick like a custard, but light on your tongue and in your belly.
There's both vanilla extract AND real vanilla beans giving the flavor an enormous depth.
It's creamy and rich and worth every step of sweat and muscle soreness that come from my daily run.
Have you been looking for a homemade vanilla bean ice cream recipe to love and add to your recipe collection and call home for banana splits or fudge sundaes? This is the one.
What about a delicious yet simple ice cream recipe to serve a la mode with slow cooker peach cobbler, berry pie, or a classic yellow cake for a summer birthday? This is the one.
Of course, if you're like me and just want a single scoop of homemade vanilla bean ice cream on a sugar cone as a way to end another amazing summer day, this recipe is for you too.
Stop looking for other ice cream recipes. Stop wasting your time and money and energy trying to find the perfect homemade vanilla bean ice cream recipe – trust me when I say this one is it!
Incredibly Easy Homemade Vanilla Bean Ice Cream
If I haven't convinced you that this homemade vanilla bean ice cream is out-of-this-world delicious, let me tell you how easy it is to make:
Add the ingredients to a pot and stir.
Yes, really – that's it!
Most homemade ice cream recipes tell you to temper the eggs. What that usually means is an extra dirty dish and the chance of making scrambled eggs in milk.
As it turns out, you can skip that whole tempering process AND avoid the risk of scrambled eggs in one fell swoop if you use this recipe (and no, the eggs won't be raw).
An amazing ice cream recipe that's easy to make AND tastes divine? Dear summer, you're welcome to stay as long as you'd like.
But before you dig in:
Homemade Vanilla Bean Ice Cream
Easy & simple recipe for homemade vanilla bean ice cream! With vanilla bean and vanilla extract, this ice cream is better than store-bought & tastes amazing!
Author:
Prep Time:

40+ mins

Cook Time:

15 mins

Total Time:

1 hr

Yield: about

1 quart

1

x
Category:

Desserts

Method:

Stovetop

Cuisine:

American
Scale
Ingredients
2 cup

s heavy cream

1 cup

whole milk

4

egg yolks

3/4 cup

sugar
pinch of salt (1/16 tsp with these measuring spoons)

1 Tbsp

vanilla extract

1

vanilla bean, split and scraped for the inner vanilla OR

1/2 tsp

vanilla bean powder
Instructions
In a medium saucepan, combine all the ingredients. Turn the burner on the lowest setting and using a whisk (I have a flat whisk that's perfect for this), break up the eggs so that the mixture is well combined.
Set a timer for 10 minutes and cook the mixture on low, stirring about once every minute or two.
When the timer goes off, cool the mixture thoroughly by placing in the fridge for 20-40 minutes.
Stir the mixture and process in your ice cream maker per the manufacturer's instructions.
I've always been partial to vanilla bean – what is your favorite flavor of ice cream?