Easy fruit & yogurt popsicles are my toddlers' favorites. They like vanilla & strawberry Greek yogurt, but this creamy popsicle recipe works with them all!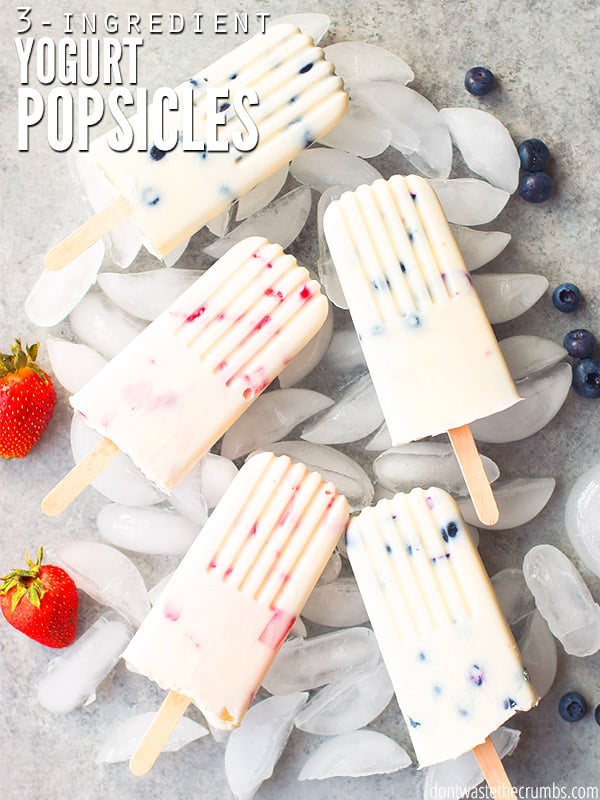 One of my favorite parts about grocery shopping is looking for clearance markdowns. I've found milk, eggs, meat, produce, yogurt… just about every real food we eat, I've found marked down at some point in time.
Recently I found LOTS of yogurt marked down, and my frugal self just couldn't keep my hands off of those tubs.
When my kids were tired of eating them as-is, I thought about other ways I could use them up before they went bad (other than freezing yogurt as-is). I'm always thinking of cold food since it's a million degrees outside in the summer, and I suddenly put two and two together. Just like that, 3-ingredient yogurt popsicles were born!
I love these super easy yogurt popsicles for so many reasons, but mainly because…
You can use

ANY

fruit you want.
We've made these with strawberries, blueberries, peaches, raspberries, cherries, and blackberries so far.
You can use

ANY

yogurt you want.
We've used several brands, several different types of fat content, several different flavors and even plain.
You can use

ANY

sweetener you want.
When we tested flavored yogurt, it was already sweetened and I didn't add any additional sweetener to those batches. But when we tested a 5% fat plain Greek yogurt, everyone in the family agreed that a smidge of local raw honey would help tame the tang. You could easily substitute maple syrup or stevia though!
You can sweeten to

ANY

level.
One teaspoon of honey was just enough for one popsicle, but we've been in the process of quitting sugar and we did the Whole30 not too long ago. We're used to not needing much to sweeten foods, but you can add more to taste.
You don't need

ANY

special equipment.
Other than a popsicle mold (this is the set I have and I paid for them using Swagbucks), you just need a spatula and a spoon. That's it.
Easy Yogurt Popsicles
Obviously we're working with a SUPER flexible recipe here, so I don't want you to feel pigeon-holed into doing exactly what I did.
There are some recipes where it's important that you follow the directions closely otherwise it won't turn out.
My fail-proof mayo is one, and overnight einkorn coffee cake and oatmeal apple breakfast bar are a couple of others where if you make a substitution, skip a step or come up with your own "hack" to make the recipe go quicker, it simply won't turn out.
These 3-ingredient yogurt popsicles though? They're the complete opposite.
As I mentioned before – ANY yogurt + ANY fruit + ANY sweetener = delicious cold creaminess that you won't be able to keep your hands off of!
My kids have been asking if they can have popsicles as part of their breakfast… and lunch… and snacks… my answer has been a resounding YES!
There's absolutely zero mom guilt going on with these, because I know exactly what's in them:
Healthy probiotics (good for the gut)
Real, fresh fruit (a regular part of our healthy diet)
A teeny smidge of local raw honey (great for seasonal allergies and digestion)
It takes me less than 10 minutes to make these, so for me, it's easy to say yes and make a new batch whenever they eat them all. I just mix the ingredients in a bowl after dinner and they're ready in the morning. Snack time just got WAY easier!
As always, here are a few tricks to help you make delicious 3-ingredient yogurt popsicles:
Run the popsicle mold under hot tap water to loosen the mold.
If you need to make a big batch, you can store the popsicles (once they're frozen) in a container with a lid instead of in the mold itself. They'll be good this way for 24-48 hours.
Our popsicles were frozen in 2-3 hours on the top shelf of a standard side-by-side fridge/freezer.
You can use popsicle sticks instead of the holders that come with the mold. This is a great option if your family is prone to losing things, or if you're taking them on a walk to the pool or park.
You can boost the nutrition of these yogurt popsicles even more by adding grass-fed collagen. (Here's why collagen is healthy for you.)
If yogurt popsicles aren't your thing, try my homemade ice pops, which are made with 100% fruit. You can also make those with fruit juice, if you happen to have a little bit in the fridge just waiting to be used.
Dairy-free coconut cream popsicles are also another great choice, as are cherry limeade popsicles.
If you're more of an ice cream fan, you can make homemade vanilla bean ice cream without an ice cream maker. Apple crumble ice cream is also one of our favorites!
Watch How to Make 3-Ingredient Easy Yogurt Popsicles
3-Ingredient Easy Yogurt Popsicles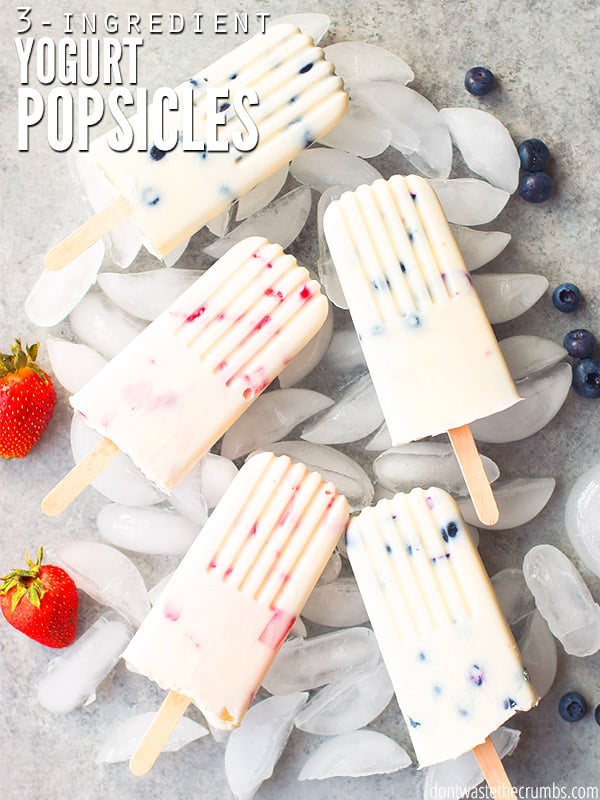 Easy fruit & yogurt popsicles are my toddlers' favorites. They like vanilla & strawberry Greek yogurt, but this creamy popsicle recipe works with them all!
Author:
Prep Time:

2 hrs and 10 mins

Cook Time:

0 mins

Total Time:

2 hrs and 10 mins

Yield:

6

popsicles

1

x
Category:

Dessert

Method:

Freezer

Cuisine:

American
Scale
Ingredients
2 cups

yogurt (any flavor)

1

–

2

cups fresh fruit (any variety that compliments your flavor of yogurt), chopped into 1/4″ pieces if necessary

2 Tbsp

local raw honey (or any sweetener of your choice), optional
Instructions
Put fresh fruit in a large bowl. Cut large pieces down to roughly 1/4″ in size so that they fit in the popsicle molds. If you want a swirl effect, lightly mash the fruit against the side of the bowl.
Add yogurt and raw honey (if using) and fold together. Take care not to over-stir if you want visible swirls in your popsicles. Taste and adjust sweetener, if needed.
Carefully pour into the popsicle mold and freeze until solid, minimum 2-3 hours.
Rinse popsicle molds under hot tap water to loosen the popsicle and enjoy!