We're big pie fans in our house.  Lemon meringue, key lime, chocolate, pumpkin, banana coconut… all are delicious and requested often.
But there's one pie that we don't make:  apple pie.
Turns out Mr. Crumbs isn't a fan of cooked apples… hence the reason we're having chocolate pie instead of apple on Thursday.
That doesn't mean the rest of us suffer though – a half batch of slab apple pie (think traditional apple pie, but in a 8×8 glass pan and cut into bars instead) satisfies the sweet tooth for the rest of us just fine.
While thumbing through a cookbook for this month's menu's, Mr. Crumbs caught a glimpse of blueberry pie.
For DAYS he asked for blueberry pie.  Um, hello?  It's NOVEMBER!  Blueberry season ended a looong time ago… There was no way I was spending $25 on blueberries.  The pie would have to wait.
And so it did.
For a whopping 24 hours.
As it turns out, you don't need fresh berries to make pie – frozen work just as well!  Silly Mommy, as the kids would say.
And Mr. Crumbs lucked out.  There just so happened to be a bag of frozen berries in my freezer without a destination dish.  (They were leftover over from early in the summer when I wasn't able to find frozen strawberries and had to pick them out of a bag of mixed berries!)
A couple hours later and we ate one of the best berry pies I've ever had.  Mr. Crumbs moaned as he devoured his extra large slice.
Wanting a fruit pie this Thanksgiving?  Look no further.  Set the apples aside and prepare an unexpected berry pie instead!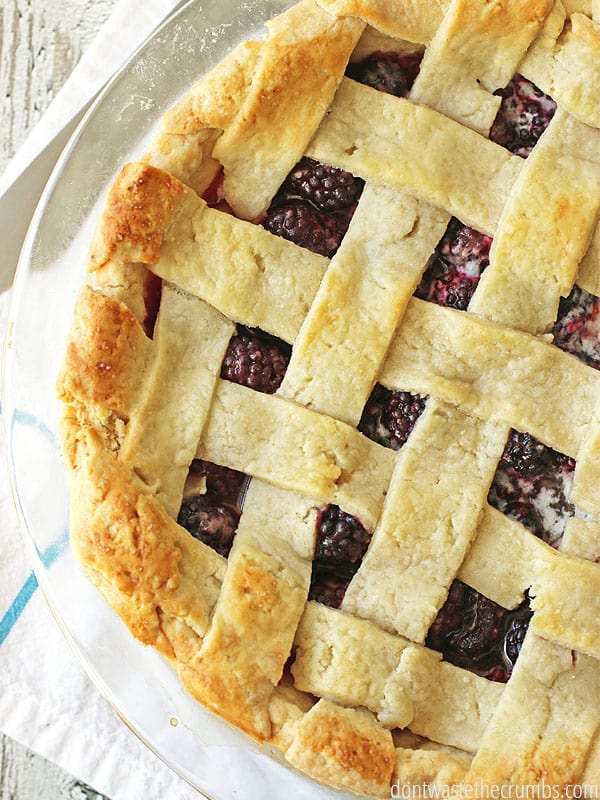 Berry Pie
Ingredients
Two batches of homemade pie crust
4 cups (1 lb) fresh or frozen berries
1 Tbsp lemon juice
½ tsp vanilla
½ cup sugar plus some for sprinkling
3 Tbsp flour
pinch kosher salt
4 Tbsp unsalted butter, cold and cut into small pieces
2 Tbsp milk
Instructions
Prepare both homemade pie crusts. Roll one out to approximately 12 inches in diameter and place into pie pan; set aside.
Toss together berries, lemon juice and vanilla. Add sugar, flour and salt and toss to coat the berries evenly. Pour the berries into the pie shell and dot the filling with the butter.
Roll out the second pie crust into 12 inches and cut into 1" strips. Place the longest strip across the center of the pie. Place the second longest strip perpendicular to the first. Alternating directions (top to bottom, then left to right), place the remaining strips on the pie leaving about ½ - 1 inch between each strip. Gently lift up the strips to create a woven look. When the lattice is complete, fold the bottom crust over the ends of the lattice top and secure by pinching the dough together. Brush the top of the crust with milk and sprinkle with sugar.
Preheat the oven to 400 degrees and bake for 50-60 minutes, until the fruit is bubbling and the crust is golden. Let cool for at least one hour before serving.