This very easy to make homemade pie crust recipe is perfect for chocolate pudding pie, pumpkin pie, or fruit pie. Since it's made without Crisco shortening, it's healthier too!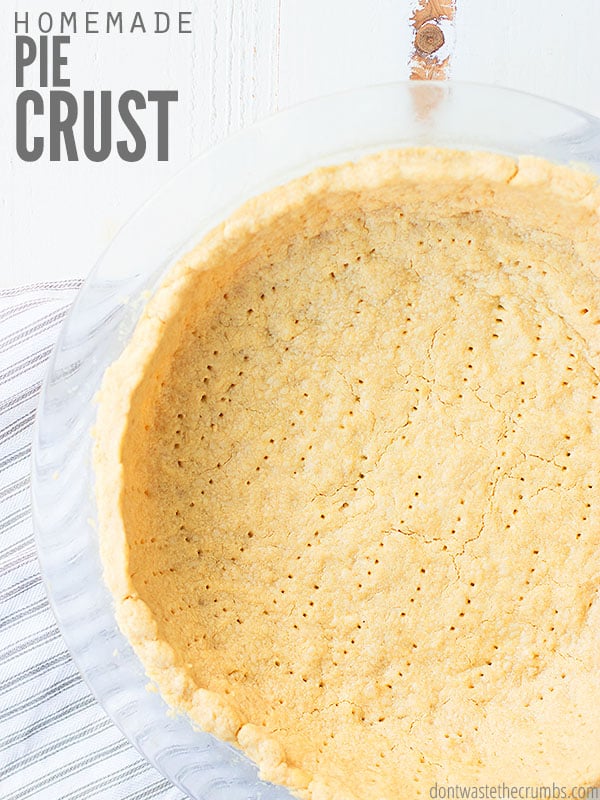 In my home chef career, there are several things that I've put off because I thought they were too hard.
Homemade bread is one of them. For YEARS I didn't make bread because the idea of yeast was too daunting.
Homemade pie crust was another. I tried it once – using a rolling pin like Martha Steward or Rachel Ray and flipping it over and then graciously placing it on the pie pan…
I did what they did and it wasn't gracious at all. In fact, it was a disaster!! And it nearly scarred me for life.
Until I found a recipe that didn't require rolling out the pie crust!
Homemade Pie Crust
I found a recipe that was a "pat in the pan" pie crust recipe – one that tastes just like grandma's perfect pie crust without all the required rolling pin skills.
That's one of the big reasons why I love this homemade pie crust, but I also love it because it is:
Super fast. It comes together in MINUTES.
Versatile. It can be used for baked fillings (like apple pie) or no-bake fillings (like chocolate pudding pie).
Make ahead.
Freezer-friendly!
Simple. You only need four ingredients.
Doesn't require shortening.
Gluten friendly. It can be a gluten-free pie crust!
Most importantly though, this homemade pie crust tastes DELICIOUS!
It's flakey, easy, and can easily be doubled for a double pie (like a pie with a lattice top). It's everything you want a pie crust to be, without all the hassle of a rolling pin!
Ingredients for an All-Butter Pie Crust
As I mentioned, you only need four ingredients for a homemade pie crust:
Flour. Both all-purpose and whole grain work here – it really just depends on your health goals and your preferences (I use all-purpose einkorn flour.)
Salt.
Milk. Just a few tablespoons. Both dairy and non-dairy milk work, and it doesn't matter if it's a low-fat or full-fat milk like whole milk or canned coconut milk.
Butter.
That's it!
Notes: Einkorn flour is an unmodified, unhybridized ancestor to modern wheat. It is a whole grain that is gentler on our tummies and in some cases, suitable for those who struggle with gluten. You can purchase it here or make your own by purchasing Einkorn berries and using a Mockmill (read my review of the Mockmill here).
Can you make this a gluten-free pie crust?
Absolutely! Use your favorite gluten-free flour blend and you're good to go!
Are you used to making a pie crust with Crisco?
I hear you! My family always made pie crust with Crisco, but Crisco is a 100% hydrogenated oil and that is a 100% banned ingredient from my kitchen.
You can use palm shortening, coconut oil, or butter as alternatives. Crisco is not healthy and it's not real food.
How to Make an Easy Pie Crust
This pie crust is so easy to make, I often have my daughter make it while I work on something that's a bit more complicated. Feel free to designate this to someone else!
Combine the flour and salt in the bowl of a stand mixer.
Cut in the fat using the paddle blade until the mixture resembled coarse breadcrumbs.
Working with a golf ball size of dough at a time, pat the crust into the pan.
See, isn't that easy?
Notes: I love using my stand mixer (I have a KitchenAid) because it makes the process easier. Making pie crust is one of many creative ways to use a stand mixer. If you don't have a stand mixer, you can use a large bowl and cut in the butter with a pastry knife.
How do you make pie crust for pumpkin pie?
This is the one! This is the crust I make for my healthy pumpkin pie every year, and I always get tons of compliments!
How to do you keep a pie crust from getting soggy?
If my pie is going to be baked (like in a berry pie), I brush the crust with an egg wash and bake it for a few minutes. This helps to prevent the crust from getting soggy.
How do I freeze pie crust?
You can freeze pie crust by preparing the recipe as written but placing the dough in the freezer instead of patting it into the pie pan. I recommend freezing in a square, just so it's easier to thaw.
Note: You'll have to thaw the dough in the fridge in order to keep the butter cold!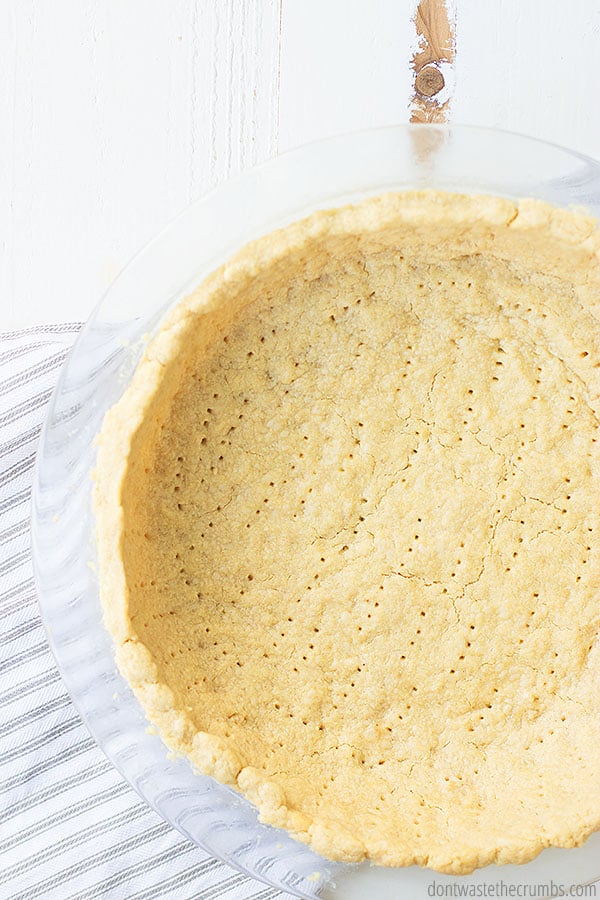 Some of My Favorite Pies Using Homemade Pie Crust
Homemade Pie Crust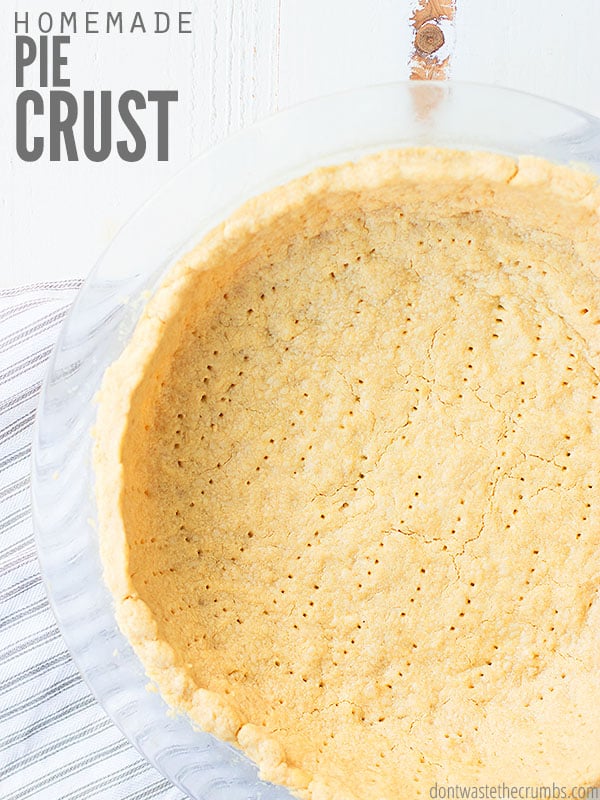 This very easy to make homemade pie crust recipe is perfect for chocolate, pumpkin, or fruit pie. Since it's made without Crisco shortening, it's healthier!
Author:
Prep Time:

10 mins

Cook Time:

18 mins

Total Time:

28 mins

Yield:

1

pie crust

1

x
Category:

Dessert

Method:

Bake

Cuisine:

American
Scale
Ingredients
1 ½ cups

flour

½ tsp

salt

6 Tbsp

butter, cold and cubed

2

–

3

Tbsp milk

1

egg yolk (optional)
Instructions
Preheat oven to 400F
Combine flour and salt in the bowl of a stand mixer. Using the paddle attachment, cut in the butter until the mixture resembles coarse breadcrumbs.
Add milk, 1 tablespoon at a time JUST until the mixture comes together to form a ball.
Breaking off a piece about the size of a golf ball, pat the crust into the bottom and sides of a pie pan.
If you're going to fill and bake the pie crust (as in a pumpkin pie or pecan pie), whisk the egg yolk in a small bowl and brush the inside of the crust. Bake in the oven for 2 minutes.
If you're going to fill the crust with a no-bake pie (as in a chocolate pudding pie), bake in the oven for 18-22 min.
Keywords: homemade pie crust