Download this FREE 7-day meal plan of healthy chicken meal prep recipes, including a shopping list! Simple ideas for the week to help you get dinner on the table, fast! Make Instant Pot Whole Chicken or All-Purpose Slow Cooker Chicken to get started!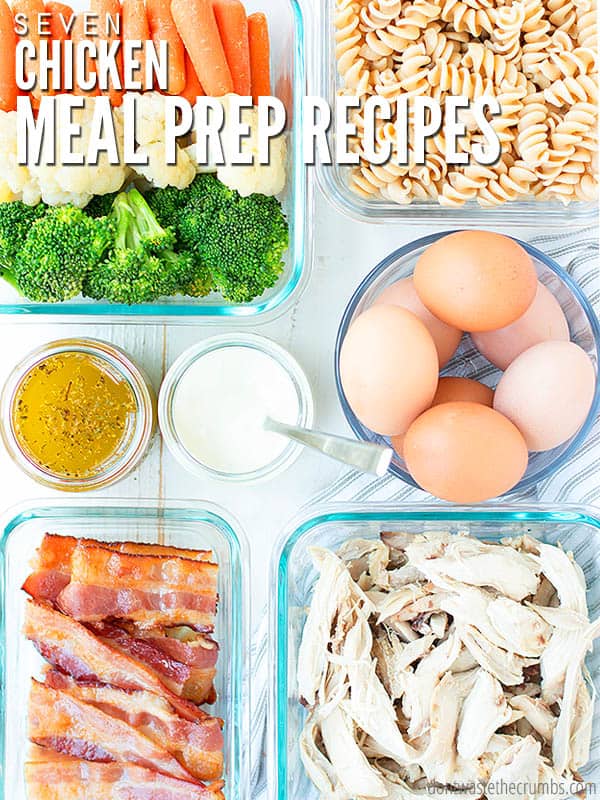 Do you ever feel like you spend all day in the kitchen? Yeah, me too.
Anytime I can use a short cut to get dinner made faster – whether it's using my Instant Pot or make some freezer meals, – I'm all in.
Having a meal plan in place is vital, but having a meal plan specifically with meal prep recipes that let me cook once and eat all week? That's the icing on the cake!
Using a solid cook once eat all week menu lets me feed my family healthy food and spend LESS time in the kitchen!
Choosing the Best Meal Prep Recipes
The best meal prep recipes are ones that use kitchen staples you normally already have in the kitchen. It's fine if you have an exotic ingredient here and there, like a knob of fresh ginger (here's how to freeze fresh ginger for later!) or a bunch of fresh cilantro (which you can freeze using this method).
But, for the most part, we want recipes based on ingredients we typically have on hand at any given moment. For example…
I ALWAYS have beans AND rice in the freezer that I cooked in bulk previously and froze in 2 cup portions.
I also ALWAYS have a box of some sort of pasta in the pantry.
If you don't have these things on hand, you can certainly buy them from the store. The more frugal option (and likely healthier option too) is to note what you're missing and make what you can from scratch, starting early Sunday morning.
And if you haven't guessed it, I recommend using your Instant Pot and/or slow cooker to get as many of these pantry staples ready ahead of time!
Note: If you're interested in an Instant Pot but haven't taken the plunge, read these 20 Things You Should Know Before You Buy an Instant Pot and How the Instant Pot Can Save You Money. I have this 8-quart Instant Pot Duo and I use it multiple times, every week!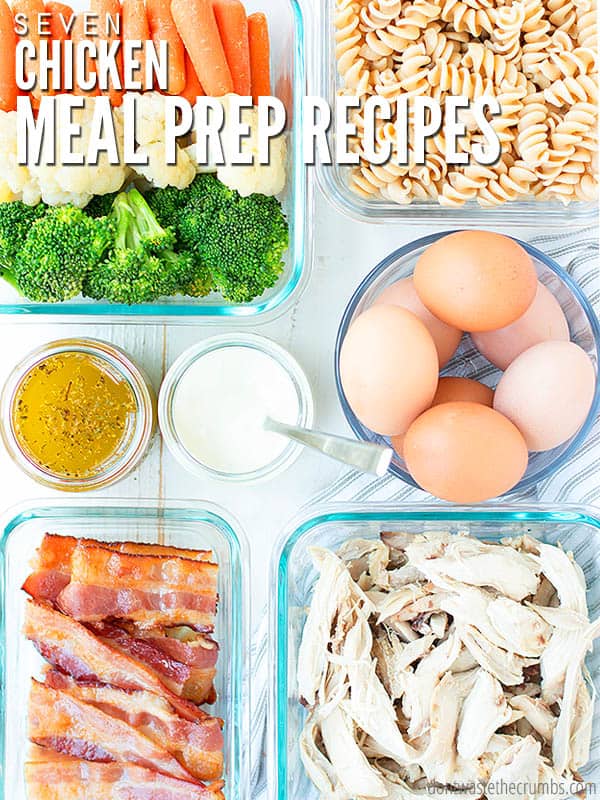 Chicken Meal Prep Plan
Sign up to get instant access to my Chicken Meal Prep Plan, complete with recipes and shopping list!
How Do You Decide Which Healthy Meal Prep Recipes to Use?
Almost every meal prep article talks about preparing one meal that serves one person for 5 days. That's great if you live alone or if you're only making lunches for yourself for the week…
But what about those of us who need meal planning ideas for FAMILIES?
I don't know about you, but making one meal for the four of us to eat for dinner for the next 5 days isn't going to work. I don't own 20+ storage containers nor do I have room in my fridge for that. And even if I could, I'm pretty darn sure everyone will be reaching for peanut butter and jelly sandwiches by Day 3 just so they didn't have to eat the same thing… again.
(Unless it's tacos, of course.)
So that means when choosing the best meal prep recipes that let us cook once and eat all week – FOR A FAMILY THAT EATS REAL FOOD – you can't completely escape cooking all week.
Yes, we'll use recipes that are quick and easy, but we still might spend 20 minutes boiling pasta or melting cheese one night.
However, with these 7 chicken meal prep recipes, you'll spend the majority of your time getting ready on Sunday, then minimal time in the kitchen the rest of the week (30 minutes MAX each night).
What About Meal Prep Recipes for Weight Loss?
I might indulge in maple pecan blondies or no-bake brownie bites, but I'm actually quite the health and fitness fanatic!
If you're trying to lose weight and meal prepping recipes ahead of time, you're already on the right track. My husband and I both lost a few pounds when we transitioned away from boxed and pre-packaged foods and ate whole foods instead.
While I've tried a few "fad diets" over the years (namely the slow carb diet), I've realized that what works for one person doesn't work for another. Personally, I do well eating high protein and low-grains (my High Protein No Powder eBook is a LIFESAVER). My husband does well eating high protein and moderate grains.
When you figure out what works for you, make a list of your favorite meal prep recipes and use that to guide your weekly meal plans.
A Few Notes on These Meal Planning Ideas for Families
This meal plan was created for the average family of 4. You may need to halve or double (or triple!) recipes to best fit your family.
I focused on whole chickens on this meal plan, because they're the most affordable protein available. Although, if you have chicken breast on hand this sheet pan chicken breast recipe is super easy.
This meal plan isn't gluten-free or dairy-free, but it can be allergy-friendly with just a few minor substitutions. This post has 25+ substitutions to make!
With some of these recipes you'll have leftovers for a healthy lunch, but not all. You might want to have a few lunch ideas in your back pocket, just in case. Or choose one of these meal prep ideas that work for lunch or dinner.
Read through the entire menu AND the section on How to Meal Prep for the Week BEFORE you start making anything. You'll see that we are intentionally making extra and using leftovers. If you're not careful, you'll accidentally eat the vegetables needed for another dinner, or end up having to spend more time in the kitchen than necessary. You can also determine what you can make later if you're short on time on Sunday. You may find ways to incorporate lunch meal prep, without too much extra work!
7 Meal Prep Recipes – Chicken
SUN: BBQ Baked Sweet Potatoes with Topping Bar // Steamed Green Beans & Carrots
MON: Chicken and Spinach Enchiladas // Spanish Rice // Roasted Broccoli
TUE: Quesadillas with Topping Bar // Spicy Citrus Black Beans
WED: Chicken Fettuccine Alfredo // Roasted Broccoli
THU: Chicken Noodle Soup // Drop Biscuits
FRI: Buffalo Chicken Tortilla Pizzas // Dinner Salad
SAT: Chicken Tacos with Topping Bar // Spanish Rice // Spicy Citrus Black Beans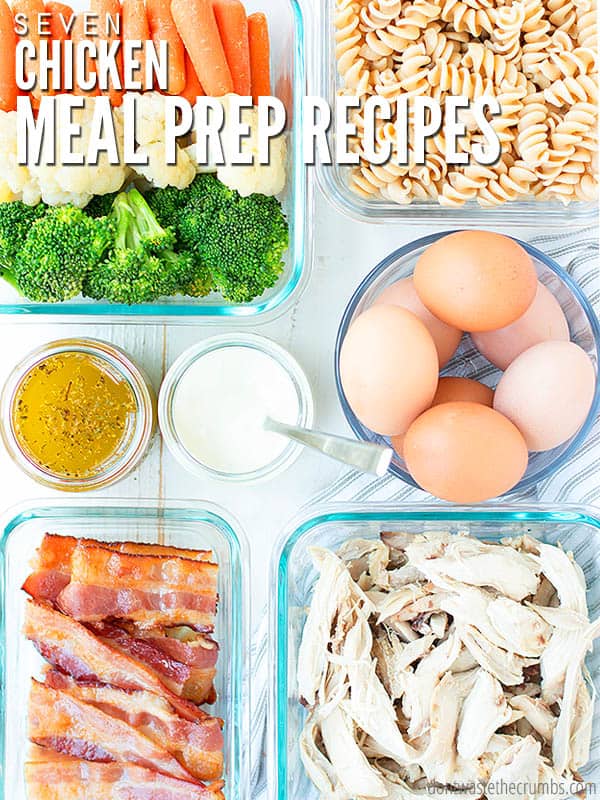 Chicken Meal Prep Plan
Sign up to get instant access to my Chicken Meal Prep Plan, complete with recipes and shopping list!
How to Meal Prep for the Week
We are working two types of meal prep this week: the prep during dinner (everything you need for Sunday) and the prep ahead (everything you need for the week, except Sunday).
For the prep during dinner, you're doubling (or tripling!) parts of your meal so that you can "cook once, eat twice" as the week goes on. For the prep ahead, you'll need to set aside some time before dinner on Sunday to get this food cooked for the week.
You'll find detailed instructions for both the "prep during dinner" and the "prep ahead" in the download. We've also included the specific prep instructions for the recipes on the recipe pages themselves, so you don't have to keep flipping back through the meal plan.
TIP: At the end of the week, hold a brief 5-minute "re-cap" session to help you refine your own meal planning and meal prepping process. Ask yourself these questions:
Which recipes did your family like or dislike?
Which nights felt easy or difficult?
Did you like doing all the work on Sunday or would you rather spread it out throughout the week?
Other Easy Meal Prep Recipes
Here are a few other favorite recipes that earned an honorable mention this week. Not all specifically mention chicken, but you can easily add shredded chicken to them.
Did you try my cook once, eat all week meal plan? What was your favorite recipe? Share in the comments below!