Whoa nelly – if someone had told me that being on the Whole30 meant spending all day every day in the kitchen, I probably would have second-guessed this adventure… But thankfully, I found a couple of life-savers: batch cooking (i.e. making 4 pounds of homemade breakfast sausage instead of just one) and sheet pan dinner. Batch cooking has been easier by far. Whether it's spatchcock chicken, roasted potato wedges, or crash hot sweet potatoes, we almost always have lots of leftovers in the fridge… on purpose! I'm just now finding my groove with sheet pan dinner, but if my future endeavors are anything like this sheet pan Hawaiian shrimp, I'm definitely on the right track!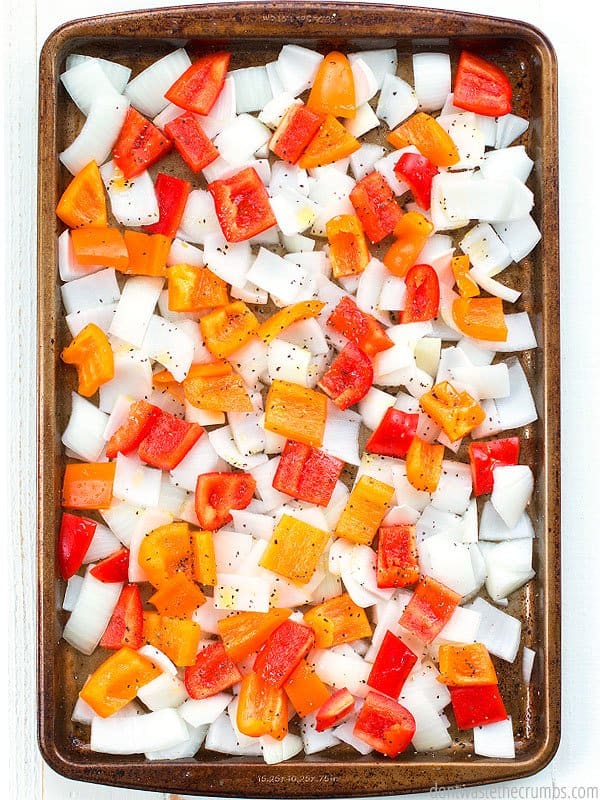 You should know though, that we typically don't eat a lot of shrimp. Per pound, the price of shrimp fluctuates greatly. It can be as low as $4.99 per pound, or it can be upwards of $7.99 per pound. The price can vary even more depending on whether you buy farmed or wild, shell-on or shell-off, de-veined or not de-veined. My real food priorities, as it relates to seafood, are to buy wild. As I teach in my course Grocery Budget Bootcamp, I'll do the work of cleaning at home if it means getting the best deal possible and paying less out of pocket (which is often in the clearance section at the grocery store). A couple of months ago though, I bought wild Argentine shrimp from Zaycon. Our first experience didn't go so well, but I had heard really great things about the company and didn't want to give up entirely. I reinvested the site credit to try their strip steaks and shrimp, and both were delicious! One of the ways we're saving money on the Whole30 is by eating food we've already bought and paid for, which includes the shrimp from Zaycon!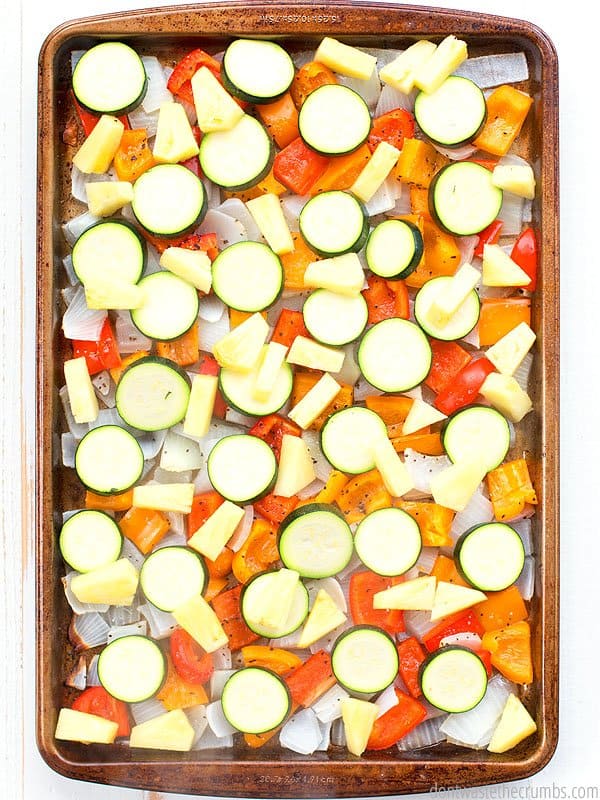 Sheet Pan Dinner: Hawaiian Shrimp
Sheet pan dinner is truly a glorious idea. The concept of dirtying just one pan for the meal is a breath of fresh air when you've already run the dishwasher twice and it's barely past lunch! One of the best parts about sheet pan dinners is that they're super flexible. For example…
Shrimp
If I hadn't bought shrimp from Zaycon, I would have made this dish with chicken. In fact, my husband asked if I could make this again with chicken and also add cashews. I haven't done either just yet, but they both sound good to me! Cubed pork would also be a good idea. Really, it depends on what you have and/or what's on sale. Just adjust the cooking time at the end to account for the variations of meat (shrimp cooks CRAZY fast).
Note: If you don't have access to these stores OR your local stores don't carry high-quality seafood, I recommend Butcher Box. I have a subscription myself! You can read my honest review of their products here!
Vegetables
I used the standard onions and peppers in my version and added zucchini for variety. When I think of "Hawaiian," I tend to think of these. You could easily swap with broccoli, yellow squash, cauliflower, green beans, asparagus, sliced carrots, peas, corn… anything that cooks relatively quickly in the oven would be great.
Pineapple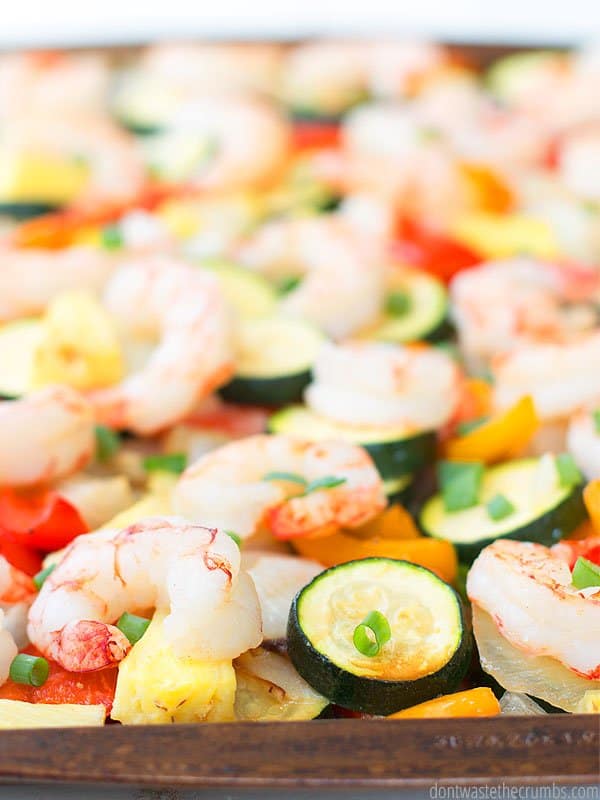 We're big fans of fresh pineapple, partly because it was on sale a couple of weeks ago for $1.25 each (YAY!) but also because canned pineapple can have added sugar in the juices… which you don't need in this dish. If fresh pineapple is not affordable, definitely go the canned route. Aim for no sugar added and save the juice though to bake with! There are so many things you can do with it… it's required in these light and fluffy dinner rolls, but you can use it to flavor kombucha, make homemade ice pops (hello free cold dessert in summer!) or as the liquid in smoothies.
Rice
We served this alongside cauliflower rice, but you can serve it on top of white or brown rice if you'd like. I like to make brown rice in the Instant Pot because it's SUPER easy but REALLY good. Hands down, the best way to make brown rice ever! This sheet pan dinner is one of the quickest meals I've ever made. Once the oven is preheated, it's literally a race against the clock, and dinner is done in 19 minutes flat. I highly recommend having everything prepped and ready to go before you put the pan in the oven. This shouldn't be too hard though – I was able to chop everything in the time it took my oven to get ready! A word of caution: Because of the way this sheet pan dinner comes together, it doesn't make for great leftovers. It's SO GOOD fresh and hot out of the oven, but not so much the next day… Maybe it's because we didn't have rice to sop up all the amazing juices (thanks to the Whole30), or maybe it's because my people aren't big fans of zucchini (and see how I make it anyway?! HAHA!). In either case, you're welcome to make extra if you know you'll eat it. Otherwise, I recommend making just enough for dinner. As I mentioned, we served this alongside cauliflower rice and it was THE BOMB. Everyone cleaned their plates (despite the zucchini) and I make sure to put this on the nights when I don't have much time to cook, or clean!
Sheet pan dinners are my new favorite for busy nights. Hawaiian shrimp is no exception!
I used wild Argentine Shrimp from Zaycon Fresh for this recipe. The quality of seafood is a high priority for my family I teach in Grocery Budget Bootcamp.
Mixing and matching seasonal vegetables helps reduce costs and varies the nutrients we eat.
Pineapple is a must though, and if fresh isn't at a good price, canned works great too.
If you're looking for healthier alternatives to soy sauce, coconut aminos or liquid aminos are good options.
For more one-pan dinners try spatchcock lemon chicken, buffalo chicken potatoes, or egg roll in a bowl!
Sheet Pan Hawaiian Shrimp
Being on the Whole30, Hawaiian shrimp is one of our favorite healthy sheet pan dinners. I love that we can use chicken or pork, and that is flexible enough to not need a cookbook! Inspired by Pioneer Woman and Martha Stewart, this sheet pan dinner means less clean-up and dinner ready in under 20 minutes!
Author: Tiffany
Prep Time:

10 mins

Cook Time:

19 mins

Total Time:

29 mins

Yield:

4

–

5

servings

1

x
Category:

Main Meals

Method:

Oven

Cuisine:

Hawaiian
1

large onion

2

large bell peppers, any color

1

–

2

tsp olive oil

1

large zucchini

1 cup

pineapple chunks

2

lb shrimp, shells removed and de-veined

3 Tbsp

soy sauce (I used coconut aminos)

2 Tbsp

orange juice

1 1/2 tsp

apple cider vinegar

1/2 tsp

ground pepper

1/2 tsp

sesame seed oil
Instructions
Preheat the oven to 450F.
Meanwhile, Prepare all of your veggies and keep them separate. Cut onions into 1″ pieces, cut peppers into 1″ pieces, slice zucchini into 1/4″ thick rounds, cut pineapple (if using fresh).
Combine soy sauce, orange juice, apple cider vinegar, pepper and sesame seed oil in a mug or small bowl and set aside.
When the oven is preheated, layer the onions and bell peppers on a large cookie sheet. Drizzle with olive oil. Bake in the oven for 7 minutes.
Remove the pan from the oven and stir. Add the pineapple and zucchini and bake for 7 more minutes.
Remove the pan from the oven and stir. Add the shrimp and sauce and bake for 5 minutes.
Immediately remove the pan from the oven and stir. Serve hot.
Do you make sheet pan dinners? What's your favorite? I'd love to add more ideas to our meal plan – please share your favorite sheet pan dinners in the comments section below!