It's that time of year when most of us are getting back on track with planning, purchasing, and preparing healthy foods (three cheers for us!). 
At our house, that means aiming for more smoothies, more salads, and more vegetables at the dinner table.
But I have a confession to make.
Even after all the effort I put into the planning and preparation phase of healthy eating, it's sometimes hard to stir up the "want to".
My solution?
Easy recipes that make healthy food more fun to eat! Things like oatmeal raisin breakfast cookies, delicious homemade salad dressings, and – you guessed it – honey roasted almonds!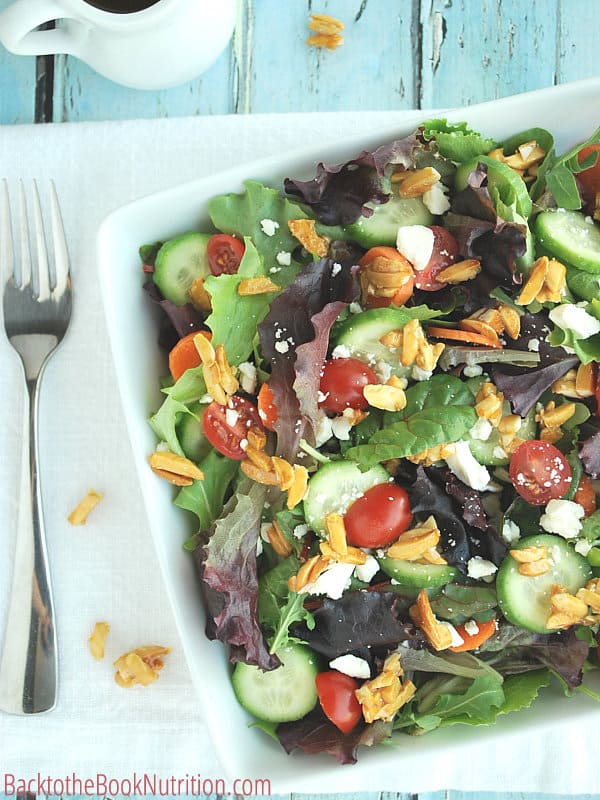 Homemade Honey Roasted Almonds for Salads or Snacks
These honey roasted almonds are delicious on top of just about any green salad. I know this because I've eaten twice as many salads in the past week than I normally would, simply because I had a fresh batch of these salty-sweet gems to sprinkle on top!
#success
They're also great added to yogurt or just eaten by the handful as a snack (my husband's favorite).
If you've never roasted your own nuts, I assure you – it could not get any easier than this recipe! Honey, garlic salt (or regular sea salt, if you prefer), and almonds are all you need. They take just a few minutes to prep and only a half hour to cook.
Of course, just about any nuts could be used, but almonds are among the cheapest and have one of the highest levels of healthy monounsaturated fat. 

Honey Roasted Almonds for Salads or Snacks
Author:
Back To The Book Nutrition
Ingredients
2 cups almonds (whole or slivered)
¼ cup raw honey
1 tsp garlic salt (or regular sea salt)
Instructions
Preheat oven to 375F.
Mix together the honey and almonds in a mixing bowl, then turn the mixture out onto a parchment-lined baking or roasting pan. Use a spatula to spread the almonds evenly across the pan as best you can (If using a baking pan with no lip, leave a 2" perimeter to prevent the honey from dripping over the edge as it heats.
Sprinkle evenly with garlic salt (don't worry about turning them over to get the back side).
Roast for 15-25 minutes (less for slivered almonds and more for whole), turning halfway through.
Transfer the parchment full of roasted nuts to the counter top to cool for at least 30 min. The longer they sit, the crispier they'll get. Once they're fully cooled and crispy, gently break them into smaller clusters to your liking.
Store in an airtight container.
Additional Recipe Notes
Garlic vs. Regular Salt
If you're not sure whether to use garlic or regular sea salt, I assure you the garlic flavor is very light. It's really just enough to provide a savory contrast to the sweet honey. We tried both versions – it was close, but the garlic salt was the winner at our house.
Differences in Cooking Times
I prefer air bake cookie sheets, which heat more evenly, but sometimes add a few minutes to cooking times. If you're using a traditional metal baking sheet or roasting pan, you may need to bring them out of the oven a little sooner.
I tried a batch of cashews on a metal roasting pan lined with parchment, and they were done in around 8 minutes! So, if you experiment with other types of nuts, check them often to prevent burning.
Cost Breakdown
almonds: $2.58 for whole or $3.68 for slivered
honey: $0.33
garlic or regular sea salt: $0.01
Total cost per batch (approximately 10 oz) for homemade honey roasted almonds is between $2.92 (whole almonds) and $4.02 (slivered almonds). Per ounce, you're looking at just 30¢.
Compare this to 97¢ per ounce for this name brand of honey roasted almonds – you save nearly 70% by making them yourself!
To make the deal even sweeter, you can stretch them out by sprinkling on salads (my favorite use). Only 2 Tbsp or so is needed, which means a single batch of honey roasted almonds will last for 16 salads!
What are your tips and tricks for staying on track with healthy eating?