Homemade roasted pumpkin seeds are the highlight of our pumpkin carving day! Learn how to perfectly roast pumpkin seeds – every time. Works for squash seeds too, and makes a healthy and very frugal snack! Save the seeds from your pumpkin for this recipe if you're making homemade pumpkin puree.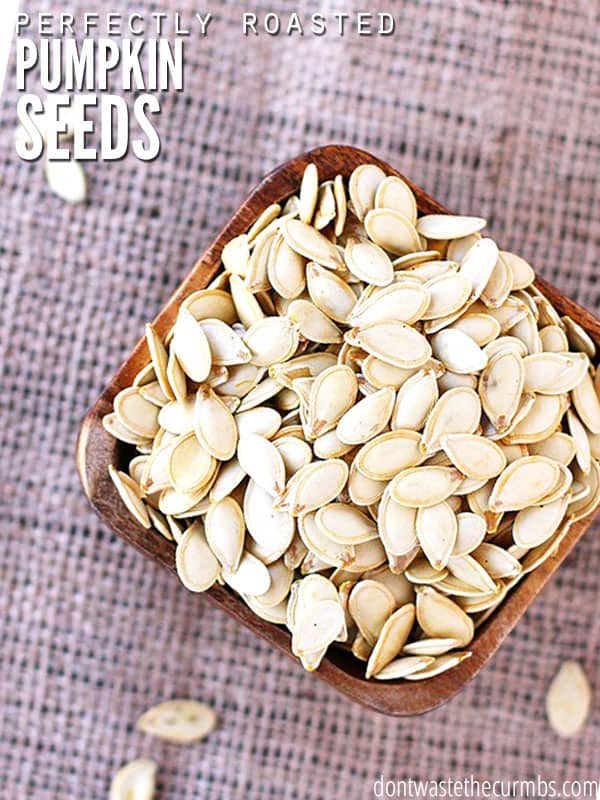 Growing up, carving pumpkins was a REALLY big deal in our house.  My mom would spread newspapers over our kitchen table, place several big spoons and a few knives on the table and we'd all get to work.
Everyone in the family carved at least one pumpkin, including my parents.  One of my parents would take care of the stem, but then leave us to scoop out the "gook," as my sister and I so affectionately called it.
We'd place the gook in a big bowl on the table and my mom would go through it, clean off all the seeds and roast them in the oven for us to eat.
I don't remember which I looked forward to more, carving pumpkins, or eating the roasted pumpkin seeds.
My first attempt at making roasted pumpkin seeds on my own was last year.  I never paid attention to the methods my mom used all those years ago, so it shouldn't come as a surprise that my off-the-cuff roasting produced seeds that tasted AWFUL.
They were burned and soft at the same time… Sound impossible?  Trust me. It's possible.
This year, I got a bit smarter.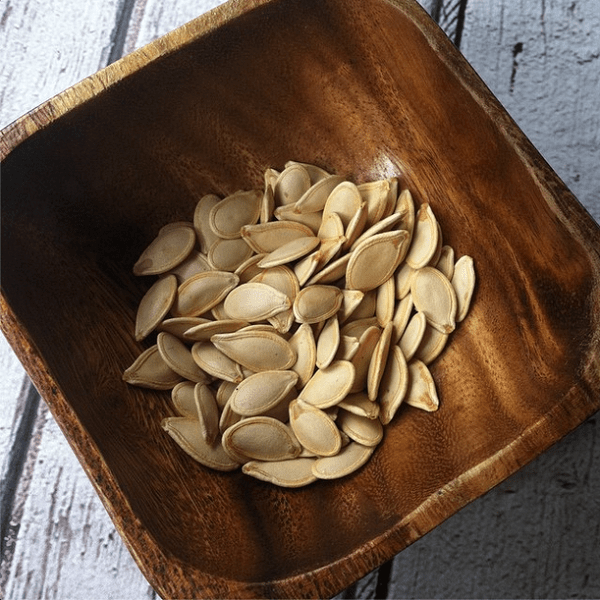 Why Roast Pumpkin Seeds?
After reading a few recipes about the different roasting methods (and all the flavors!), I came up with a way that I thought would best re-create the roasted pumpkin seeds I remember from my childhood.
The roasting was a clear success! I confessed on Instagram that I had ruined my dinner with these pumpkin seeds.  Fresh out of the oven, these perfectly roasted pumpkin seeds are very hard (or impossible) to resist.
Lucky for you, I'm sharing the secret to perfectly roasted pumpkin seeds, and just in time for pumpkin carving season.  Feel free to start your own tradition with your kids, or make them for yourself while you're making homemade pumpkin puree. It's like having a free snack handed to you!
Are Pumpkin Seeds Good for You? 
Pumpkin seeds with the shell on provides an excellent source of fiber and zinc. Plus the inner seed (pepitas) has phosphorus, potassium, and magnesium (most people are magnesium deficient). They are also high in antioxidants like vitamin E. 
This goes for any of the seeds from large winter squash, like butternut, acorn, or spaghetti squash. The flavors are a little different but you can roast the seeds from any of them!
How to Wash Pumpkin Seeds
Cutting open your pumpkin and scooping the seeds is the messy part of carving pumpkins. But instead of tossing them in the trash, set them in a large colander. Wash until the pulp is removed from the seeds.
This can be somewhat tedious but it's well worth the effort. The pulp is rather stringy and sticks to the seeds! And the seeds are slimy to the touch. It's an odd combo but *kind of* fun to get the pulp off. 
How to Make Roasted Pumpkin Seeds
The method for the best roasted pumpkin seeds is very easy. 
Wash your seeds.

This is the hardest part of the whole process!

Boil your seeds in salted water.

Soaking your seeds in saltwater helps the salt get into the inner part of the seed and gives it a more well-rounded flavor. 

Strain and dry the seeds.

You don't need them to be super dry, but enough to get the excess moisture off.

Place your seeds in a bowl and toss the seeds with olive and salt.

This is also when you can add additional spices. 

Roast until golden brown.

It really only takes about 15-20 minutes to roast your seeds. In all the whole process takes about 30 minutes. 
Roasted Pumpkin Seed Flavors
Honestly, the flavor possibilities are endless! Look through the spices in your cabinet and mix it up. Use about 1 tsp spice mix per cup of raw pumpkin seeds. 
For savory flavors use chili powder, garlic powder, or curry powder.

For a sweet-salty flavor try cinnamon or homemade pumpkin pie spice. 

Homemade ranch mix or taco seasoning might be good too! 

Drizzle with melted butter when they're done roasting for EXTRA tasty goodness!
Recipes with Pumpkin Seeds
Typically when you see a recipe that uses pumpkin seeds, it's referring to the inner parts of the seed or the pepitas. I like eating the whole roasted pumpkin seeds as a snack. They would also go well in these recipes:
Recipe: Perfectly Roasted Pumpkin Seeds
Homemade roasted pumpkin seeds are the highlight of our pumpkin carving day! Learn how to perfectly roast pumpkin seeds – every time. Works for squash seeds too, and makes a healthy and very frugal snack!
Author: Tiffany
Cook Time:

55 mins

Total Time:

55 mins

Category:

Snacks

Cuisine:

American
Seeds from pumpkin (or any winter squash)

1

–

2

tsp olive oil
salt, to taste
Instructions
Clean as much of the pumpkin flesh from the seeds as possible. Reserve the flesh for homemade pumpkin puree, or add to the compost pile.
In a colander, rinse the cleaned pumpkin seeds very well, removing any additional strings or flesh. This is tedious, but the cleaner the seeds, the better the end result.
Over the stove, bring a pot of water to a boil. The size of the pot depends on how many seeds you have, but you want something big enough to hold the seeds, plus some wiggle room.
Preheat oven to 300F.
Add the cleaned seeds to the pot of boiling water and cook for 10 minutes.
Remove seeds and strain well. Place seeds on a dish towel and pat dry. They won't be completely dry – you just want to remove the excess moisture.
Place seeds in a large bowl and add 1-2 tsp of olive oil, depending on how many seeds you're roasting.
Spread seeds evenly on a large cookie sheet. Some of the seeds will overlap, but try to make a single layer if at all possible. Sprinkle with salt – liberally if you're like me.
Roast in the oven for 40-55 minutes, stirring and flipping after the first 15 minutes, and then every 10 minutes until they are done.
Seeds are done when they are crispy and lightly browned. Be careful to not let them cook too long. Dark brown seeds taste burned, so you don't want them to get any darker than medium brown.
Store seeds in a sealed container in the pantry. They're best the day they're roasted, but will still be good for a day or two.