Growing up, carving pumpkins was a REALLY big deal in our house.  My mom would spread newspaper over our farm-style kitchen table, place several big spoons and a few knives on the table and we'd all get to work.
Everyone in the family carved at least one pumpkin, including my parents.  One of my parents would take care of the stem, but then leave us to scoop out the "gook," as my sister and I so affectionately called it.
We'd place the gook in a big bowl on the table and my mom would go through it, clean off all the seeds and roast them in the oven for us to eat.
I don't remember which I looked forward to more, carving pumpkins, or eating the roasted pumpkin seeds.
Tip:  I didn't know this as the time, but the flesh from inside a pumpkin is edible!  Use this slow cooker method and substitute for canned pumpkin to stretch those grocery dollars.
Last year was my first attempt at making roasted pumpkin seeds on my own.  I never paid attention to the methods my mom used all those years ago, so it shouldn't come as a surprise that my off-the-cuff roasting produced seeds that tasted AWFUL.
They were burned and soft at the same time… Sound impossible?  Trust me.  It's possible.
This year, I got a bit smarter.
After reading a few recipes about the different roasting methods (and all the flavors!), I came up with a way that I thought would best re-create the roasted pumpkin seeds I remember from my childhood.
The roasting was a clear success, and I have proof.  See this bowl of seeds?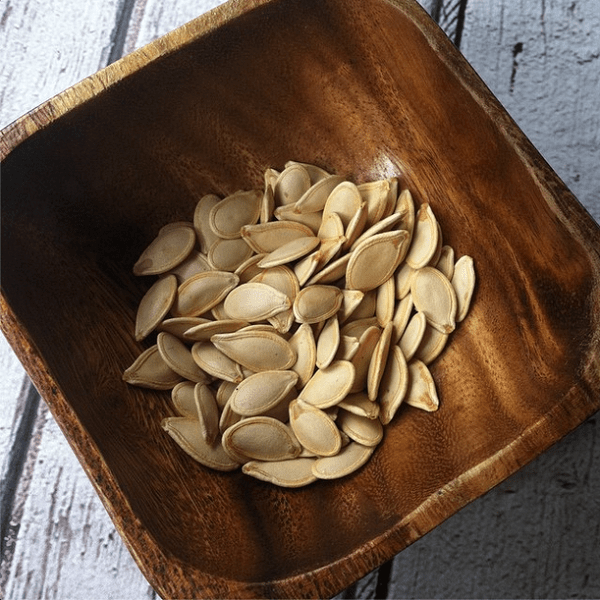 I promise it was full just a few minutes before!  I confessed on Instagram that I had ruined my dinner with these pumpkin seeds.  Fresh out of the oven, these perfectly roasted pumpkin seeds are very hard to resist.
Wait, did I say very hard?  Try impossible.
Lucky for you, I'm sharing the secret to perfectly roasted pumpkin seeds, and just in time for pumpkin carving season.  Feel free to start your own tradition with your kids, or make them for yourself while you're making homemade pumpkin puree.

Recipe: Perfectly Roasted Pumpkin Seeds
Ingredients
Seeds from pumpkin (or any winter squash)
1-2 tsp olive oil
salt, to taste
Instructions
Clean as much of the pumpkin flesh from the seeds as possible. Reserve the flesh for homemade pumpkin puree, or add to the compost pile.
In a colander, rinse the cleaned pumpkin seeds very well, removing any additional strings or flesh. This is tedious, but the cleaner the seeds, the better the end result.
Over the stove, bring a pot of water to a boil. The size of the pot depends on how many seeds you have, but you want something big enough to hold the seeds, plus some wiggle room.
Preheat oven to 300F.
Add the cleaned seeds to the pot of boiling water and cook for 10 minutes.
Remove seeds and strain well. Place seeds on a dish towel and pat dry. They won't be completely dry – you just want to remove the excess moisture.
Place seeds in a large bowl and add 1-2 tsp of olive oil, depending on how many seeds you're roasting.
Spread seeds evenly on a large cookie sheet. Some of the seeds will overlap, but try to make a single layer if at all possible. Sprinkle with salt – liberally if you're like me.
Roast in the oven for 40-55 minutes, stirring and flipping after the first 15 minutes, and then every 10 minutes until they are done.
Seeds are done when they are crispy and lightly browned. Be careful to not let them cook too long. Dark brown seeds taste burned, so you don't want them to get any darker than medium brown.
Store seeds in a sealed container in the pantry. They're best the day they're roasted, but will still be good for a day or two.
Additional Recipe Notes
You can use this method with any large squash seeds.  The flavor will be slightly different, but still delicious.
These seeds are AMAZING on their own, but would be delicious in any dish needing extra crunch.  Consider substituting them for sunflower seeds or pepitas, or adding them to homemade trail mix or granola.

Cost Breakdown
Well, the cost of roasted pumpkin seeds depends greatly on how much you paid for the pumpkin in the first place.  However, mot normal people (myself not included) wouldn't buy a pumpkin just for the seeds.  Since the seeds are normally thrown in the trash can, the cost of this recipe is essentially just the olive oil and salt.
Olive oil:  $0.12
Salt: $.01
Total cost for perfectly roasted pumpkin seeds:  $.13 for 1-2 cups.

Wow!  I don't know about you, but I'm loving this season of creating real food from items we'd normally throw away!
Do you have a pumpkin tradition in your house?  Do you carve?  Paint?  What do you do with the seeds?