Ditch the store bought mold killer and try my homemade natural recipe. Essential oil for mold is the best way to get rid of that pesky fungus!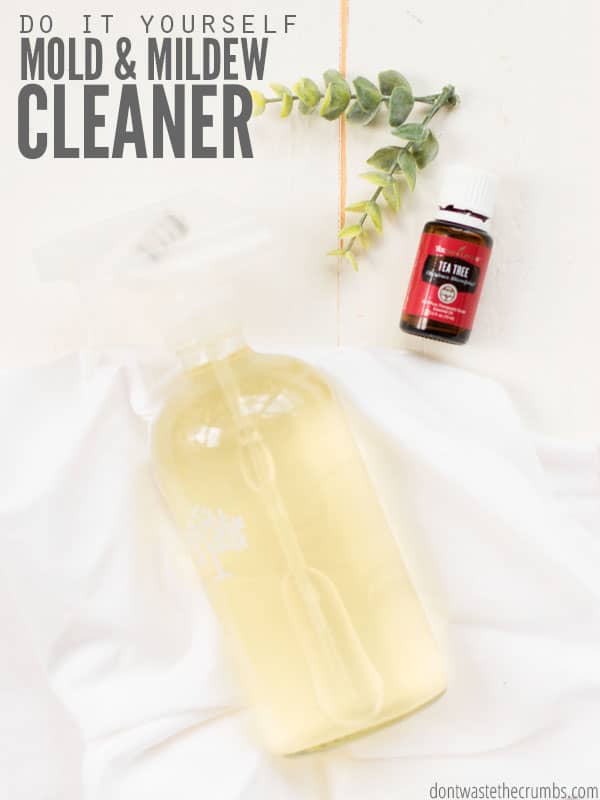 It's impossible to read labels on your food and not read the labels on the cleaners you use, too. That's why I'm on a constant mission to switch to non-toxic cleaners and personal care products in the whole house.
Nine times out of ten it means cleaning with essential oils. Over the years I've been able to switch to homemade bleach alternative and homemade stain remover and homemade bathroom scrubs.
Trying to figure out how to get rid of mold and mildew, has stumped me– until this year! For YEARS I have tried to use natural products to clean mold and mildew. As a result, I started using essential oils for mold. Which was great to find out since we can afford oils on a budget!
Here Are Some Essential Oils For Mold That Will Help
What works for one person may not work for another, so it's best to start with one, give it a shot, and if it doesn't work, try another.
Here is a list to choose from:
Tea Tree
As I mentioned, this was the winner for me. I tried making cleaning solutions with it, but applying it neatly (undiluted) to the area and scrubbing with a grout brush is what did the trick.
Tea tree has amazing cleansing properties that the FDA won't allow me to disclose here, but believe me when I tell you that this is a MUST-HAVE for your home.


Eucalyptus
As the saying goes though, what may work for some may not work for others. Eucalyptus didn't work for me. This could be for any number of reasons, including the type of mold/mildew you're dealing with, so it might be worth a shot to try eucalyptus if you're struggling with mold and mildew. (And if it doesn't work, you can always diffuse it for respiratory support!

).
Clove
When you look at the properties that comprise clove essential oils, you'll find that it is very similar to tea tree essential oil.
I personally didn't try this one, but it's another one to try!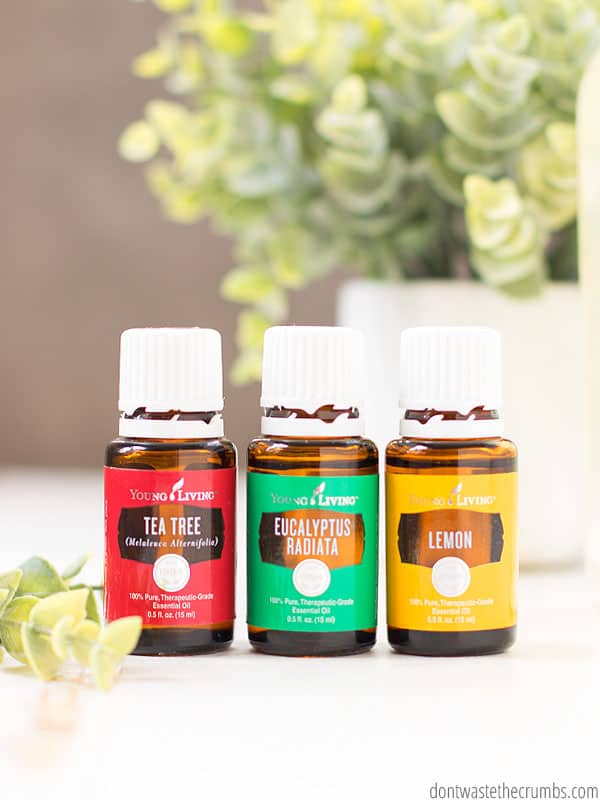 Here are some other essential oils for mold
Cinnamon
Cinnamon is known for its cleansing properties. It plays an integral role in the blend Thieves Essential Oil.

If you don't have any of the oils mentioned so far, give cinnamon bark essential oil a shot!



Lemon
Lemon is a great essential oil for cleaning, and it is what I use anytime something is greasy in the kitchen (like grease splatters) or in the bathroom (like soap scum). However, it didn't work for me on mold or mildew.

Although, it has great cleaning properties, and lemon – and any of the other oils mentioned – would be great to include in your regular cleaning to PREVENT the growth of mold and mildew.

Thieves Essential Oil
While I use tea tree essential oil for mold and mildew, I like to use Thieves Household Cleaner – which spurred off the Thieves Essential Oil blend – as my regular cleaning solution to keep mold and mildew from happening in the first place.

Thieves is a blend of clove, lemon, cinnamon bark, eucalyptus and rosemary essential oils, so it shouldn't be a surprise that it is mentioned here along with all of those individual oils!
Notes on Ingredients
When you are using and purchasing essential oils, I highly recommend you consider a few important things:
Quality is critical.
Using anything but 100% pure therapeutic-grade essential oils defeats the purpose of getting rid of toxins from your home. Some oils are watered down with chemicals to smell more appealing, and some are watered down with inferior carrier oils. Above all, be aware that some companies add "100% pure" to their bottles, even when it isn't.
Do you know where your oil comes from?
Can you find out how the plant is grown? Where the plant is grown? Who is in charge of growing and harvesting? How are garden pests managed? Do they use pesticides? How is your oil distilled?
You can afford quality essential oils.
When you're using 100% pure essential oils, a little goes a long way! A lot of your bottles, even ones you use daily can last up to 6 months, even a year! As a result, you will not have to buy as often when you choose good quality.
Step by Step Instructions
Step 1. Apply a drop or two of essential oil directly onto the tile and grout.
Step 2. Scrub with a brush and within seconds, the mold will be gone!
Recipe Tips
In conclusion, just one essential oil for mold that stood out as a clear winner: tea tree.
FAQS
Does tea tree oil kill mold spores?
Tea tree oil is a natural fungicide that can work for cleaning and it is strong enough to prevent mold spores from forming again.
What oil kills mold?
Through all my experimentation, I have found 5 essential oils that work for killing mold. I have them listed above, if you'd like to take a peek!
Does lavender oil kill mold?
I have not tried lavender oil but from all my research, I have found out that it can have limited use towards killing mold. I would not recommend it.
Seed to Seal Promise

I choose to use Young Living essential oils because of their Seed to Seal promise. They are the only essential oil company to control EVERY aspect of the oil from when the plant is first planted, to weed management (no pesticides are used!), to harvest, to distilling, to testing, to bottling – everything is done by Young Living's standards (which far exceed the organic industry standards, by the way).
I personally called 10+ popular essential oil companies and asked one question:
"Can I tour your farm so I can see how essential oils are made?"
All but one said no. Young Living is the only company that said yes, and it's because of their transparency and their Seed to Seal promise that I confidently use their essential oils in my home. (Can you tell I'm passionate about this?) Read more about their oils and my decision to always choose this company.
Click HERE to join my Young Living community of 1300+ ladies and get education, support and encouragement as you embark on this natural living journey!
If Young Living feels out of reach, I've heard good things about Plant Therapy on Amazon. You can find their best seller kit here.
More Cleaning Recipes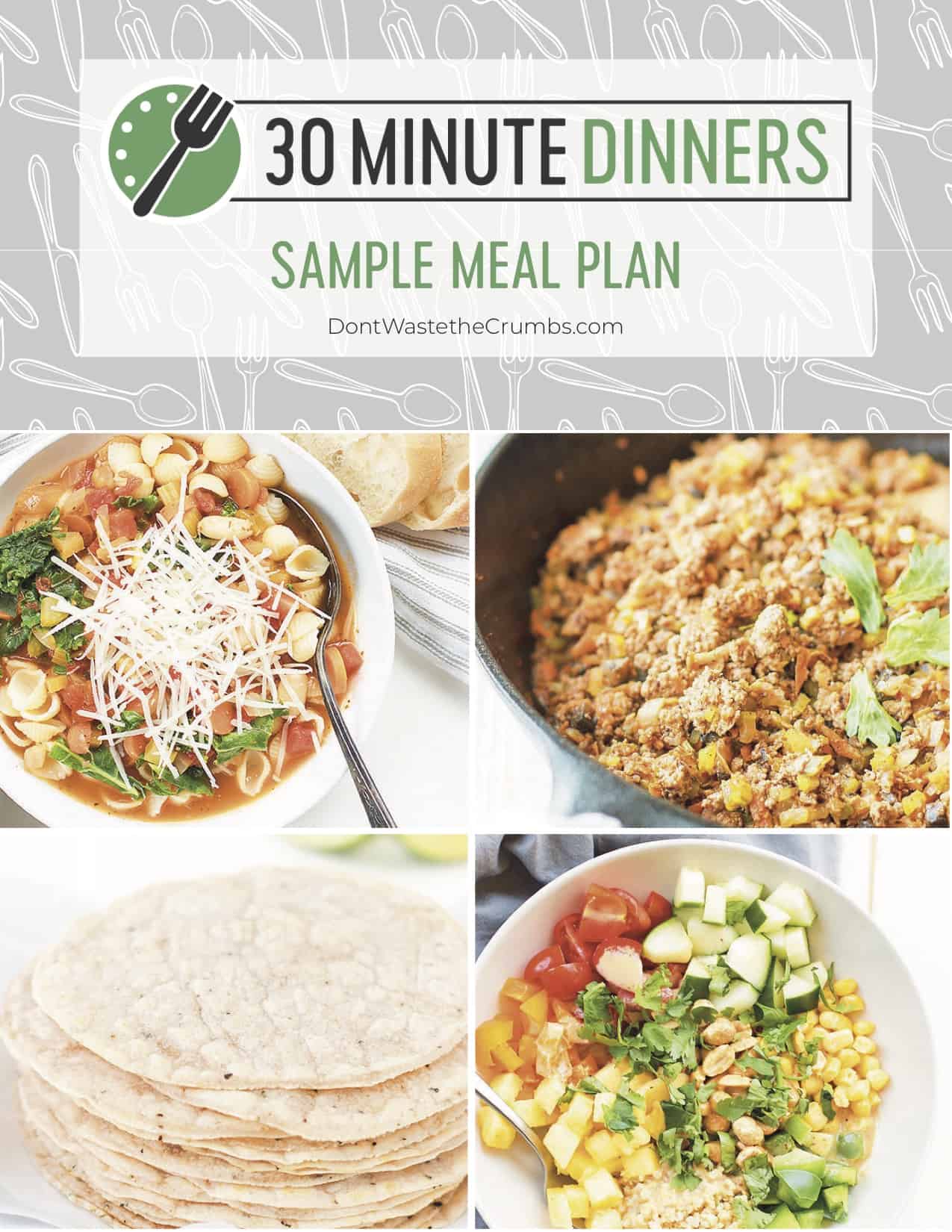 30 Minute Dinners Sample Meal Plan
Sign up to get instant access to my 30 Minute Dinners Sample Meal Plan, complete with recipes and step-by-step instructions!
Are you ready to detox your home?
Join the 5 Days to DIY Natural Living Chalenge! In only 15 minutes a day you can take the next steps to a cleaner, healthier home. Whether you've been on a natural living journey for 2 years or 2 days, you will benefit from the practical steps to detox your home. The best part? It's completely FREE!
Sign up HERE to join the 5 Days to DIY Natural Living Challenge!