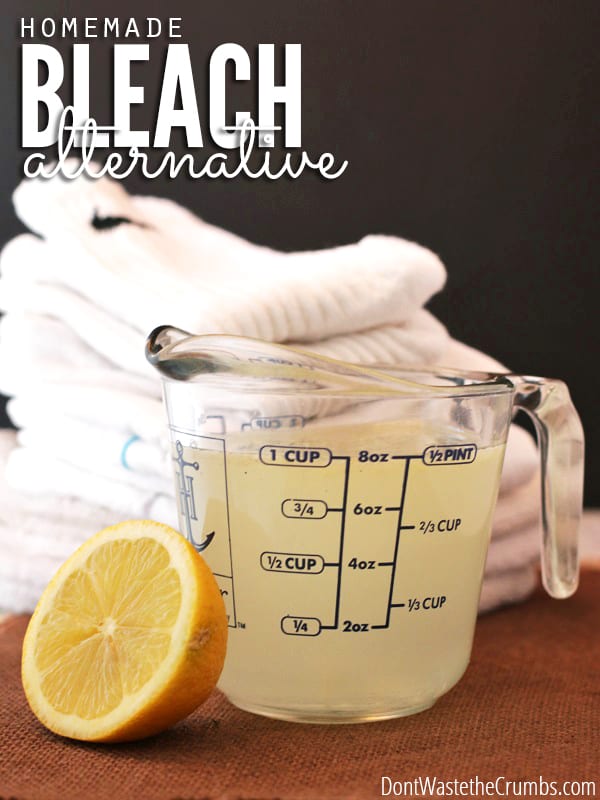 A few big changes happened when we brought our first child home from the hospital.
Of course there's the obvious: we added a member to the family.
But we also started thinking about putting locks on cabinets (which we didn't do), figured out how to open and close a stroller with one hand (which deserves an award), and essentially gave up on sleeping altogether.
On a more personal note, I also stopped buying bleach and stopped sorting laundry.
Between Mr. Crumbs and I, there was only a red shirt or two in the house. So I figured as long as those shirts DIDN'T get washed with everything else and Mr. Crumbs wasn't left wearing pink undershirts to work, I was good to go.
Fast forward 7 1/2 years and while sleeping is still a luxury, it happens on most nights. This now affords me time to reflect on things like what kind of glue is used for the stickers on my produce, why little building blocks that claim "guaranteed to fit 100% with other name-brand building blocks" don't really fit (yes, I'm talking about you wannabe LEGO's) and how Mr. Crumb's whitey tighties weren't as white as they used to be.
Which led me to rethink my ban on bleach.
For like, two seconds.
I didn't research bleach and whether or not it's healthy and all that stuff, because I think it's safe to say that bleach isn't the best cleaning solution out there. You can't eat it, it smells awful and it's dangerous for kids. A triple whammy in my book and in this season of life, I'm kinda ready to find a better, more natural alternative anyway.
In the arena of homemade bleach alternatives, there seem to be a few major key players:
hydrogen peroxide
lemon juice
baking soda
vinegar
lemon essential oil
The goal is to find a winning combination that a) brightens your clothes, b) smells good, and c) doesn't irritate your skin.
All of the items above will gently brighten clothes, but you can't just mix it all up in a pot and expect success. In fact, mixing vinegar and hydrogen peroxide creates paracetic acid which can be incredibly irritating to the skin, eyes and nasal passageways.
Seeing as I'm not really wanting to burn myself while doing laundry, and not really sure how this combination would effect my clothes in the long term, I scratched vinegar off the list.
Citric acid helps make the cleaning solution more effective if you have hard water, but I don't keep this on hand and don't want to buy it just for this recipe. So that got scratched off the list too.
After several rounds of washing our white cloth napkins and Mr. Crumbs undershirts, I've come up with a combination that gets the job done!
DIY: All-natural Homemade Bleach Alternative
Supplies
*I know there are a lot of essential oil companies out there and I've certainly tried my fair share of brands. But after testing and researching and more testing, only one is worth spending money on (in my opinion). For a couple years now I've been committed to Young Living oils, and you can read more about their oils and my decision HERE.
I've also switched from my homemade laundry detergent to Thieves laundry detergent. I've found that it is washing my clothes MUCH better and is also MUCH cheaper!
Method
Combine all ingredients in a container capable of holding 1/2 gallon or more. Shake well.
Use 1 cup per load, washing with hottest water setting available.
Additional Recipe Notes
Some other recipes call for equal parts hydrogen peroxide and lemon juice, but I thought that was a bit expensive with so much lemon juice. The 3:1 ratio is enough to get the job done, and keep costs down.
Hydrogen peroxide should be kept in a cool, dark place and preferably in a dark bottle. I used an old water jug for this solution, labeled it appropriately and keep it stored in the garage where it's normally dark anyway. Plus that's where our washer and dryer is.
The water you add can be plain tap water. No need to use filtered water when it's only going to be combined with tap water in the washer anyway.
Washing Tips
This is an effective washing technique, but if your clothes are exceptionally dingy, it may take more than a simple wash and rinse to see a significant difference. You have a few options:
soak dirty clothes and solution in the washer overnight; add detergent and finish cleaning cycle in the morning
wash dirty clothes twice in a row before drying
wash in hot water
Cost Breakdown
hydrogen peroxide: $0.07
lemon juice: $0.18
lemon essential oils: $0.38
baking soda: $0.21
Total cost for 1/2 gallon all-natural homemade bleach alternative is just 84¢!
Store-bought bleach at Costco costs 3¢ per ounce, but the homemade version costs just 1¢ per ounce – and you're not getting the harmful chemicals!
To get the best deal possible, aim for less than $1 for a 32oz bottle of hydrogen peroxide and buy baking soda and lemon juice in bulk (I buy both at Costco).
Other DIY Laundry-related Posts:
Help is here! Kinda Crunchy is a 31 day challenge to help you make simple changes towards natural living. In just 15 minutes a day you can learn how to clean your home with non-toxic cleaners, cook healthier food, and take better care of yourself and family.
Most people tend to take sides on bleach – do you love it, or hate it? Leave your ideas in the comments!