I love using essential oils for making hand soap! This Thieves Foaming Hand Soap is the easiest DIY antibacterial hand soap you'll ever make. Uses Thieves essential oil, Castile soap, aloe vera (or Vitamin E oil) and distilled water. That's it! It's also frugal and leaves your hands oh-so-soft!
This tutorial for how to make Thieves foaming hand soap is the easiest tutorial you'll find for homemade antibacterial soap.
Since I'm frugal, you know that means saving money by making my own Thieves foaming hand soap when I've run out of the original. That's how we're able to afford essential oils on a budget – the homemade refills cost just pennies, and it's so easy to make!
Not only is it super easy, but making your own DIY Thieves foaming hand soap is awesome because it's:
Frugal
Free of the chemicals found in store-bought soaps…
Leaves your hands soft
And it smells wonderful!
What You Need
Notes on Supplies
Thieves Essential Oil
Obviously if we're making THIEVES foaming hand soap, you need THIEVES essential oil.
Please note that not all oils are created equal. As I've researched companies and their farming and growing methods, I've learned that many companies who sell their oils on Amazon or at Whole Foods or other drug stores aren't selling 100% pure oils – they're selling diluted oils (where a less expensive oil like fractionated coconut oil is added) OR they're selling oils that have chemicals added to make them smell better.
Note to self: peppermint should NOT smell like a candy cane and lavender should NOT smell like a bouquet of flowers. If yours do, I wouldn't use them! Also, not all "Thieves like blends" work like the real deal. Don't waste your money on the knock offs!
I personally use Young Living essential oils because of their Seed to Seal promise. They control EVERY aspect of the oil from when the plant is first planted, to weed management (no pesticides are used!), to harvest to distilling to testing to bottling – everything is done by Young Living's standards (which far exceed the organic industry standards, BTW).
If you want to join Young Living, you can do that right HERE.
The reason I chose Thieves essential oil is because it's an incredible blend of clove, lemon, cinnamon, eucalyptus and rosemary essential oils. If it's powerful enough to clean dishes, it will work for our hand soap!
If you feel like Young Living is out of your reach, I've heard great things about Plant Therapy on Amazon. You can find their Germ Fighter blend here. It's very similar to Thieves!
Castile Soap
Castile soap is the major cleaning agent in this foaming hand soap. There are a couple major brands out there, but it doesn't matter which one you choose. By default, the list of ingredients on castile soap should be fairly clean, but ALWAYS read the list of ingredients, just in case. (I've used this brand before.)
It won't matter too much what scent you choose, but you do want to make sure the scent of the soap compliments the essential oil.
Since I'm using Thieves essential oil, Castile soap in peppermint, citrus and unscented (obviously!) would be my first choices. I've seen lavender and tea tree castile soap as well, but I personally would use a different essential oil if you go that route.
A note on castile soap in general… Castile soap can be very drying on the skin so base how much you use on how sensitive your skin is. Studies have shown that it's not necessarily the soap itself that washes hands, but the agitation. So even if you use just a little bit of soap, you'll still get a cleaning if you scrub.
Aloe Vera Gel OR Vitamin E Oil
You don't need both of these, but you will need either aloe vera gel OR vitamin E oil because as I mentioned, castile soap is drying on the skin.
I usually use aloe vera gel because I keep it on hand for my after sun spray and DIY homemade hand gel. Vitamin E oil tends to be pricey too, so use whatever you have and whatever is in your budget.
If you need brand recommendations, I really like this aloe vera gel and this vitamin E oil.
Distilled Water
We want to use distilled water in this DIY because it doesn't have the impurities that regular tap water has, but distilled water is expensive…
Instead of buying distilled water, make your own by boiling water on the stove and letting it cool slightly to room temperature. BOOM – instant clean water.
Step By Step Instructions
Step 1. In a small measuring glass (like this one), measure the castile soap, essential oil, and aloe vera gel. Mix together well using a whisk.
Step 2. Pour this mixture into your foaming hand soap container and slowly add distilled water to the halfway mark, swirling the bottle as you add the water. When the water and soap mixture is combined well, add distilled water almost to the top, again swirling as you go.
Step 3. You want to leave just a little bit of headspace at the top of the bottle because the pump itself will displace some of the soap and you don't want to make a mess!
Step 4. Assemble the pump top to the bottle and wash your hands like you normally do!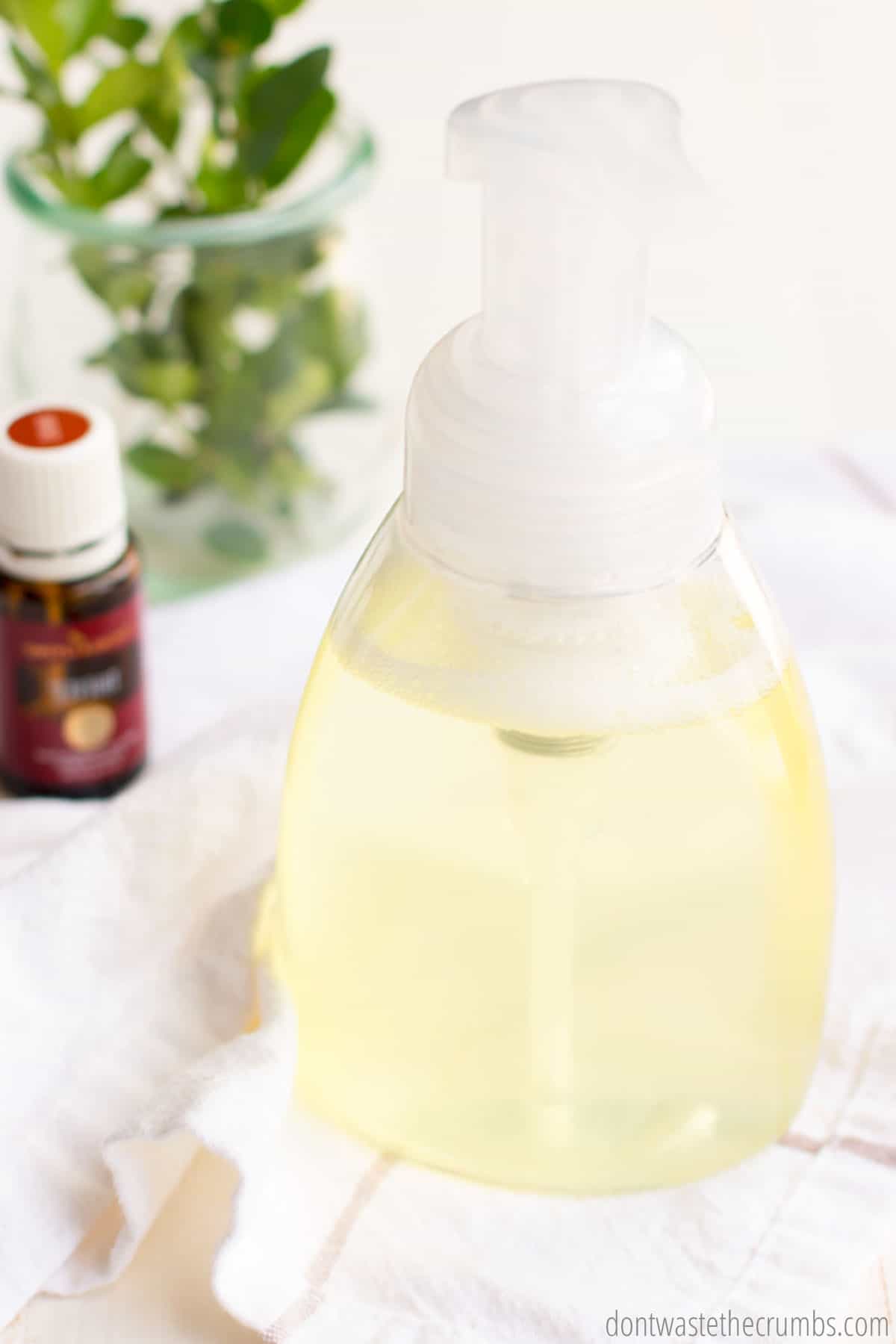 FAQs
How do you make foaming hand soap with Thieves?
This tutorial has the easiest step-by-step method for making your own Thieves foaming hand soap. Also, here is the video tutorial for DIY Thieves foaming hand soap that I made live on Facebook!
Is Thieves foaming hand soap antibacterial?
Thieves contains plant-derived ingredients that have demonstrated some antimicrobial properties in studies. The foaming quality helps to effectively clean and moisturize the hands.
What is the soap to water ratio for homemade Thieves hand soap?
It depends. This recipe contains 2-4 Tbsp of castile soap (depending on your preference) mixed with essential oil and aloe vera (or vitamin E oil). Just fill the rest of the foaming hand soap bottle (leaving a little head room) with distilled water.
5 Days to DIY Natural Living
Being healthy isn't just what goes IN your body, it's what goes ON your body too. Download my free guide 5 Days to DIY Natural Living to learn how to save money while getting rid of harmful toxins throughout your home.
More Homemade DIYs