Here is a simple recipe for Homemade Hand Soap, using just two ingredients! Learn the secret to making homemade foaming hand soap plus a non-foaming version too. Also try our recipe for chemical-free Homemade Hand Sanitizer!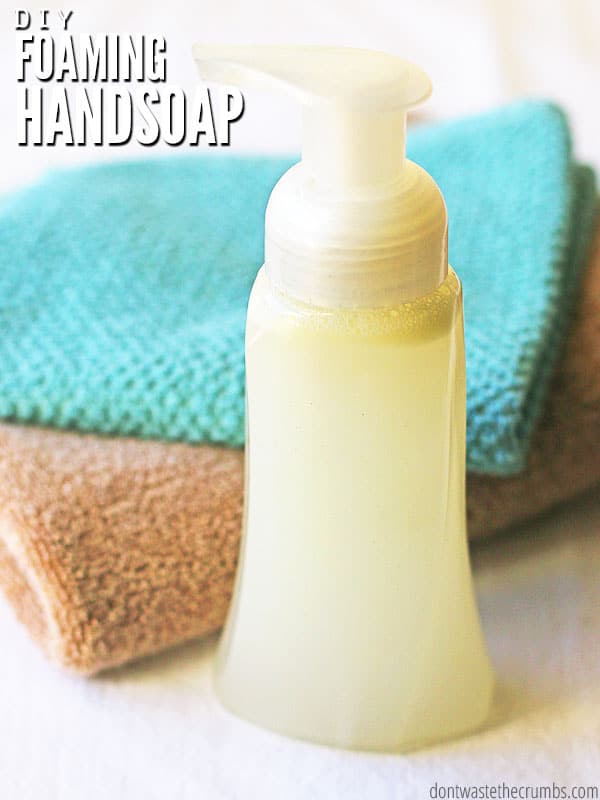 I once had to make a tough decision to make…
Do I keep the 4 bottles of hand soap I have in the stockpile closet and move them across the country?
OR…Do I toss the store bought soap and move the ingredients I had on hand to make homemade hand soap?
OBVIOUSLY, as the title of today's post already gave it away, I chose the latter… and BOY am I so glad I did!
Someone should have told me eons ago that making your own hand soap was SO EASY!
You know how your brain sometimes over-complicates things and convinces you that whatever you need/want to do is too hard, too time consuming and/or too expensive?
Yeah, that's what happened here for me. Luckily, making your own homemade hand soap isn't hard, time consuming or expensive! It will actually save you money!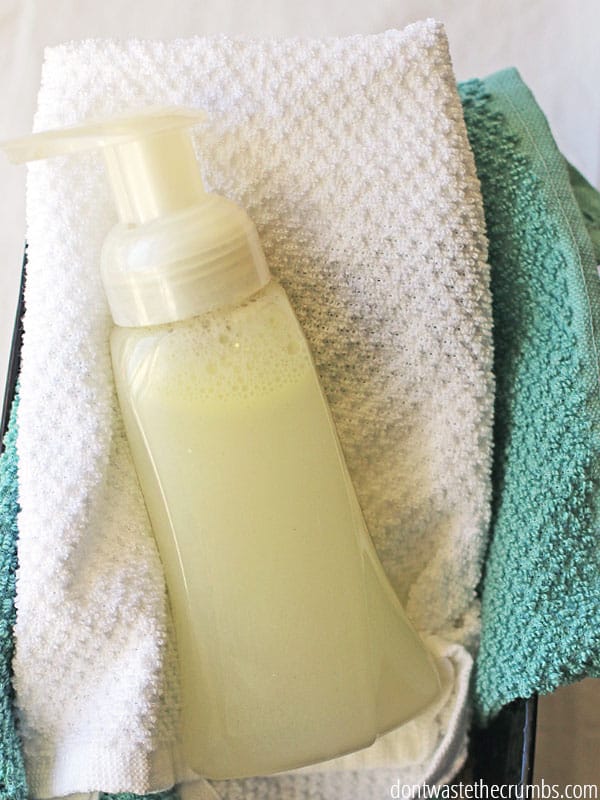 DIY Homemade Hand Soap
Before I share the recipe (pssh, if you can call it that), I want to share why you should even bother making your own homemade soap in the first place:
It's easy. Yes, that is totally a legitimate reason.
It only requires 2 ingredients. Again, legit.
It's 100% natural. As in no chemicals, no colors, no dyes… just pure ingredients. Soap and water.
It works. This isn't some wanna-be hand soap. This stuff cleans.your.hands. And it's really good for sensitive skin too, especially if you have to do a lot of hand washing.
Ingredients for DIY Hand Soap
2 Tbsp liquid castile soap (I like Dr. Bronner's, but any will do)
Water (you can use regular water, boiled water, or distilled water)
Essential Oil (not necessary and completely optional!)
Note: If you'd like to make this soap foamy, you'll need a foaming hand soap dispenser (re-used or new online or combo of old mason jar and new pump).
How to Make Homemade Hand Soap
This literally takes no time at all!
Fill an empty 8 oz soap container nearly full with water.
Add 2 Tbsp liquid castile soap to the top. (Adding the soap first will create bubbles, so do the soap last.)
Replace the cap/pump and wash as normal.
Tip: If the castile soap settles at the top or bottom, gently turn the bottle upside once before dispensing.
What type of container should I use for DIY hand soap?
You can use whatever container you have – I happened to have foaming hand soap back from my couponing days.
I've also seen foaming hand soaps at my dollar store (ignore what's inside – you just want the container). If you prefer brand spankin' new, here are some cool foaming soap dispensers on Amazon.
How can I make DIY foaming hand soap with a 'used' bottle?
If you follow my footsteps with a "used" bottle, you'll want to clean out the dispenser.
This is tough, as the foaming dispenser will keep giving you foam… making it hard to discern whether or not the remnants of the old soap are truly gone.
Fill a glass with water and over the sink, "pump" the water through the dispenser in order to clean it as best as you can. Then empty.
Fill the empty 8 oz soap container nearly full with water.
Add 2 Tbsp liquid castile soap to the top. (Adding the soap first will create bubbles, so do the soap last.)
Replace the cap/pump and wash as normal.
How do I make homemade hand soap for a regular pump?
If you don't want foaming hand soap, just use a regular pump. The pump is what makes soap foamy, NOT the recipe.
So just go about your business, mix it up and pump away. Although I do still recommend cleaning the pump from the old stuff using the method above.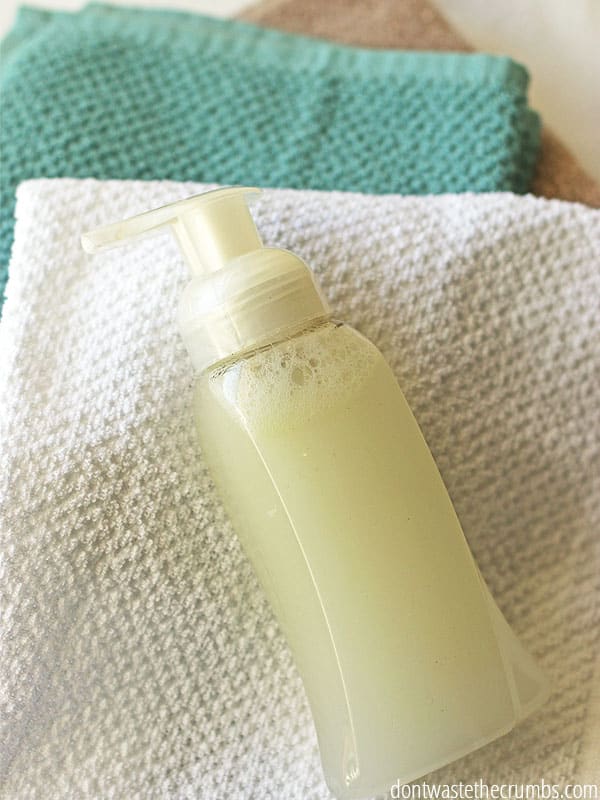 What type of castile soap should I use for DIY homemade hand soap?
Any castile soap will work, including the scented kind (which is like a bonus because it makes your homemade hand soap smell good!)
If you have unscented soap and want a smell, add a few drops of essential oils just after adding the soap. Here are a few scent combos to get you started:
peppermint for the Christmas season
lemon for Spring
lavender is calming
tea tree oil & peppermint together is refreshing
Note: I know there are a lot of essential oil companies out there and I've certainly tried my fair share of brands. But after testing and researching and more testing, only one is worth spending money on (in my opinion). For a couple years now I've been committed to Young Living oils, and you can read more about their oils and my decision HERE.
However, if Young Living is out of your reach, I've heard great things about Plant Therapy on Amazon.
Really, the combinations are endless. And I think it's neat that you can create whatever scent you want, whenever you want. Shoot, you can make every bathroom smell different if you want to!
Whatever may be stopping you from making your own hand soap, just ignore it. You'll kick yourself later when you do finally end up doing it, because you'll realize how crazy easy it is and wish you had done it sooner.
More non-toxic homemade cleaning products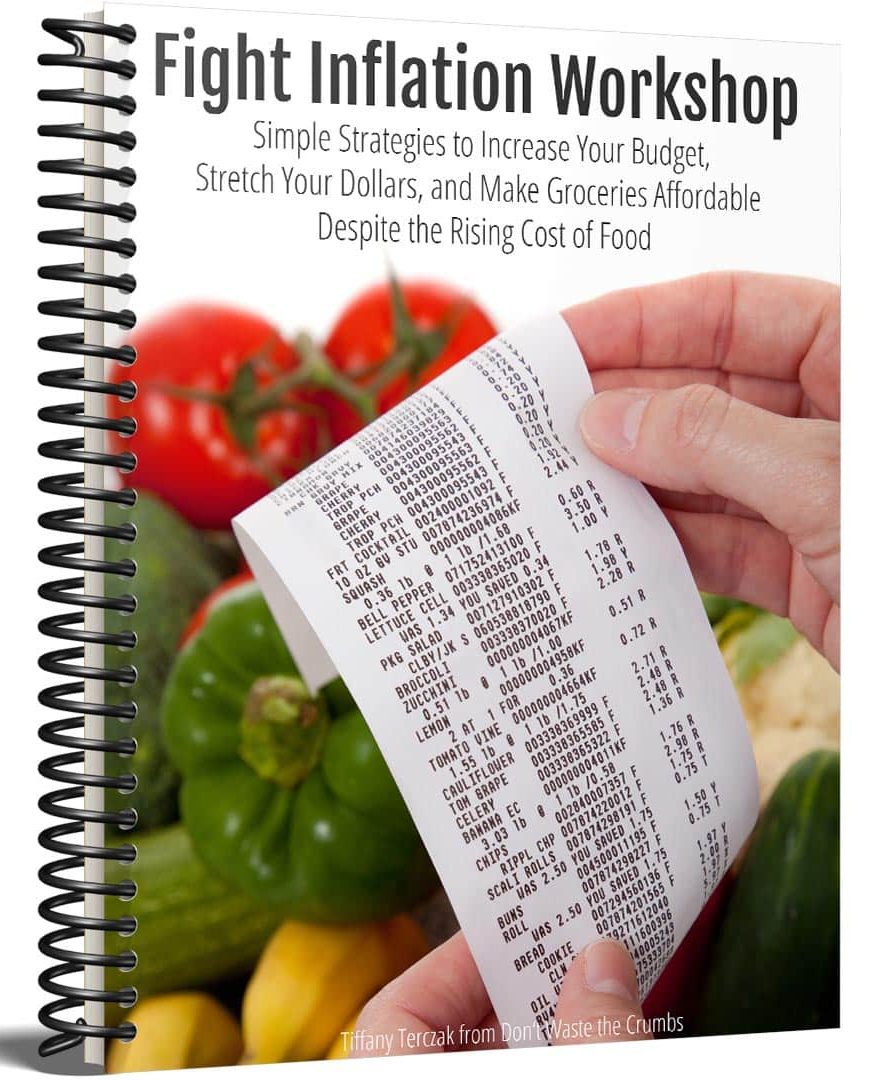 Fight Inflation Workshop
Sign up for my FREE
Fight Inflation Workshop
and learn simple strategies to save money, even with rising food costs!
Have you ever made your own hand soap before?