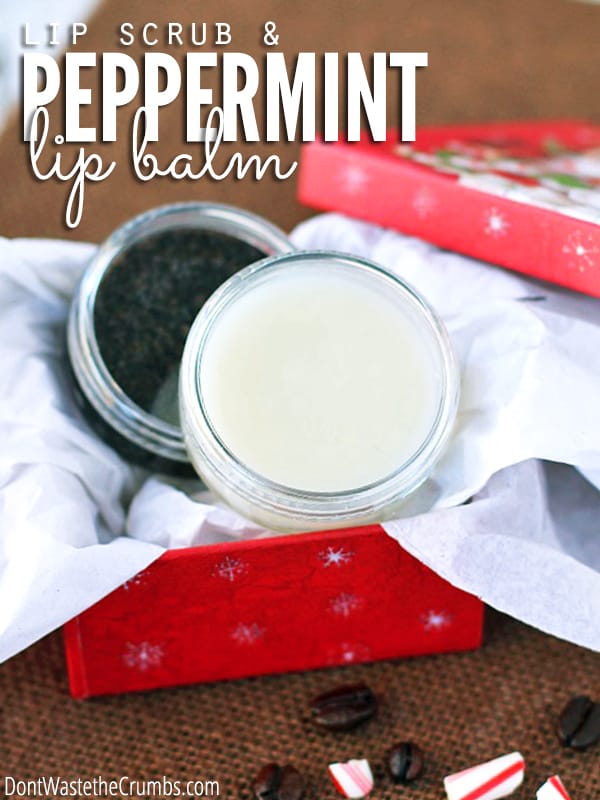 There are many wonderful things that come along with winter holidays like kissing under the mistletoe, lots of coffee, and homemade peppermint fudge.
Unfortunately, bills, lack of energy, and dry skin come with this time of year too.
While it's easy to notice dry skin on our bodies, we often forget that our lips are skin too. When cold, dry weather hits, our lips are completely exposed and easily become chapped and rough. No lipstick can save you at that point!
Fortunately, we can take care of our lips with a homemade lip scrub and homemade lip balm, each made with just three simple ingredients you probably already have in your kitchen!
Before I get into the tutorial, let's talk about what's inside these amazing beauty items.
Coffee Grounds
Coffee grounds are not only excellent for homemade lip scrub, but for fertilizing the garden and exfoliating! Their texture is a bit softer than sugar, so it's gentle on the soft skin of your lips. It's also another way to prevent food waste, rather than using food (sugar or salt, most often times) as the base of the scrub. The scent alone is invigorating, but when you combine it with the next ingredient, it becomes downright delicious!
Peppermint Essential Oil
Peppermint essential oil has natural moisturizing properties, so it's ideal for keeping dry lips hydrated during the colder months. Peppermint essential oil also has pain-fighting properties, so if your lips are already chapped and dry, this helps to soothe the irritated skin. If you're making your own toothpaste or homemade allergy relief, you probably already have this on hand!
Note: I really like Young Living essential oils and this is why however, I understand not everyone needs a subscription. Plant Therapy are a great runner up. You can find their shop here.
Coconut oil by itself is an amazing food, but the fact that it's anti-fungal, anti-bacterial AND a natural moisturizer makes it the perfect nourishing oil to add to the lip scrub and lip balm in order to achieve the right consistency. Those are just some of the reasons why I use it in my homemade tinted moisturizer and homemade lotion bar.
Shea Butter
Coming from the fat of the nut of the shea tree, shea butter is typically the go-to moisturizer for beauty items. Although water and oil typically don't mix, shea butter has properties that allow it to bind well with water, keeping skin moisturized better, and is great for homemade lip scrub.
DIY Homemade Lip Scrub
Supplies
2 Tbsp used coffee grounds
1/4 Tbsp coconut oil
1-2 drops peppermint essential oil
container for finished scrub (these little plastic pots are perfect)
Method
Measure two tablespoons of used coffee grounds in a small bowl. Add the coconut oil and using a spoon, mash the oil and coffee grounds together to form a paste. Add 1-2 drops of peppermint oil in and mix well. Makes approximately one ounce.
DIY Homemade Lip Balm
Supplies
2-3 Tbsp shea butter
1/4 Tbsp coconut oil
1-2 drops peppermint essential oil
container for finished scrub (these little plastic pots are great, or if you prefer, these chapstick-like tubes are pretty neat too)
Method
Measure shea butter into a small bowl. Add the coconut oil and using a spoon, mash the two ingredients together until you've formed a smooth paste. Add 1-2 drops of peppermint oil and mix well.
Tip: If the environment is on the cold side, it might be easier to melt the shea butter and/or coconut oil over a double boiler. If you do this though, it will take approximately 4-8 hours for the mixture to firm up again.
Additional Notes
You'll notice that you don't need much of each ingredient to make this, and one batch goes a long way. You can easily double or triple the recipe as needed if you are making gifts – just follow the method as directed.
One batch fits perfectly into these small plastic pots. You can probably find them locally for roughly 50¢ each, but I buy them in bulk off Amazon for less than 20¢ each. They're the perfect size for keeping plain coconut oil and tinted moisturizer in my make-up bag, and I use it for making toothpaste for gifts as well.
The combination of coffee grounds and peppermint oil is SO indulging. It's like a peppermint latte right under your nose! However, you can swap out the peppermint oil for another scent if you prefer. Lavender, lemon or vanilla would be excellent choices.
Cost Breakdown
The cost of the homemade lip scrub and homemade lip balm require a bit of an upfront investment, but if you're like me, you've slowly acquired items like these over time. The shea butter might be the only exception, but just one pound goes a LONG way. You could buy the butter now and likely have enough to last you for well over a year – including making and giving some as gifts!
The following prices include one batch each of homemade lip scrub and homemade lip balm:
shea butter: $0.63 (the average cost is $10 per pound, but can be as low as $6/lb when you buy in bulk)
coconut oil: $0.10
peppermint oil: $0.14
used coffee grounds: free
Total cost of homemade lip scrub and homemade lip balm: $0.87!
I'm very particular about my lip balms, but I've found that this simple DIY far surpasses any other lip balm I've tried. Good thing too – it's so affordable!
Do your lips suffer during the colder months? What else do you do to take care of them?
More Ways to Heal & Care for Your Body Naturally, at Home