DIY Homemade Lotion Bar Recipe – made with only two ingredients + your own added scent. A super easy recipe that takes 20 minutes! Also try my homemade facial cleanser and homemade powdered foundation for complete natural beauty care!
Years back, I used to have a not-so-secret stash of toiletries purchased during my mega-couponing days. (Which I have since quit and now save more money.)
Shampoo, conditioner, soaps, lotions, razors, contact solution, cotton swabs, feminine care items, dental floss, toothbrushes… you get the picture.
It's been years since I last cleared out the excess from that closet. One of the first items that I made myself, as that stock ran out, was an all natural lotion bar.
By the way, I'm also committed to making our own clay toothpaste that's just like Earthpaste (for 60% less!), among other homemade natural living products like: cinnamon remineralizing toothpaste, DIY foaming hand soap, homemade magnesium lotion, homemade tinted moisturizer, homemade powdered foundation & more!
But back to the natural lotion bar – without my mentioning nor nudging, Mr. Crumbs switched to a more natural lotion for his face and body himself. And I stopped using certain face lotions because of the ingredients. I wanted to make something myself that would be much healthier for my skin and would cost much less too.
I present to you my DIY homemade lotion bar recipe – made with coconut oil and other skin nourishing ingredients.
DIY: Homemade All-Natural Face Lotion Bar
Not only is making your own lotion bar SO much healthier for your skin, it's also wonderful because it's:
Easy. With only a few easy-to-find ingredients together in one luxurious face lotion bar, you won't be sticking your fingers in the coconut oil jar – meant for the pantry!
Quick. It literally takes 20 minutes.
Frugal. One 2 oz bar cost a little over $1.00 to make!
Perfect for travel! Since your lotion bar is solid at room temperature, you can save space by bringing homemade coconut oil lotion bars with you rather than a bottle of lotion.
What all natural ingredients are in homemade lotion bars?

Some people also add cocoa butter, but I found this recipe to be just right without it.
Supplies you need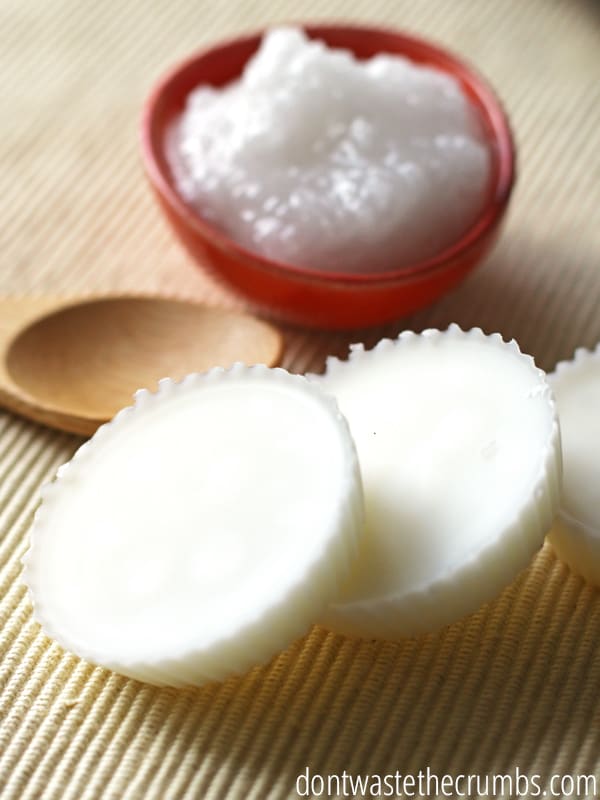 How Do You Make Homemade Lotion Bars?
Create a double boiler with a medium saucepan and a glass bowl. Melt the coconut oil and beeswax together in the glass bowl.
Remove from heat and add vanilla extract and essential oils (if using). Pour into silicone muffin or soap molds and allow to cool to set.
To use, simply apply a bar to your face and rub around gently. It takes a moment for the coconut oil to warm up on your skin to spread easily.
How do you use lotion bars?
Just rub the solid lotion bar between your hands, or rub it directly onto your face. It's great because your body heat softens the lotion bar, allowing you to rub in nourishing and skin protective ingredients like beeswax and coconut oil, into your face easily.
Go ahead and massage the lotion into your skin until absorbed. It's perfect for the winter months when we tend to have dry skin.
How do you harden a bar of lotion?
When you make the bar for the first time, you allow the ingredients to cool and set in the silicone muffin molds, or soap molds, if you prefer. Once it reaches room temperature, it will be hardened.
Also, the bar will harden after you use it, once it returns to room temperature.
Homemade Lotion Bars are Perfect for Men too!
Mr. Crumbs has grown particular about his lotion, but I've got a few essential oils on hand, so once Mr. Crumbs chooses which scent he prefers, I'll make him his own face lotion bars too!
Use the same base ingredients, just change up the essential oils for different scent combinations!
Here are a few more benefits to making your own lotion bars:
It's fun to make your own lotion.
I know exactly what is in the bar, scents and all.
Excellent for sensitive skin (like The Girl and me).
I can make it smell like whatever I want.
A little bit goes a long way.
If I run out, I can make more.
I can make bars for unique, homemade gifts.
I can find the ingredients locally.
The ingredients are items I can easily keep in the house.
The ingredients are often on sale. (BONUS!)
The bars can be made to how I like them (firmer/softer/stronger scents/lighter scent).
Natural scents eliminate the need for perfume.
Can incorporate essential oils into our routine as needed/desired.
They're just as wonderful as Lush lotion bars, but a mere fraction of the cost!
Plus cutting costs on making my own skin care and bath products gives me a little more wiggle room in my grocery budget. I don't combine my toiletry and grocery budget, but a little savings in one area always helps out another. You can learn more about that principle in Grocery Budget Bootcamp!
5 Days to DIY Natural Living
Being healthy isn't just what goes IN your body, it's what goes ON your body too. Download my free guide 5 Days to DIY Natural Living to learn how to save money while getting rid of harmful toxins throughout your home.
More DIY Beauty Recipes
What healthy and/or beauty item would YOU like to make?