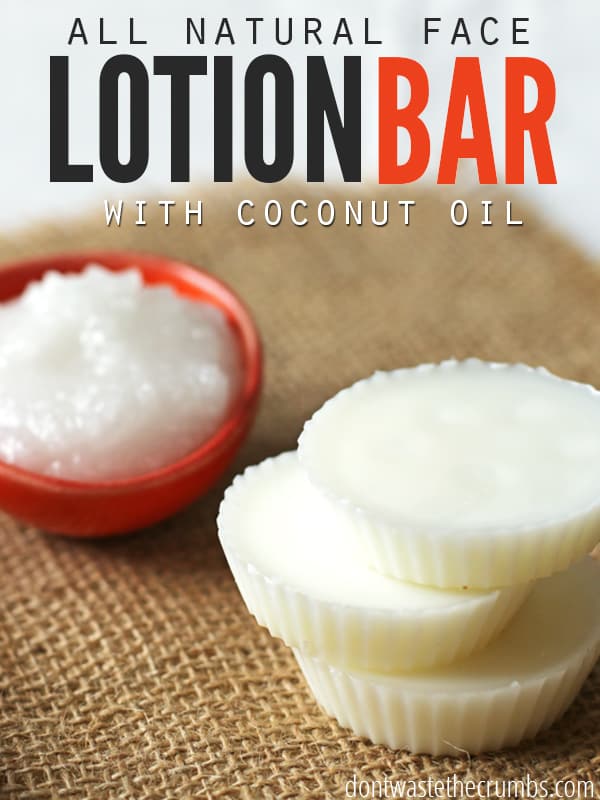 Upstairs, behind a door that leads to our heating system, lies a not-so-secret stash of non-flammable toiletries purchased during my mega-couponing days. (Which I have since quit and now save more money.)
Shampoo, conditioner, soaps, lotions, razors, contact solution, cotton swabs, feminine care items, dental floss, toothbrushes… you get the picture.
It's been about a year since I last cleared out the excess from that closet and while we're still good on several items, stock is starting to run low on others. One of the items that is nearing the end of the pile is face lotion.
In the past year, (since cleaning out the closet), our family has made significant progress in the kitchen. There's no doubt about that.
However, our progress outside of the kitchen has been rather…. um… slow.
We made one step in May when we tried Earthpaste for the first time. We're now committed to making our own clay toothpaste that's just like Earthpaste (for 60% less!) and tossing out the conventional toothpaste in the house. Even the small samples you get in the mail are gone! Unfortunately, that one step in toothpaste is about all we've done as family in the health and beauty department.
Although, without my mentioning nor nudging, Mr. Crumbs switched to a more natural lotion for his face and body. And I've even noticed myself NOT using certain face lotions because of the ingredients.
So if the both of us were switching to more natural products without saying anything to one another, or without really making a big to-do about it, then obviously we knew better than to keep using health products that contained ingredients we knew nothing about.
We don't do that in the kitchen, so why would we do that in the rest of the house? After going back and forth about making my own face wash or face soap or toothpaste or shaving cream, I decided to take make my own face lotion bar.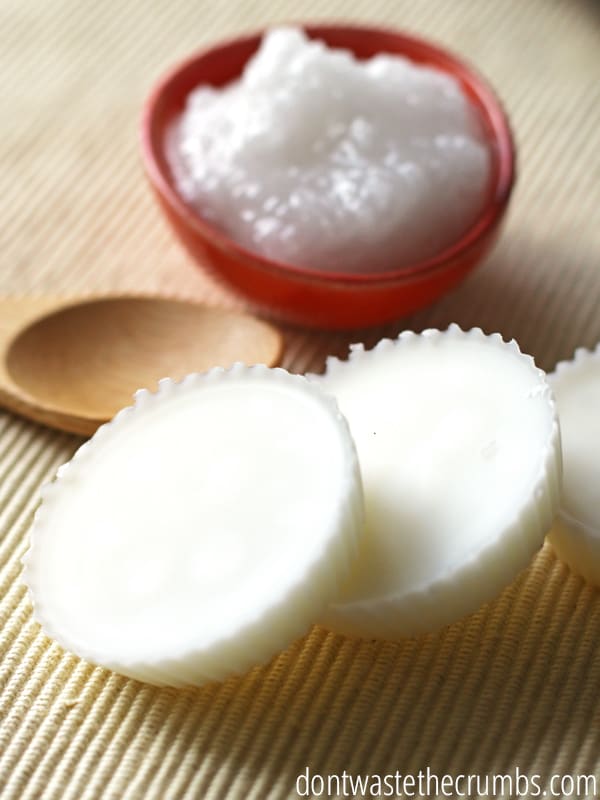 Who knew making your own lotion could be so easy?! I mean, I know you can use coconut oil by itself as lotion, but I have issues with sticking my fingers in the same jar that I cook from. (Scooping some into a separate container is obviously an option and why I hadn't thought of that sooner than RIGHT THIS MOMENT, I have no idea!).
The whole process took a super easy 20 minutes, and I didn't even have to be there for the first 10 if I didn't want to (since you're essentially waiting on water to boil). The kids were painting nearby and since making lotion doesn't come to a critical point like homemade salted caramel does, stepping away for a few seconds to see Ms. Future Van Gogh's creation wasn't an issue.
Would I do it again? Absolutely, and it'll likely happen very soon. Mr. Crumbs has grown particular about his lotion and the bottle he's using is rapidly getting lighter. I've got a few essential oils on hand, so once Mr. Crumbs chooses what scent he prefers, I'll make him his own face lotion bars too.
These homemade lotion bars will likely be Christmas gifts for the ladies in my family too since they only cost $1 per piece to make! Check this out:
54oz of coconut oil from Costco = $17 (makes approx 27 bars)
16oz bar of beeswax from Michael's (using 40% off coupon) = $9 (makes approx 32 bars)
16oz vanilla extract from Costco = $8 (makes approx 96 bars)
A few math calculations later and it costs only 99¢ to make one 2oz bar. Do you know how much money that would save you over time?! Name-brand anti-aging lotions on the market cost over $20 for less than 2 ounces! And who knows what that stuff is made of! Coconut oil has AMAZING health benefits and finding ways to incorporate more of it into our lives is a good thing.
Plus cutting costs on making my own skin care and bath products gives me a little more wiggle room in my grocery budget. I don't combine my toiletry and grocery budget but a little savings in one area always helps out another. You can learn more about that principle in Grocery Budget Bootcamp!
Here are a few more benefits to making your own lotion bars that I learned in the process:
These are REALLY easy to make.
It's fun to make your own lotion.
I know exactly what is in the bar, scents and all.
Excellent for sensitive skin (like me and The Girl).
I can make it smell like whatever I want.
A little bit goes a long way.
If I run out, I can make more.
I can make bars for unique, homemade gifts for CHEAP.
I can find the ingredients locally.
The ingredients are items I can easily keep in the house.
The ingredients are often on sale. (BONUS!)
The bars can be made to how I like them (firmer/softer/stronger scents/lighter scent).
Natural scents eliminate the need for perfume.
Can incorporate essential oils into our routine as needed/desired.
Here's the recipe I came up with to make my homemade face lotion bars.  Feel free to use it as-is or tailor it to suit your preferences!
DIY:  Homemade All-Natural Face Lotion Bar
Supplies
**Note: I know there are a lot of essential oil companies out there and I've certainly tried my fair share of brands. But after testing and researching and more testing, only one is worth spending money on (in my opinion). For a couple years now I've been committed to Young Living oils, and you can read more about their oils and my decision HERE.
Method
Create a double boiler with a medium saucepan and a glass bowl. Melt the coconut oil and beeswax together in the glass bowl.
Remove from heat and add vanilla extract and essential oils (if using). Pour into silicone muffin molds and allow to cool to set.
To use, simply apply bar to your face and rub around gently. It make take a moment for the coconut oil to warm up on your skin to spread easily.
What healthy and/or beauty item would YOU like to make?
More DIY Beauty Recipes