Have you been wanting to try the 'no poo' method but aren't sure where to begin? You've come to the right place! In this post, I'm sharing five ways to wash your hair without shampoo and four mistakes to avoid so you can get the best hair of your life without harsh chemicals!
'No poo' stands for 'no shampoo,' and it's a movement that encourages us to rethink our hair care routines and explore gentler, more natural ways to keep our hair clean without the use of toxic chemicals found in traditional shampoos.
The 'no poo' method typically uses baking soda, water, apple cider vinegar, co-wash, and goat milk soap to effectively cleanse hair.
Personally, I tried using baking soda and water to wash my hair and didn't love it. Next, I landed on the goat milk soap method, which was the best for my hair when it was short! Now my hair is longer and I use a small amount of natural sulfate-free shampoo. (More on that below!)
The Purpose of Going 'No Poo'
Traditional shampoos strip our hair of its natural oils, leaving it dry, frizzy, and sometimes even causing scalp irritation. Using shampoo alternatives allows our hair to maintain its natural oils, resulting in healthier, more balanced locks. Our hair can become shinier, softer, and more manageable without constant stripping. Plus, reducing our reliance on chemical-laden shampoos can minimize our exposure to potentially harmful ingredients.
Now, keep in mind that the 'no poo' method is not a one-size-fits-all solution. It works differently for everyone, and some people may find it more suitable for their hair and lifestyle than others. Experimentation is key here. I encourage you to try it and see how your hair responds. You might just discover a new haircare routine that leaves your locks looking fabulous and healthy!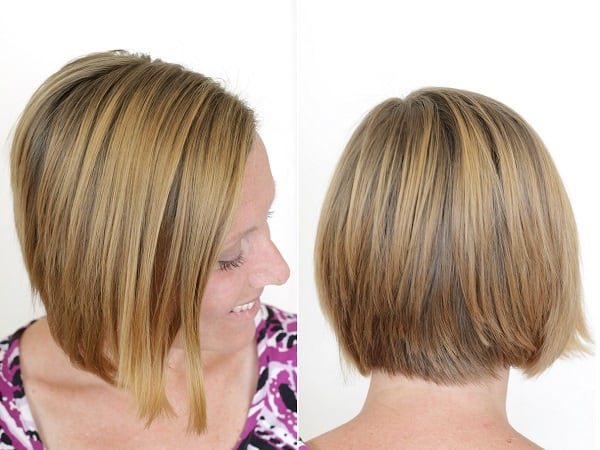 How to Wash Hair Without Shampoo: 5 Alternatives to Shampoo for Healthy Hair
#1 Baking Soda
The baking soda hair cleansing method involves using baking soda as a cleanser for your hair.
Best Hair Types for the Baking Soda Method
The baking soda method can work wonders for various hair types, but it's particularly beneficial for those with oily hair or an oily scalp. It helps those seeking to remove product buildup.
How to Use the Baking Soda Method
Step 1: Start by creating a simple baking soda rinse. Mix about 1 tablespoon of baking soda with 1 cup of lukewarm water. Feel free to adjust the ratio depending on your hair length and personal preference.
Step 2: Hop into the shower and thoroughly wet your hair.
Step 3: Slowly pour the baking soda mixture over your scalp, allowing it to distribute throughout your hair. Gently massage your scalp with your fingertips, creating a soothing sensation as the baking soda works to remove impurities and excess oils.
Step 4: Let the baking soda sit on your hair for a couple of minutes.
Step 5: Rinse your hair thoroughly with water, ensuring all traces of baking soda are gone.
Step 6: Follow up with a conditioner if desired, as baking soda can be slightly drying for some hair types.
#2 Water Only
This method is the most extreme of them all. This cleansing method only consists of washing your hair with plain water and nothing else.
Best Hair Types for the Water-Only Method
This method works well for those who don't use a lot of hair products and aren't prone to dandruff or product build-up. However, if you are prone to those things, I'd stay away as you might need some gentle cleansing agent.
How to Use the Water-Only Method
Step 1: Start by thoroughly wetting your hair with warm water.
Step 2: Gently massage your scalp with your fingertips. This stimulates blood circulation and helps distribute the natural oils from your scalp to the rest of your hair.
Step 3: Allow the water to rinse through your hair, carrying away any dirt, sweat, or impurities that may have accumulated.
#3 Apple Cider Vinegar
The apple cider vinegar (ACV) no-poo method is a simple yet effective way to cleanse your hair without the use of traditional shampoos.
Best Hair Types for the Apple Cider Vinegar Method
The ACV method can work wonders for various hair types, but it's particularly beneficial for those with oily hair, product buildup, or an itchy scalp.
How to Use the Apple Cider Vinegar Method
Step 1: Start by mixing one part raw, unfiltered apple cider vinegar with three to four parts lukewarm water in a container. This ensures that the ACV is properly diluted, as using undiluted vinegar can be too harsh for your hair.
Step 2: Hop into the shower and wet your hair thoroughly.
Step 3: Slowly pour the diluted ACV mixture over your hair, making sure to distribute it evenly from the roots to the tips.
Step 4: Gently massage your scalp with your fingertips, allowing the ACV mixture to stimulate blood circulation and promote a healthy scalp environment.
Step 5: Let the ACV sit on your hair for a few minutes, allowing it to remove any product buildup or excess oil.
Step 6: Rinse your hair thoroughly with warm water.
#4 Cleansing Conditioner or Conditioner Washing
So, what exactly is co-washing? Well, it's short for "conditioner washing," and it involves using a conditioner as your primary cleanser instead of traditional shampoo.
Best Hair Types for the Cleansing Conditioner Method
​Co-washing works wonders for certain hair types, especially those prone to dryness, frizz, or damage. If you have curly, coily, or textured hair, this method can be a game-changer. It helps retain rich moisture, reduces frizz, and promotes defined bouncy curls. However, even those with other hair types can benefit from co-washing, especially if they struggle with dry scalp or hair that tends to get stripped by regular shampoos.
How to Use the Co-Washing Method
Step 1: Wet your hair thoroughly with warm water.
Step 2: Take a dollop of your favorite silicone-free conditioner or use one of these DIY Conditioner methods. This is crucial because silicones can cause build-up over time. Apply the conditioner generously to your hair, starting from the roots and working your way down to the ends.
Step 3: With your fingertips or a wide-toothed comb, gently detangle your hair. This step is essential for preventing knots and tangles, ensuring your hair remains silky smooth.
Step 4: Let the conditioner sit on your scalp for a few minutes to let it work its magic.
Step 5: Rinse your hair thoroughly with warm water.
#5 Goat Milk Soap
The goat milk soap no poo method involves using goat milk soap as a shampoo alternative to cleanse your lovely locks. This method has gained popularity among those seeking a more natural and eco-friendly hair care routine.
Best Hair Types for the Goat Milk Soap Method
The goat soap method works well for various hair types, but it tends to be particularly beneficial for those with sensitive scalps or dry, frizzy hair. The nourishing properties of goat milk soap can help moisturize and soothe the scalp while also adding shine and softness to your strands.
How To Use The Goat Milk Soap Method
Step 1: Wet your hair thoroughly with warm water, allowing it to absorb the moisture like a sponge ready for a refreshing cleanse.
Step 2: Cut a bar of soap in half. This makes it easier to hold and stretches the life of the bar. (More tips on stretching a bar of soap.) Then, scrub your scalp to loosen any buildup on your scalp.
Step 3: After you've scrubbed your scalp, make sure your hair is wet. Starting at the front hairline and holding the bar in your hand, put the bar directly into the hair and start massaging it around. Continue this around your head until you have sufficiently covered the roots and your hair.
Step 4: Massage into the roots and cover all of your hair thoroughly.
Step 5: Rinse your hair thoroughly with warm water.
Step 6: Follow up with a homemade conditioner.
4 Common Mistakes When Not Using Shampoo
Going No Poo Cold Turkey
When you're used to daily shampooing your hair each morning, skipping just one day is a huge shocker.
Consider easing into the routine by washing your hair every 36 hours by washing one night (say Sunday), completely skipping the next day (Monday), and then washing it the next morning (Tuesday). Do this once a week for a few weeks, then twice a week. Eventually, work your way up to washing one morning and going a full 48 hours without washing and continuing to stretch it out from there.
Another option is to use less shampoo. Most of us could get away with about a quarter-sized amount of shampoo, but try cutting it back to just a dime. This will force you to really work it into your hair. You might miss spots, or your hair might not feel as sparkly clean. But it won't be as greasy as if you had gone cold turkey, and that's the whole point.
After a while, see if you can cut it back even less. If neither of these options will work for you, I suggest washing with goat milk soap.
I originally started using it as a way to manage the in-between of shampoo versus no shampoo, but I found that it did such a great job that it became my new hair-washing routine!
Expecting Your No Poo Hair Not To Be Greasy
The ingredients in shampoo are designed to "clean" your hair by stripping it of the oils your scalp naturally excretes.
It's a very vicious cycle: Your scalp releases oils, you shampoo to strip the oils and have clean hair, then your scalp, in turn, makes more oils to compensate.
When you do poo, your hair WILL be greasy. It's just the natural cycle!
But I assure you, it will get easier over time, and your hair WILL eventually stop producing so much oil. You can ease the burden by trying one of the techniques mentioned in point #1 above or by following my advice in point #3 below.
Focusing All Your Attention On Your Hair
When you are doing the no-poo method, your focus should be on your scalp, not your hair. A healthy scalp will naturally lead to healthy hair, but it doesn't work the other way around. Focus on scrubbing and cleaning the scalp to distribute the naturally occurring oils, and your naturally beautiful hair will follow!
Expecting The Typical Shampoo-Like Lather
Friends, it was just silly of me to expect baking soda and water to somehow magically produce a lather in the shower. An unrealistic expectation will only lead to frustration and feeling discouraged! Amidst my disappointment, I found a shining light: Washing with goat milk soap does create a lather!
This made the transition of leaving commercial shampoo so much easier and much more enjoyable. It's just like the "old" days of shampoo but without chemicals!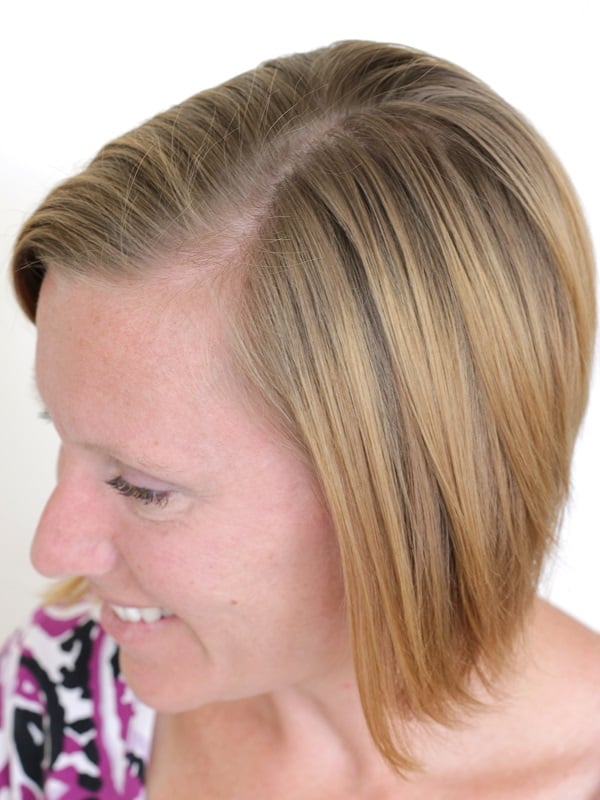 My Current No Poo Routine
I no longer use bar soap to wash my hair. This was a GREAT method when my hair was short, but my hair has always been more oily (definitely not dry) and as my hair got longer, it was harder to wash with a bar of soap. My husband and son still use bars of soap.
I now use a shampoo with natural ingredients and without the bad stuff like sulfates. I buy the quart size Kristin Ess Shampoo from Amazon (here's a smaller size to try it!) and I've "trained" my hair to only need washing once a week.
I started with every other day, wearing my hair up in a ponytail on days I didn't wash and I use Living Proof Dry Shampoo on the very first night. Then pull my hair into a loose pony on top of my head and blow dry any sweat from exercising in the morning.
Then over time, I was able to stretch it to washing every 3 days… then every 4, then every 5, etc. I always use the Living Proof dry shampoo on Day 1 and every night I plan to wear my hair down the next day. It's taken me about a year, but my current routine:
Day 1: Wash, wear hair down. Dry shampoo at night.
Day 2-3: Wear hair down. Dry shampoo at night.
Day 4-5: Wear hair down in a braid. Only dry shampoo on day 4.
Day 6-7: Wear hair in a pony or in a messy bun. No dry shampoo either day.
Obviously, this is flex, because on really humid days I may need to wear my hair more up than down, but I still only wash once a week.
With this method, one bottle of shampoo lasts over a year!
FAQs To Clean Hair Without Shampoo
How long does the transition period to 'no shampoo' hair care last?
The transition period varies from person to person but typically lasts two weeks or more as your scalp adjusts to the new routine. Be patient, and your hair will find its balance.
​What things can I use to help my hair adjust during the transition period?
To help manage the oiliness during the transition, you can experiment with different techniques. Some people find that using a boar bristle brush helps distribute the hair's natural oils from the scalp to the ends of the hair, giving it a healthy shine. Others might opt for occasional rinses with diluted apple cider vinegar to restore pH balance.
What hair types does the 'no shampoo' method work for?
The 'no shampoo' method can work for various hair types, including oily hair, dry hair, curly hair, color-treated hair, and straight hair.
How do I deal with excess oil in my hair without using regular shampoo?
Natural alternatives such as apple cider vinegar rinse, bentonite clay, or even just water can help remove excess oil buildup and restore balance to your scalp.
Does the no poo method work for sensitive scalps?
Absolutely! Because you're not stripping your hair follicles of natural oils, your scalp won't have to make up for the loss of oil by producing excess oils.
Will washing my hair without shampoo cause hair loss?
No, washing your hair without shampoo does not directly cause hair loss. In fact, using gentle cleansing methods and avoiding harsh chemicals can promote healthier hair growth.
Are there any specific hair care products I should avoid when following the 'no shampoo' method?
It's best to avoid products containing harsh chemicals, sodium laureth sulfate (SLES), or high pH levels, as they can disrupt the natural balance of your hair and scalp.
How often should I wash my hair without shampoo?
The frequency of hair washing without shampoo depends on your hair type, lifestyle, and personal preference. Many people find success with washing every few days, while others prefer more frequent or less frequent washing.
Washing Hair Without Shampoo: The Final Verdict
No matter which shampoo alternative method you choose, your hair will be on its way to becoming the healthiest, strongest it has ever been! Just remember that your hair may experience a transition period of grease and buildup, but don't let that stop you!
After you overcome the dreaded transition period, you'll be left with clean hair without chemicals! Have you ever tried any of the 'no poo' methods I mentioned? If so, which one was your favorite? If you haven't yet tried skipping shampoo, which method are you most excited about trying? Let me know in the comments!
More Natural Living Tips
5 Days to DIY Natural Living
Being healthy isn't just what goes IN your body, it's what goes ON your body too. Download my free guide 5 Days to DIY Natural Living to learn how to save money while getting rid of harmful toxins throughout your home.