Have you thought about going no 'poo? Avoid these common mistakes of washing your hair without shampoo and your hair will be beautiful every step of the way!
Everything You Need to Know About 4 Common Mistakes When Washing Hair Without Shampoo (The No Poo Method)
Years ago I attempted an experiment to wash my hair with just baking soda and shampoo.
It lasted one day.
I attempted to mask my greasy hair by sprinkling some homemade powdered foundation at the roots, hoping the corn starch would absorb the grease, but all that did was garner funny looks and the comment "Did you put baby powder in your hair?" from a friend we saw at church that night.
Needless to say, I washed my hair as soon as we got home.
Four common mistakes people make when going no 'poo:
1) Go cold turkey.
2) Expect hair not to be greasy.
3) Focusing all your attention on your hair.
4) Expecting a lather from baking soda.
People who have stopped washing their hair will tell you that there's a transition period lasting anywhere from 3 weeks to 3 months where your hair will look greasy.
They say to pull your hair back into a ponytail or a braid and just stick it out and then one day, it'll all be better.
My experiment only lasted a whopping ONE day, but the brevity doesn't really matter. If I can't last one day, how in the world can I last 3 months?!
And what about people (like me) who have short hair? Ponytails, braids and "just wear a hat" aren't viable options. And neither is just sticking it out.
I certainly didn't want to give up on natural hair care, but I knew there had to be a better way.
Fast forward a few months, after my ego had healed and I attempted another experiment:
Washing my hair with goat milk soap
Long-time readers know that I LOVE Bend Soap Company's goat milk soap. It's been pivotal to clearing up my acne and it's the base for my own homemade laundry detergent.
With a bar already in the shower (I make a separate liquid face wash for night), I figured what the heck – what did I have to lose?
Worst case scenario it would be a repeat of the baking soda fiasco and I would just rewash with regular shampoo, right?
Friends, my shampoo days were over because using goat milk soap as shampoo WORKED!
My scalp wasn't full of grease.
My hair was clean.
It lathered (superficial, but still a perk).
I could comb my hair WITHOUT conditioner (I now use this homemade conditioner, but didn't use any during this trial experiment).
With such great success on day one, I kept the experiment going.
But as I already mentioned, this is a far cry from how I first felt about going no 'poo!
Despite being relatively new to the world of natural hair care, I'd like to share my advice to those who are traveling the natural living journey and struggling with the same issues I was.
4 Common Mistakes When Washing Hair Without Shampoo
1. Going no poo cold turkey
When you're used to lovely locks each morning, skipping just one day is a huge shocker.
Consider easing into the routine by washing your hair every 36 hours by washing one night (say Sunday), completely skipping the next day (Monday) and then washing it the next morning (Tuesday). Do this once a week for a few weeks, then twice a week. Eventually work your way up to washing one morning and going a full 48 hours without washing and continuing to stretch it out from there.
Another option is use less shampoo. Most of us could get away with about a quarter-sized amount of shampoo, but try cutting it back to just a dime. This will force yourself to really work it into your hair. You might miss spots, or your hair might not feel as sparkly clean. But it won't be as greasy as if you had gone cold turkey and that's the whole point.
After awhile, see if you can cut it back even less. If neither of these options will work for you, I suggest washing with goat milk soap.
I originally started using it as a way to manage the in-between of shampoo versus no-shampoo, but found that it did such a great job that it became my new hair washing routine!
2. Expecting your no 'poo hair not to be greasy
The ingredients in shampoo are designed to "clean" your hair by stripping it of the oils your scalp naturally excretes.
It's a very vicious cycle: Your scalp release oils, you shampoo to strip the oils and have clean hair, then your scalp in turn makes more oils to compensate.
When you no poo, your hair WILL be greasy. It's just the natural cycle!
But I assure you, it will get easier over time and your hair WILL eventually stop producing so much oil. You can ease the burden by trying one of the techniques mentioned in point #1 above, or by following my advice in point #3 below.
3. Focusing all your attention on your hair
When you are doing the no poo method, your focus should be on your scalp, not your hair.
A healthy scalp will naturally lead to healthy hair, but it doesn't work the other way around. Focus on scrubbing and cleaning the scalp to distribute the naturally occurring oils and your naturally beautiful hair will follow!
4. Expecting the typical shampoo-like lather
Friends, it was just silly of me to expect baking soda and water to somehow magically produce a lather in the shower. An unrealistic expectation will only lead to frustration and feeling discouraged!
Amidst my disappointment, I found a shining light: Washing with goat milk soap does create a lather!
This made the transition of leaving commercial shampoo so much easier and much more enjoyable. It's just like the "old" days of shampoo, but without the chemicals!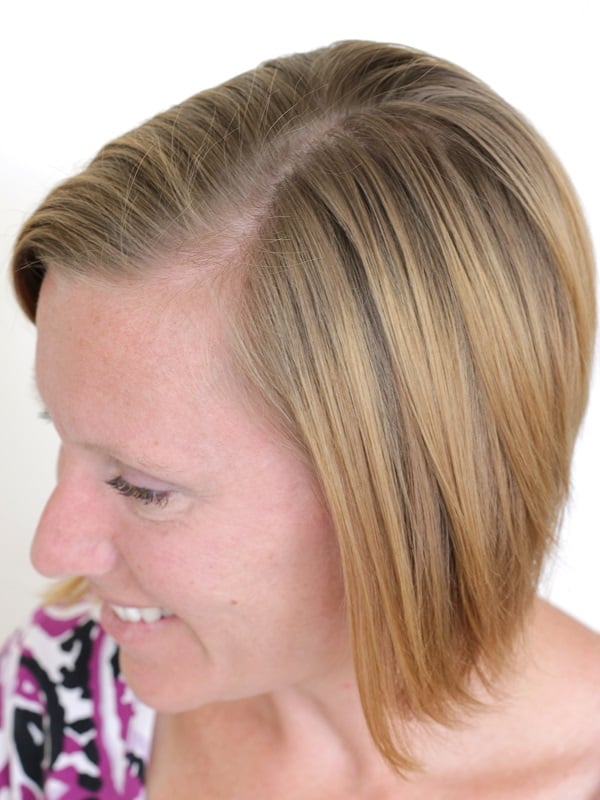 How to Use Goat Milk Soap as a No Poo Shampoo
In the picture above, my hair was freshly washed with goat milk soap, rinsed with homemade conditioner and blow dried with my fingers. It's the healthiest my hair has ever been!
It seems odd to not reach for a bottle of shampoo, and I had a hard time figuring out the best way to use goat milk soap as a shampoo. After trying a few options, the simplest method turned out to be the best!
Step 1. Cut a bar of soap in half. This makes it easier to hold, and stretches the life of the bar. (More tips on stretching a bar of soap.)
Step 2. After you've scrubbed your scalp, make sure your hair is wet. Starting at the front hairline and holding the bar in your hand, put the bar directly into the hair and start massaging it around. Continue this around your head until you have sufficiently covered the roots and your hair.
Step 3. Massage into the roots and cover all of your hair thoroughly.
Step 4. Rinse.
Step 5. Follow up with homemade conditioner.
5 Days to DIY Natural Living
Being healthy isn't just what goes IN your body, it's what goes ON your body too. Download my free guide 5 Days to DIY Natural Living to learn how to save money while getting rid of harmful toxins throughout your home.
Save On Goat Milk Soap!
One by one, Bend Soap Company's goat milk soap is slowly replacing many of our commercial beauty items, and we're loving the results! They're quality is amazing, their prices are affordable and we LOVE supporting family owned companies.
If you're in the market for a better shampoo (or face wash or laundry detergent), I suggest checking out the products Bend Soap Company has to offer HERE, and use these coupons at checkout to save even more:
soap25 to save 5% on order $25 or more
soap50 to save 10% on orders $50 or more
soap100 to save $15 on orders $100 or more
Free shipping on orders over $50
More Ways to Use Goat Milk Soap