Combat those pesky odors might dwell on your sheets, clothes, furniture, etc. with this easy homemade linen spray! Using your favorite essential oil scents, your nose will thank you! Pair with our essential oil and epsom salt laundry booster for naturally clean and soft linens and fabrics.
You know that happy feeling you get when you get of whiff of something that smells really good?
Like when you walk into a home with chocolate chip cookies in the oven, or the scent on your pillow when you've just washed all the sheets?
Wouldn't it be cool if we could bottle it up and sniff it anytime we wanted? Turns out, we can! I created the perfect linen spray (with essential oils). I've freshened pillows, sheets and the entire room in my favorite scent with just two simple ingredients. Lavender and rosemary is my favorite combination. I can't wait to share this DIY with you!
Here's What You Need

Notes on Ingredients
I know there are a lot of essential oil companies out there and I've certainly tried my fair share of brands. But after testing and researching and more testing, only one is worth spending money on (in my opinion).

For a couple years now I've been committed to Young Living oils, and you can read more about their oils and my decision HERE.
If you feel like Young Living is out of your reach, I've heard great things about Plant Therapy on Amazon. You can find their best seller kit here.
Step by Step Instructions
Step 1. Measure vodka or witch hazel into a glass spray bottle. Using a small measuring cup is easiest, but a small funnel works well if you already have one.

Step 2. Add 6 drops of essential oil. Start with 6 drops, and you can always add more if desired.

Step 3. Add water to the bottle, not quite filling to the top. You want to leave enough room so that the liquid doesn't overflow when you fit the top on.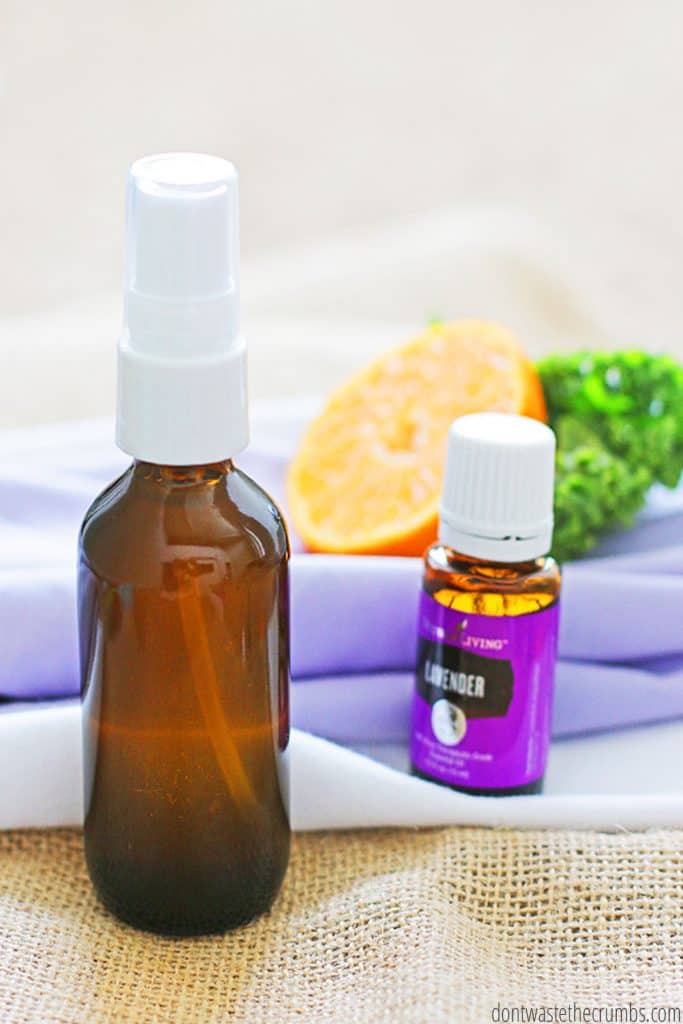 Step 4. Replace the top and shake well. Spray a bit on your hand or shirt or rag and smell. If you want the scent stronger, add up to 4 more drops of essential oil.

Step 5. Spray on linens or other fabrics as desired.
Recipe Tips
Really, you can choose whatever essential oil you want, it just depends on what you're trying to achieve. Do you want to…
Energize the Body– rosemary, peppermint, lemon, orange, grapefruit, tea tree. A spray with these oils would be great to help wake you up in the morning, to mentally prepare you for a workout or if you need a mid-afternoon pick-me-up.
Uplift Mood & Spirit– bergamot, orange, grapefruit, ylang ylang. These oils can be used if you're feeling down and out, are dealing with Winter blues or any other similar emotional state.
Calm the Nerves– lavender, chamomile, marjoram, geranium, frankincense. This is the spray I designed with lavender, but all of these oils would be great. You could also use these to help relax before bed at night.

To be honest, choosing the scent you want or the mood you want to create is the hardest decision. Making the actual room and linen spray is super easy!

Tip: If you really want to get a room smelling nice, with an air freshener made of natural essential oils, make a batch of DIY carpet deodorizer the next time you vacuum!
FAQS
What does linen spray do?
Linen spray is used to combat those pesky odors on your sheets, pillows, furniture, clothes, car, or room!
Are linen sprays safe?
Yes, linen sprays are safe. Especially when you make it from home. Try my recipe and you can customize the scent. I have some suggestions listed above.
Why do you make linen spray with vodka or witch hazel?
Oil and water don't mix, and neither do oil and grain alcohol. However the alcohol helps the scent to linger longer. You could mix it with water, but you'll get better results with vodka or witch hazel. In either case, be sure to shake well before using.
How do you choose the essential oils for linen spray?
You can mix/match essential oils of your choice, but it would be wise to smell each oil individually before adding to the spray bottle.

Adding scents together is like adding black and white paint. It only takes a few drops of black to turn white to grey. But it takes A LOT of white to turn black to grey, and you might never get there!
Will linen spray stain fabric?
If at all possible, use light colored oils if you're spraying directly on fabric so you don't stain them.
How long does essential oil linen spray last?
Essential oils, and anything made with essential oils, stay fresh when stored in a cool place and out of direct sunlight.
More DIY Recipes
5 Days to DIY Natural Living
Being healthy isn't just what goes IN your body, it's what goes ON your body too. Download my free guide 5 Days to DIY Natural Living to learn how to save money while getting rid of harmful toxins throughout your home.