I'm obsessed with this DIY furniture polish. It's inexpensive, simple, and, best of all, non-toxic. Plus, it leaves a long-lasting finish that I think works even better than store-bought furniture wood polish!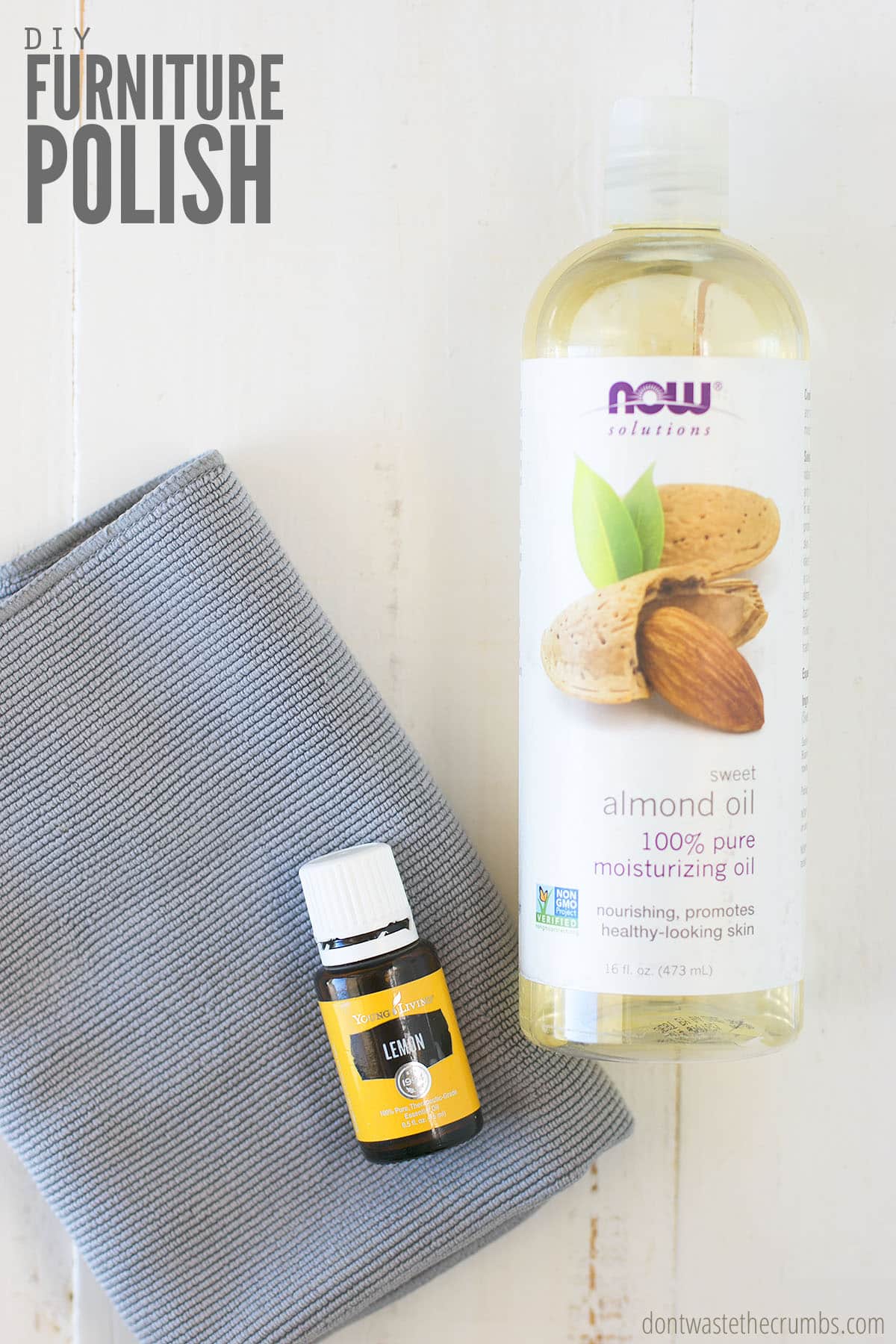 This furniture wood polish is a great option for cleaning various surfaces around your house for a few reasons. First, it isn't stuffed with synthetic fragrances. This DIY method only uses natural oils like almond oil and essential oil to create an oil-based wood cleaner that will keep your surfaces looking like new!
Second, this furniture polish is a great way to dip your toes into the DIY world. You don't need to go to the extreme and start making everything from scratch, but this easy wood polish is a great place to start!
Lastly, you don't need to worry about keeping this formula out of the reach of children. Because this formula is all-natural and non-toxic, it won't harm your kids if they touch it! Of course, it's always better to be safe than sorry and store your wood polish away from little ones, but the formula itself won't harm them if they do get into it!
What You Need For Natural Furniture Wood Polish
**Note: I really like Plant Therapy essential oils. You can find their shop here.
These super simple ingredients are probably things you already have in your home, especially if you're already making your own Bug Repellent or Shaving Cream. All you need to create your own wood polish for dusting is almond oil and lemon oil. Seriously, that's it!
How to Make Wood Polish for Furniture
Simply combine the ingredients in a large dropper bottle or a repurposed essential oil bottle. (Make sure to take off the old label so you don't confuse it with the original product!)
Fill your bottle with almond oil and add 3-5 drops of lemon essential oil.
How To Use Furniture Wood Polish
To use your DIY furniture wood polish, drop or dab a small amount on your dusting cloth and gently rub all your wooden surfaces to remove dust, dirt, smudges, and fingerprints. Buff to remove any streaks or build-up. The oil will leave behind a protective layer, keeping the natural luster of your furniture looking beautiful.
Almond oil is a very light oil that will treat your wood furniture gently and give it a natural sheen. The lemon essential oil will help cleanse your surfaces and provide a deliciously clean scent to your home. You could use other essential oils such as grapefruit or orange oil, tea tree, or even lavender if you don't have a lemon. Personally, I like the citrus scent. A fresh lemon scent smells clean to me!
Using natural products such as almond oil and lemon essential oil is so much better for your pocketbook and your family's health. Bulk items like almond oil can be used in various DIY recipes, and essential oils are potent, which means you only need a little bit to go a long way.
The dusting aerosol sprays you find on the shelves at the store generally contain artificial fragrances and harmful chemicals that should be avoided. Using a natural alternative like this Homemade Furniture Wood Polish will give you peace of mind that the air your family is breathing is clean.
Tips For Making Wood Polish
Choose High-Quality Ingredients
Choosing high-quality ingredients is essential for this furniture wood polish! Natural oils such as almond oil or olive oil are perfect for nourishing your surfaces without leaving any greasy stains. Organic oils are not necessary unless that is your preference.
I also recommend choosing high-quality essential oils that aren't diluted with carrier oils to produce the best results.
Test on a Small Area
I always recommend testing your furniture polish on a small inconspicuous area before coating the entire surface of a piece of furniture just in case it has a bad reaction. Once the area looks good, you can coat the entire surface for a long-lasting protective finish!
Mix Ingredients Thoroughly
You want to make sure your ingredients are fully mixed before polishing your surfaces. You don't want to simply drop your essential oils on top of the almond oil and start using it, or you may not get any of the essential oil scents. So, it's important to shake your mixture well until blended so each ingredient's properties are fully present when using your polish.
Apply Sparingly
You don't need a ton of furniture polish when wiping your surfaces. A little goes a long way and will last longer than commercial cleaning products! I recommend adding a thin layer of the water-repellant formula onto a clean microfiber cloth and wiping your surfaces. You can always add more, but it may leave behind an oily residue if you put too much, even if you wipe it off, because some surfaces tend to hold onto moisture!
Antique furniture may need additional coats of furniture polish to restore the natural shine to the wood grain, especially if you have unfinished wood.
Buff for Shine
​Buffing your surfaces after you apply the polish allows your surfaces to shine! To buff, use a dry soft cloth after applying your furniture polish. Then, use circular motions to distribute the oils into your furniture or surfaces. This application method will keep your surfaces looking their best!
Store Properly
If you have any leftover polish, store it in a sealed container in a cool and dark place. Storing your furniture polish properly helps to maintain the quality and effectiveness for future use! Label the container with the ingredients and date of creation for easy reference.
Benefits of Making Your Own Furniture Wood Polish
Natural and Non-Toxic
One of the reasons I love this furniture polish so much is that you have control over all the ingredients. You can choose which essential oils you want to use, like lemon, lavender, orange essential oil, or whatever kind you like! Plus, you don't have to deal with the harsh chemicals and toxins in traditional furniture polishes, such as ammonia, benzene (in aerosol cans), mineral oil, etc.
Inexpensive
Making your own furniture polish can save you money in the long run. Ingredients like almond oil and essential oils aren't super expensive and can last you a long time. Over time, the amount of money you save will be huge compared to purchasing can after can of furniture polish.
Customizable Scents and Formulas
One of the reasons I love this furniture polish is that you can customize it to your liking! For example, if you're looking for a clean, fresh scent, you can add citrus essential oils like lemon and orange. On the other hand, if you prefer more musky scents, you can add essential oils like amber or sandalwood! The choice is up to you! Plus, you can also adjust the formula to achieve your desired results, such as adding extra shine or enhancing the protective properties!
Gentle Care for Your Furniture
Unlike traditional furniture polish, this DIY polish provides a gentler approach to caring for your beloved furniture and other surfaces. The almond oil helps to seal in moisture, allowing your surfaces to maintain their shine and extend their lifespan. Plus, the natural ingredients in this formula won't damage your surfaces like store-bought furniture polish, so you can rest easy knowing your surfaces are safe!
FAQs on Homemade Wood Polish
Can I use this DIY furniture polish on all types of furniture?
You can use this homemade furniture polish on many different surfaces like wooden furniture, hardwood, wood floors, and finished surfaces! However, make sure you check the finish of your furniture or surface before putting the polish on, just in case. For example, some finishes might need special care, so it's best to test a small section to see if the polish works with your surface.
Can I use DIY furniture polish on leather surfaces?
Absolutely! The almond oil in this liquid formula is a wonderful conditioner that helps moisturize leather furniture that needs a little TLC. To use this natural furniture polish on leather surfaces, apply a few drops and buff gently with a clean cloth! 
How often should I use DIY furniture polish?
It depends! If your surfaces get a lot of use, you can use your furniture polish more frequently. On the other hand, surfaces that don't get as much use can go a little longer between polishing. For example, you can use this furniture polish to dust off surfaces weekly. Or, you can use it more sparingly and polish surfaces every few months! 
Can DIY furniture polish be used on surfaces other than wood?
The great thing about this DIY furniture polish is that you can use it on tons of different surfaces! For example, you can use it on shower doors, stainless steel, and vinyl upholstery!
Does furniture polish remove watermarks?
Unfortunately, watermarks are made when moisture seeps into the wood. This can be difficult to remove except by sanding and refinishing the furniture. Water rings cannot be removed by simply applying polish. 
DIY Furniture Wood Polish
This eco-friendly, non-toxic best furniture wood polish will make deep cleaning a breeze! Whether using it to polish wood surfaces, shine leather seats, or keep your finished surfaces looking like new, this natural furniture polish will become your new best friend! So, grab your supplies, and show off the natural beauty of your home without the toxic chemicals!
More Cleaning Tips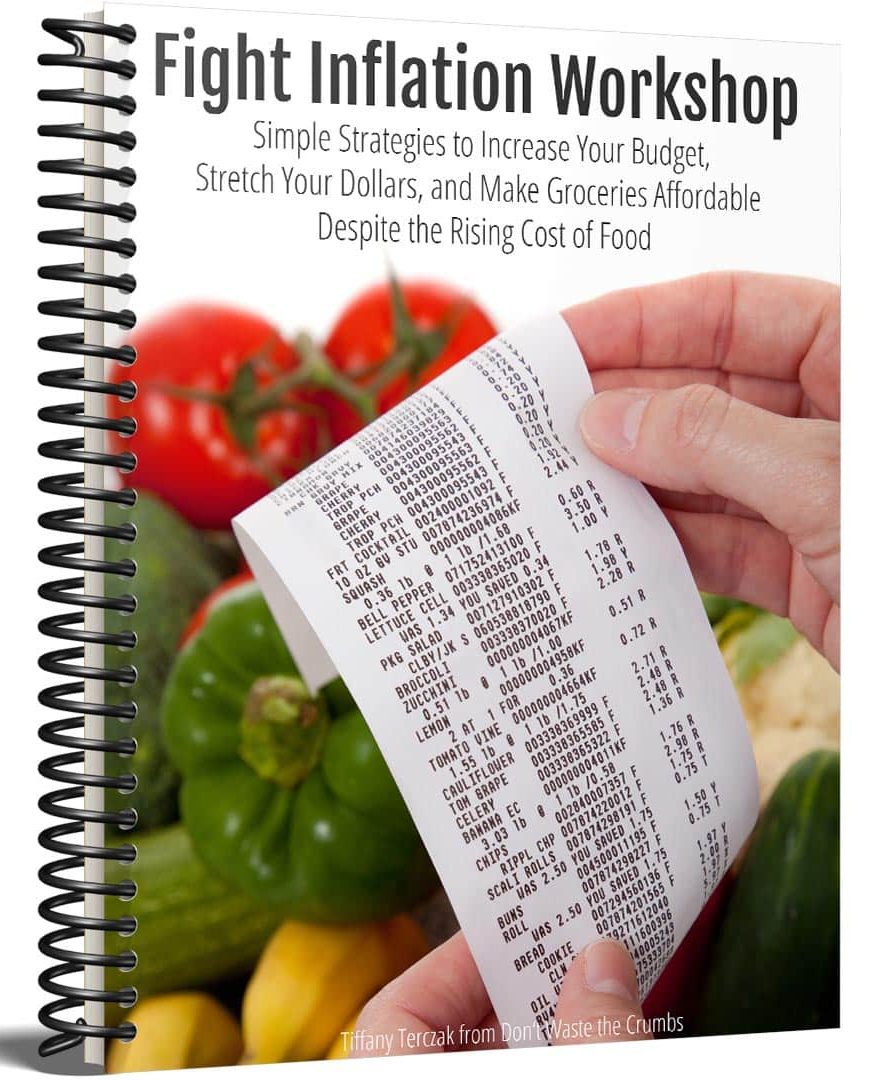 Fight Inflation Workshop
Sign up for my FREE
Fight Inflation Workshop
and learn simple strategies to save money, even with rising food costs!