Give your food life! This simple tutorial teaches you about sprouted almonds. Boost the nutrition in your diet by sprouting nuts, beans, and grains! Great for added protein in homemade smoothies.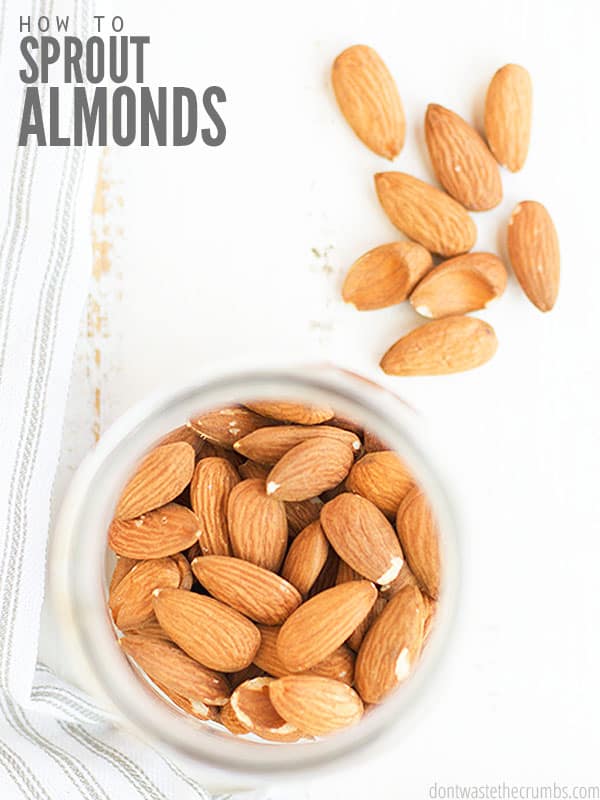 It never occurred to me to consider whether the food I was eating was dead or alive.
Have you?
On Saturday night, we had rotisserie whole chicken, roasted potatoes, broccoli salad, green salad, blue cheese, and black pepper focaccia (which was an AMAZING flavor combination, by the way).
The only foods I can wrap my head around being alive are the chicken, bacon from the broccoli salad, and the cheese (because it came from milk and the milk came from cows).
Apparently, there are some foods that are better for you when eaten raw, unlike chicken.
Benefits of Sprouted Almonds
Seeds, grains, nuts, and beans we find in stores were once "alive" plants. They all come from trees or plants or stalks of some sort and when they were alive, they contained active enzymes. These enzymes caused the vitamins and minerals to help the plant grow and produce the food we recognize.
When the foods are picked or harvested, enzyme inhibitors take over and block the enzymes. Consider it nature's way of protecting the food's ability to grow and reproduce until the conditions for germination are right. What we are left with is food that contains enzymes in a not-so-helpful, dormant state.
It doesn't sound like a big deal – so what if the seeds are preventing themselves from germination? We're just trying to make bread right? Not grow stalks of wheat.
What we fail to realize is that active enzymes increase vitamin content dramatically (Vitamin B and carotene) and even produce some vitamins that are not available when the enzyme inhibitors are in place (Vitamin C).
Remember the issue with phytic acid? It's also present in seeds, grains, nuts, and beans and it hinders absorption of several key minerals. It almost seems like these foods shut down once they're harvested. Minerals are blocked, vitamins are diminished and even cease to exist and our bodies recognize this too.
Ever have problems digesting grains (and not because of gluten)? I have. Just these past two weeks my gut has been a little bit more disturbed after eating wheat bread (homemade, but no sprouting or soaking).
Experience a bit of flatulence when eating beans? Let me tell you… eating beans every Thursday will clearly let you know whether or not they are the culprit of excessive gas. Like clockwork, the magical fruit on Thursday means a bit of tooting on Friday. And the effects continue if we have leftovers for lunch. (Unless I implement this method of soaking before I cook.)
Sprouting seeds, grains, nuts and beans can give life to our dead food and help alleviate these problems and provide so many other benefits:
Produces Vitamin C
Increase in vitamins B2, B5 and B6
Increases carotene
Neutralizes phytic acid
Breaks down complex sugars that cause intestinal gas
Neutralizes enzyme inhibitors
Predigests some starches into sugar
Inactivates the potent carcinogen aflatoxin
Produces additional enzymes that aid in digestion
The Sprouting Process
For all the benefits that it provides, sprouting is really, really easy. Easier than making a sourdough starter, and that's REALLY easy!
The process is the same for all seeds, grains, nuts, and beans: soak, rinse, wait; rinse, wait, and repeat.
Since I'm more of a visual person and everyone likes pictures, here's the photo process of sprouting almonds:
Ingredients for Sprouted Almonds
2 cups of raw almonds
Filtered water
Coffee filter
Small bowl
Method for Making Sprouted Almonds
Note: Even though these photos are a little older, I'd like to show you them anyway so you can see the step-by-step process of sprouting almonds.
Measure almonds into a quarter jar.
Fill with filtered water and cover with a coffee filter, securing with just the ring of the lid. Allow the jar to sit on the counter overnight.
The next morning, remove the ring and coffee filter and drain the water from the quart jar. Fill the jar again with fresh filtered water, swirl the almonds, and drain the water. Replace the coffee filter and ring and using a small bowl, store the jar at an angle so excess water can drain out and air can circulate inside the jar.
Repeat the above step each morning and night until the almonds begin to sprout.
The above picture was after only one day of soaking. Here are some additional pictures of the process.
This is the jar of almonds after one day.
Little sprouts are trying to poke through the tips of the almonds.
Here's another almond beginning to sprout after day two.
After two days, the almonds were beginning to swell up.
You can see how the almond is beginning to outgrow its shell, so to speak – seen by the cracks at the bottom and along the sides.
If you crack open a sprouting almond, this is what you'll find.
Once all the nuts are sprouted, store them in a jar in the fridge for a few days or dehydrate them into crispy nuts.
The sprout itself will look different depending on what seed, grain, nut, or bean you're sprouting. Some grains will produce small, white sprouts. Lentils are fully sprouted when the "tail" reaches 1/4″. Mung beans will grow 2″ long sprouts!
The process works with nearly every seed, grain, nut, and bean, with just a few minor exceptions:
Flax seeds become too moist and sticky.
Oat seeds will not sprout since they're separated from their outer hull.
Pecans, walnuts, and other nuts removed from their shell will not sprout.
Sprouting should work with both skinned or skinless nuts.
My Food is Alive – Now What?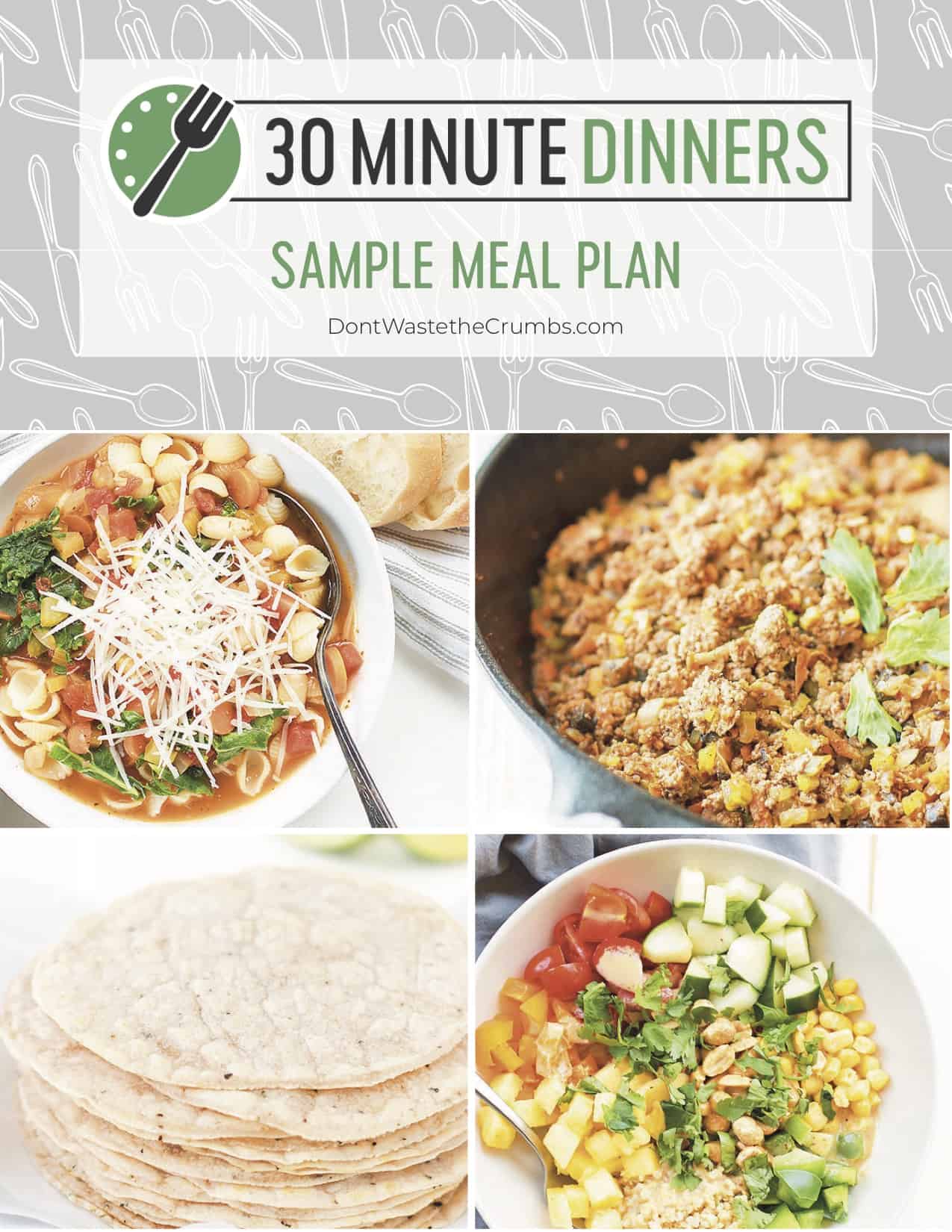 30 Minute Dinners Sample Meal Plan
Sign up to get instant access to my
30 Minute Dinners Sample Meal Plan
, complete with recipes and step-by-step instructions!
What's your experience with sprouting? Do you think it's something you could incorporate in your kitchen routine?