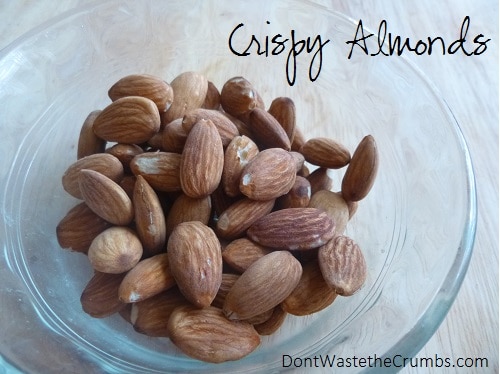 Everything You Need to Know About
This post contains affiliate links.
If you're following along with the little call to actions at the end of each post, you've got a jar full of nuts or bean sitting on your counter happily germinating away without any strenuous effort from you.  When you wake up tomorrow, you'll see them trying to push their little sprouts through an end of the nut.
By the way, those call to actions – Do Somethings – are the baby steps you can take to incorporate traditional foods into your kitchen without feeling like you're in over your head.  Just take one at a time, at your own pace.  Oh, and don't forget to rid the junk out of your kitchen if you haven't already.
I promised yesterday a recipe to help you deal with the slimy nuts you'll end up with (if you chose to sprout nuts).  There's no issue eating them as-is once they've sprouted – I ate a few myself just to see what they tasted like.
They taste like swollen, slightly juicy almonds, in case you were wondering.  Not "bad," but certainly a different texture than I'm used to.
Slimy almonds aren't very convenient when you're chopping for salads or granola bars.  And they're especially unappetizing when you're away from home and needing a snack.  I mean, just the thought of reaching into a container of slimy nuts kinda grosses me out.
Blech.
So if my family and I (and you and yours) are going to enjoy the awesome benefits these sprouted nuts have to offer, they need to be dried to the point of being hard and crunchy… just like the regular, un-sprouted nuts we're used to.
But we can't simply roast them.  The high heat will kill off the enzymes that we just revived… And in order to get all the great benefits from sprouting, the nuts needs to stay alive.
The best way to do this is through dehydration, although using an oven at a very low temperature will work too.  (If you go the oven route, make sure you are home to monitor the food so it doesn't burn.)
Here's an incredibly simple recipe for crispy nuts.  You can replace your favorite nut-recipes with these instead and if the recipe doesn't require baking, you've instantly and greatly increased the nutrition of your recipe.  Of course you could go the easy route and just eat them plain.  Less dishes that way. 😉
Crispy Almonds
Author: Tiffany
Prep Time:

7 hours

Cook Time:

24 hours

Total Time:

31 hours

Yield:

8

1

x
Category:

Snacks

Method:

Dehydration

Cuisine:

American
Place almonds and salt in a quart jar. Fill to the top with filtered water, cover with the lid and swirl to dissolve the salt.
Let the jar sit on the counter at least 7 hours, or overnight.
Drain the almonds from the jar and place in a single layer on a dehydrator tray or cookie sheet. Allow approximately 1 cup of almonds per tray. (This can be adjusted according to the size of your own trays the next time you make the recipe).
Dehydrate at approximately 95 degrees for 12-24 hours, testing every few hours after the 12 hour mark. (Mine took a full 24 hours.)
Notes
To dry in the oven, set the oven temperature to no warmer than 150 degrees and dry for 12-24 hours, again testing every few hours past the 12 hour mark. Store the nuts in a container with a lid.
The end result is truly a delicious snack.  They're crispier than the originals and even taste a bit better with the hint of salt.
To be honest, I put off soaking and dehydrating nuts for a very long time… like, nearly a year.  I thought the process was too labor and time intensive when all I wanted was to be able to open a jar and eat a nut.
Turns out, I was wrong.  There is so little "work" involved with crispy nuts it's a shame I've waited as long as I did!  To give you an idea of how simple it really is, here's how it can work in your schedule.
Day 1.
Run errands and come home.  Take pictures of groceries for the counting crumbs post. 😉
Instead of putting jar of nuts away in the pantry, measure out 2 or 4 cups of nuts, salt, cover with water and put on the lid.  Shake it a bit and let it sit on the counter until after dinner.  Enlist the kids to help put away the rest of the groceries.
Maybe shake the nuts again while cooking dinner.  If I remember.
Before bed, drain the almonds, set out on dehydrating trays and turn on to 95 degrees.  Close the garage door so I don't hear the machine going.
Day 2.
In the morning, taste test a couple nuts.  Not dry enough, so keep the machine going and periodically test throughout the day for doneness.  Try not to eat more than 2-3 during each "test," especially as they get better and better.
After dinner, scoop up the crispy almonds into the original container I bought them in.
See?  Way easy.  All this time I thought it would take EONS to make crispy almonds, essentially leaving me without nuts for snacking and cooking and such, when they're ready the very next day.
It's no different than if I had gone shopping just one day later.
Learn from my lesson – don't procrastinate!
Do Something:  Before putting your nuts away, soak them and dehydrate them into crispy nuts.  Use them as your normally would in recipes and snacking.
Here are some recipes you may enjoy using almonds (which means crispy almonds work too!):
Let's chat in the comments – what's your favorite crispy nut?
Disclaimer:  This post contains affiliate links.  By making a purchase through those links, you support the ministry of Crumbs without any additional cost to you. Thank you for supporting Crumbs in this way!  Read my full disclosure statement here.