Try these baked Homemade Tortilla Chips made from corn, flour or cassava tortillas! A perfect way to use up leftover tortillas, and you can flavor them any way you like! Enjoy with our Easy Guacamole and our Homemade Salsa recipes.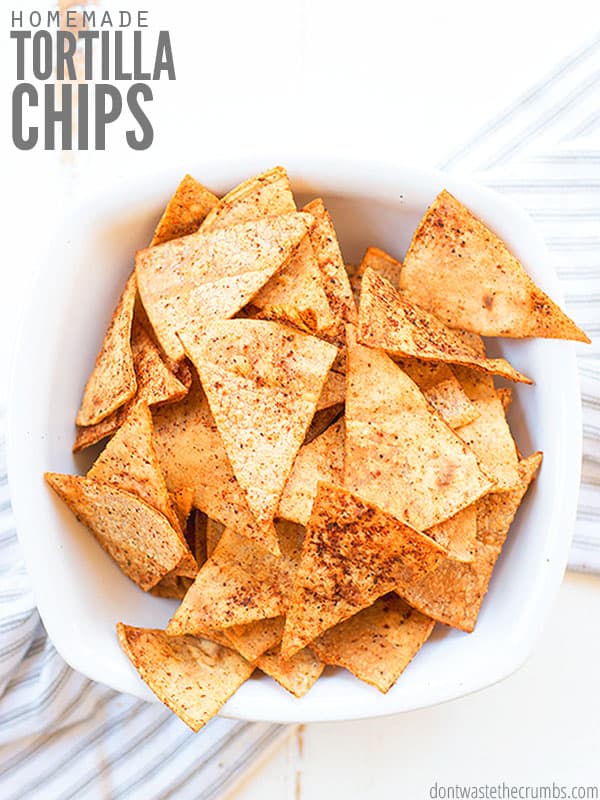 Everything You Need to Know About Homemade Tortilla Chips
To me, a perfect Sunday afternoon includes Netflix, a big bowl of easy homemade guacamole and a bag of tortilla chips.
What DOESN'T sound perfect to me, is making corn tortillas for dinner and then no one wanting to eat them as leftovers because they're not as soft.
The solution? Make homemade tortilla chips!
Homemade Tortilla Chips
If you've never made these before, you're in for a treat! This particular recipe yields tortilla chips that are:
Baked, not fried!
Super flavorful, with a bit of heat.
The perfect way to use up leftover tortillas!
Good whether you use corn or flour tortillas.
Delicious! The whole family couldn't keep their hands off of them.
While I try not to make too many corn tortillas in the first place (gotta keep food waste low to save money!), making this recipe is now my go-to solution.
How do you make homemade tortilla chips from scratch?
I'm about to show you how to make the chips, but if you want to first make the tortillas, you can use any of my homemade tortilla recipes: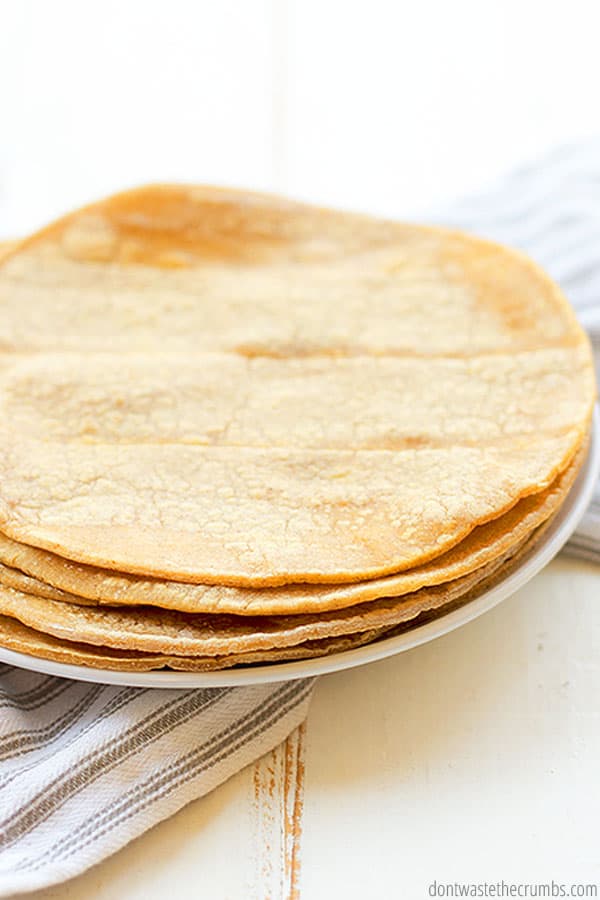 Ingredients for Homemade Corn Tortilla Chips
You only need as little as three ingredients to make homemade corn tortilla chips:
Corn Tortillas
Cooking Spray
Salt (try THIS sea salt…not only is it free of microplastics, but you can get a free PENNY BAG HERE!)
Now, if you want to get fancy, you'll need these things too:
Lime juice
Chili powder
Black Pepper
Garlic powder
Onion powder
Cayenne pepper
Cumin
Remember, this last list is completely optional. If all you have is tortillas, cooking spray and salt, you're good to go!
How to Make Homemade Tortilla Chips
Whether or not you use the optional ingredients, the method is the same:
Cut the tortillas into triangles and place them in a gallon bag.
Spray with cooking spray and season.
Bake on a baking sheet until they're golden brown and crispy!
Seasoned Baked Tortilla Chips Recipe
You'll notice that the bare bones recipe simply calls for salt, but the optional ingredients are spices and lime juice.
If you're looking for a seasoned chips, use the optional spices and lime juice and follow the baking as directed below. The seasoned tortilla chips are my favorite!
Why are my tortilla chips chewy?
These are likely under baked, so you'll want to keep them in the oven a bit longer. Do watch them though, because they can easily go from perfect to overdone in a few minutes!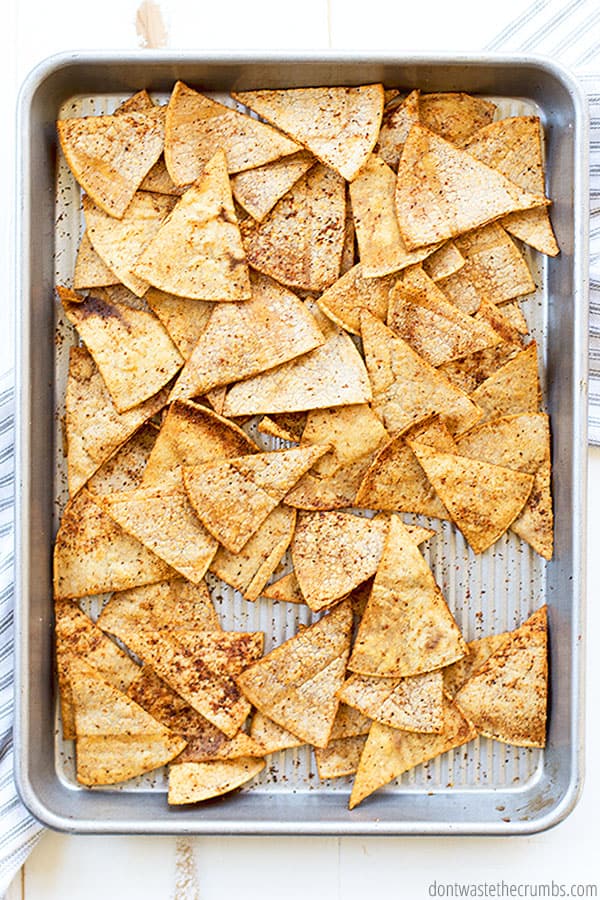 What do I serve homemade tortilla chips with?
Besides restaurant-style salsa or easy guacamole, I like to cut these up even smaller and serve them on top of my southwestern salad. I've also served them alongside my chicken and spinach enchiladas and my sweet potato and black bean enchiladas.
More Easy Mexican Dinner Recipes
Two Week Sample
Do you need step-by-step help with meal planning? Frugal Real Food Meal Plans is an all-in-one meal plan with recipes, shopping lists, shopping guides, money saving tips and more! Sign up below for a free sample!
Homemade Tortilla Chips
Try these baked Homemade Tortilla Chips made from corn, flour or cassava tortillas! A perfect way to use up leftover tortillas, and you can flavor them any way you like!
Author: Tiffany
Prep Time:

10 mins

Cook Time:

10 mins

Total Time:

20 minutes

Yield: Serves

4

1

x
Category:

Sides

Method:

Bake

Cuisine:

Mexican

Diet:

Vegan
8

–

12

corn tortillas (homemade or store-bought)
Cooking spray

¼ tsp

salt

½ tsp

lime juice (optional)

1 tsp

chili powder (optional)

¼ tsp

black pepper (optional)

¼ tsp

garlic powder (optional)

1/8 tsp

cayenne pepper (optional)

¼ tsp

onion powder (optional)

¼ tsp

cumin (optional)
Preheat the oven to 350F.
Cut the corn tortillas into triangles by first cutting them in half, then in half again. Then cut each quarter in half. If you want the chips to be smaller, you can cut them again.
Place the cut tortillas in a gallon bag and spray them for 2-4 seconds with cooking spray. Add the seasoning(s), seal the bag and shake well, until the seasonings are well distributed. If you're using the lime juice, add it to the bag and shake well.
Place the tortilla chips in a single layer on a cookie sheet and lightly spray them with cooking spray again.
Bake in the oven for 10 minutes, and then flip them over to cook until they're evenly golden brown, 5-10 more minutes.
Let the tortilla chips cool to room temperature before eating.
Keywords: Homemade Tortilla Chips