Can you freeze cooked pasta? Yes! Easy tutorial showing how to freeze spaghetti, shells, & all types of noodles – with or without sauce. Great for last-minute meals, fast weeknight dinners, and reducing waste by saving leftovers!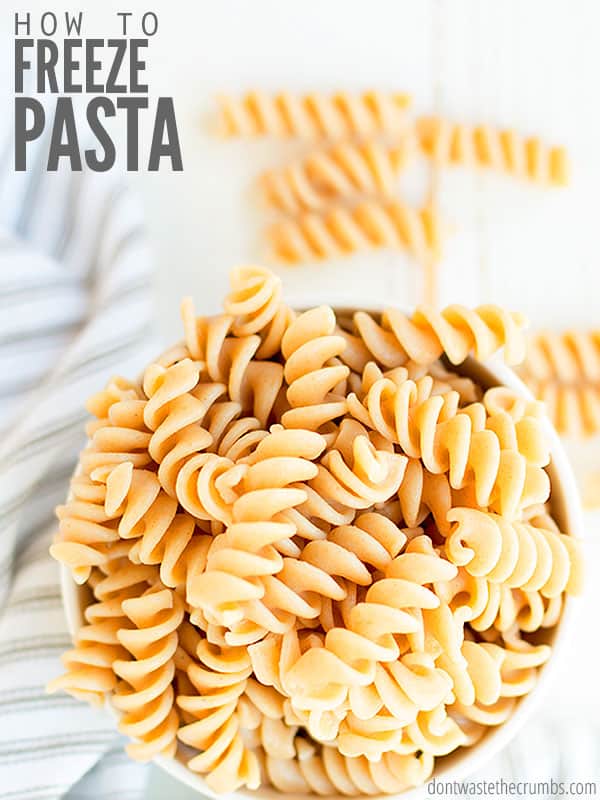 Wouldn't it be nice if we could just snap our fingers and dinner made itself?
Wishful thinking aside, having a few pantry staples like Instant Pot Beans or Homemade Chicken Stock and even Instant Pot Cilantro Lime Rice in the freezer is the next best thing to waving a magic wand and dinner magically appearing on the table.
Believe it or not, the same goes for freezing cooked pasta… have you ever wondered if you can freeze cooked pasta?
It turns out you can, and because when I accidentally made a whole box of pasta (instead of using my kitchen scale like I normally do), I had a TON of leftover pasta.
I began thinking of what we could do for the pasta not to go to waste and I thought – can I freeze cooked pasta?!
I know uncooked pasta has a long shelf life, but the question is does it freeze well?
Can You Freeze Cooked Pasta?
Yes! And the opportunity to freeze pasta may come up more often than you think!
Batch Cooking: Batch Cooking is intentionally making more so you can save time later by not having to cook. It's ideal for staples like seasoned Ground Beef, Spaghetti Sauce, and cooked pasta.
Leftover Pasta: If you make more than the family is able to finish, freezing pasta is an easy way to reduce food waste and get the most out of your grocery dollars.
Cook Once, Eat Twice: If you have pasta on your meal plan twice this week, work smarter by cooking the pasta just once, and freezing pasta for later.
Step-by-Step: Freezing Cooked Pasta
Here's a tutorial for freezing cooked pasta so it's not mushy later:
Step 1: Slightly undercook the pasta. Cook pasta al dente, which is slightly undercooked. If the box says to cook for 9-11 minutes, the timer for cooking the noodles should be set for 8 minutes.
Step 2: Rinse cooked pasta under running cold water. The cooler water helps to stop the cooking process, and it's the same reason we put Instant Pot Hard-boiled Eggs into a water bath. It also lets the pasta cool completely.
Step 3: Toss the fresh pasta with olive oil. Olive oil will help keep the pasta from sticking together as it freezes, as you store it, and when you use it in your recipe later.
Step 4: Freeze the cooked pasta. Place the pasta on a baking sheet in a single layer. This is important – if the pasta is not in a single layer, it will clump together as it freezes. Place the baking sheet in the freezer for at least one full hour, or up to 8 hours.
Tip: When freezing cooked spaghetti noodles (or fettuccine, angel hair, etc.), make "nests" by taking a fork and twirling it in the tossed pasta. When you have about ½ cup of pasta on the fork, carefully move the pasta directly to the cookie sheet in the nest shape. Leave a couple of inches between nests on the baking sheet.
Step 5: Move the pasta to an airtight container. This can be a set of glass storage containers, glass jars (here's how to freeze jars without breaking them), or freezer-safe bags.
How to Store Cooked Pasta
You'll want to freeze pasta in amounts you would typically use in a recipe, i.e. 2 cups or 4 cups of cooked noodles. This makes it much easier to pull just what you need for a recipe. You can also freeze in individual portions if you have only one person who eats pasta.
Always use airtight, freezer-safe containers. This can be freezer bags, re-purposed glass jars, or plastic storage containers.
Be sure to label and date your container. I promise you will NOT remember what's in that bag in a few months!
You can store pasta in the freezer for up to three months.
Can You Freeze Pasta: Tips & Tricks
Salt the water you use to cook your pasta noodles. This adds flavor to the pasta from the very beginning, so your pasta tastes good no matter how you decide to use it later.
If freezing in a freezer-safe bag, remove as much air from the bag as possible to avoid freezer burn. Freezer-burned food is still safe to eat, but it can be dry and sometimes the flavor can be affected. This method works well when you have a small portion of pasta and want to add more to it until you have enough for a whole meal.
If freezing in a reusable container, use a size that fits the quantity of pasta. You'll want to fill or nearly fill your container from the get-go to avoid freezer burn. This method works well when you're batch cooking or meal planning more than one pasta dish.
4 Ways to Reheat Frozen Spaghetti or Pasta
Method 1: Remove the noodles from the storage container and place them directly in a pan of WARM (not hot) water. The goal is to bring the noodles to room temperature, not cook them.
Method 2: Carefully stir frozen pasta directly into the dish. This will defrost the pasta and cool the dish slightly, so make sure the pasta is heated through again before serving. Also, try not to over-stir the noodles so they don't get mushy.
Method 3: Place the frozen pasta directly into a pot of boiling water and cook for ONE minute. Use a kitchen timer. This will very, very quickly thaw the noodles, but don't walk away or you run the risk of over-cooking the noodles.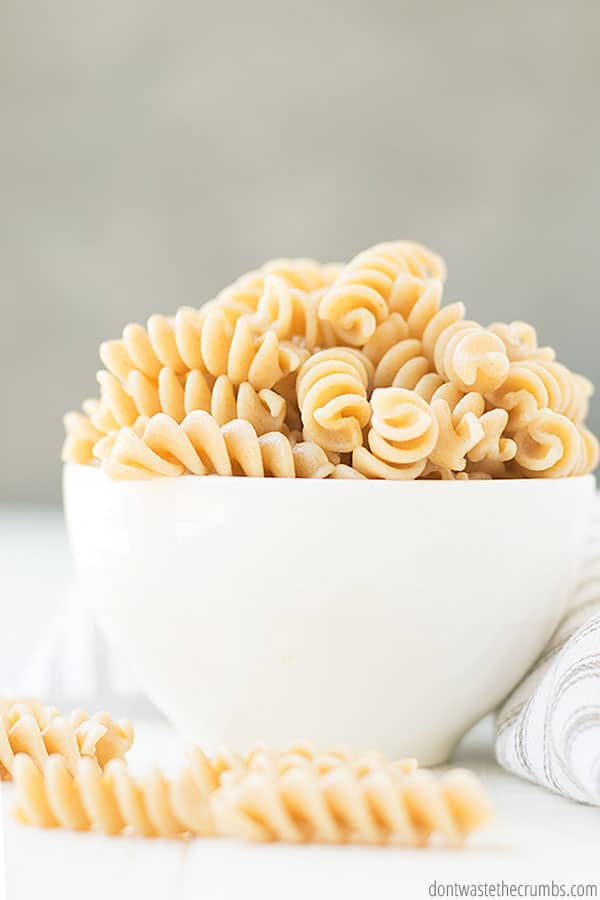 FAQs to Freeze Cooked Pasta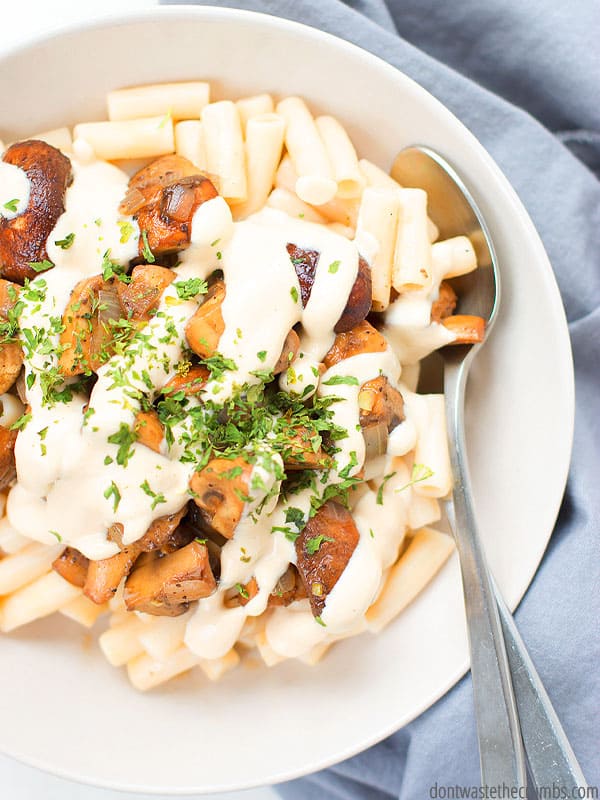 Delicious Recipes and Pasta Dishes:
More Freezable Foods: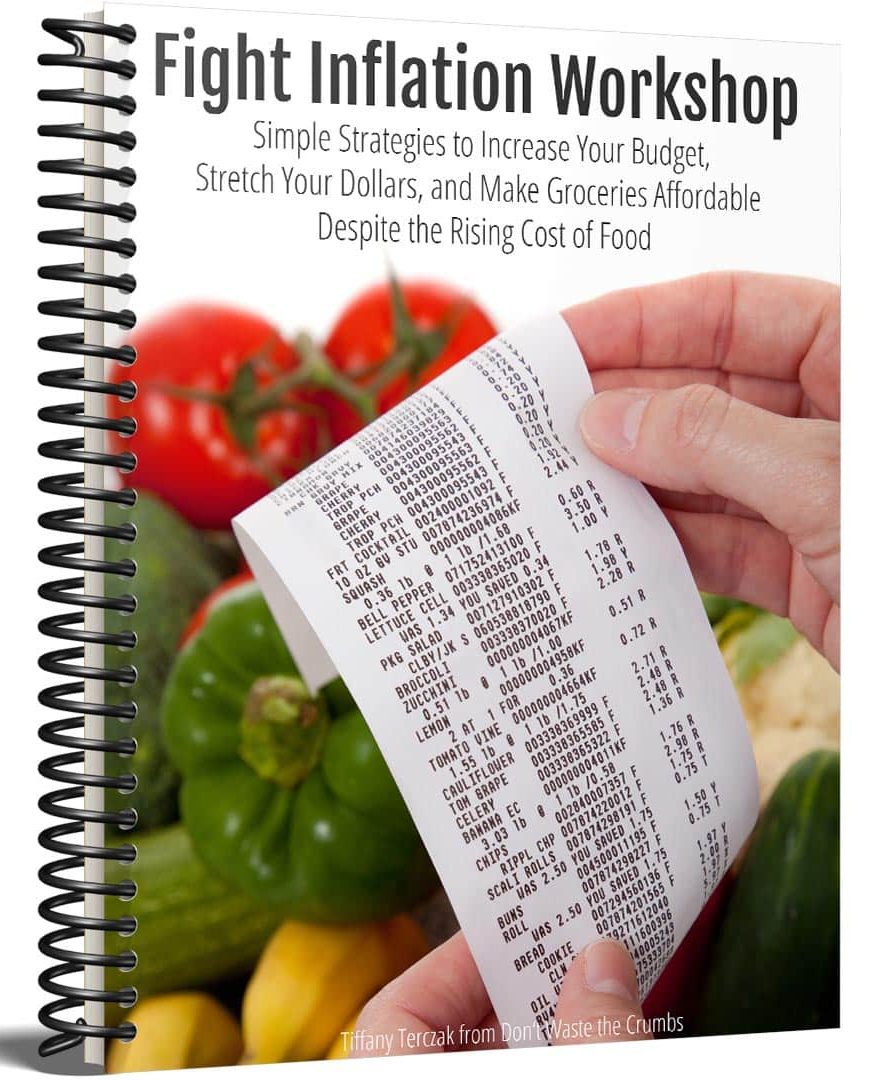 Fight Inflation Workshop
Sign up for my FREE
Fight Inflation Workshop
and learn simple strategies to save money, even with rising food costs!