Did you know you can freeze cooked pasta? Learn how easy it is to freeze shells, spaghetti & egg noodles – with or without sauce. Great for feeding the baby or a quick dinner for the family!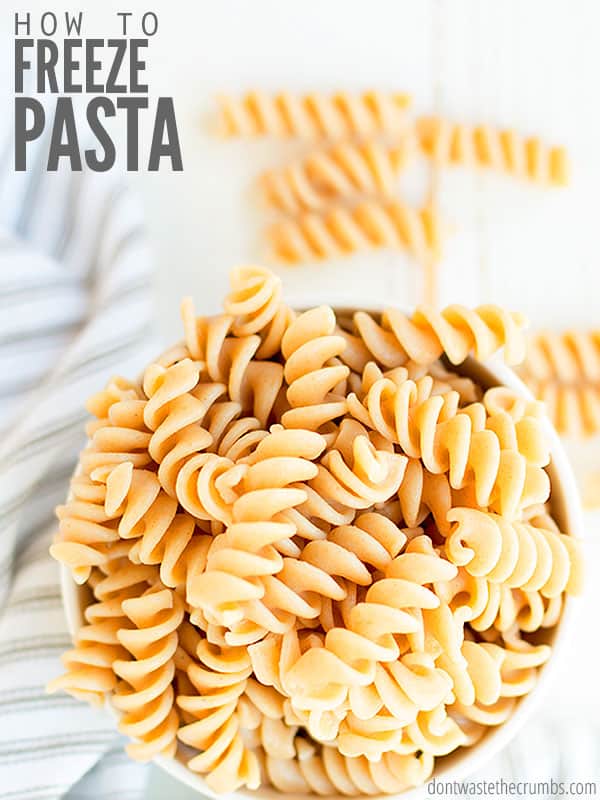 Wouldn't it be nice if we could just snap our fingers and dinner made itself?
That won't ever happen, of course. However, having a few pantry staples like Instant Pot Beans or Homemade Chicken Stock in the freezer is the next best thing.
And did you know you can make dinner even faster and freeze cooked pasta?!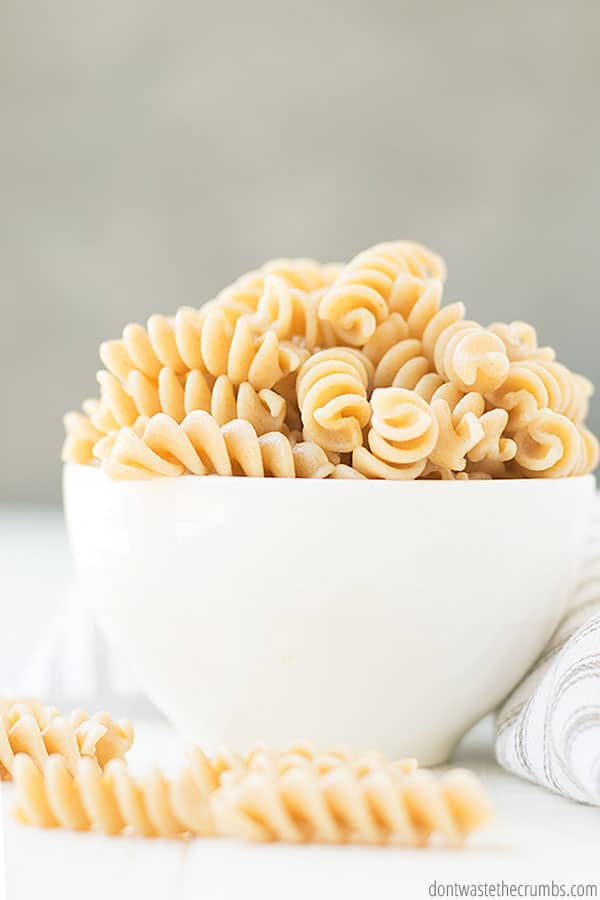 I normally use a kitchen scale (I have this one) to measure exactly how much pasta we need, but when my husband told me he'd eat leftovers, I made a whole box.
Can you guess what happened?
We had A TON of pasta leftover.
So much so, that there was no way we could eat it all without feeling awful. I began thinking of what we could do for the pasta not to go to waste and I thought – what if we freeze the cooked pasta?!
Why would you consider freezing pasta?
Aside from listening to your husband and making too much, there are actually a few reasons to freeze pasta:
Batch Cooking: You make extra on purpose so you can save time cooking later.
Leftover Pasta: You accidentally made too much and you don't want it to go to waste.
Cook Once, Eat Twice: You have pasta on your meal plan twice, so you're being smart with your time and cooking now for both meals.
How to Freeze Cooked Pasta
Here's how to freeze pasta so it's not mushy later:
I recommend storing the pasta in amounts you would typically use in a recipe, like 4 or 8 ounces. Make sure you get all of the air out of the bag to avoid freezer burn and label your container!
How to Thaw Frozen Pasta
Place the pasta in a pan of WARM (not hot) water. This will bring the noodles to room temperature.
Carefully stir the frozen pasta directly into the dish. This will defrost the pasta and cool the dish slightly, so make sure the pasta is heated through again before serving. Also, try not to over stir the noodles!
Place the frozen pasta directly into a pot of boiling water. This will very, very quickly thaw the noodles and cook them for one minute.
Pop it in the microwave!
Need some sauce and/or meal ideas using frozen pasta? Here are a few of my favorites:
Can you freeze cooked pasta with meat sauce (or with pesto)?
Yes! You can freeze the pasta together with meat sauce, pesto, or with whatever freezer-friendly sauce you have. You'll want to reheat this in the oven, in an oven-safe dish.
Can you freeze spaghetti?
Yes! When freezing long noodles like spaghetti, be sure to make "nests" instead of freezing in a single layer. Just use a fork to twirl the tossed pasta in about 1/2 cup size nests, then carefully move the pasta nest directly to the cookie sheet. Leave a couple of inches between nests. Place the cookie sheet in the freezer for at least one full hour, or up to 8 hours.
What about whole dishes – can you freeze pasta casserole or freeze pasta meals?
Yes! You could freeze jalapeno popper chicken or creamy squash pasta bake without any issue. Just reheat in the oven and you're good to go!
What else can you freeze, besides pasta?
The freezer is my go-to preservation method for SO MANY different foods:
Freezing foods, including leftovers, is one way we're able to afford real food on a budget.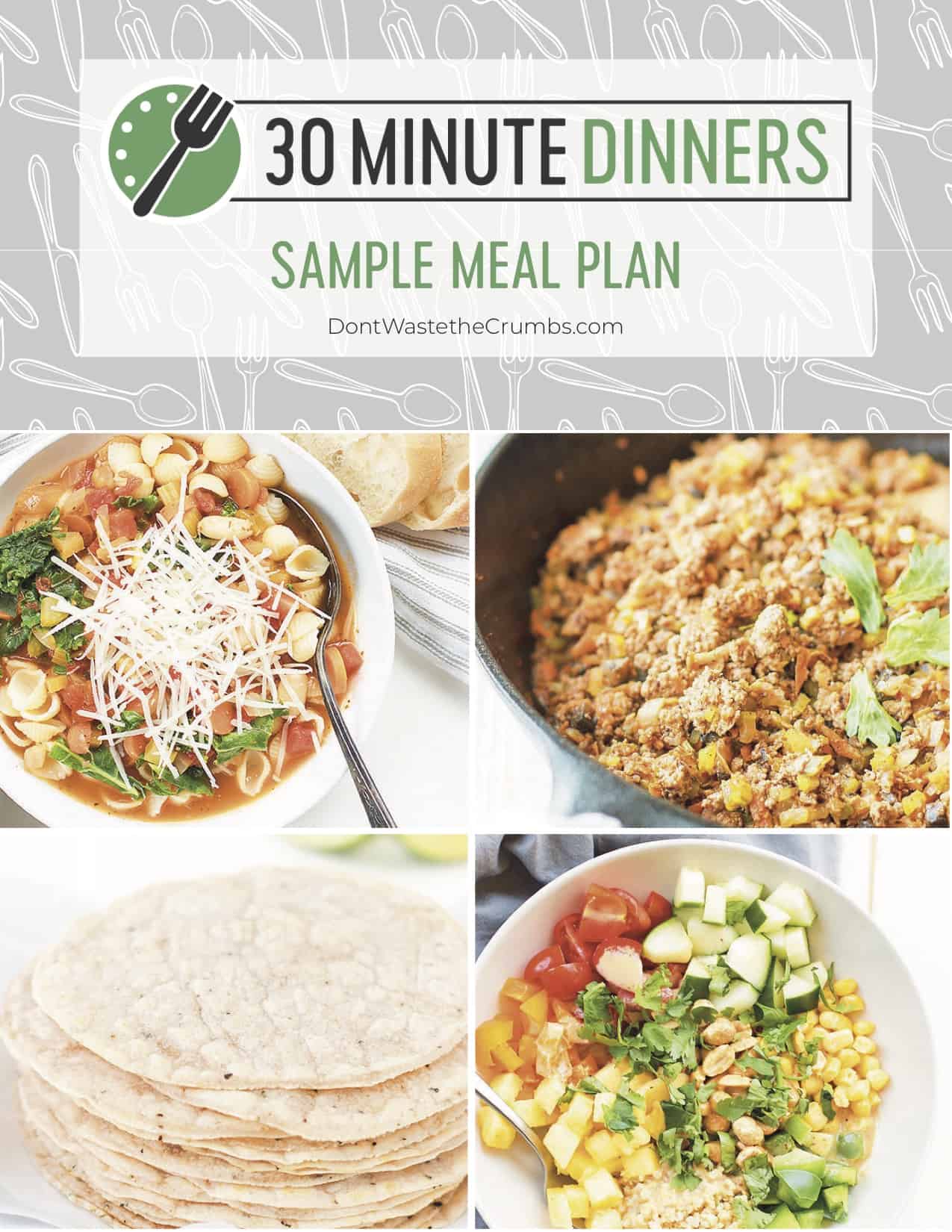 30 Minute Dinners Sample Meal Plan
Sign up to get instant access to my 30 Minute Dinners Sample Meal Plan, complete with recipes and step-by-step instructions!
How about you – have you ever considered freezing cooked pasta before? I'd love to hear what you think about this. Leave your thoughts and comments below!