Read how to build a raised garden bed to grow your own food this summer! Check out my step-by-step tutorial showing you how to build a frugal raised garden bed to save money on food and eat healthier! It's super easy to build and simple enough for any living situation – whether you rent or own your home!
Once upon a time, I tasked Mr. Crumbs with making a wooden raised bed for a new garden, but it didn't quite go as planned. Building materials like wood planks cost a pretty penny, especially if using pressure-treated wood or rot-resistant wood.
The total amount for this project would have been over $100, and we knew that would be too much. But, if you're like me, you'll do anything to get the best bang for your buck.
So, that's when Mr. Crumbs discovered a bunch of scrap wood lying around from a construction site and decided to use that to build some cheap raised garden beds. In addition to the other materials we needed for this project, the total was around $15!
Now that's what I call smart saving! Plus, we wanted to have a home garden to save a little on our grocery bill, and this DIY raised bed garden was an easy way to do that! So, if you want to learn more about how we made this cheap garden bed, keep reading!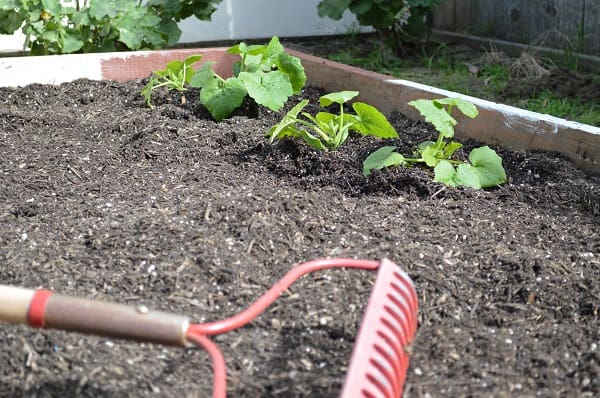 What is a raised gardening bed?
A raised gardening bed is a garden area that is built up off the ground. It can be built just above ground with the base still resting on the soil, or it can be built up on legs like a bed.
We opted for a garden bed placed on the ground. It requires fewer materials and it also allows the plants to reach down into the soil below the bed.
Building raised garden beds is a great option if your yard doesn't have great soil or if you don't want something permanently dug into the ground like a traditional garden. You could even move the frame later if needed!
Materials Needed for Building a Raised Garden Bed
Raised Bed Materials:
How to Build a Raised Garden Bed
Step 1: Measure the wood
We wanted a rectangular raised bed since it fits best in the space in our yard. When deciding on the size of your bed, consider your ability to reach plants in the middle as well as the amount of sunlight and the size of your outdoor space.
Step 2: Cut the wood to the desired length
Borrowing a saw, we trimmed the ends and cut one of the planks in half. If you have jagged edges or edges with angles, aim to cut those off.
Step 3: Pull any stray nails, cut off large stray pieces, and sand extremely rough edges
Remember that this will be on the ground, level with the kids and animals, so eliminate the obvious dangers. Designate someone to hold a pail for discarded nails so none get left behind in the yard.
Step 4: Mock assemble the wooden frame
Just a precaution to make sure the pieces are cut to the correct size. Fix any obvious errors.
Step 5: Paint or stain the wood
If you're short on paint, only one side and edge really need to be painted – a perfect assignment for the kids.
Step 6: Prepare the ground
While the kids and other helpers are busy, adults can level the ground and pull large weeds.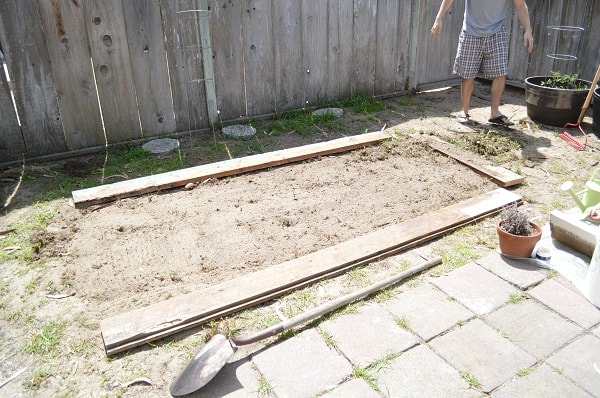 Step 7: Assemble the bed using the corner brackets
Having another adult available to hold the wood steady is helpful.
Step 8: Lay your new raised garden bed down on the prepped ground
The bed should sit level. Add/remove dirt or sand as necessary.
Step 9: Fill with the inside of the bed with good soil and plants!
We found bulk soil at our local garden center was a better price than bagged soil. Having a good compost system will give you FREE fertilizer for your garden!
Tips for Building Your Raised Garden Bed
Other Garden Bed Options
Building a raised garden bed does take some effort so if you have the budget for it, here are some other options:
Foods to Grow in a Raised Garden Bed
Our first garden was definitely a lot of trial and error, but we have found these foods grow well in small beds and containers:
Tomatoes
Hot peppers
Radishes
Green beans
Cucumbers
Lettuce
Spinach
I found that large vine plants, like watermelons and pumpkins, need more space. Root crops, like carrots and onions, also like being planted in the ground better, but it might depend on your skills!
FAQs
What are some other building materials to use besides wood?
Concrete blocks, cinder blocks, or bricks can be used as a makeshift frame around your garden bed. Then, put the soil mix in the middle of the blocks and inside the blocks for extra garden space!
How can I make a raised garden bed for a small space?
If you have limited space or prefer a smaller garden area, creating a smaller garden is a great idea! The best way to do this is by choosing shorter wood planks and building a smaller bed rather than a large one.
​Do I have to line the bottom of the bed with landscape fabric?
Nope! You can if you want to, but only if the type of wood you're using has holes where the garden soil can escape or if the soil quality where you live isn't great and you don't want the new soil mixing in with it.
Best Raised Garden Bed Setup
These raised garden beds are a great way to grow an herb or vegetable garden in your own backyard! Whether trying to save on groceries or beginning a new hobby, these DIY garden beds are a great choice for building your dream garden! Have you ever built your own garden beds before, or is this your first time? Let me know!
More Frugal Gardening Posts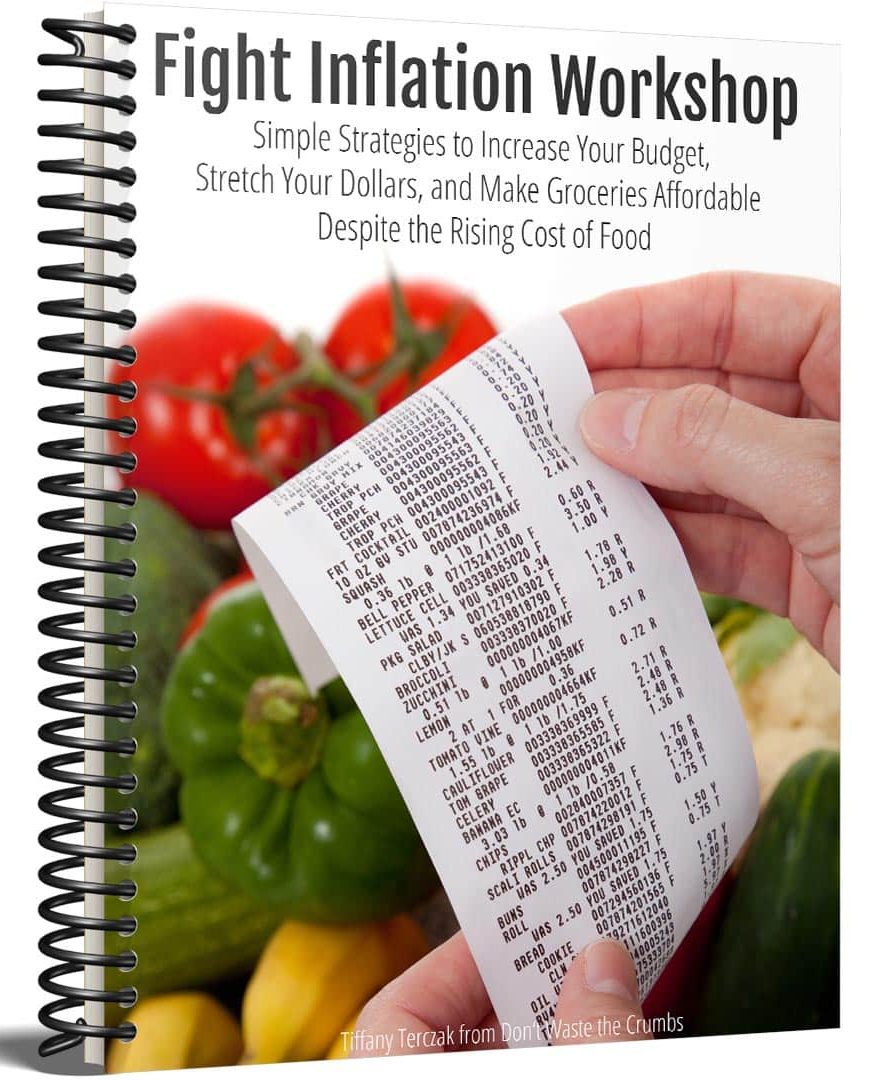 Fight Inflation Workshop
Sign up for my FREE
Fight Inflation Workshop
and learn simple strategies to save money, even with rising food costs!