Written by Mr. Crumbs.

Mrs. Crumbs has been on a garden kick.
Earlier this year she started a small potted garden, modeling her step-mother and good friend who successfully garden every year.  Roughly four weeks into the gardening season, when all of the plants started sprouting in her egg crate planter, she quickly realized we didn't have enough pots (large and small) to house all of her budding veggies.
The truth is, neither one of us expected anything to sprout, since neither one of us are experienced in gardening.  Plus we've have a hard time keeping flowers … and goldfish alive.
She tried to find second-hand pots affordably, but they were either too small or too expensive.  Naturally, she came to me and kindly requested that we build a raised garden bed to help grow the additional produce.  Grow a garden, harvest, save on the grocery bill, right?Tasked with building a 4'x8′ raised bed, I marched into the hardware store and headed straight to the lumber section.  However, my optimism was crushed when I read this:  8 Foot Cedar Plank – $25.
We would need 3 of those for the bed.  Plus hardware.  And the near 10% tax.  Suddenly, this fun little project was creeping towards $100.  Online kits ranged from $80 to $100 too.
I thought we're supposed to be SAVING money here…
The reality is this:  We're renters.  It's hard for us to invest in a property that isn't ours.  If we truly owned our property, investing in it for the long term wouldn't be difficult.  But to build structures that cost money, that could easily be torn down in the semi-near future?  Well, we have a hard time with that.
Not to mention that if we spent $100 to build a 4'x8′ raised  bed, would it actually yield us $100 in produce?  Would we even break even in the investment?
Unsure, I left the hardware store defeated and came home.  Mrs. Crumbs started crunching numbers and I went outside to throw the football with The Boy.
While playing, I noticed a large dumpster next to one of the townhouses in our complex.  It was one of those temporary ones – you know, the kind used for construction sites.  Our landlord had been making improvements on the exterior of the buildings, and this temporary dumpster was filled with scrap lumber!
Inside the dumpster were planks well over 8 feet long and 8 inches high.  Just perfect for a raised garden.
I dove in and found three wonderful 8′ planks.  Although riddled with nails, they were free and would do the trick.  I shared my new plan with Mrs. Crumbs, talking about the remaining supplied we'd need and the approximate cost.
When we tallied the total cost to be approximately $15, she was thrilled!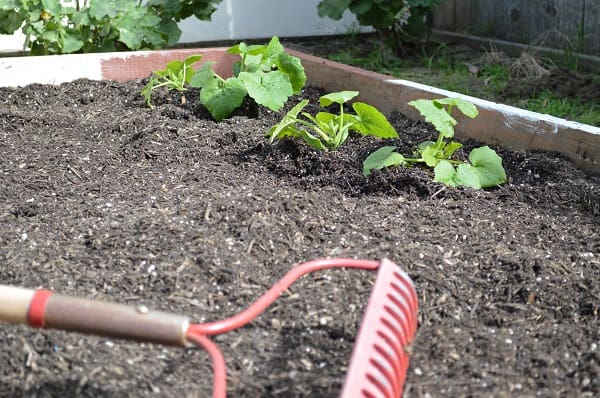 [thrive_leads id='29181′]
Here's how you can build a raised garden bed for under $15.
Supplies:
Lumber, preferably free.  Look in dumpsters, discard piles at construction sites, trash piles on the side of the road, old pallets, Craiglist, Freecycle and your local city's Facebook group.  Don't pay for the wood if at all possible.  If you can't find free wood, then hold off on the project.  If you absolutely MUST have a raised garden bed and you have to pay, aim for no more than $20 TOTAL in the cost of wood.  Any more than that and you won't break even with your harvest (at least not this year).
Corner Brackets.  You need a total of eight, two for each corner.  Your local hardware store should have some similar to these on Amazon.  I recommend the 3″ bracket, but you can use a 4″ bracket if they're cheaper.
Paint or Stain, optional.  This would be to protect the wood, but it's entirely optional.  Check the "oops" colors of paint at your local hardware store for cheap paint.  We picked up one quart for just 50¢ to supplement the random leftover paint in our garage.
Paint Brushes.  A must-have if you're going to paint.
Step 1:  Measure the wood.
Step 2:  Cut the wood to the desired length.
Borrowing a saw, we trimmed the ends and cut one of the planks in half.  If you have jagged edges or edges with angles, aim to cut those off.
Step 3:  Pull any stray nails, cut off large stray pieces and sand extremely rough edges.
Remember that this will be on the ground, level with the kids and animals, so eliminate the obvious dangers.  Designate someone to hold a pail for discarded nails so none get left behind in the yard.
Step 4:  Mock assemble the wood.
Just a precaution to make sure the pieces are cut to correct size.  Fix any obvious errors.
Step 5:  Paint or stain the wood.
If you're short on paint, only one side and edge need really to be painted – a perfect assignment for the kids.
And garden-crazy wives!
Step 6:  Prepare the ground.
While the kids and other helpers are busy, adults can level the ground and pull large weeds.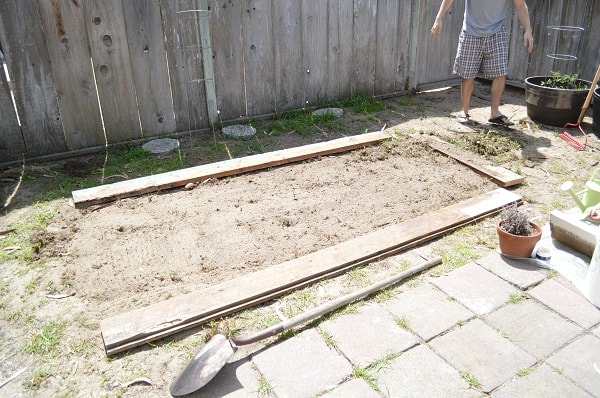 Step 7:  Assemble the bed using the corner brackets.
Having another adult available to hold the wood steady is helpful.
Step 8:  Lay your new raised garden bed down on the prepped ground.
The bed should sit level.  Add/remove dirty or sand as necessary.
Step 9:  Fill with dirt and plants!
Cost Breakdown
lumber:  free
corner  brackets:  $10
paint:  50¢
paint brushes:  $2
Your biggest expense will be lumber, which is why I suggest digging around to find some for free before paying for it.  Additionally, you likely could get by with using only four brackets, instead of eight.  If that's the case, your total would be less than $10 for the entire raised bed.  The paint brushes are the no-name brand, basic brush just like these, but we got them locally for $1 each.
Before you buy ANYTHING, scour your garage and closets for supplies.  Old shelves and mix/matched "not quite the same" hardware will work just as well, and you just might be able to build a raised garden bed for free!
Other Frugal Gardening Posts:
So how about it – ready to build your own raised garden bed? 
Disclaimer:  This post contains affiliate links. By making a purchase through those links, I will earn commission that helps to keep the lights on in the Crumbs house – with no additional cost to you. Thank you for supporting Crumbs in this way. Read my full disclosure statement here.