A few summers ago when I was just about to leave on my first week long vacation I realized that I hadn't even thought about how I would keep my raised bed and container garden from dying while I was away.
There's nothing worse than going on vacation and spending the whole time worried about things at home. I wanted to find a solution to ease my mind so I could focus on enjoying the beach.
If you're also planning a vacation this summer use these tips to make sure your garden will be happy and healthy while you're away.
How to Vacation Proof Your Garden
1. Carefully inspect the garden before you leave.
Catch pest problems early so your garden can be in optimal health before you leave. You will be more likely to come home to a healthy garden if minor pest issues are taken care of before you go. I like to use this homemade organic pest control spray to treat pest problems. Because it's safe and non-toxic it can be used as prevention too.
2. Mulch your plants.
Mulching helps retain water and keep weeds away. Just be sure to use vegetable garden friendly mulch. I like leaf compost or grass clippings because they are free, easy to find, and can add nutrients to your soil.
3. Have a watering plan.
Water is one of the biggest concerns for your garden while you're away. Soak your garden for about 20 minutes each evening for 2-3 days before you leave. If you have an in-ground garden or raised beds this will be enough to get your plants through about a week of dry weather.
If you're going to be gone longer, you have containers as part of your garden, or you live in a particularly dry and arid location you will want to consider an irrigation system. You can invest in a timed sprinkler system which could be helpful beyond vacation. But that means leaving the water spigot on and risking a leak. Fortunately there are inexpensive (even free) ways to create irrigation in your garden or containers.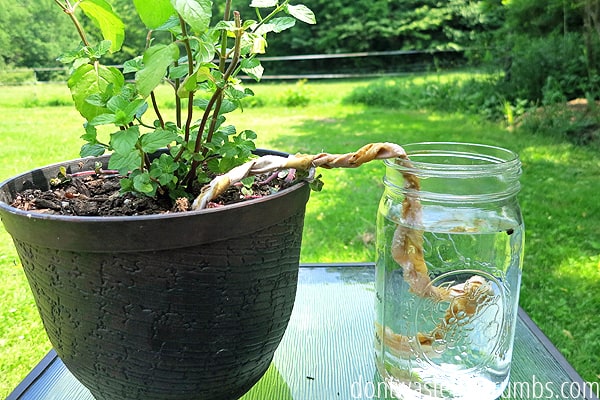 DIY Fabric Plant Waterer
This self watering system is best for container plants. It's simple and you can make it using any cotton fabric you have lying around. I've used old t-shirts, which work just fine, but if you want something that's a little prettier you can use craft fabric like I did.
DIY Fabric Plant Waterer Supplies
DIY Fabric Plant Waterer Method
Cut three strips of fabric. Braid them together and tie a knot in both ends. Stick one end of the braid into the soil at the base of the plant and the other end into the mason jar of water. Make sure the braid is just long enough to reach from the base of your plant to the bottom of the mason jar (or coil the extra in the bottom of the jar).
This waterer works by wicking the water from the mason jar up the braided fabric and into the dry soil. If the braid is in hot direct sunlight it will dry out before the water gets to the plant, therefore, it's best to put your containers in a partly sunny location while you're away so they get enough sun but not too much. This will also help them stay moist so they won't need as much water.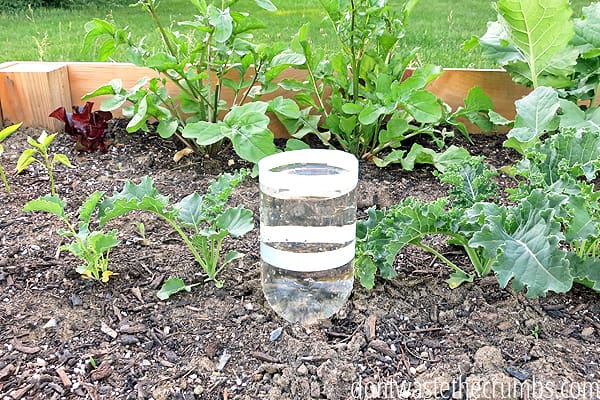 DIY Soda Bottle Plant Waterer
This one is great for in-ground or raised bed gardens but can be used for containers too.
DIY Soda Bottle Plant Waterer Supplies
An empty 1 or 2 liter bottle for every 4-6 sq ft of garden (depending on the plants)
A drill or awl
DIY Soda Bottle Plant Waterer Method
Cut the bottom of the bottle off.
Then drill a hole in the cap of the bottle and screw the cap back on.
Bury the neck of the bottle in the ground close to your plants and fill the bottle with water. The water will slowly drip out over the course of a few days or a week depending on how big your bottle is. You may want to cover the top of the bottle waterer to avoid evaporation or mosquitoes. I've used plastic wrap or the end that I cut off, upside down and weighted with rocks.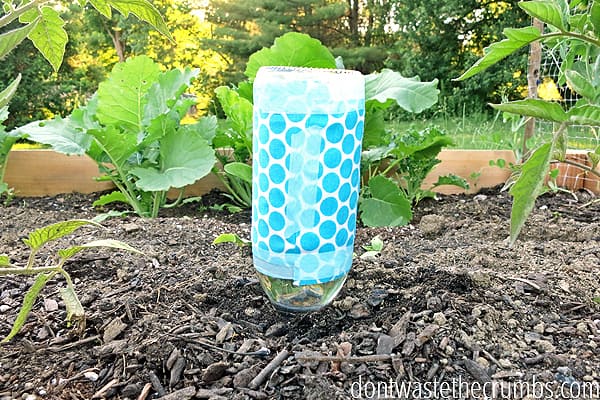 DIY Wine Bottle Wicking Plant Waterer
These waterers are great for any garden. Since the bottle is glass and not plastic only as much water will come out as air goes in. That means if the ground is saturated with water little if any water will come out of the bottle. It's the quickest and easiest way to make sure your plants will have enough water.
DIY Wine Bottle Wicking Plant Waterer Supplies
A glass wine bottle for every 4-6 sq ft of garden (more if using soda or beer bottles)
DIY Wine Bottle Wicking Plant Waterer Method
Fill the bottle with water and stick the neck in the ground near the base of each plant or between plants. I wanted to make the bottle a little more attractive (and less like there was a party in my garden!) so I wrapped the bottle with craft fabric and washi tape.
Bonus Tip
Another option for your container plants is to move them to a shadier spot. A little less sun for a week won't hurt them and will keep them from drying out too much. You can move them to a covered porch or put up a patio umbrella. You could even set up an umbrella or canopy tent over your in-ground garden too!
More Gardening Tips:
5 Clever Gardening Tips // 7 Ways to Water your Garden for Free // How to Build a Raised Garden Bed for Under $15 // 5o Ways to Fertilize your Garden for Free
How do you make sure your garden will be healthy while away on vacation?
This post is a guest post from Mindy from Purposefully Simple.