A quick-start guide for beginners, composting basics including how to compost, what to compost, what not to compost, tips for collecting food waste & dealing with problems. Great for starting a garden!
Each year, our family enjoys having a vegetable garden. For most families, that means considering how much space you have versus what you want to grow, and strategic planting to ensure the plants get enough sun to produce a nice harvest.
Grocery-budget conscious families would consider what the most expensive produce to buy in their area is, and try to grow it instead.
My family is a little different, though. The first thing we do before any plants or seeds go into our garden is to tend to the compost pile.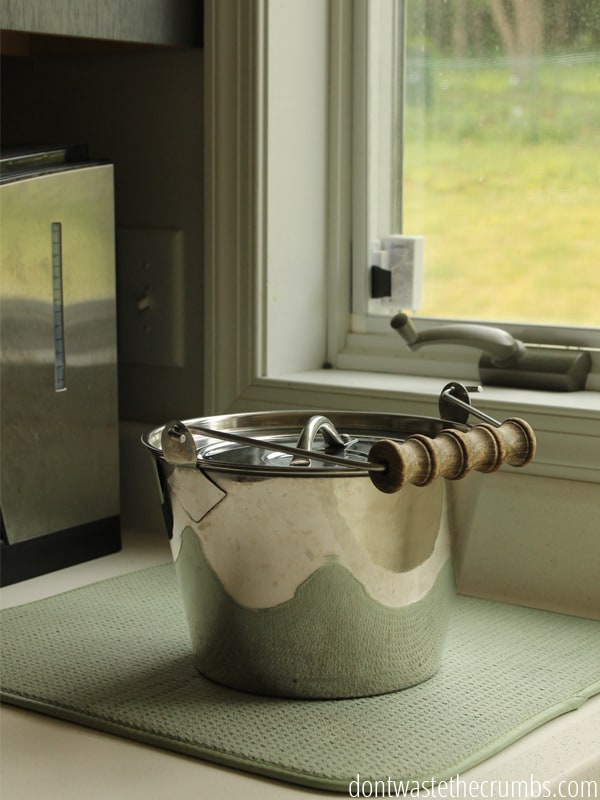 Why should you compost?
Aside from the environmental benefits of composting, which breaks down organic materials and transforms them into rich, fertilizing soil… composting is also:
Free! Think pricey, organic-rich soil that you'd have to pay big bucks for. When you invest a little time learning to compost, it's all yours, for free!
Fun for the kids! You'll win the best mom or dad award when you let your kids sift through the finished and half-finished compost and see what creatures have made their homes there. It's got all the makings of a winning science fair project!
Composting reduces your household trash. You know the Crumbs family is serious about reducing trash, right? Instead of decomposing organic greens and brown materials sitting in the trash can for up to a week, the kitchen scraps can start decomposing right away in the compost pile.
It's hard to mess up. Your garden plants may wither and die, but compost is pretty much foolproof. You dump in your organic matter and forget about it, until it's time to harvest the rich, crumbly results of your labor (or lack thereof!). That's my kind of project!
What are the basic supplies that I need for composting?
You'll need a pail for the kitchen to collect scraps, a composting bin (if you're using one, but you don't need one), or a spot in the yard for a pile.
What is a worm composter?
Some people choose to use the magic of earthworms (red wigglers specifically) to help speed up the composting process in a worm composting bin. It can be a store-bought one or just a big Tupperware bin.
This is done by adding kitchen scraps, green materials, dried leaves, etc., and allowing the worms to digest the organic material as it passes through their bodies while they move and wiggle around.
However, if you have a compost pile in the yard, earthworms will usually find their way to it naturally.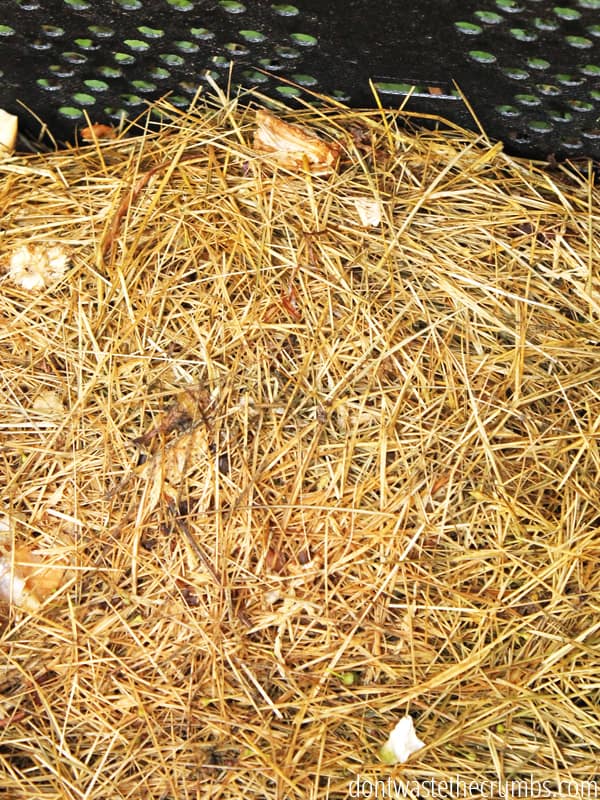 What is a composting tumbler?
A composting tumbler is a handy bin with a handle that you can turn by cranking the handle around. They are usually purchased from a garden supply shop or online like this one. These are especially helpful for people with limited space, and they tend not to smell or attract insects.
How do I start composting?
Getting started composting is SUPER easy. Once you've got your basic supplies, you're ready to start.
Pick a spot for your pail. I keep mine under my kitchen sink.
Tell your family the plan. You might want to leave the pail out for a couple of weeks to help everyone remember not to throw away those apple cores and banana peels. After a while, it will become second nature for everyone.
Pick a spot for your pile or composting bin. You want it to be close enough to the house that it's not a big deal to carry the pail out every day. Ours is right next to our vegetable garden.
What can you compost?
Kitchen waste – Mainly produce trimmings. Think onion skins, celery roots (if you're not re-growing them or saving them for chicken stock), apple cores, banana peels, potato peels.
Coffee grounds
Tea bags
Grass clippings
Dead leaves
Straw
Sawdust
Garden waste
Don't compost these things:
Meat or bones (use these to make stock instead!)
Leftovers that aren't primarily plant material
Tougher plant material from your garden like branches or stalks (it takes too long to break down)
Garden waste that has been treated with pesticides or chemical fertilizer
Weed seeds and roots – you might inadvertently spread them to your garden beds
Diseased plant material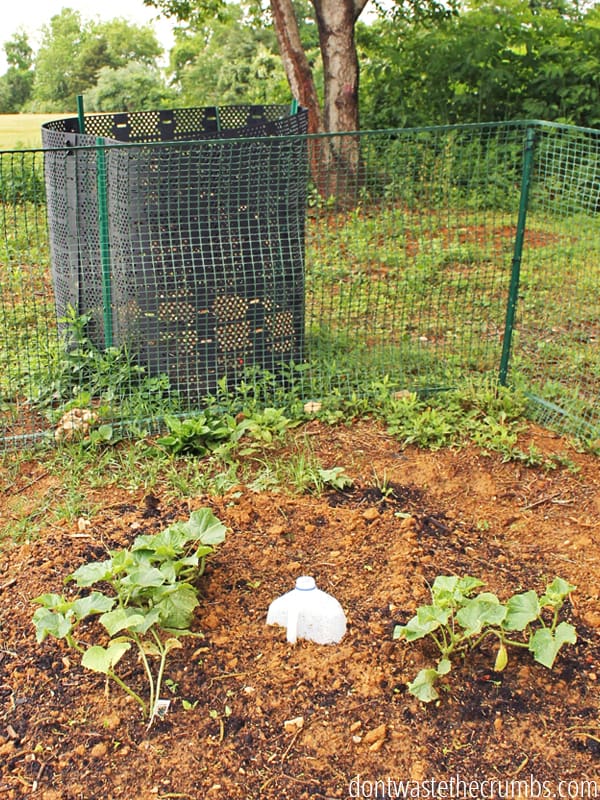 What is the method for composting?
Once you're set-up, here is the method for composting…
Start collecting compostable material and add it to your pile.
Empty your pail into the pile (or bin) daily. It's the perfect chore for the kiddos!
Turn your compost pile. Every month or so, grab your pitchfork or a shovel and mix your pile up a bit. This helps speed up the decomposition process, heats up your pile, and keeps away any unwanted pests. Note: If you are using a bin, you'll just turn it inside the bin.
Harvest your finished compost. Over time, the material at the bottom of your pile (or bin) will start to look like the nicest, richest soil you've ever seen. When you don't see any more recognizable scraps, the compost is ready to be used.
Harvest your compost from the bottom of your pile (or bin) once or twice a year. Whatever isn't yet ready just goes back into the pile to continue breaking down.
Spread your finished compost on your garden beds or use it in container gardens.
Note: You probably don't want to bring your fresh compost into the house since it should be home to many, many little critters.
What are the potential problems with composting?
Smell. Before we started composting, my husband was concerned it would be a smelly, fly-attracting affair. But that was never really a problem. If your pile starts to stink, just give it a quick turn and add some grass clippings or leaves if available.
Insects. We have a large lawn so I keep a separate pile of grass clippings and toss in a handful or two over the top of any kitchen scraps that are attracting bugs. Wash out your pail when it gets icky (about every other day for us).
Not Enough Space. Composting only requires 9 square feet of space, or less if you choose a smaller space-saving bin. And since it's just about the easiest garden task you can undertake, it's an excellent use of your yard space.
Animals. Depending on where you live, raccoons or rodents may be attracted to your pile. We haven't had problems, but if you anticipate them, you can either get an animal-resistant bin or turn your pile more regularly (a hot pile isn't as attractive to animals).
Messy. Some people think composting is messy, but it's really no worse than taking out the trash. Plus, you don't have that food rotting in the trash can waiting for trash day.
How long does it take to compost?
Different organic materials take different lengths of time to transform into compost. Food scraps are quicker than twigs or sticks. Paper from coffee filters or tea bags take longer than organic materials. The bottom of the pile or bin will transform first, so this is why it is important to turn the pile monthly.
Is composting easy?
Yes! As an accompaniment to gardening, it's a very worthwhile routine that is fun for the whole family!
Do you compost? Why or why not?
5 Days to DIY Natural Living
Being healthy isn't just what goes IN your body, it's what goes ON your body too. Download my free guide 5 Days to DIY Natural Living to learn how to save money while getting rid of harmful toxins throughout your home.