Make your own plant fertilizer for free using things you already have! From food scraps to yard waste, save money and make natural fertilizer at home.
I was admiring my friend Maria's garden, especially her booming zucchini plants, and wondering why I didn't have zucchini growing out of my ears as she did. She asked me what I was using for fertilizer.
Fertilizer? I thought that was just for the super gardeners. You know, the ones who can leave bags of zucchini on your front porch and still have plenty for themselves.
Maria pointed out that my plants needed food because once the roots grew past the topsoil, they'd be in the sand, where there aren't many essential nutrients.
Plant Fertilizer
Since plants need nutrients, I took her advice and fertilized it. I bought some organic fertilizer (like this one on Amazon) for vegetables and plants. I have been faithfully feeding the plants every four weeks (per her instructions).
The result? My zucchinis are looking better, the tomatoes are busting at the seams and my broccoli is HUGE!
In any case, I knew there had to be a way to make natural fertilizer for plants without having to go to the garden center and buy fertilizer products. Especially if we're keeping up with it once a month AND trying to keep this organic gardening grow-your-own food thing as frugal as possible.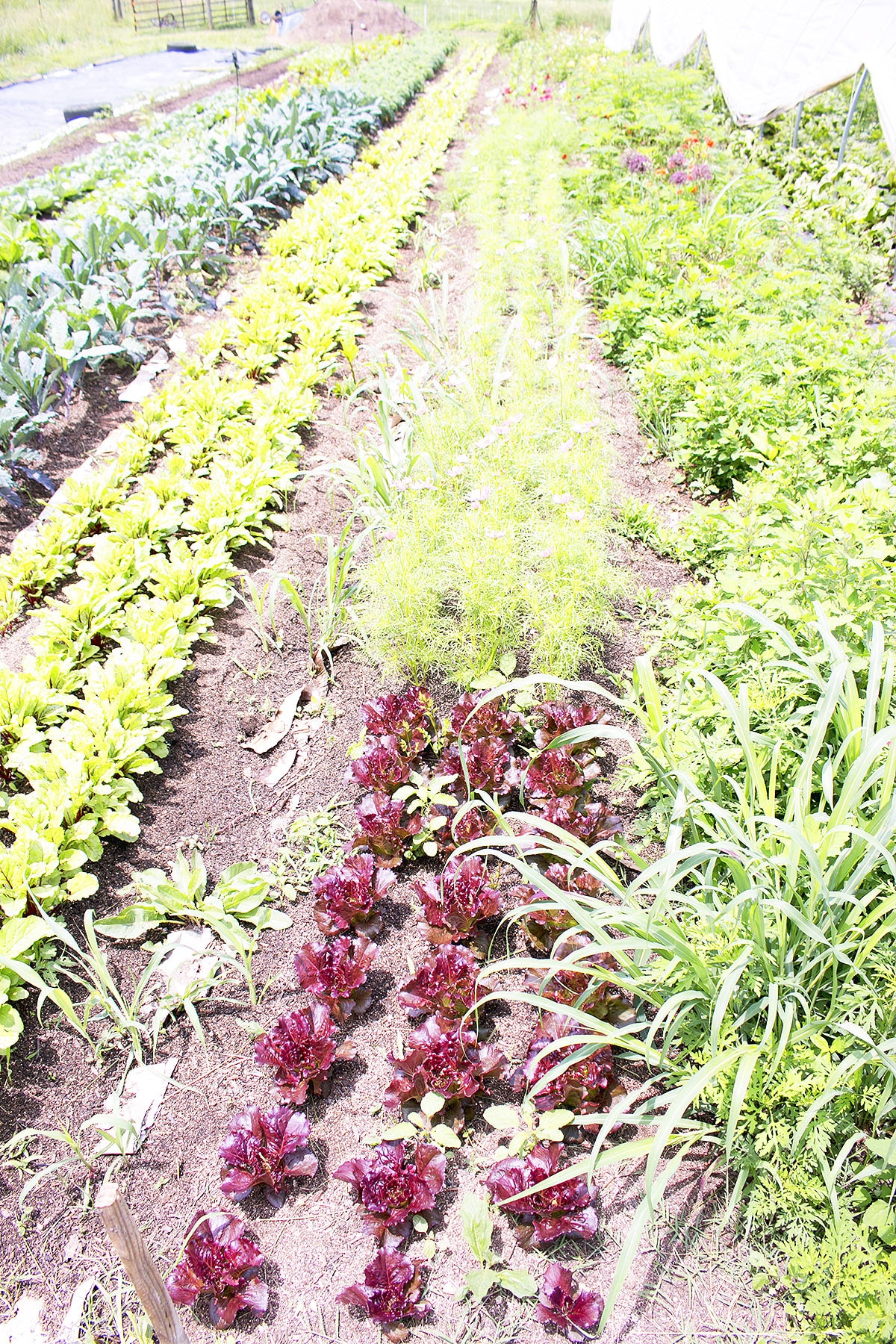 Homemade Plant Food
So, I did some digging and came up with a list of 50 ways to fertilize plants for free. As a bonus, it's possible to do it organically too!
Homemade plant food falls into three categories: food, plant, and animal. Don't expect to be able to do them all because I surely won't! But it's a great place to start when you're looking to feed your plants this season, and as you prepare the soil this fall for next year's garden.
In either case, be sure to pin this post so you have it ready when you are!
Natural Fertilizer from Food
I'm always looking for ways to get one more use out of my kitchen scraps, so making natural fertilizer from food makes perfect sense to me. Possible organic matter fertilizer includes:
banana peels (chopped and planted at the bottom)
beer
carrot peels
coffee
coffee grounds (consider checking local coffee shops for their extras)
corn meal (soak 1 cup per 5 gallons of water, strained)
energy drinks (perfect use when they come as game day snacks!)
Epsom salt (diluted 1 Tbsp per gallon of water)
green tea
molasses (diluted 1-3 tbsp per gallon of water)
onion peels
peanut shells
potato peels
pulp from juicing fruits & veggies
sugar
tea
tea bags
To Make Food Mulch: Add 1 Tbsp of finely ground organic material and work into the soil around the plant. Repeat weekly.
To Make Food Tea: Add food to a large container and fill it with water. Allow to steep for several days, to several weeks. Dilute 1 cup of tea to 1 gallon of water to make liquid fertilizer. (Here are some more detailed ways to make fertilizer tea for your garden.)
To Make Powdered Food Fertilizer: Allow food items to thoroughly dry. Process in a blender until it is a fine powder and sprinkle around the base of each plant.
Related: 10 Ways to Regrow Food in Water
Homemade Plant Fertilizer
You can also make homemade plant fertilizer from other plants you may have around your house or lawn:
alfalfa
alfalfa meal
brow leaves
burdock
chickweed
clover
crimson clover
comfrey (line either the bottom of planting holes or chop leaves and add as mulch)
dandelion
dollar weed
grass clippings
green manure (mostly wheat, oats, rye, vetch, clover, peas, buckwheat, and broad beans)
horsetail
kelp meal
leaves
nettle
newspaper
oat straw
sawdust (from untreated wood)
seaweed
water weeds
wood ash (from untreated wood)
yellow dock
To Make Plant Tea: Fill a container with plant ingredients and top with water. Cover and allow to sit for 24 hours to three weeks. Dilute 1 part plant tea to 10 parts water.
To Make Green Manure (i.e. plants fertilizing plants): Start plants in the fall and allow them to grow. Before blooms appear, till back into the ground.
Related: Composting for Beginners
DIY Plant Food from Animal Products
You can even make DIY plant food from animal products! Some ideas include:
aquarium water
blood meal (dried animal blood)
bone meal (ground bones)
fish guts, bones, and head
manure from non-meat-eating animals
worm castings
Related: Instant Pot Chicken Stock
Tips for Homemade Fertilizer for Plants
I am not a gardening expert. But I have learned that perennials, annuals, plants for food, and flowers need fertilizer to grow well!
A good general rule of thumb is to start with a little bit of fertilizer and test each plant accordingly. Not all plants like all types of fertilizer.
You can do a soil test to see your current nutrient levels and work from there. Or look up your plant type and use a fertilizer that works best for that plant.
Start by checking this list of plant fertilizers you already have at home. Right away, I can easily fertilize my garden with 12 of the items listed above – and it would be completely free! It would mean fewer items in the trash can too, so I wonder if I could get away with using fewer trash bags in the long run…wouldn't that be a nice fun bonus!
Be careful not to overdo any particular homemade fertilizer, especially an acidic one like coffee grounds. Even acid-loving plants can get too much fertilizer!
Best Fertilizer for House Plants
Many of the same organic fertilizers listed above work for houseplants too! Indoor plants need nutrients as well as outdoor plants. In fact, they almost need it more! Healthy plant growth requires micronutrients and macronutrients and without fresh soil or fertilizers, houseplants won't get those plant needs met.
When choosing indoor plant food, consider your plant types and how that fertilizer will work in your home. I honestly don't want to use fish guts in my potted plants. Powdered food fertilizer may be a better choice!
FAQs for Homemade Plant Fertilizer
What is the best homemade fertilizer for plants?
Different plants are going to like different types of fertilizers. Start with a little bit and test each plant accordingly to see what it likes best. Plant growth is a good gauge but keep in mind that all plants have a growing season too.
What happens if you never fertilize plants?
Without plant fertilizer, your plants may start to show signs of nutrient deficiencies. Giving them the nutrients they need helps them grow. Flowering plants will produce more flowers and green leafy plants will have more robust leaves.
What is the cheapest homemade plant fertilizer?
The cheapest homemade plant fertilizer is going to be something you already have on hand. Check the list above to see what you can find around the house to boost plant nutrients!
What are the three main plant fertilizers?
Commercial synthetic fertilizers mainly contain three primary nutrients for plants: nitrogen, phosphorus, and potassium, with the ratio of each listed on the label. DIY plant fertilizer will have varying amounts of these nutrients, depending on which type you use.
More Gardening Tips
5 Days to DIY Natural Living
Being healthy isn't just what goes IN your body, it's what goes ON your body too. Download my free guide 5 Days to DIY Natural Living to learn how to save money while getting rid of harmful toxins throughout your home.