Need an easy camping meal plan? I've got the perfect camping meal plan with 10 delicious meals to rotate throughout your summer trip. We recently took the kids on an EIGHT WEEK road trip to hike the National Parks. We camped the whole way in basic cabins and ate out only THREE times! This is my perfect, tried & true, menu for camping!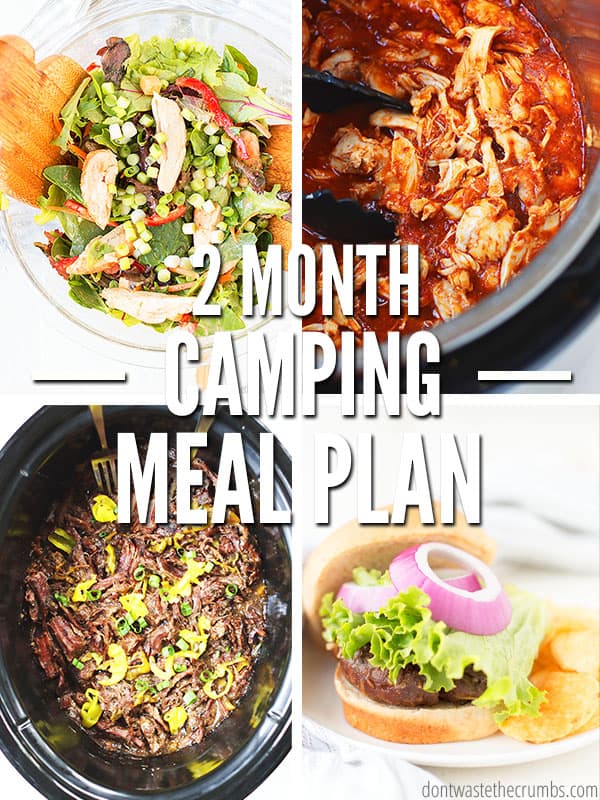 My husband and I have been taking our kids camping since they could barely walk. We're not experts by any means, but I shared our first camping food plan here and it's still one of the most popular meal plans on my blog to this day!
Recently we took the kids on an EIGHT WEEK road trip to hike the National Parks. We camped the whole way in basic cabins and ate out only THREE times! (Two dinners as we were driving from Atlanta to Arizona, and one dinner as we headed back home.)
Because we had electricity, I took my Instant Pot with me to help make cooking at camp more manageable and to keep costs down on eating out. Not only is eating out expensive, but because we're pretty far away from towns, it was a lot of driving and gas just to get to a restaurant!
Normally when I make a meal plan, I assign certain meals to certain days. This is the method I teach in my course Meal Planning Bootcamp.
But because there was so much uncertainty on this trip… we didn't know what time we'd be back to camp, we weren't sure what items grocery stores would have… I chose to make a meal list instead.
A camping meal list is simply a list of meals you want to make for the week.
Instead of assigning a certain meal to a certain day, you choose the meal from the list, rather than following a camping menu.
The only catch is making sure you 1) have everything you need to make all the meals on the list, and 2) your meal list should only include meals you actually have time to make! (Again, I teach all of this inside Meal Planning Bootcamp!)
For this trip, I made a list of 10 meals to rotate through as we traveled. All of them could be made in the Instant Pot OR a grill or campfire, all of them could be made either before we left for the park OR could be made in under an hour when we got back, and all of them included ingredients you could find at almost any grocery store.
Here are the 10 camping meals I picked to rotate through:
Instant Pot Mississippi Chicken
Instant Pot Carnitas
IP / Foil Packet Chicken Fajitas
IP / Foil Packet Beef Fajitas
Grilled Shrimp / Salmon
BBQ Chicken Thighs
Main Meal Salad w/Leftover Protein
For the same reasons I didn't assign meals to days, I also didn't assign side dishes to meals.
It was vital that we ate leftovers quickly, since we only had a cooler and sometimes a mini fridge to keep foods cold. Food waste is also responsible for up to 40% of your grocery budget, so eating leftovers is key to saving money!
The perfect side vegetables for our camping menu:
Potatoes
Frozen / canned peas
Frozen / canned green beans
Cauliflower
Lettuce
Cabbage
Asparagus
Carrots
Onions
Peppers
The tail end of our trip included visiting friends in Missouri, family in Chicago, and friends in Michigan. At each stop, everyone asked us the same two questions:
How was the trip?
Did your camping meal plan turn out according to your plans?
The second question cracks me up, because I had no idea that anyone would wonder for EIGHT WEEKS whether or not my camping meals were going okay! (It did make me feel special though. ♥)
The answer to the second question is YES!
Camping Meals: What worked for us?
Our first stop was the Grand Canyon and by the time we left there and got to Arches National Park, we knew what meals worked best and which ones were too much work given small counters, mini-fridges, tiny sinks, no ovens, no stoves, and no grills. (The accommodations were different at each campsite.)
In full disclosure, we never made beef or chicken fajitas, never made shrimp or salmon, but had salads several times a week.
I made carnitas just once – one roast made so much that we were tired of pork after 3 days and never really got the urge to have that again. Plus storing leftovers and reheating leftovers wasn't easy!
I ended up taking the second roast I brought with me and sliced it up into pork chops so that we could cook less at one time, and then have some variety as well.
Our Camping Meal Plan Favorites
Mississippi Chicken, Mississippi Beef, Chicken Tinga, and BBQ Beef were our main meals, along with simple grilled chicken, steaks, and burgers. The side dishes were also simple – either steamed or grilled (or roasted if we had an oven) and we rotated through broccoli, cauliflower, baby carrots, potatoes, peppers and onions, and salad.
Creamy coleslaw wasn't on the original plan, but it was a staple in many of our meals. It requires zero cooking, is ready in 5 minutes, and I taught the kids how to make it so they could pitch in too
Breakfasts were also simple: oatmeal on hiking days, granola at camp, and pancakes every other stop (which the kids turned into pancake sandwiches when there were leftovers).
Official lunches were nearly non-existent, with plenty of salty snacks on the trail and ice cream afterwards, but we made sure to keep apples, cucumbers, hummus, and carrots on hand when we had a mini-fridge to satisfy those mid-afternoon cravings.
We also made s'mores almost every night, despite fire bans (hello microwave!) and charcoal grills that got cold (hello toaster oven!).
Meal Planning Made Easy
Sign up to join our FREE
8 Day Meal Planning Challenge
! Start anytime and get access to lesson videos, worksheets, and an online community.
More on Meal Planning
If you struggle with meal planning, I highly recommend my course Meal Planning Bootcamp. It's a simple, straight-forward meal planning system that takes just 15 minutes a week.
If you prefer to have meal plans made for you, take a look at 30 Minute Dinners. It contains every meal plan I've ever made (250+!), comes with step-by-step cooking instructions, shopping lists, meal prep, and everything can be customized to fit smaller/bigger families as well as your own family-favorite recipes!