Here is the perfect one week meal plan for easy Airbnb meals! Includes super easy-to-find real food ingredients that are perfect for the whole family, plus it's budget-friendly! Also check out my 2 month camping meal plan this summer!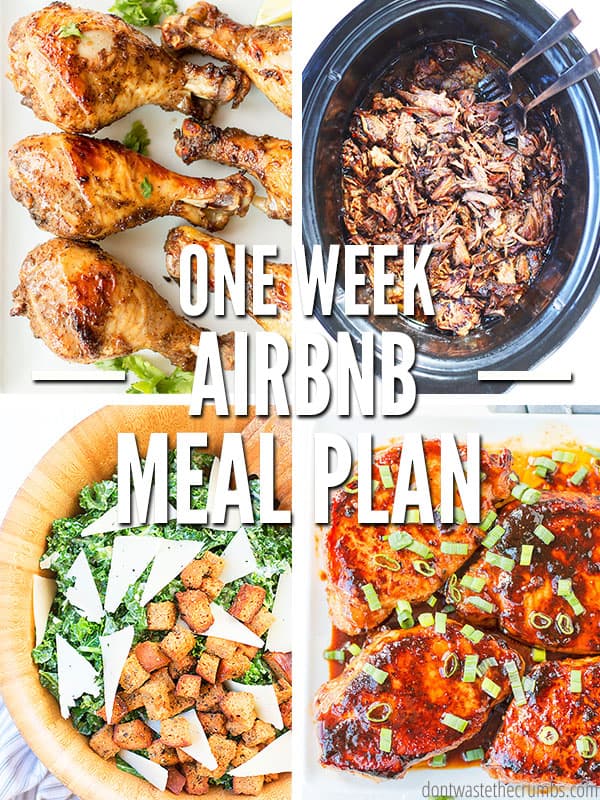 Everything You Need to Know About Easy Airbnb Meal Plan (Healthy + Budget-Friendly)
I've been making meal plans for over a decade now, so I feel like I have a pretty good grip on how the process works.
In fact, you can get EVERY meal plan I've ever published inside 30 Minute Dinners! (250+ so far!)
But I know y'all like to see what's happening in my own real life, so I thought I'd share with you some super easy Airbnb meals from the last time we went to the beach!
(warning: they may not be very exciting, but maybe they'll inspire some dinners for you this week!)
Things to Consider for Easy Airbnb Meals:
Cooking Accommodations. We stayed at a condo with a well-equipped kitchen and a stove (although no grill). If you want a meal plan that's more primitive for camping, use this camping meal plan. If you want easy Airbnb meals that are mostly grilling or an Instant Pot, use this camping meal plan (from when we camped for 8 weeks at 22 National Parks!). I also have a no-cook meal plan, a grilling meal plan, and a ground beef meal plan – choose whatever works best for you!
You Need a Slow Cooker. If you're staying in a condo or house and can bring your slow cooker, this is my go-to meal plan.
FAST Meals. We want to spend less time in the kitchen and more time having fun, so all of these meals can be made in 30-60 minutes of hands-on time.
Make Leftovers. Along the same lines, cook extras whenever you can. These can be eaten as lunches, or included as dinner the next day.
100% Real Food. There's room for fun food on vacation, but if you're going to cook, cook real food! Use shortcuts like frozen vegetables and pre-bagged salads.
Limit Ingredients. Try to keep your condiments to a minimum so you're not throwing food away at the end of the week. If you do buy condiments, consider those that don't need to be refrigerated so you can take them home with you!
Day 1 (travel day)
Baked Chicken Drumsticks (pulled from the freezer before we left, thawed during the drive)
Steamed or Roasted Green Beans
Steamed or Roasted Carrots (from the fridge at home)
Baked Potatoes (since the oven is on for the chicken anyway)
Psst! All of these foods can go in the oven so you can reduce dishes and consolidate cooking.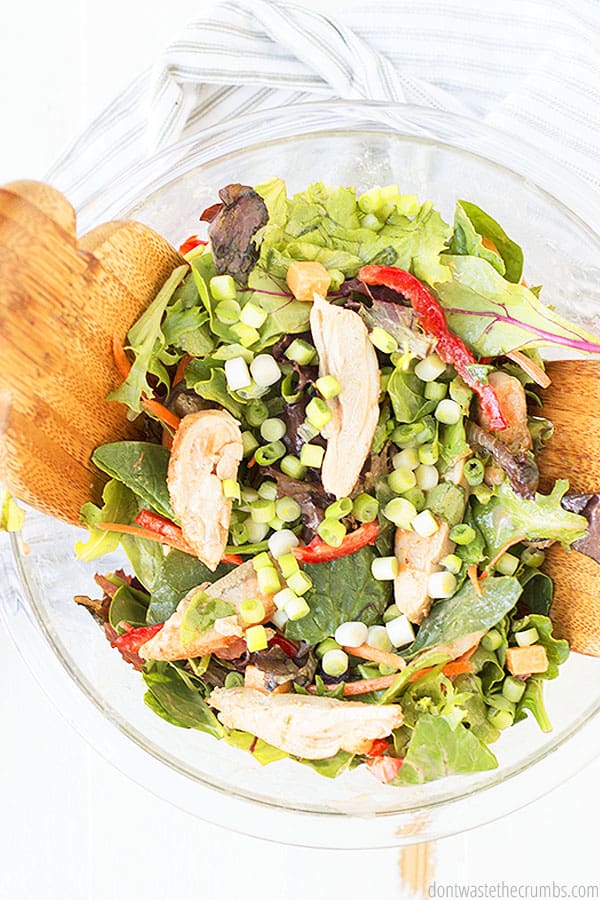 Day 2 (went grocery shopping after breakfast)
TIP: Pre-mix biscuits at home by combining the dry ingredients and cutting in the butter. Store in the cooler/fridge. Then add your liquids when you arrive and bake.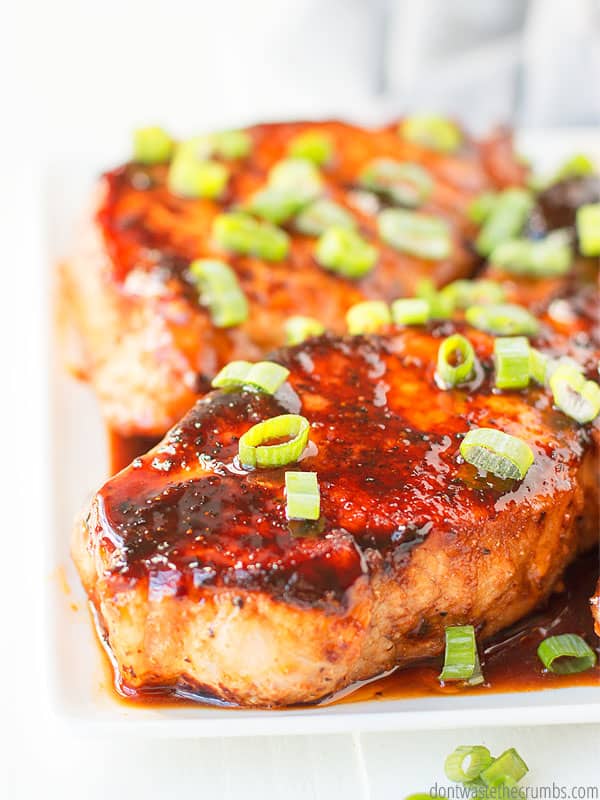 Day 3
Day 4
Day 5
Creamy Coleslaw (leftover)
Skillet Yellow Squash & Shredded Carrots
Rice (leftover, seasoned with taco seasoning)
Day 6
Skillet Fajita Vegetables (leftover)
Skillet Yellow Squash & Shredded Carrots (leftover)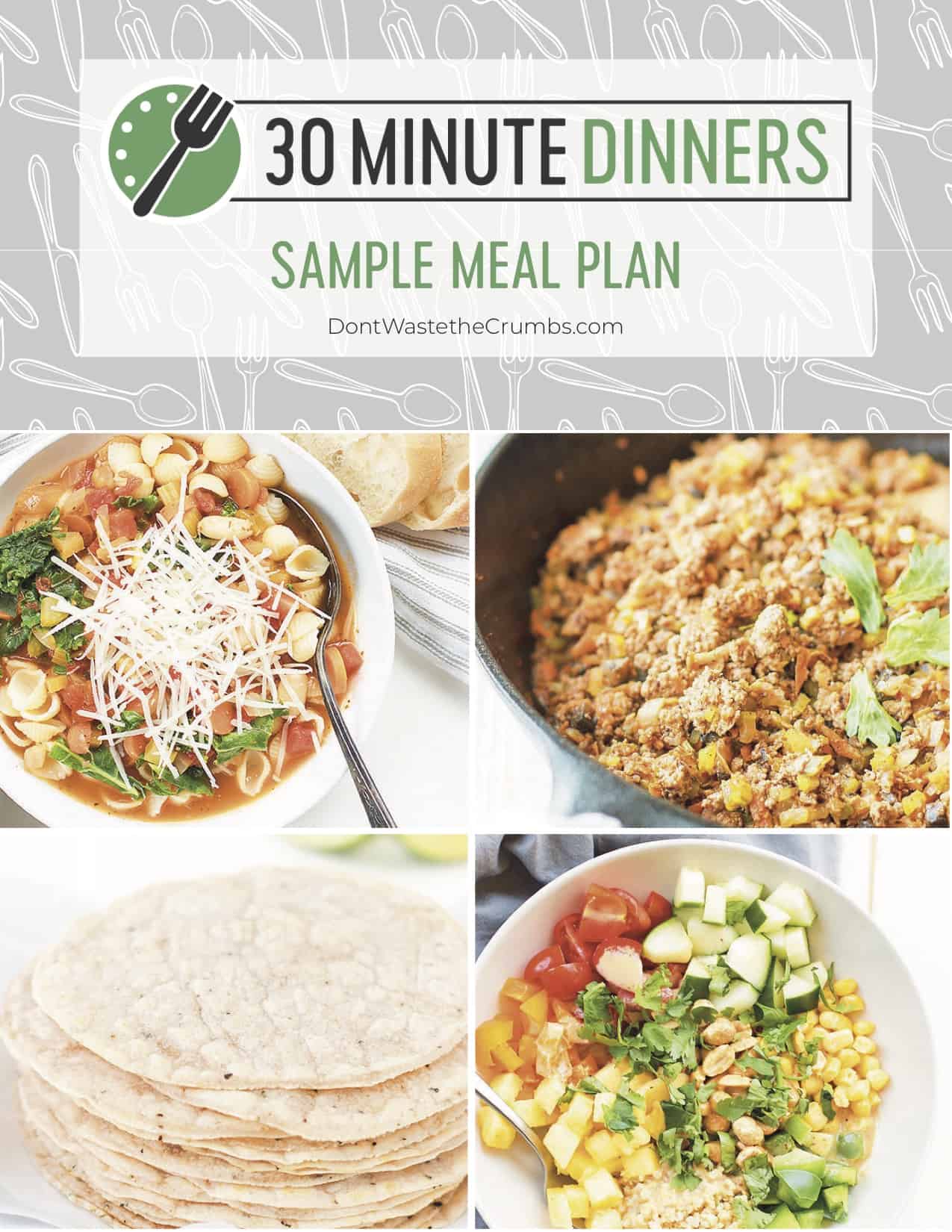 30 Minute Dinners Sample Meal Plan
Sign up to get instant access to my
30 Minute Dinners Sample Meal Plan
, complete with recipes and step-by-step instructions!
Day 7
Eat all the leftovers before traveling home!
Need Snacks for your Next Vacation? Check Out These Great Travel Snack Ideas: