Have you re-organized your kitchen recently? Once you commit to making healthy meals for your family, you're likely to find your kitchen cabinets filling up with all kinds of ingredients and equipment. And all this stuff may leave you with a kitchen that quickly gets messy and isn't nearly as efficient as it should be.
Glass food storage containers take up lots more room than a stack of plastic containers. Bulk purchases need way more room than just a week's worth of boxed mixes. Food processors, blenders and other small appliances are wonderful time savers but require lots of cupboard space.
While they're not set in stone, I recently settled upon some "rules" to help me decide how to organize things in order to keep my kitchen working well for me…

instead of me working hard for the kitchen!
9 Rules for Organizing the Real Food Kitchen (for Maximum Efficiency)
1. Arrange storage for convenience.
Heavy and less used things go in a low or very high cupboard or to the back of the cupboard; lighter and more often used things are put at eye-level.
2. Containerize (that's a word, right?).
Put baking supplies and spices into baskets or bins and bring them to the counter when you work. How about a basket for your collection of herbal teas? I have a bin that corrals all our lunch-packing containers and thermoses. We can bring it to the counter so it's easy to grab the right container.
3. Prioritize workspace.
Clear counters create an inviting place to work and it's easy to clean up when you're done.
4. Looks are (sometimes) sacrificed for convenience or storage reasons.
We have a lot of fresh produce (apples, potatoes, onions) and some baking supplies stored out in the open under our kitchen island. Since these things get used up so quickly, I don't bother too much to make them look pretty.
A bag of potatoes straight from the store isn't the nicest way to accessorize my kitchen, but that's the price we pay for eating frugal, nutritious meals. I'm willing to live with it. 🙂
5. Group like things together, labeling if possible.
Keep all the baking supplies together, all the canned goods together, all the kitchen linens together.
6. Consider "out of kitchen" storage options.
We have a shelf unit in our basement that holds extra dry goods and produce like (more) potatoes, squash and apples. This allows me to stock up when I get a great deal without cramming the kitchen cupboards full of food. These things keep for several weeks or longer in a cool, dry basement.
We are also blessed to have a second fridge in the basement. I can easily send a kid down to the basement for a new gallon of milk or bag of rice (or get it myself and make a mental check mark on my to-do list for a bit of extra movement in my day).
This is less convenient, yes, but so worth having the extra food on hand, plus it saves me from making extra trips to the store. If you don't have available basement space, maybe you can find some room under beds or in the garage.
7. Maybe it's time to rearrange.
When my blender was in use daily for smoothies it made sense to have it in a cupboard front and center. Now that the cold weather has made tea much more enticing than smoothies, I moved the blender to the back of another cupboard and made a tea and coffee station. Similarly, I've rearranged other cupboards based on what I'm using and what's most convenient.
8. Little-used items should be the first to go.
If you're short on storage space, you probably would be willing to trade (or sell!) the good china in return for an extra shelf or two. I recently discovered the dehydrator I hadn't used in a year no longer worked. Oops! Hello to an entire extra cupboard! Don't be afraid to get rid of things that don't line up with your priorities in life (rule #5 on this list of de-cluttering rules).
9. Say hello to food as décor!
Besides the (kinda ugly) potatoes and onions under my kitchen island, I've got simple glass jars out in the open filled with popcorn, rice, and sugar. I like how they add to the atmosphere of a hard-working kitchen.
I think it's pretty common for real foodies to tinker around with their kitchen organization. If you're spending that much effort in the kitchen, you might as well make your time as efficient as possible!!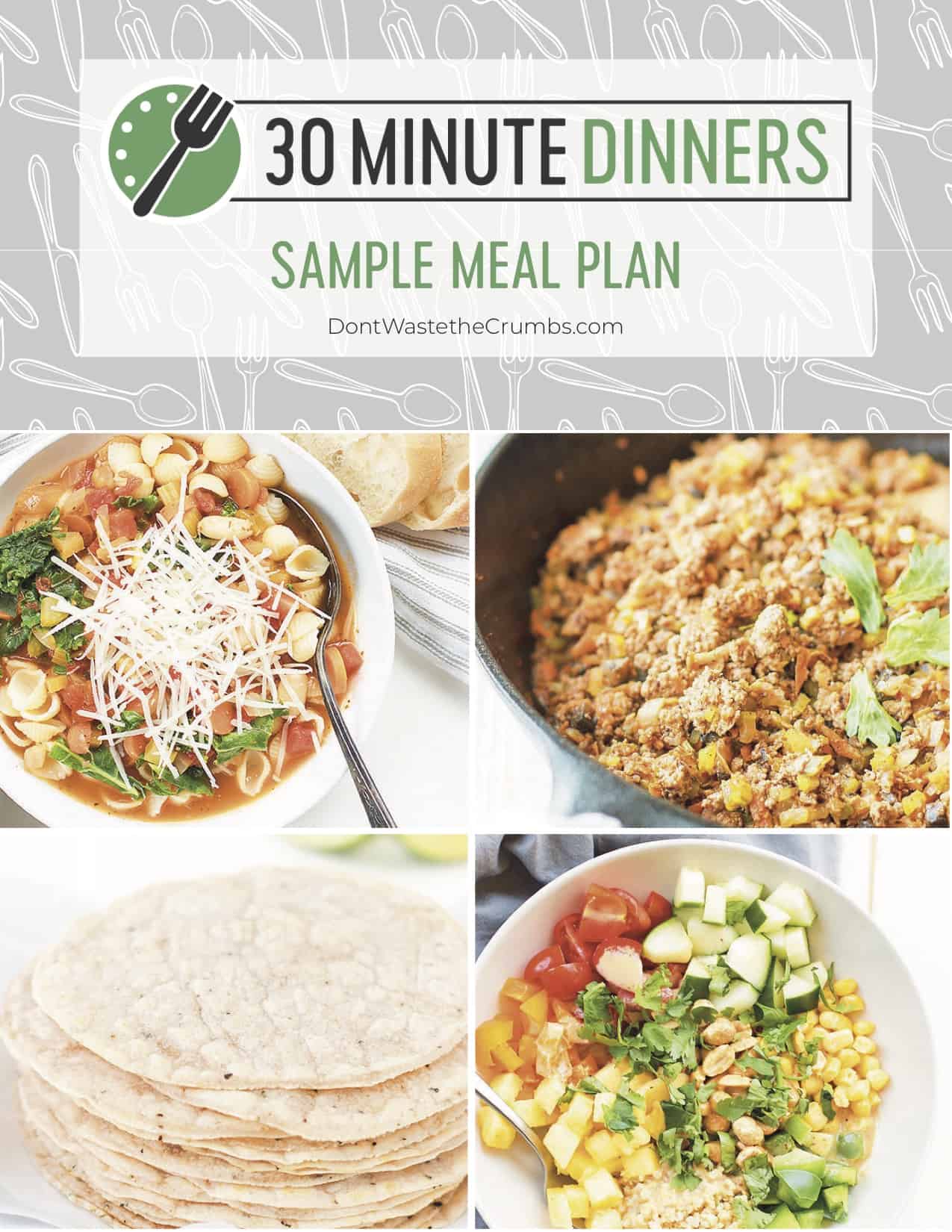 30 Minute Dinners Sample Meal Plan
Sign up to get instant access to my 30 Minute Dinners Sample Meal Plan, complete with recipes and step-by-step instructions!
Do you follow any "rules" when you organize your kitchen? How do you keep the "food clutter" in your kitchen in check?