Great Stocking Stuffer Ideas for the kitchen or home chef. Practical ideas for under $10 with cute ways to gift them, plus ideas for affordable bigger gifts too! Also enjoy some great ideas for easy homemade gifts!
Everything You Need to Know About
Last year we made several all-natural homemade gifts for literally a dollar or two, but I know that sometimes you want to give something a little more.
(Or perhaps you just need ideas for the in-laws so you get something more useful than fuzzy socks!)
No worries my friend, I have stocking stuffer ideas for you – designed for the home chef or foodie and they're all $10 or less!
The following list are some of my favorite small kitchen items that you can add to a stocking, place in a small gift bag or simply give with a ribbon wrapped around it.
Many of these stocking stuffer ideas are things I personally own myself, or they're things on my wish list for this year (*hint hint Mr. Crumbs*). I'm a stickler for not buying appliances you don't need, but I have found that having a handful of kitchen gadgets that you love and use often make time in the kitchen more pleasant and really help me to do my job better.
Besides, what foodie doesn't like to get stuff for their kitchen?!
The Best Kitchen Stocking Stuffer Ideas
Bamboo Salad Hands
I love using bamboo salad hands to serve up Spinach Salad to my family or guests. It's SO much easier than using tongs or two forks to toss, plus it makes a frugal real food meal feel so much fancier. Even on a Tuesday night!
Quick Stocking Stuffer Ideas: Wrap with a pretty ribbon and pair it with this pretty bamboo bowl for a complete set.
Cookie Scoop
A cookie scoop goes SO FAR beyond the realm of cookies. One of the most unique uses for mine is to scoop and freeze tomato paste. I also like to make my sweet and salty energy bites and pumpkin larabar bites perfectly round and even in size because I'm type-A like that.
A few less-common uses for my cookie scoop include scooping dough for pumpkin donuts (four scoops per donut) and of course molasses breakfast cookies. You can also use it in place of a melon baller to make a fun fruit salad or scoop out fresh mozzarella to add to your tomato caprese salad.
Quick Gift Idea: Type or hand-write the recipe for the best chocolate chip cookies ever on a card and tie to a cookie scoop.
Mini Spatula
You know that little bit of homemade ranch dressing or peanut butter that gets stuck in the bottom of the jar? Use a mini spatula! It's perfect for getting out the remaining bits in condiment jars and helps stretch your budget when you can get just one more sandwich or one more serving our of a jar.
Plus it's SUPER handy when you're measuring sticky stuff like honey or maple syrup for maple oatmeal bread. Not leaving remnants behind means the recipe will taste how it should, plus nothing gets washed down the drain!
Quick Gift Idea: Tie a mini spatula around the top of a jar of honey or peanut butter with a ribbon.
Zester
My method for zesting limes for key lime pie is o-kay, but using a zester would make the task so much easier! A zester can also be used for shredding hard cheese if you buy cheese in bulk since blocks of cheese are typically less expensive than already shredded cheese.
I haven't done this myself, but I've also heard that buying whole nutmeg and then using a zester is much tastier than using the pre-ground spice.
Quick Gift Idea: Add a few limes or lemons to a large jar and tie a zester to the lid with a ribbon.
Kitchen Shears
Kitchen shears are AMAZING. I use them all the time. A good quality pair can cut through chicken bones, which makes me able to spatchcock a chicken when I need to cook dinner fast. They also function for cutting herbs and vegetables too. Plus it's nice to have a pair dedicated just for kitchen tasks, rather than using the same pair your kids use on their craft projects.
Quick Gift Idea: Right before you give this gift, tie a fresh sprig of rosemary or thyme to the handle with baker's twine.
Kitchen Tongs
Kitchen tongs are must have for any cook, but it's important to have GOOD tongs. I use mine all the time when I cook bacon in the oven or to shred the meat from a slow cooker chicken. Avoiding burnt fingers is always a good idea and using tongs that close completely is vital!
If you make kombucha at home, I suggest getting silicone tongs. These tongs are perfect for removing the delicate SCOBY.
Quick Gift Idea: Stuff into heavy duty pot holders (see below!) and tie with a ribbon.
Mini Measuring Spoons
A more unique, but just as useful gift are mini measuring spoons. A tad, a pinch, and a dash are unusual sizes and make an appearance on occasion. The tiny sized spoons fit inside some spice jars for an easy kitchen hack to make your life easier. Plus, they are super cute! Tiny things are always more fun.
Quick Gift Idea: Place spoons inside a jar with homemade spice blends and wrap with a ribbon. Bonus if you make homemade hot cocoa and add chocolate chips in the jar!
Odd Size Measuring Cups
Most real foodies will already have a set of measuring cups, but not all sets come with unusual sizes. The 2/3 or 3/4 size measuring cups are SUPER useful! This set has these basic measurements, but if there's more room in the budget, I'd go with this stainless steel set since it has a broader range of sizes. I love the set that was gifted to me!
Quick Gift Idea: Mix up a jar of homemade yellow cake mix and tie the set of measuring cups to the top. Include instructions for using the cake mix on a handwritten card.
Muffin Scoop
A muffin scoop is the best when making large batches of zucchini and apple muffins to keep in the freezer for busy school mornings. The little bit of time it saves to scoop even amounts of batter is worth it! It also works great to measure out protein pancake batter for even sized pancakes. You can also quickly scoop chicken salad onto sandwiches or simply scoop your homemade vanilla ice cream into your bowl.
Quick Gift Idea: Type or hand-write the recipe for banana chocolate chip muffins onto a card and tie to a muffin scoop.
Silicone Muffin Cups
We've got a muffin scoop on the list, so how about reusable silicone muffin cups? I love these muffin cups because I can use them over and over again and not waste paper cups. Or make a mess of my muffin pan. Cleaning a muffin pan is just irritating, you know what I mean?
I also use them as molds when I make new soap bars out of soap scraps or moisturizing facial lotion bars. Multiple use items are my favorite!
Quick Gift Idea: Pair silicone muffin cups with a muffin scoop and your favorite muffin recipe, OR fill a few cups with chocolate chips and layer in a mason jar.
Tea Infuser
Being a die-hard coffee fan, I don't drink tea very often. Although, I do use a tea infuser when making kombucha. Loose leaf tea tends to be cheaper for kombucha and it's just easier to use than tea bags. I also have some delicious loose leaf tea recipes for my tea drinking friends. My mom once gifted me a variety set of loose tea leaves and it was such a treat!
Quick Gift Idea: Mix up a jar of your favorite loose leaf tea blend and tie on a tea infuser with a ribbon. Don't forget to include the recipe!
Digital Kitchen Scale
A kitchen scale comes in handy for many things. For one, I can separate large portions of meat into even amounts to make sure I'm stretching it to the fullest. It's also useful for recipes that call for pounds of potatoes (or other produce) rather than cup measurements.
I also use it for measuring pasta, since I try to buy that in bulk. This way I can buy 2 pounds (or more) at a time and measure out just 8 ounces for a recipe.
Digital Meat Thermometer
A digital meat thermometer works much better than a classic style thermometer. It will stay accurate with its readings and ensure you're cooking your whole chicken thoroughly. I use mine to double check my chicken and pork roasts. It's good to be a safe cook, even at home!
Quick Gift Idea: Pair with a digital scale (see above) or heavy duty pot holders (see below).
Glass Spice Jars
Frugal foodies know that making your own spice blends is a great way to save money. Using these cute glass spice jars makes DIY spice mixes even better! Having a matching set of jars to set on your shelf or on a rack keeps your kitchen tidy and beautiful.
Quick Gift Idea: Put together some a few spice blends or Montreal steak seasoning and fill the spice jars.
Oil & Candy Thermometer
I don't make candy, but I do use an oil & candy thermometer for making yogurt and homemade salted caramel. My counter top method works really great because I have an accurate reading on the temperature. Plus if you eat it regularly, homemade yogurt is one of the best foods to make from scratch since it saves so much money.
*If these aren't under $10, try this one instead.
Quick Gift Idea: Pair with a yogurt starter set to make a complete gift.
Heavy Duty Pot Holders
No one needs burnt fingers when making the family dinner, but how many of us are using old oven mitts that barely work?
Heavy duty silicone mitts are a great option to keep your hands safe. They are easy to slip on and clean up quickly if you make a mess. A silicone mitt doubles as a no slip jar opener, too! It's extra handy to have around when you're busy in the kitchen.
Quick Gift Idea: Pair with a pretty kitchen towel or stuff with wooden spoons and wrap with a ribbon.

Bonus: Big Stocking Stuffer Ideas
Silicone Baking Mats
A silicone baking mat is one of my favorite kitchen gadgets. Not only does it make clean up so much easier, but my food never sticks to the pan! Vanishing Oatmeal Chocolate Chip Cookies are even more amazing when clean up is a cinch.
Don't just think baked goods, either. It's also good for baked fish, chicken, or Italian meatballs. I also use it on the kitchen counter when I'm working with dough to help keep the kitchen counters clean. These mats are SUPER easy to clean, even with dough stuck to them, which isn't always the case with the counter!
Mixing Beater/Scraper Attachment
A super useful attachment for your Kitchen Aid stand mixer is a scraper attachment. Have you ever made something in your mixer and when you got to the bottom, you found ingredients that hadn't incorporated into the batter? Or have you followed a recipe that said "scrape down the sides of the bowl?" That's because it's super important to make sure all the ingredients are mixed appropriately for the recipe to turn out. Any recipe that you make, including my own triple chocolate almond biscotti, is so much easier to whip up with this attachment.
Salt Pig
You need to at least check this out if you've never used a salt pig before. My parents have a salt pig and I used it ALL THE TIME when I cooked in their kitchen in California. I miss it! It makes cooking and baking so easy!
Immersion Blender
This gift may not fit in a stocking, but it's worth adding to the list. Homemade mayo is the number one use for an immersion blender in my kitchen. But it's also great for those that don't want to pour hot liquid into the blender. Homemade tomato basil soup and white bean tortilla soup come to mind. This immersion blender comes with a mini food processor bowl that you can use to make chocolate chip cookie dough hummus or even a smoothie!
Many of the kitchen stocking stuffer ideas on this list go hand in hand for a real food cook. You could easily put together a cute basket of goodies and tie a big bow around it if you need a larger gift. This would also be a great Christmas gift for newlyweds, someone newly out on their own that needs a well stocked kitchen or even hostess gifts!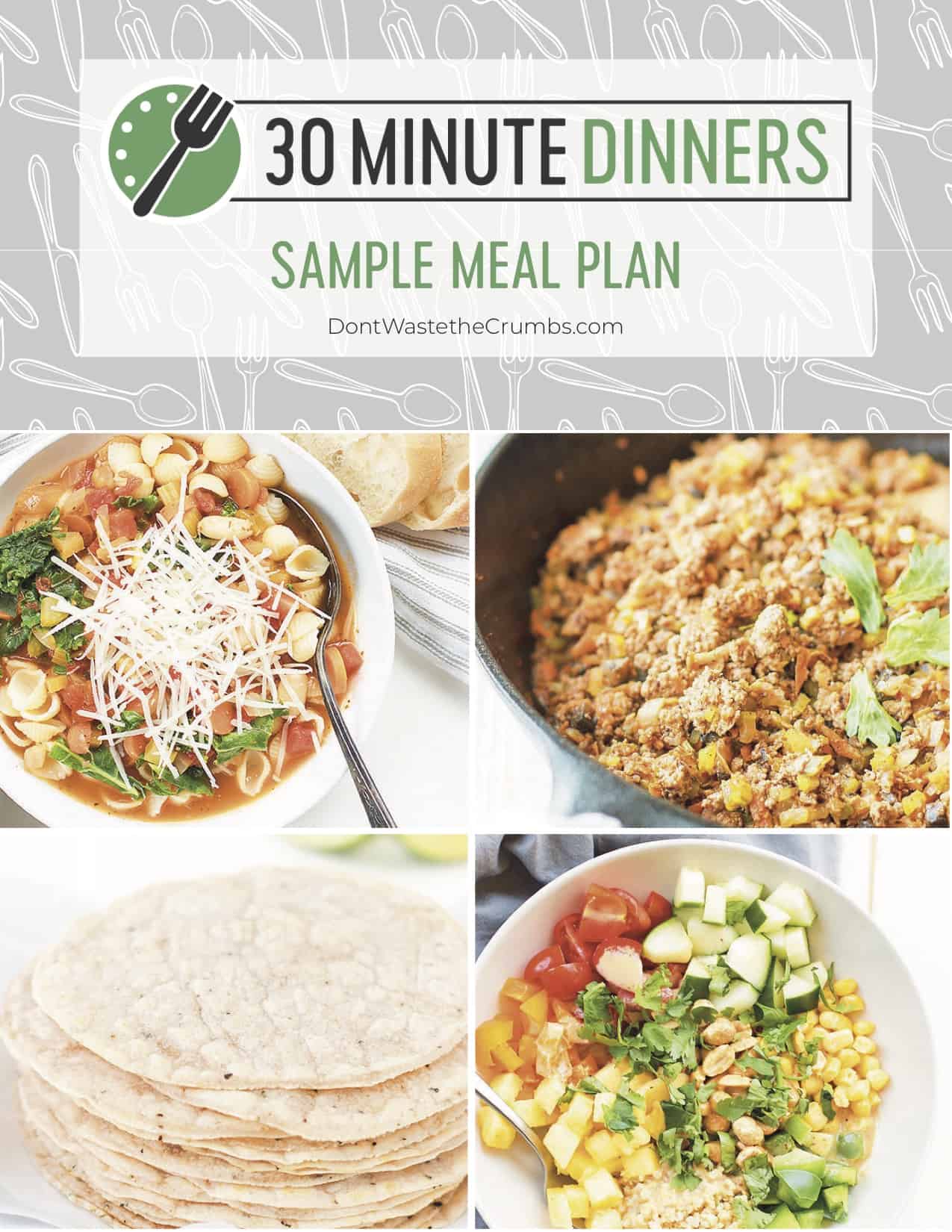 30 Minute Dinners Sample Meal Plan
Sign up to get instant access to my
30 Minute Dinners Sample Meal Plan
, complete with recipes and step-by-step instructions!
What kitchen goodies do you want stuffed in your stocking?