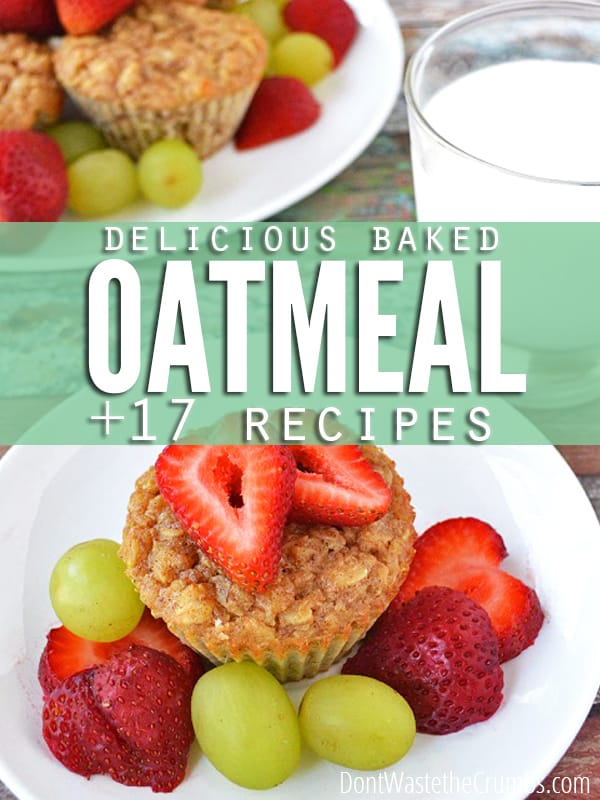 Everything You Need to Know About Turn Plain Cooked Oatmeal into Delicious Baked Oatmeal + 21 Recipes
A couple weeks ago I bought one stalk of rhubarb to go with the fresh strawberries we had received in our weekly CSA box. A recipe for overnight baked strawberry and rhubarb French toast caught my eye that week and I thought the same combination would be delicious in a an overnight baked oatmeal too.
I mean, it sounds good, right?
Well it wasn't. It was nothing but a big fat oatmeal failure.
I'm not sure where it went wrong. The normal routine of soaking oats was right: 2 cups oats + 2 cups water + 2 Tbsp yogurt.
I finished it up the next morning with 2 more cups of water, a dash of salt and cooked it up slow on low. (Get the original recipe and full instructions here.)
Side Note: Why so much oatmeal? Cooking up 2 cups of rolled oats offers enough cooked oatmeal to cover at least two breakfasts between the kids, sometimes even three. The kids have always loved whatever delicious combinations I've come up with… apples & cinnamon, banana & dried cranberries, peanut butter & jelly… knowing breakfast is going to be good means no arguing before 7am. And that makes me a happy camper. So I make a lot of oatmeal.
I digress.
With fresh rhubarb sitting on the counter, I thought it would be tasty to add some to that day's breakfast. With a near 100% success rate on oatmeal, I confidently added scant one cup of chopped rhubarb and two full cups of chopped strawberries to the entire pot and cooked away.
Aaaaaaaand the kids hated it.
It wasn't just "Mom, this isn't my favorite," which is a totally acceptable response if they're eating something they're not thrilled with. "This isn't my favorite" means they'll eat it anyway, but wouldn't choose it if given the option. For me, it's a challenge to find another way to cook it up so that they say "Mom, this is pretty good!" instead.
However, on this particular morning, with this particular bowl of oatmeal, I got "Mom, this doesn't taste very good. I don't think I want to eat it."
Oh, my poor oatmeal ego!
To hear my 6 year old – who's a ravenous eater, quite famished first thing in the morning and always ready to devour a bowl of oatmeal – say that he didn't want to eat it? After just one bite?!
Well, I didn't have to second guess that the oatmeal didn't taste good. And I didn't even bother serving The Girl the oatmeal either (who is a far pickier eater than her big brother) and instead offered toast and apples.
Meanwhile, I had a good four cups worth of strawberry rhubarb oatmeal sitting on my stove staring me in the face, daring me to do something with it other than throw it in the trash.
Which I absolutely HATE to do.
When the kids seem to tire of "regular" oatmeal, baked oatmeal comes to the rescue. I had been testing out a variation of carrot cake baked oatmeal, which the kids had devoured and asked for seconds. I wondered if I could somehow transform my bad oatmeal into a baked oatmeal dish, not having to waste the ingredients and create something edible… and dare I say, delicious.
As it turns out, regular overnight soaked oatmeal is not too far off from overnight baked oatmeal. A few of the steps are out of order, but once you figure that out along with the dry versus wet ratio, you're good to go.
Where did my original oatmeal go wrong? Honestly, I don't know. Maybe there was too much rhubarb, which is a bit on the sour side, and not enough strawberries. Maybe I thought I grabbed yogurt and grabbed kefir by accident instead, causing the oatmeal to be a bit tart… on top of the already tart rhubarb.
Whatever the error, all is well now with this simple recipe to salvage bad oatmeal. You can turn ANY regular oatmeal into a delicious baked oatmeal recipe with this method and as a bonus, not have to face the evil glare of the trash can at the end of the meal.
Baked Oatmeal from Regular Cooked Oatmeal
Turn Plain Cooked Oatmeal into Delicious Baked Oatmeal with this simple conversion recipe, plus 21 BONUS recipes filled with delicious flavor combinations!
Author: Tiffany
Prep Time:

10 mins

Cook Time:

45 mins

Total Time:

55 minutes

Yield:

2

–

4

servings

1

x
Category:

Breakfast

Method:

Oven

Cuisine:

American
1 1/2 cups

leftover soaked oatmeal, already cooked

1

egg

1 tsp

baking powder

1/4 tsp

salt (if the original oatmeal wasn't salted)

1/4 cup

butter or coconut oil, melted

1

banana, mashed

2 tsp

vanilla extract

1 1/2 tsp

cinnamon

2

–

4

Tbsp milk (optional)
flavors (see notes below, plus ## additional recipe ideas)
Preheat oven to 350F. Mash banana in a bowl and add cooked oatmeal. Add remaining ingredients and mix well. Add milk 1 Tbsp at a time if mixture is too thick to stir. Pour into a greased 8×8 or 9×9 baking pan and bake for 40-50 minutes, until golden brown on top. Serve with fresh fruit and a drizzle of honey or maple syrup, if desired.
Additional Recipe Notes
Many baked oatmeal recipes call for sugar. I personally do not use any sugar in my regular soaked oats recipe, and use maybe 2 Tbsp of sweetener per 8×8 or 9×9 square baking dish when I make baked oatmeal according to the recipe as written – even when it calls for much more. Instead, I rely on the natural sweetness of the fruit, dried and fresh, that we add to the recipe. This is an effort to keep our processed sugar intake to a minimum, but this has been a two-year journey in and of itself.
If your family is new to real foods or aren't too keen on oatmeal, take a cue from Mary Poppins and don't feel bad about using a little bit of sweetener to help the goodness go down. You can reduce the quantity you use in the recipes slowly over time, even if it's just by 1/2 tsp with each recipe. Eventually, you'll find the point of "just enough" sweetness and be able to balance it with the toppings your family has deemed as favorite.
Tip: If you're not sure if it's "sweet enough" for your family, bake it anyway and allow a drizzle of pure maple syrup or honey to be a topping. The natural sweetness of these will be very prominent and make the recipe appear sweeter than it really is. Plus, these options are much healthier for you than the granulated sugar some recipes call for.
Baking Options
Most recipes call for oatmeal to be baked in square or rectangle dishes, but silicone muffin cups are a fun, single serve option that don't require greasing or buttering. You could even have a create-your-own caked oatmeal party like this family!
Silicone muffin cups make clean-up SUPER easy. We have a set like these, which are perfect for regular-sized muffins. They also make mini-cupcake liners, bigger sizes like 3″ cup, 3.5″ cups and even a 4″ jumbo liner. We try to use these to decrease our consumption of the disposable ones, but they're also great for other purposes too like making bars of lotion or single-servings of homemade fudge.
Another option is to double the recipe and bake it in a 9×13 dish!
However, if you decide to make single servings, decrease the cook time to 20-25 minutes.
17+ Baked Oatmeal Recipes
There are as many flavors of oatmeal as there are stars in the sky, and everybody has their own personal favorite combination. While your imagination is the limit, here are a few tried and true flavors from fellow bloggers. Make these recipes as written, or use the salvage method above to turn bad oatmeal into an amazing meal!
eBook Recommendation
The Healthy Breakfast Book by Katie Kimball is full of great breakfast ideas that DON'T include cereal, and she specifically highlights oatmeal in more ways than I have fingers. Plus the purchase comes with a few printables, one to note is the "10 Ways to Zoop Up Your Oatmeal." VERY relative to today's post, don't you think?
Disclaimer: This post contains affiliate links. By making a purchase through those links, I will earn commission that helps to keep the lights on in the Crumbs house – with no additional cost to you. Thank you for supporting Crumbs in this way. Read my full disclosure statement here.