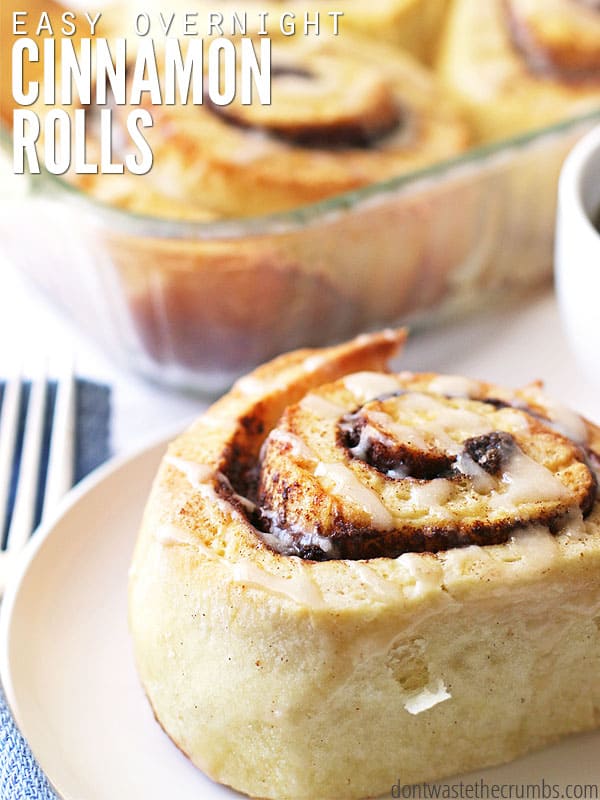 This post contains affiliate links.
These my friends, are the best cinnamon rolls to ever exist on this earth.
Ok, that may be a stretch, but it's not far from the truth!

Today's post is the second in a short series covering the goodies we're eating this Christmas holiday.  Yesterday I shared our appetizer-style dinner and a recipe for rosemary olive oil bread – which you should go make today because butter is good for you and you need a transportation device to eat some!  (A spoonful of butter will just get you dirty looks. 😉 )
Next up, Christmas morning.
Once we figured out the logistics of food for the holiday (because you know, food is the number one priority, lol), the how's and where's fell into place.  An easy, laid back Christmas Eve is at our place and a laid back, Christmas Day (early) brunch is at my parents.  My step-mom is doing eggs, bacon and waffles and asked me to do a "baked good" since there's always some sort of bread baking in my oven.  I decided to share two of my favorite breakfast splurges:  biscotti and cinnamon rolls.
But not just ANY biscotti and cinnamon rolls.
This is in fact the best biscotti you will EVER have and I owe a million thanks to my sister-in-law who introduced this highly addicting treat to us a couple years ago (thanks Becca!).
She first picked this 5-star recipe, and they really would have been awesome if she had stopped there.
But oh no, she took it a step further.  For half the batch, she added cocoa powder.
Chocolate biscotti?!  Oh my heaven.
But wait, it gets even better!
She melted white chocolate and semi-sweet chocolate and drizzled each over the biscotti… chocolate biscotti with white chocolate drizzle…
vanilla biscotti with semi-sweet drizzle…
a double whammy chocolate biscotti with semi-sweet drizzle!
Be still my beating heart!  They are heaven indeed.
You don't even have to wait until Christmas to make and eat these if you don't want to.  They're great any time of day… lunch, snack, dinner, dessert…
Trust me – I've tried them all. 🙂
And since they're primarily bread that's been toasted to remove moisture, you can easily make these a few days ahead of time and store them in a container until the big day (that is, if you can keep your hands off of them).
My cinnamon rolls are also quite possibly the best cinnamon rolls in existence.  I can't take full credit of course because my version is an altered version from a cookbook that was given to me a few years ago, but my minor changes take this recipe from really good to amazingly yummified.
In fact, they unanimously beat out Cinnabon in a not-so-blind taste test.  Call them "better than Cinnabon homemade cinnamon rolls" if you must. 😉
How's that for an ego booster!
Just a heads up – these do take some time to make, but they are well worth the effort.  They're also heavy in sugar and there's not a speck of whole grain in site.  That's ok though if you're only making these once a year.  If I end up making a second time in 12 months, I'll try making some healthier changes.
The flip side is that because they rise slowly, in the fridge overnight, these too can be made ahead of time.
Overnight Cinnamon Rolls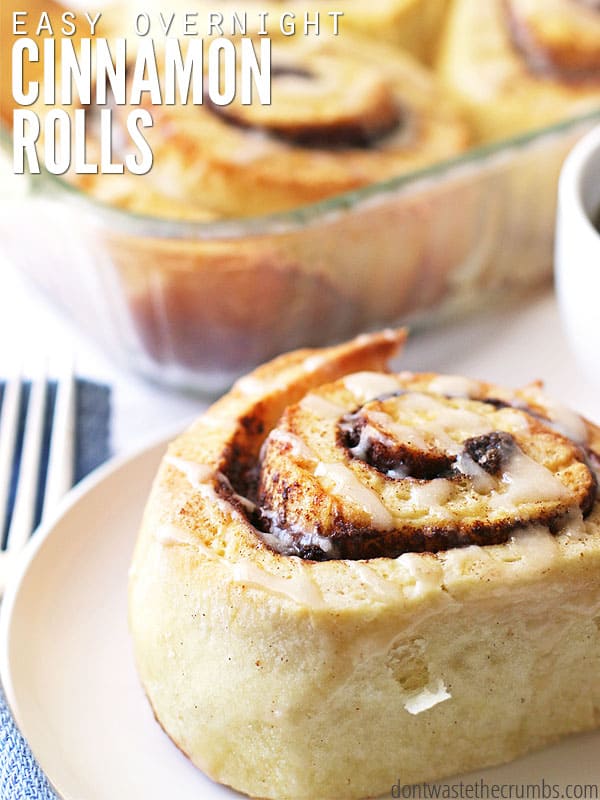 Out of this world recipe: homemade overnight cinnamon rolls that will wow your taste buds and delight your friends and family.
Author:
Prep Time:

12 hours

Cook Time:

30 mins

Total Time:

12 hours 30 minutes

Yield:

10

rolls

1

x
Category:

Breakfast

Method:

Oven

Cuisine:

American
Scale
Ingredients
Dough
1 Tbsp

yeast

1/2 cup

warm water (

105

–

110

degrees)

4 1/2 cup

s all-purpose flour*

4

large eggs

1/4 cup

organic coconut or palm sugar

2 tsp

salt

1/2 cup

unsalted butter, room temperature
Inside the Rolls
1/2 cup

unsalted butter, melted

1/2 cup

organic coconut or palm sugar, mixed with 1/2 tbsp molasses & 2 Tbsp ground cinnamon
Instructions
Combine yeast and warm water in a bowl (either from a mixer or large free-standing bowl). Allow to bloom for 5 minutes, then whisk until smooth. Whisk in 1/2 cup flour and cover with a towel. Allow to sit in warm spot for 30 minutes.
Add eggs, sugar, salt, and remaining 4 cups of flour to the yeast mixture. Knead with a dough book on medium speed for 4 minutes, or until smooth if mixing by hand. Add room temperature butter and continue to knead for 10-12 minutes, or until dough is smooth. Add a little flour to reduce stickiness, if needed. Cover with a towel and let rise in a warm spot until doubled, approximately 2 hours.
Butter a 9×13 inch baking dish. Transfer the dough to a floured surface and roll out into a 15×10 inch rectangle. Brush the rectangle with half of the melted butter, leaving a 2-inch wide strip unbrushed on one long side. Sprinkle the cinnamon sugar over the butter. Starting at the long side covered with sugar, roll up the rectangle snugly and pinch the seam together. With the seam facing down, cut dough into 10 equal pieces**. Place the pieces cut side up in the dish and brush the tops with the remaining butter. Cover with plastic wrap and let rise in the refrigerator overnight.
The next morning, remove the cinnamon rolls from the refrigerator and let rise until half again as high, about 1 hour. Preheat the oven to 350 degrees. Bake until golden brown, about 30 minutes. Let cool in the pan for 15 minutes. Spread optional glaze over the warm rolls and enjoy!
Notes
*You can substitute whole wheat flour or spelt for some or all of the AP Flour.
** Dividing the dough into 10 rolls will make very large rolls in the end. Divide into 12 pieces to have a few more, yet still very ample, servings. Notice how big the half-batch is in the 8×8 glass pan above.
Adapted from Family Meals
Vanilla Glaze
Scale
Ingredients
1 cup

confectioners sugar

1/2 tsp

salt

2 Tbsp

unsalted butter, melted

2 Tbsp

whole milk

1 tsp

vanilla
Instructions
In a small bowl, sift sugar and salt. In a separate bowl, whisk butter, milk and vanilla. Stir into the sugar to form a smooth paste. Spread over warm cinnamon rolls.

 What's your favorite brunch dish?
Disclaimer:  This post contains affiliate links.  By making a purchase through those links, you support the ministry of Crumbs without any additional cost to you. Thank you for supporting Crumbs in this way!  Read my full disclosure statement here.