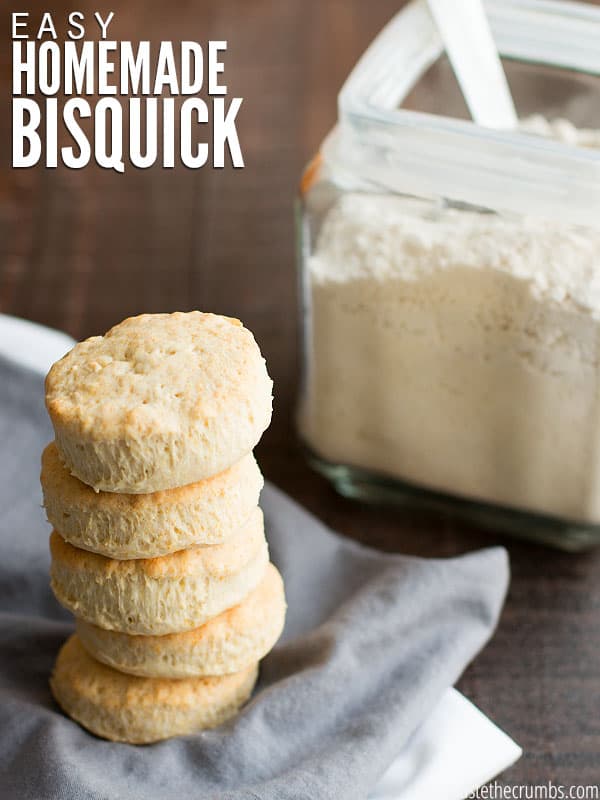 The more time I spend in the kitchen, the more I realize that many of the old boxes of processed food I used to use can be easily made from scratch, like this homemade bisquick.
You see, for a long time, Bisquick was a staple in our house. From biscuits to pancakes to coating fried chicken – it all started with that yellow box and it was on our Costco must-have list.
Of course, those were the days when I didn't pay any attention to the list of ingredients and thought cooking from scratch meant opening a box and "just adding eggs + water."
Unfortunately, I've since learned that meals coming from "just adding [this]" to a box are probably not that healthy, including Bisquick. In fact, when I cleaned out the kitchen of hydrogenated oils, about half of the boxes I threw away were considered "health foods."
Bisquick would have been tossed too, because it contains hydrogenated oils and artificial sweeteners – both of which are on my top list of ingredients to avoid.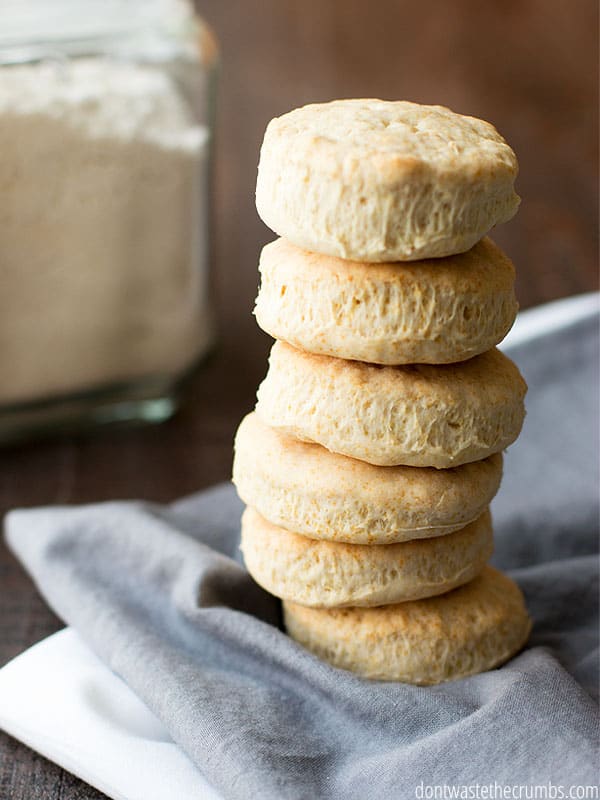 The whole point of having Bisquick on hand was for convenience. One box made pancakes, biscuits and waffles and I didn't have to spend a lot of time making any of those.
Even though I make most of our foods from scratch now, it's still nice to have some shortcuts now and then.
Cooking every single meal from scratch is hard work, and every now and then I just want something easier. Faster. Something that requires a few less steps and less brain power so I can focus on other things.
Know what I mean?
That's when homemade bisquick comes to the rescue.
Spent the day at the pool and forgot to put something in the slow cooker? Homemade bisquick.
Just finished baking 6 dozen cookies for a school party or holiday cookie exchange and can't image standing on your feet any longer? Homemade bisquick.
Woke up to extra teenagers crashed on the living room floor and while you don't think it's physically possible they could still be hungry based on the amount of pizza they ate last night for dinner, you remember that a) teenagers are always hungry and b) you don't have enough bacon and eggs to go around?
My sweet friend, you need a hug, extra coffee and homemade bisquick.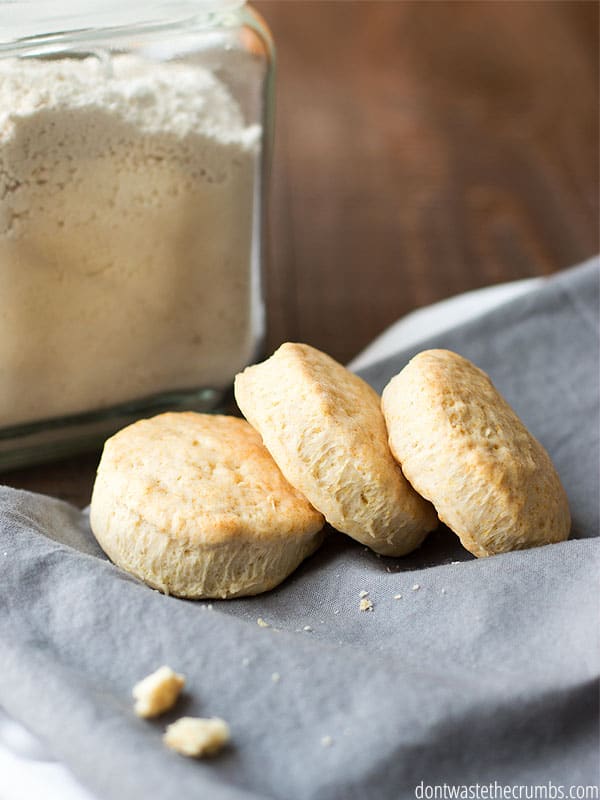 Why You Should Make Your Own Homemade Bisquick
One of the benefits of making your own baking mixes like homemade bisquick is the ability to substitute with ingredients you already have on hand. Here are just some of the ways you can customize homemade bisquick to fit your pantry and your family:
Flour: Make your homemade bisquick whole grain by substituting white whole wheat flour for some or all of the all-purpose flour. You can use traditional whole wheat flour that's made from hard red wheat, but the taste will be noticeably wheatier.
Baking Powder: If you run out of baking powder, make your own with 1/4 teaspoon of baking soda + rounded 1/2 teaspoon of cream of tartar. And if you run out of cream of tartar, you can make this substitution instead.
Salt: This spice used for flavor, but you can leave it out if you're on a low-sodium or salt-free diet.
Butter: Butter is the most affordable fat at just 63¢ for the whole recipe. It's also the most commonly available fat for most families. If you don't want to use butter, you can also use organic vegetable shortening or coconut oil. As a general reference, palm oil shortening will cost around $2.28 in this recipe and coconut oil will cost about $2.
Cost Breakdown for Homemade Bisquick
flour: $0.24
baking powder: $0.09
salt: $0.08
butter: $0.63
Total cost for about 3 1/2 cups of homemade bisquick (about half of a 40 oz box) is $1.04. Compare this to buying a box of the processed baking mix for $3.43 and you're saving 40%!
Watch How to Make Homemade Bisquick:
Homemade Bisquick
3 cups

all-purpose flour

1 1/2 Tbsp

baking powder

1/2 Tbsp

salt

8 Tbsp

butter, cold and cubed
Instructions
In the bowl of a standing mixer, add flour, baking powder and salt.
Add the cold, cubed butter and using the paddle attachment, mix the ingredients together on low until the mixture resembles coarse breadcrumbs.
Alternatively, you can combine the ingredients using a pastry blender, two forks or your fingers.
Store the baking mix in the fridge or the freezer, for up to 3 months.
Since you won't be needing the big yellow box anymore, I don't want to leave you hanging! Here are three of the classic recipes found on the yellow box.
Classic Biscuits Made with Homemade Bisquick:
1 1/2 cups homemade bisquick
1/2 cup milk
Combine ingredients together until a soft dough forms. Knead 10 times. Roll out dough to 1/2″ thick and cut into circles. Bake for 7-9 minutes at 450F.
Classic Pancakes Made with Homemade Bisquick:
2 cups homemade bisquick
2 eggs
1 cup milk
Stir together milk and eggs until well blended. Add the homemade bisquick mix and stir until just combined. Pour 1/4 cup of batter onto a hot griddle. Cook until the pancakes start to bubble and edges are slightly dry. Flip and cook until golden.
Classic Waffles Made with Homemade Bisquick:
2 cups homemade bisquick
1 1/3 cups milk
1 egg
2 Tbsp melted butter (optional)
Preheat the waffle iron and coat with melted butter, if necessary. Stir milk and eggs together until well blended. Add homemade bisquick and stir until just combined. Pour a small amount of batter onto the waffle iron and cook according to manufacturer directions.
Was (or is) bisquick a staple in your pantry?