This healthy Chocolate Banana Bread is made with whole grains and natural sweetener. A freezer-friendly, one-bowl recipe, can be double or triple batched! Serve with a warm cinnamon dolce latte for a perfect guilt-free breakfast!
Everything You Need to Know About

I'm sure there are plenty of things you can make with brown bananas, but the first thing that comes to mind (aside from banana nice cream) is banana bread.
This caramelized banana bread is my go-to recipe because it's whole grain, naturally sweetened and REALLY good.
But when my daughter said she was getting tired of banana bread (after having it for breakfast 3 weeks straight), I had to come up with an alternate plan that was still just as healthy and delicious, but different enough to appease her.
So I did what any other woman would do… I added chocolate.
If you like banana bread, this chocolate banana bread recipe is going to knock your socks off!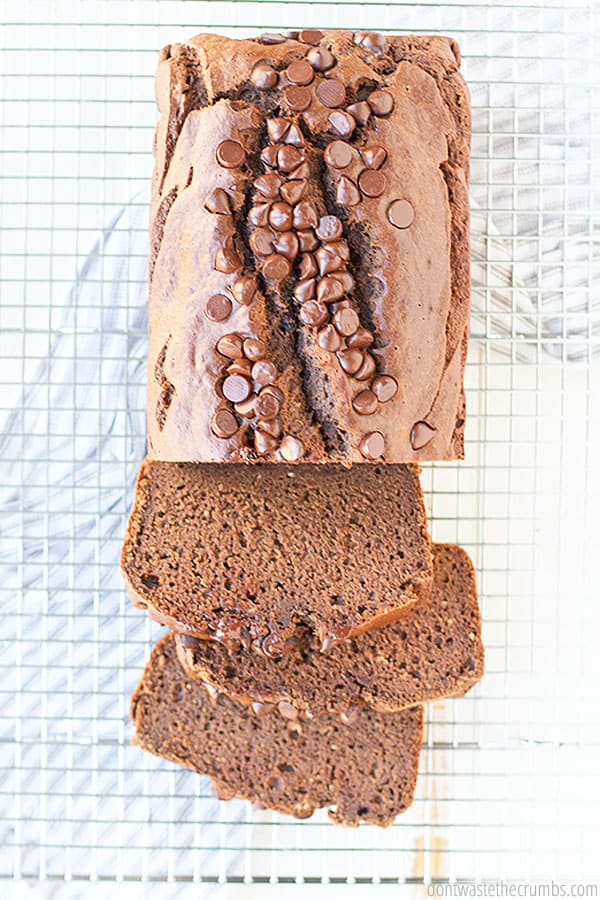 Healthy Chocolate Banana Bread
I know there are a lot of banana bread recipes on the internet, but here's why I like this one the best:
Batter comes together in less than 5 minutes
Freezer-friendly
Easy to double or triple
Converts to muffins easily
Whole grain
Naturally sweetened
Guilt-free morning chocolate fix 😉
Double Chocolate Banana Bread Ingredients
The list of ingredients for chocolate banana bread is really short:
What should the bananas look like when you make banana bread?
Most banana bread recipes call for "brown bananas," which could range anywhere from small brown spots to big brown spots to nearly completely brown and soft.
The darker your banana, the sweeter the bread will be, but I've made this banana bread with ripe bananas (without any brown spots) and it was absolutely delicious.
I say it doesn't matter what your bananas look like – make this chocolate banana bread recipe anyway!
How to Make the Best Chocolate Banana Bread Recipe
I've made the best chocolate banana bread recipe dozens of times, yet it always surprises me at how quick and easy this recipe is to make.
In a blender, combine all the wet ingredients and the sugar. Process until it's smooth. Meanwhile, whisk together the remaining dry ingredients, except the chocolate chips, in a large bowl.
Add the wet ingredients to the dry ingredients, stir together, and pour into a prepared 9"x5" loaf pan.
Bake and enjoy!
Why did my banana bread fall in the center?
This has happened to me! I figured out that banana bread will fall into the center of the pan, if it is too small and if it is overfilled. Over mixing the batter will have the same outcome. Otherwise, you will have soft and delicious banana bread!

Make sure the oven temperature is accurate, so that it is all baked evenly.
How to Freeze Chocolate Banana Bread Recipe
Because this chocolate banana bread recipe is so easy to make, and comes together so quickly, I almost always make a double or triple batch.
To do this, I make one batch and pour it into the loaf pan. Then WITHOUT CLEANING OR RINSING, I re-use the blender and bowl to make a second batch. When that one is in the loaf pan, I re-use the blender and bowl AGAIN WITHOUT RINSING OR CLEANING and make a third batch.
Repeat this process until you're out of bananas or loaf pans (or muffin pans!) and pop them all in the oven at the same time. THEN you can wash the two dishes. 🙂
What to Serve with Chocolate Banana Bread
Other Easy Quick Bread Recipes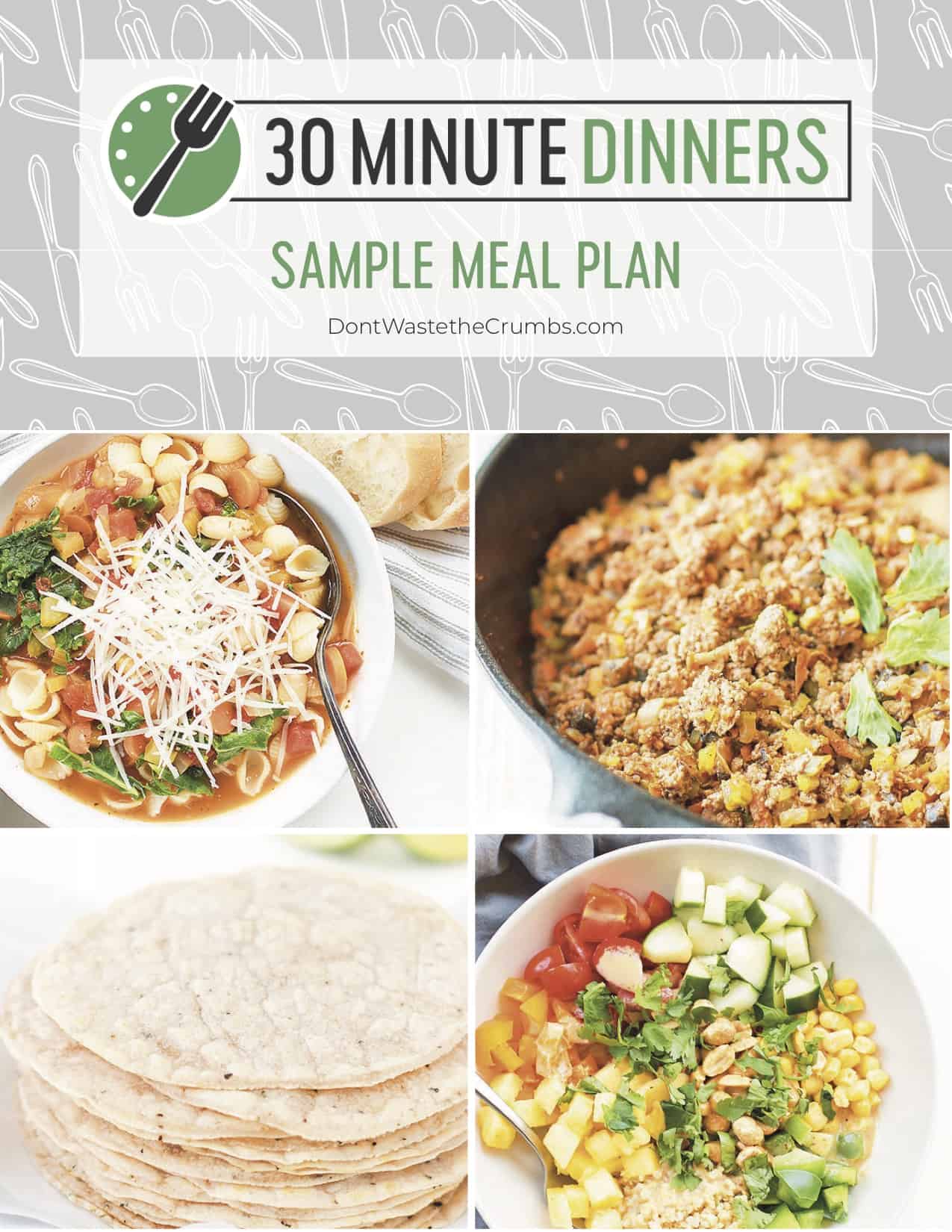 30 Minute Dinners Sample Meal Plan
Sign up to get instant access to my
30 Minute Dinners Sample Meal Plan
, complete with recipes and step-by-step instructions!
Chocolate Banana Bread
This healthy Chocolate Banana Bread is made with whole grains and natural sweetener. A freezer-friendly, one-bowl recipe, can be double or triple batched!
Author: Tiffany
Prep Time:

10 mins

Cook Time:

42-47 mins

Total Time:

52-57 mins

Yield:

1

loaf

1

x
Category:

Breads

Method:

Oven

Cuisine:

American
Preheat the oven to 350F.

Line a 9"x5" loaf pan with parchment paper, or spray with cooking spray and lightly dust with flour.
In a blender, combine the bananas, coconut oil, eggs, vanilla and coconut sugar. Blend for 30-60 seconds, or until everything is smooth. Set aside.
In a large bowl, combine the flour, cocoa powder, baking soda and salt.
Pour the wet ingredients into the dry ingredients and stir together using a spatula until JUST combined.
Pour the batter into the prepared loaf pan. If desired, sprinkle chocolate chips down the center of the loaf and press them into the batter slightly. (Note: If you don't press them in slightly, they'll fall down to the sides of the loaf as the loaf bakes, and possibly burn.)

Bake for 42-47 minutes, or until a toothpick inserted into the center comes out clean.

Let the loaf cool in the pan for 10 minutes, then remove to a cooling rack and let the loaf cool completely for one hour.

Slice and serve.
If you want to freeze the loaf for later, I recommend slicing the loaf before wrapping for the freezer.
Keywords: chocolate banana bread
What is your favorite homemade bread?